Today I am featuring the rather amazing Joanne Fleming Design as my featured supplier. I came across Joanne through Rock and Roll Bride  and also through twitter. Her work is pure genius, so much so that I just had to share it with you.
Joanne works from a studio in Brighton and creates the most stunning evening, bridal and couture designs but at a price that won't break the bank.  I asked Joanne to send me a few pictures for this piece and she sent me loads……It was SO hard to pick from them as all her dresses are beautiful I wanted to Post all of them. So I have picked out a good selection that shows of her style and show you how flexible she can be.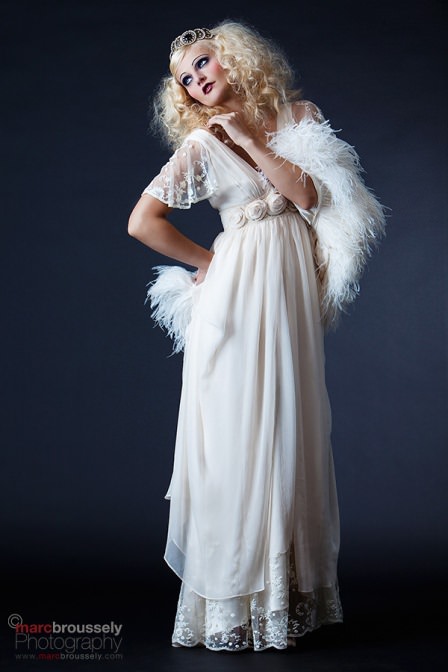 photo credit www.marcbroussely.com

Joanne's most recent collection is called 'The Beautiful and the Damned' Here are a few pics from it.
image from http www.marcbroussely.com
image from http www.marcbroussely.com
image from http www.marcbroussely.com
image from www.marcbroussely.com

So a bit more information about Joanne:
Originally from Bath, Somerset, Joanne has been resident in Brighton for over 20 years, all of which have been spent working in the fashion industry. From stints sample-making for such luminaries as Giles Deacon and Luella Bartley, to working as a freelance designer/maker for Madame Tussauds exhibits around the world (dressing figures such as Scarlett O'Hara for Hollywood, and Jackie Kennedy for Washington), Joanne gained a wealth of experience that finally led to the setting up of her own Brighton studio in 2005.
image credit www.lilyandfrank.co.uk
image credit Danie Marin flickr.com/marinphotography
image credit www.jmcsweeneyphotography.co.uk
image from www.lilyandfrank.co.uk

Recently relocated to new premises opposite Brighton's extravagant Royal Pavilion, the studio is crammed with sample dresses in jewel-bright silks and palest feather-trimmed velvets. These designs can be made-to-order in a wide palette of shades, or Joanne can create a completely bespoke design in collaboration with her client.
Specialising in evening and bridal wear, the Joanne Fleming Design label has become known for luxurious styles with a vintage reference. From art-deco bias-cut slithers of silk satin, to crisply structured figure-enhancing designs in translucent silk organza, each gown is constructed to flatter and enhance.
photo credit Erica
photo credit Andrew Stubbs
photo credit Andrew Stubbs
photo credit Toby Key

"She looked like the edition de luxeof a wicked French novel " wrote Oscar Wilde, and it is this vision of the finished effect that inspires Joanne when designing……
The latest collection is named "The Beautiful and the Damned", after the iconic novel by F Scott Fitzgerald, and uses fluid silk charmeuse and chiffon to glamorous effect in its evocation of an era of sophisticated but doomed hedonism.
photo credit www.horseandcarriage.org.uk
photo credit Nick Brooks
photo credit www.horseandcarriage.org.uk
photo credit www.horseandcarriage.org.uk
photo credit www.horseandcarriage.org.uk

For a first hand story of a bride choosing her dress with Joanne pop along to Rock n Roll Bride to read Alice's story of her wedding dress journey.

Joanne has also launched a competition to win one of her stunning creations in aid if the tragic events in Japan. Cherry Blossom Appeal for Japan……Donate, and win a made-to-measure dress
For a donation of £5, your name will be entered into a draw to win the made-to-measure dress. The closing date is 25th April, and the randomly selected winner will be announced on 1st May. I will then e-mail you a measurement form, and your exclusive dress will be sent to you 4-6 weeks later.
I have set up a special Paypal account to collect donations, and once the closing date has been reached, every penny collected will be donated to the British Red Cross Tsunami fund. Enter Here to win this stunning creation.
JOANNE FLEMING DESIGN
9a Pavilion Parade
Brighton
BN2 1RA
07403 147616
www.joanneflemingdesign.com
www.joanneflemingdesign.blogspot.com
FACEBOOK