On this cold, wet and windy Tuesday I have this warm, bright summer wedding to cheer you up, courtesy of Libra Photographic. Katie and Martyn decided on a 'Boho Meets Surf' themed wedding, to draw on both of their personalities. This was mixed in with a Turquoise and Pink colour themed which gave it a bright, modern twist. I just love this colour scheme, as well as all the amazing details in this wedding. Katie really went to town with all the different handmade details, from stationery, to favours, sweetie tables to the surf board guest book, no details was left out! Couple that with Katie and Martyn's, wonderful outfits, relaxed manner and stunning looks and you have a totally wonderful wedding. Happy birthday to Nathan from Libra Photographic, whose birthday it is today!
The quickest most memorable day of our lives. Smiles, fun and laughter all round
Katie and Martyn were married on 14th June 2014 at The Guildhall Poole and Lake Yard Marina Poole. We are both from Poole and we both love the sea and boats. It was our special place where we met and made a life together. We had 70 guests to the Guildhall and 50 in the evening it took 4 1/2 months to plan.
How they met
We met when I was dressed as a biker chick after my summer Uni ball at my mums pub in Sandbanks. Martyn had just completed the Isle of Wight powerboat race in which he had won and was out celebrating. We have been together for 8 years.
The proposal
Martyn proposed at Lake Windermere in the Lake District, we take our boat and dogs each year to go wakeboarding. No one knew he was going to do it he even went out and picked a blue engagement ring! (my favourite colour) He asked me on the jetty on the lake next to our boat. I thought he was about to throw me in the lake but to my shock and our two best friends who were there he got down on one knee. We celebrated by drinking champagne and wakeboarding with big smiles.
How did you allocate your budget
The most important things were the dress, grooms outfit, location and photographer. I am a very creative person so I wanted to use my talents and make everything for the wedding so it was unique.
How did you choose your photographer
It was very lucky how we found our photographer. I was recommended to use him as he is a fan of taking photos in or by the water. He came round our house to show me photos he had done before and as soon as I saw them I knew he was the one. Plus he also understood my crazy ideas!
The Dress
My dress was hand made in Australia. I had found a photo of it on Pinterest and had been carrying it around with me for over a year and I didn't know who had designed it. My work colleague managed to track it down and I contacted them straight away. My sister is a dress maker so she measured me and I sent over my size. I had no interest in looking at any other dresses as I had fallen in love with it. My dress is called the 'Hollie Dress' from Grace Loves Lace – all the way from Brisbane.
Jewellery
Custom be-spoke Handmade diamond necklace to match wedding ring, Volcano Jewellery silver bashed bangle, Coast Turquoise surfboard ring, Feather arm cuff.
The suit and bridesmaids
The Groom and Best Man wore Quiksilver shirts and trousers (shirts matching the bridesmaids colours) and a I created 2 pairs of personalised Converse trainers (from their website). The cons were Turquoise blue and had their names on them, they both had matching Oakley sunglasses too . The Bridesmaids (2) wore seafoam coloured Monsoon dresses and flat sandals from Dune.
The theme or colour scheme
My colour scheme was turquoise and fuchsia pink.
Flowers
The best man's mum was our florist. I chose gypsophilia, ranunculus, astilbe, roses all in pale pinks, whites and a few bright fuchsia pinks. The bouquets had a hint of sparkle with some crystal beads. The bouquet handle was decorated with white lace and small pearl bead pins.
Decoration
My theme was English country boho meets surf! I created fabric bunting for the top of the marquee with fairy lights and tissue pompoms. Some of the seating I used straw bales covered with lace, the throne was made using straw bales stacked up covered with lace and our life size cut out of our Chickens – Amber, Wednesday and Dallas (well they couldn't actually come to the wedding!!)
Food and Cake
We had a buffet of mini burgers, cones of chips, even cheese and ham toasties ( as my old name was Cheetham and my nick name was Katie Cheese n Ham) Myself and my husband as he is good with wood work created a Surfboard table to lay the food out on and chip cone holders for the waitresses to bring the chips out. We also had a sweet table full of Haribo (but only red sweets). Our guests all signed the surfboard for us later that evening.
The wedding cake was turquoise with clay models of myself, Martyn and our two dogs, and a selection of homemade cupcakes (in turquoise and fuchsia of course!)
Entertainment
After the very unique first dance, a rehearsed dance routine by my husband and I, there was the ' smashing of the landy' a landrover shaped piñata with a surfboard on the roof! This was done blind folded using a rubber chicken head, the photos will explain how funny this looked. The groom, bride and best man had a go.
There was also a 'Say Fromage' photobooth in which I had made and dressed the back drop for, and created a boho them dressing up box with head flowers, hats and sunglasses. We had music playing for the evening and guests spent time chilling out on the straw bales in the marquee.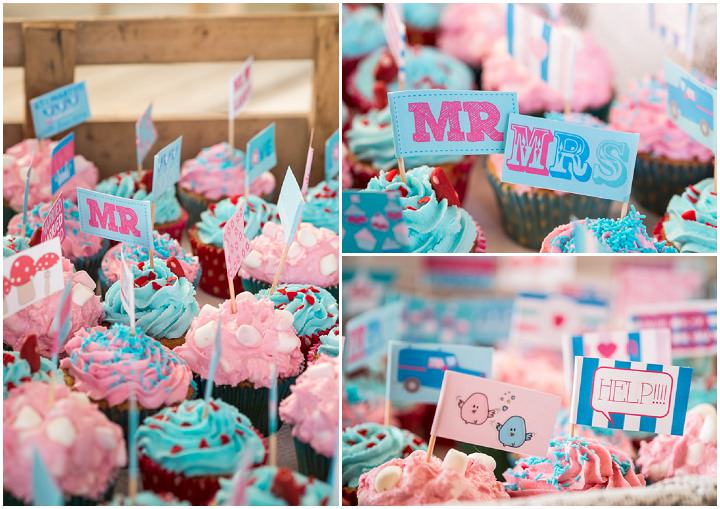 Buy or DIY your Stationery
I created it all by myself. I trained as a designer – so everything from the invitations and thank you cards, as well as Menu's and Order of services – were completely designed by me and totally unique featuring everything that we love about our outdoors lifestyle!.
I designed them on my computer and then the printers very kindly printed them for me. I hand tied pink twine on each wedding invite and RSVP, everything matched including my thank you cards.
Personal touches
I pretty much spent the whole 4 months from the day of booking the wedding until the final day making all my decorations. I knew my colours and I had ideas in my head so I got to work.
-My first challenge was making 72metres of fabric fringed boho bunting which turned out great
-I collected jars and bottles from family and friends, I used turquoise "Pebeo" paint to colour them, and added lace and ribbon and they all matched to the colour and theme. These were used to put flowers and candles in.
-CARD TABLE. I found an old "trunk" which I lined with lace and photographs from our engagement shoot. I also decoupaged the small letters of K & M in turquoise tissue paper and covered them in glitter.
-SWEET TABLE. I collected cake tins and  found several china bowls. I then used linen that I had dyed turquoise to staple it to the wooden frame of the table to complete the effect. .
-DOGS OUTFITS. Both our working cocker spaniel dogs were at our wedding, our girl dog Roxy wore a bridesmaid dress which I had made using lace, and our boy dog Rolo wore a turquoise collar using the fabric which I had dyed and bow tie.
-I bought metres of tissue paper and created beautiful tissue paper pom poms which added height to the marquee.
-I went to lots of charity shops to pick up lace and interesting fabrics for the straw bale seating.
-I made the photobooth back drop to match the bunting in the marque. I also made lots of very personalised speech bubbles – which made for some fun photos!
-I had a surfboard sprayed turquoise as a guest book, I designed a sticker to go on the top of the board which said ' Katie & Martyn's wedding' I supplied permanent makers for guests to write a message or smiley face on.
-I had a turquoise Landrover defender with a surfboard on the roof rack made into a piñata and filled with Haribo to hang from the ceiling for our evening entertainment.
-I had homemade pink lemonade,I used glass jam jars to put the drinks in. I then made flags for the paper straws to match the ones I made for the cupcakes.
-I made a sign for my head bridesmaid to carry down the aisle, it read 'Here comes the bride'
-I dyed several metres of lace bunting to turquoise for the reception and for the boat which was our method of transport from the wedding to the reception venue.
-I created my own ring cushion.
-I used all the hole punched hearts that I got when creating my wedding invites and RSVP as my confetti for our guests to throw.
-CAKE TABLE. I dyed some Mr & Mrs white bunting that sat on the outside of the round cake table turquoise. The cupcakes were made by my mother in law and I created every paper flag to go in them, some said 'Help!' each cupcake matched the colour scheme. I created several signs which said – Katie & Martyns Wedding Day – We did it!
-I decoupaged the letters K & M for our head table in pink and blue floral prints.
-The head Throne (our seating) was created using several straw bales covered in lace table cloths and I used the photographic paper to create our personalised bunting.
-WEDDING FAVOURS. I decorated three wooden boxes to put our wedding favours in. I decided to make two lots of wedding favours. I designed festival bands. They were turquoise and I wanted the flowers I had illustrated on our wedding invites and mushrooms to be on them saying 'thank you'. Each guest who arrived was greeted with a very cool woven wrist band. The second favours were seeds! I got mini brown envelopes which I put assorted seeds in along with planting instructions.
-As I love my photographs I used some more photos of us when we were younger and placed them in clear jam jars and decorated them with ribbon.
-For my Bridesmaids and the Best Man I used iron on transfers and my own designs to make pillowcases for them filled with goodies (as a thank you).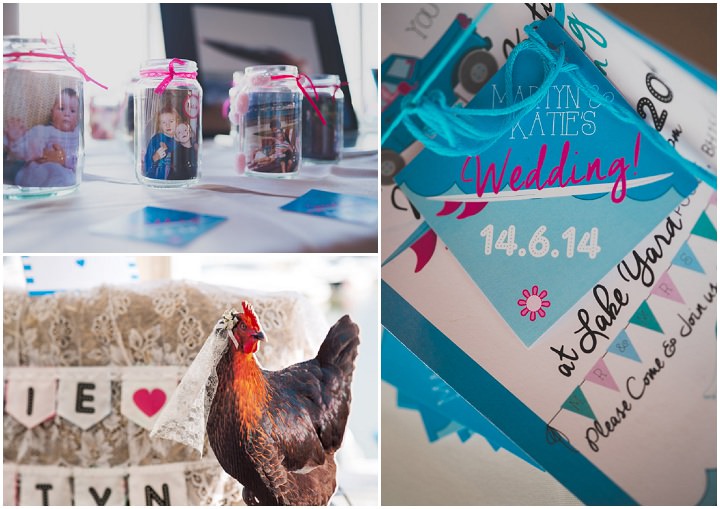 Special moments or Highlights
I loved having my mum walk me down the Aisle I know how proud and happy she was to do that with me. Also having perfect weather to get to go on our boat and to the local beach to have photos. Our wedding dance was so much fun and a surprise to our guests as we had rehearsed a routine that no one knew about.
Any surprises
Seeing my husband to be's face when I walked in, he had a tear and he is never like that!
Advice to other couples
Stay calm and enjoy every moment because it goes so fast!
Supplier Shout Outs
For more information on Nathan's work go to
www.libraphotographic.co.uk
www.libraphotographic.co.uk/blog
www.facebook.com/Pooleweddingphotographer
@LibraPhoto
Email – [email protected]
01202723687
I've been a full time wedding photographer since 2002 based in Poole, Dorset. My style has evolved over the years to become a mixture of contemporary fashions with classic photographic techniques. I'm always pushing forward to keep abreast of the times, last year I introduced humour into my work which my clients love.