Happy Monday everyone and how are you all? did you have a good weekend? I am still in Cornwall, we got here on Saturday and so far we are having a lovely time. My mum hasn't seen Dexter since he was 4 weeks old and now at 16 weeks there has been quite a bit of growing going on! It's her birthday tomorrow, but as we have to go back to Sheffield tomorrow we are going out for the day today and then for some dinner.
I have a cracking wedding for you today courtesy of Lucabella, complete with red and white circus tent. It's the wedding of Lucy and Gav who took on a tweed and lace theme or their big day. Complete with lots of DIY projects their wedding really was a labour of love, Enjoy!
'A countryside wedding with all our important people with us'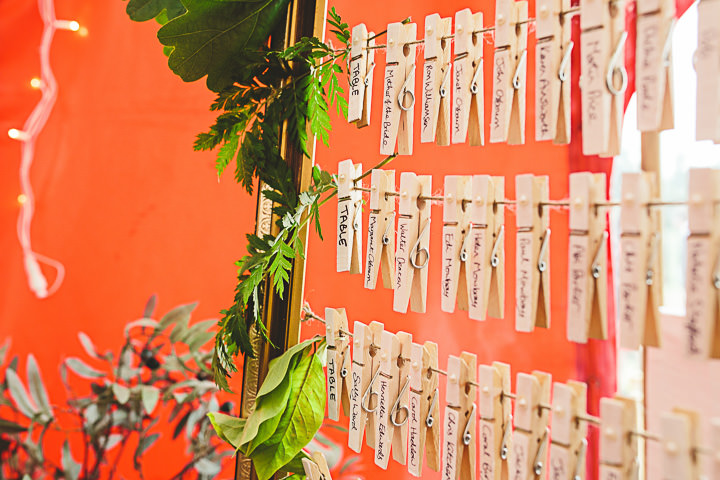 Lucy and Gav were married on 30th May 2014 at their local village church followed by reception, in a field in their local village in Nottinghamshire. We love the little village that we live in just outside Nottingham so we were delighted that not only could we use the village church. we were the only wedding there this year! One of our neighbours also let us use their fields which is normally full of grazing sheep. We have a lovely red and white striped bell tent which we use regularly for weekend trips away. We used this as inspiration for our Circus Tent reception venue. We had 104 guests to the day reception and a further 30/40 for the evening reception.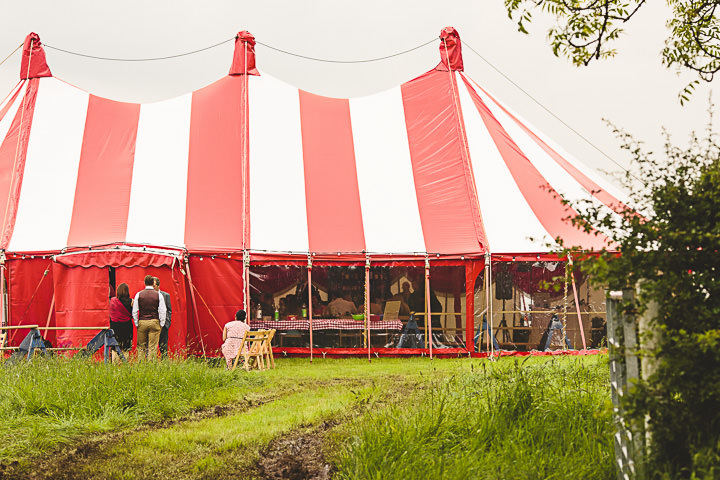 How you met
We met while working together catching Great Crested Newts. Gav is an Ecologist.
The Proposal
We got engaged on top of a mountain in Switzerland after Lucy won a holiday there on a packet of cereal. The mountain was where they filmed James Bond On Her Majesties Secret Service. The theme music "All the time in the world" was then chosen for our first dance.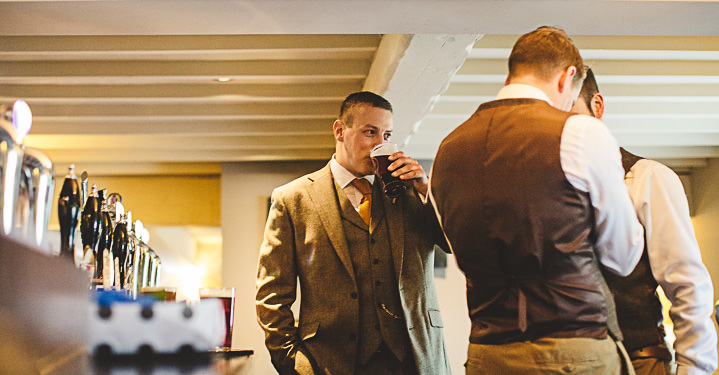 How did you allocate your budget
Circus tent & fittings was approx.£7k, Food was around £4k, Wedding dress £1k, Groom £400, Bridal party £400, Church £450, Rings £500, Pork Pie Cake £160, Flowers (incl. church, venue & wedding party) £350, Photographer £1.1k. Total spend, including the above plus DJ, toilets, invites, power, gifts, bar & misc was around £17k.
How did you choose your photographer
We chose Kate Tolson at Lucabella Photography because we loved her relaxed style which included lots of natural documentary-style coverage of our guests as well as us. The engagement shoot was also great to get to know her and learn what looks good on camera before the big day.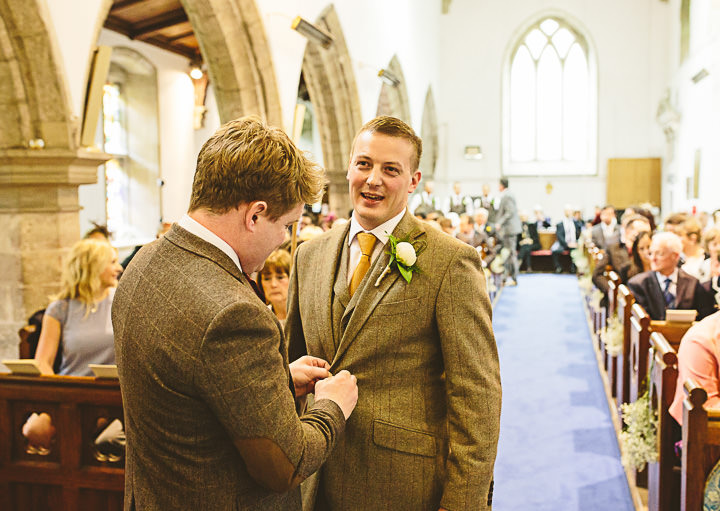 Dress and Bridesmaids
Benjamin Roberts dress from Beau Belles Borowash in Derby. Jewellery designer and boutique from Bespoke design by Primo Jewellery Loughborough. Shoes were from Roberto Vianni at Debenhams, Veil/headpiece was a Cathedral length veil from Ebay. Hair by specialist mobile wedding hairdresser Tina Howarth. Tina also whipped up the flowers for my hair from a few spares provided by the florist. I can't recommend her highly enough, she was fabulous.
Black dress for pregnant bridesmaid made to order locally. Male bridesmaid 3 piece black suit by Primark. Flower girl was a Pink party dress by Tesco and white fur wrap by Primark. We chose black for the adult bridesmaids so my male and female best friends would match and the black complimented the tweed on the boys. Also it gave freedom to choose any pretty dress for my flower girl as it would always match with the adults in black.
The Groomswear
Grooms 3 piece tweed suit and gold knitted tie by Walker Slater in Edinburgh. Best man and ushers wore Tweed waistcoats and burgundy knitted ties by Primark, beige chinos by Gap Outlet. We chose a relaxed look for the boys in waistcoats only and no jackets. It was great to buy the outfits for the bridal party rather than hiring them so they could keep them afterwards.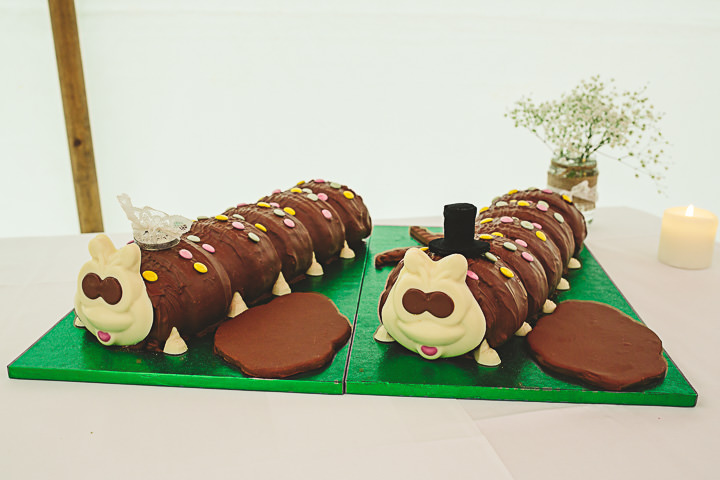 Theme or Colour scheme
We wanted a traditional countryside feel, so the decision to choose tweed and lace came naturally. Buying Gavs tweed 3 piece suit was one of the first decisions we made! Lucy's traditional lace gown with long lace train and fishtail style suited my shape and looked beautiful with the vintage style theme.
Colour scheme/decor: Due to the strong red and white colour of the tent, and the traditional tweed and lace of the bride and grooms outfits, we kept the other colours simple with white flowers, black bridesmaids outfits and fake grass runners on the reception tables.
Flowers
White flowers with a natural countryside look. Gavs dad is an Asparagus farmer so we also had Asparagus ferns in the bouquets and button holes. Simple bunches of white gypsophilla were used in the church as pew ends,also in hand decorated jam jars in the church and on the reception tables.
Decorations
With the relaxed countryside theme we chose wooden trellis tables and wooden folding chairs and chose not to have any table clothes or chair covers.
Lace doilie bunting made by the brides mum set off the top table beautifully. It was a real family effort with relatives displaying the flowers, setting up the reception and hanging out vintage bunting from the local scout group around the church front and venue field.
Instead of a guest book we had a hamper of jenga blocks for people to sign, helping us to "build our future together"! That way we could keep the blocks to display or play with in the future!
Our seating plan was pegs decorated by the B&G displayed on string lines in an old picture frame. This looked lovely but was also handy in arranging the seating plan! We continued our theme by adding fresh tree leaves to the seating plan and a framed tree picture on each table so our guests had to match the leaf to the tree to locate their table!
For place settings we bought scrabble tiles and racks from eBay. This looked great but also went down a storm with the guests who waisted no time in making rude words!
For favours we chose traditional sugar almonds with a note to explain the tradition behind the; 5 almost are given to represent health,wealth,happiness,long life and fertility.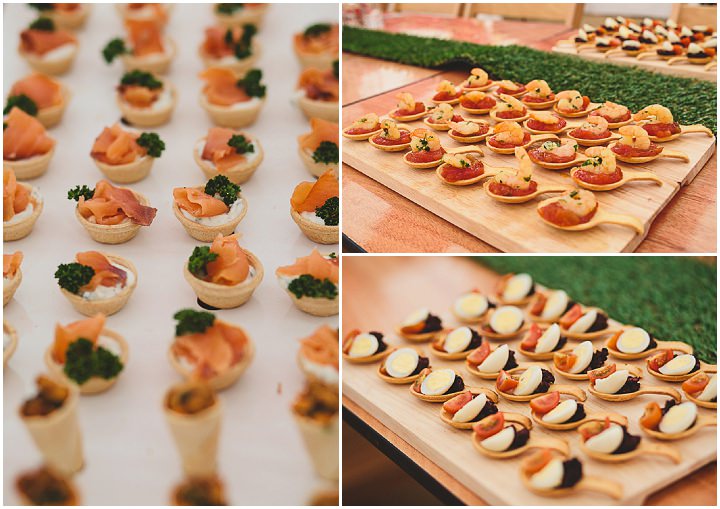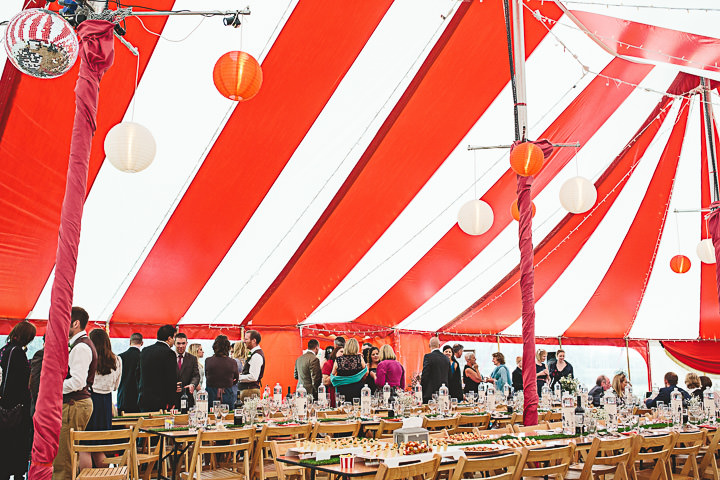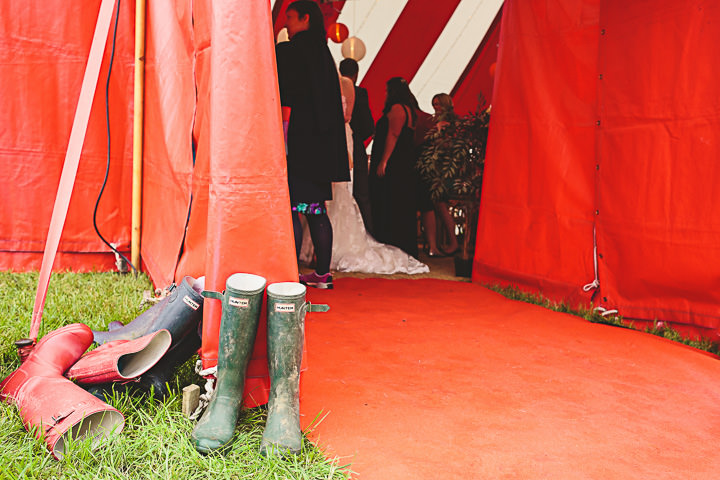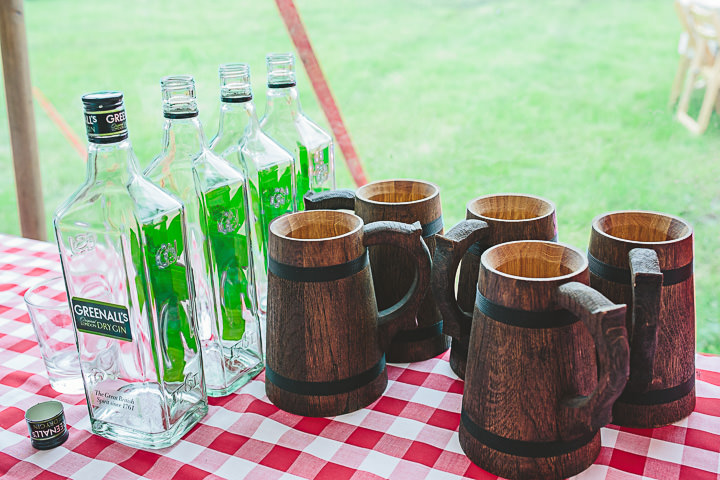 The Food
The starter was fresh-from-the-family-farm (Gavs dad is an asparagus farmer) with hollandaise and roast ham. Homemade steak and ale pie with pastry hearts on top-because we love steak and ale pie, with heaping of creamy mash and gravy as well as minted mushy peas. For pudding we had our favourite flavours of cheesecake from the Cheesecake Shop after Gav and his mates visited ALL their shops in one day and tried all the flavours!.
The Cake
Neither of us were fussed with a sponge cake so we opted for a 3 tier pork pie. This also doubled up as part of the evening buffet along with bacon sandwiches and ketchup of course. For a bit of a giggle we also had a bride and groom giant caterpillar cake as a nod to when we met when working for an Environmental Consultancy saving newts. Also Tunnocks Teacakes and caramel wafers as we love them and they matched the tent!
Entertainment
A friend of mine is a DJ so came and provided the evening music for us, as well as a "photobooth" with props in the evening. This turned out great because it captured pictures in the evening after our photographer had left, but also we were surprised by how many of our older relatives and guests got involved in posing for a photo while wearing a feather boa!
Buy or DIY your Stationary
DIY.We DIY'd all of our own stationery, either printing ourselves or using Vistaprint.
Personal and Handmade Touches
In the Church my friend and professional musician Abi played the organ and piano – Despite the traditional church venue, Abi and our vicar were very open to a modern twist; we had Beach Boys "God only knows" and Sixpence-none-the-richer "Kiss me" on piano while signing the registers and my favourite moment of Beach Boys "Wouldn't it be nice" on the church organ as we walked out of the service.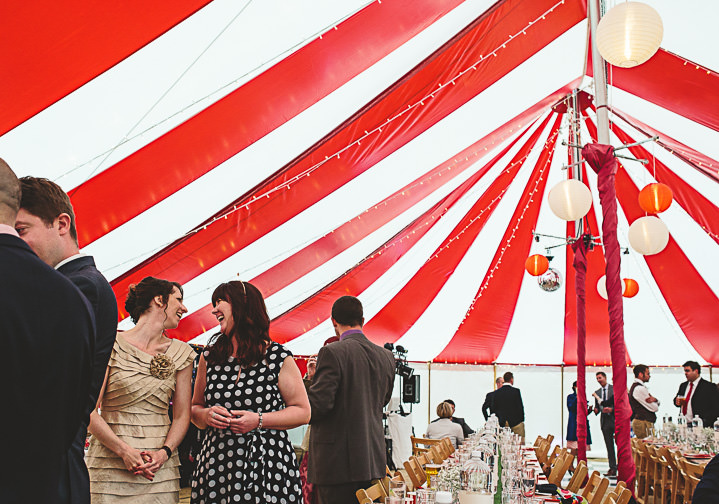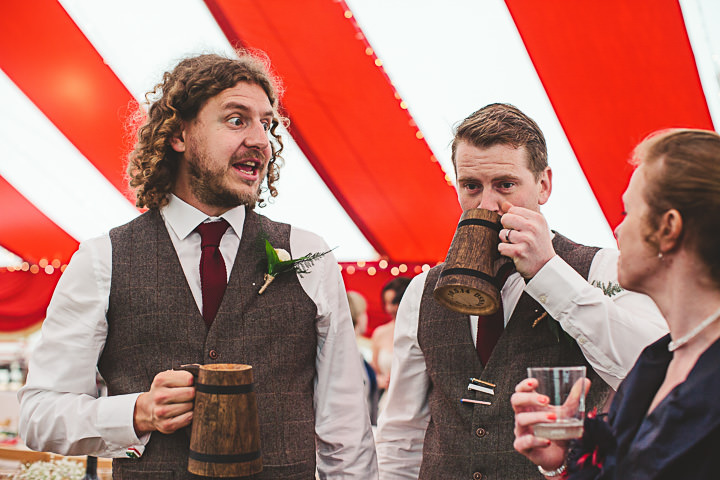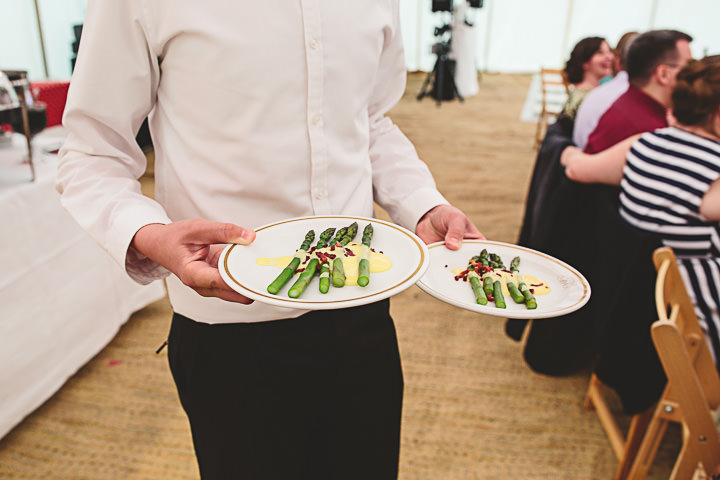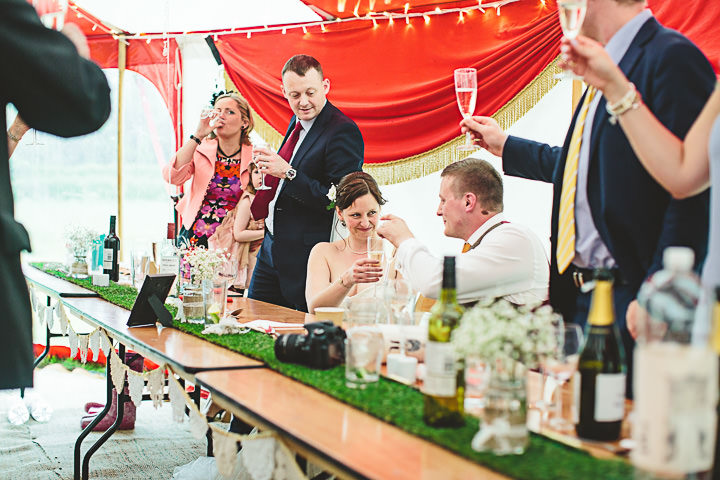 Advice for other couples 
Make sure you plan who is going to help you and when this so that you don't end up carrying your own wedding presents home in a bucket or having to ring around to make sure your venue is emptied on time on the morning after. Also, we'd recommended staying elsewhere on the night just so you don't end up with a constant procession of visitors on the day after. A Facebook ban on wedding photos posts by your guests is also a top tip.
Special moments or highlights 
The ceremony was the highlight, the food was excellent and went down well. A real highlight was having all the important people there on the day. Also seeing all our hard work come together and it being enjoyed and appreciated by our guests.
Biggest surprise 
The generosity of the donations by our guests to our Honeymoon to see Everest. We truly couldn't have done it without them, which left us feeling on top of the world!
The Honeymoon
Following the wedding we went straight off to Nepal go trekking and see Everest. Our trip was fantastic but we already felt on top of the world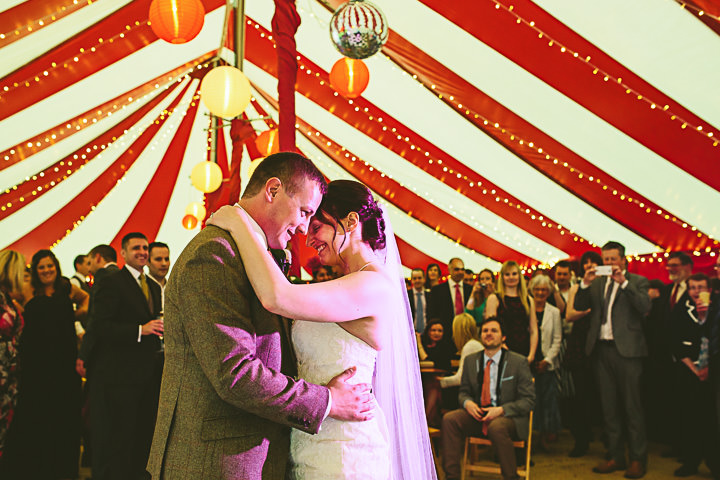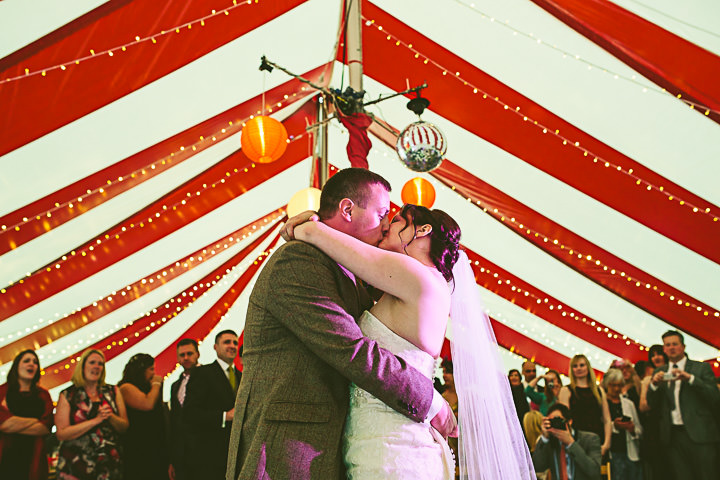 Supplier Shout Outs
Bridal gown – Designer and Boutique: Benjamin Roberts dress from Beau Belles Borrowash in Derby
Jewellery – Designer and Boutique: Bespoke design by Primo Jewellery Loughborough
Shoes: Roberto Vianni at Debenhams
Veil/headpiece: Cathedral length veil from Ebay.Hair by specialist mobile wedding hairdresser Tina Howarth. Tina also whipped up the flowers for my hair from a few spares provided by the florist. I can't recommend her highly enough, she was fabulous.
Florist – The Flower Shop East Leake
Venue: Local village church, followed by reception in a field in the village, Nottinghamshire
Circus tent by Pete at Big Top Mania was a tremendous help both in setting up but also on the day. Huge thanks to him.
Decor/styling: By Bride and Groom.
Cake Maker: 3 tier Pork Pies (3 different flavours) by Nelson's butchers
Giant Caterpillar Cakes by Marks and Spencers (each serves 40)
Desert by The Cheese Cake Shop
Bridesmaids dresses: Black dress for pregnant bridesmaid made to order. Male bridesmaid 3 piece black suit by Primark. Flower girl: Pink party dress by Tesco and white fur wrap by Primark
Groom/groomsmen: Grooms 3 piece tweed suit and gold knitted tie by Walker Slater in Edinburgh. Best man and ushers: Tweed waistcoat and burgundy knitted tie by Primark, beige chinos by Gap Outlet.
Stationary: Postcards designed by Bride and Groom printed by Vistaprint
Entertainment: Church organ and piano by Abigail Parker
DJ Ben Hadfield
Evening "photo booth" with props by Emma Hadfield of Mrs Hadfield's Craft Emporium
Photographer: Kate Tolson at lucabella
For more information on Kate's work go to
www.lucabella.co.uk  
www.lucabella.co.uk/category/lucabella-photography-blog
FACEBOOK
@LucabellaPhoto
Lucabella specialises in romantic and natural storytelling wedding photography with a hands-off approach.  It's about capturing the bond between two people surrounded by the people they love the most in the World. Based in the East Midlands but travelling throughout the UK and beyond.
[jprel]