It's Friday afternoon, so it must be time for another Diary of a Boho Bride, this time we are back with Sarah and Del. Last time they talked about 'The fear' and today it is all about choosing an outside caterer and the problems they had, as well as priorities and budgets. All 3 subjects kind of go hand in hand, but Sarah's words also remind us how important it is to think about the planning logically and how to put things in order of importance.
I'll pass you over to Sarah…..
Hello! How's the planning going for you all? Del's having a month off blogging, so it's just me today.
It's been a really busy month for us both. We had a lovely holiday exploring the sites of Cordoba & Granada in Spain, and I finally handed in my PhD – yay! I've also just moved out of my house in Lancaster as my secondment with work is coming to an end, so finally we'll both be living together again full-time and have lots more time to think about (and hopefully do) wedding planning, as well as more time to spend together.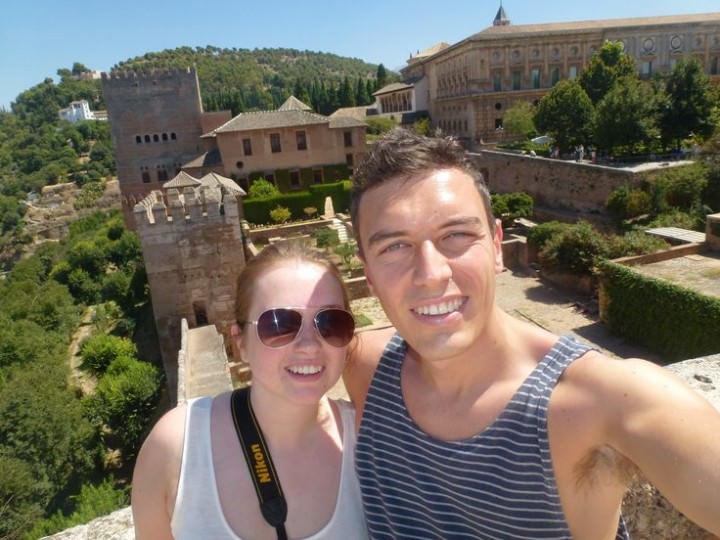 As I write this we're just back from a weekend of mega-planning in Scotland. My Mum & sister came up to Glasgow on Saturday & had a meal with Del's parents, and then on Sunday we attended the Glasgow Wedding Collective Fair, and then whizzed up to beautiful Loch Ard so that my Mum could see the wedding venue – Altskeith House – for the first time. This also gave us a chance to speak to Alison at the venue about our progress with the plans. The wedding fair was brilliant too. It's really vibrant but not overwhelming like some of the bigger fairs. The approach of all the suppliers is non-intrusive – it really feels as though they're there to inform you of their services rather than try the hard sell. We got lots of new ideas, including cool coloured umbrella hire, got to taste some samples from our wedding cake suppliers the Big Bear Bakery, and catch up with Alison MacLeod who we met up with a few weeks back to discuss our wedding rings. So, it's been a bit of a busy one!
On top of that, this month we've been concentrating on finding a caterer – something which has been playing on our minds for quite a while. As we've said before, we'd like a rustic theme to our wedding, and the catering follows that theme, so we have been looking for a company that can provide that for us. One of the main reasons that we booked the venue Altskeith was the freedom it afforded us in being able to choose our own caterer rather than having to use in-house. We were really excited about this prospect, but hadn't really appreciated the extra work that goes into planning a wedding with an outside caterer, compared to a 'typical' wedding. We realise we might have done it differently with hindsight.
When I say 'typical' wedding I mean the kind where your venue automatically comes with a caterer attached. This the kind of wedding that is described in the back of many a wedding magazine. I don't know about you, but when we get engaged, we didn't really know where to start with planning, and so wedding blogs and magazines played an important role in giving us an idea of what our immediate priorities should be. After securing the venue and a fantastic photographer – Christopher Currie – we then started to do lots of bit and bobs – cake, rings, bridesmaid dresses, DIY ideas. All the while, caterers were in the back of our minds, but we didn't actually get around to having any detailed chats with them, never mind booking! We just assumed there'd be loads out there. And in those lovely guides at the back of wedding magazines, there's no mention of caterers, because of course most venues come with a caterer!
So in the past month or so we decided to get it sorted. We started with those we'd spoken briefly to a few at previous wedding fairs, but they were all booked up for our date. It's fair to say that panic kicked in for a little while, but Alison at Altskeith has lots of brilliant suggestions based on her experiences of various caterers in action at previous weddings. One of those she recommended was Bespoke Catering, a company local to the venue who do delicious looking food at a good price. We'd never have found them without Alison's inside knowledge, and so we're really pleased as they're fantastic. We've been liaising with them via email & think we've got a pretty good menu pulled together. But it was difficult to get to this stage.
All in all, I think we've had a little bit of reflection on the wedding planning process so far, and realised it would have been good to book a caterer at the same time as photographer and venue. There are two reasons for this. First, this last month would've been much less stressful – hindsight is great as we love Bespoke, but there were a few moments when we thought we'd be making sandwiches for our guests! And secondly the budget. Food is a huge chunk of it, so it'd have been better to finalise the catering cost early so that it could inform our choices on the smaller things. And so our advice is simple: if you're thinker of using an outside caterer, ensure you tailor your priorities to your own wedding – don't just take advice from the generic guides at the back of a magazine. While they're a good starting point, you need to think about what's required for your day and work with that.
Love Sarah and Del xx