I have such a pretty wedding for you today, thanks to the lovely couple Ellie and Neil, as well as the fab photographer Chris from Scuffins Photography. This wedding is full of vintage touches as well as shabby chic decoration. Teacups, jam jars, lace, bunting (oh so much bunting) as well as gorgeous flowers and the most stunning Jenny Packham dress. With outdoor games and a photobooth, this wedding is not just super pretty but full of fun!
"The day WE wanted. A laid back, fun day in the sun."
Ellie and Neil were married on the 12th July at Ingleside House in Cirencester, Gloucestershire. "We liked that the venue was small and intimate on the inside. The existing décor would fit in with the style we were aiming for but at the same time, it gave us a perfect canvas to add our own decorations and personality to it. The outside was big enough to add a marquee (which we did), and still have plenty of room for tables, chairs and a garden for us all to sit out in the nice summer weather. We had 50 guests to the day and then about another 30 came for the evening. Ellie was planning our wedding even before I asked her to marry me…but we got engaged on 19th June 2013 and then we started really focusing on our planning from that day. We stockpiled on wedding magazines that very day. We confirmed our wedding date with the Registrar and venue on 11th July 2013 – so that gave us exactly one year and one day for us to plan our big day."
How they met
We were both at a mutual friends wedding up in Scotland in March 2011. We'd never met before and spent the whole day there and didn't speak to each other once. It wasn't until June that year that those friends decided to arrange for us a double date, and we went to the Colesbourne Inn for a drink on 19th June 2011. That was the first time we had a proper conversation face to face and that's how it all started.
The proposal
Neil: June 19th 2013, our anniversary. I'll take you back to our first date two years prior and on that date I bought Ellie a present. We'd been texting a few times in the week building up to our first date and she mentioned she liked Kinder Eggs. So as a present, I brought along a kinder egg but I only gave her the yellow box with the toy in (I thought it would be funny if I ate the chocolate). At the end of our first date, we were both stood outside the front door of the Colesbourne, saying our goodbyes and it was really awkward. We didn't really know how to say goodbye, whether we should kiss or not. So we just said the words "goodbye" and she went to one end of the car park and me to the other. I really, really wished I had kissed her goodbye that night.
Two years on and it's our anniversary. I had work this day and Ellie was off so we arranged for her to come over to my work and we'd go for lunch on my break. She arrived, thinking we were going to another pub, but I said lets go to the Colesbourne as it's our anniversary. She hesitantly said yes because it was further away and was worried I wouldn't get back to work in time. She nearly turned the car back around. But I insisted we carry on going.
So we eventually get to the Colesbourne and park up. As we approach the front door of the pub, I hold Ellie's hand and tell her to stop. I say to her "I should have done this two years ago" and I kiss her. I then said "if you remember on our first date, I gave you a present. This time I've included the chocolate". And I hand her a Kinder Egg. I ask her to open it and she pulls back the foil; cracks open the chocolate and opens up the small yellow box. Inside is an engagement ring and I ask her to marry me.
How did you spend your budget?
We knew we didn't want to spend the earth on the wedding and we also wanted to make a lot of the decorations so that saved us quite a bit! We had a budget but not for any certain part of the wedding we just went with the flow (unless the flow was too expensive).
Why did you choose your photographer?
We wanted natural, relaxed and fun looking photos, not loads of staged, sometimes uncomfortable looking photos. We searched on the internet for local photographers and came across Chris Scuffins page. We really liked his images but we read his "About" page and we instantly thought "he will get us". He spoke about capturing images exactly the way we wanted ours captured. We arranged a meeting with him and after that meeting we knew. Didn't even bother looking for other photographers for comparison as we knew there'd be no point. So, so pleased with Chris and Helen.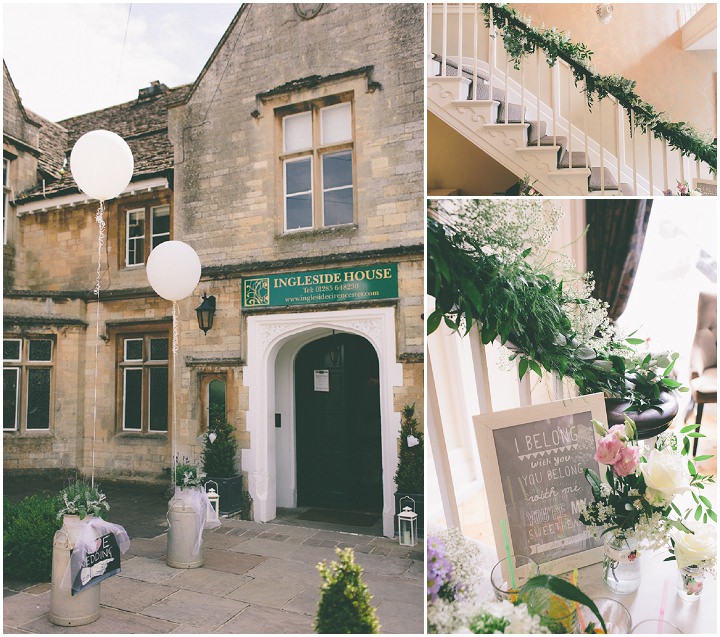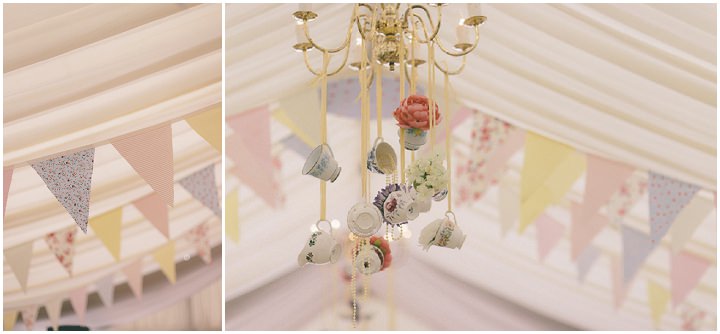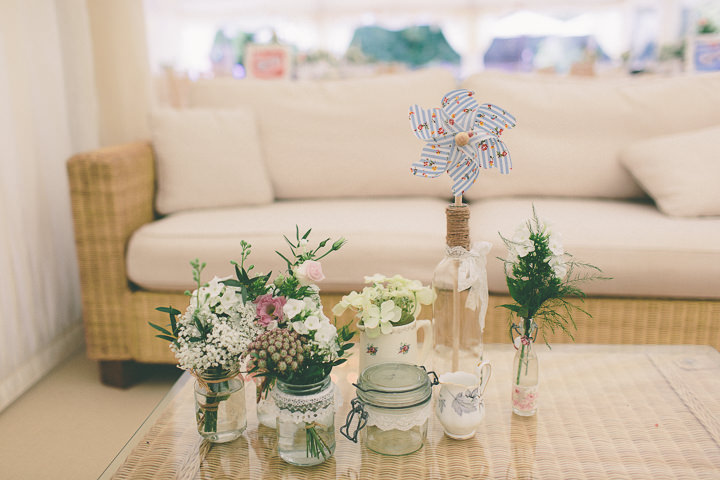 The wedding dress and accessories
Ellie: I had a Jenny Packham dress (eve) I fell in love with it when I saw someone else try it on – I couldn't wait for her to get out of it so I could put it on myself! The style was perfect for our vintage theme and I wanted something that wasn't a "traditional" dress! It definitely had the wow factor but was still really laid back. I wore embellished flip flops from accessorize to continue with the informal style of the day (and I didn't want to be taller than Neil) I wore dried flowers in my hair with a veil but no other accessories as I didn't need to with the detail on the dress!
The suit and bridesmaids
The suit was made by Victor Valentine who are based in Southampton. We wanted a tweed suit to fit the vintage theme of our wedding and Victor Valentine offered exactly what we were after.
Bridesmaids wore cream maxi dresses from Jane Norman. I had 4 very different bridesmaids so it was a struggle to find something that suited them all but I really think it did! They wore dried flower halo garlands in their hair and looked like boho bridesmaids which is what i wanted. They all looked stunning and we had a lot of comments from guests saying how beautiful they looked.
The theme
We had a vintage/ shabby chic theme from day 1 so we always tried to keep to that. The colours were quite neutral with pastel shades for the flowers but we didn't have a particular colour.
The flowers
The flowers were from Oops A Daisy in Cirencester. We had peach roses and lots of gyp as well as some seasonal pastel coloured flowers! All our button holes were dried flowers as well as our table setting which were bunches of lavender. They were from Artisan Dried Flowers.
The decoration
We had bunting everywhere, lots of homemade decorated jam jars full of flowers, wicker baskets, lace, mix matched tea cups and saucers as well as tea cups and jugs hanging from the chandeliers.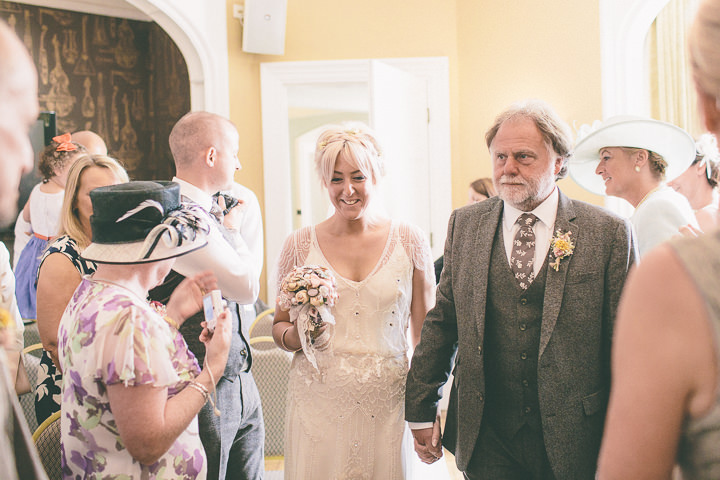 The food and wedding cake
We had a three course meal which started with stuffed mushrooms (large mushrooms stuffed with bacon, cheese and some breadcrumbs). The main was gourmet burger and chips, onion rings, with relish and salad. It was the biggest burger as well, but that kind of food is "us" so it was fitting we had it on our wedding day. And for dessert we had a meringue with cream and strawberries.
The wedding cake was a cake made from a selection of cheeses. We got the cheese from House of Cheese in Tetbury. We had four wheels of cheese on top of each other. It looked stunning.
The entertainment
We had a DJ for the evening, which went on from 7:30pm to midnight. They were based locally called Euphoria. We also had some outdoor games and a small bouncy castle for the children.
We also had two cardboard cut outs one of a fat lady and thin man at the beach and one of a car. We put a Polaroid camera and a guest book next to them and let people get on with it! It went down so well and we got a really great guest book out of it.
Buy or DIY your stationery?
We were lucky that Neil's brother is a graphic designer so he did all our stationery and it was perfect we just decorated them afterwards.
Personal or handmade touches
Ellie: My mum made over 200 metres of bunting for the venue. I made the cake toppers from wooden peg people and with my sister (maid if honour) we decorated over 100 jam jars. We made the save the dates and invites with the help of my new brother in law as mentioned above.
We also went round every charity shop and collected teacups and jugs and stuck false flowers in them for the chandeliers.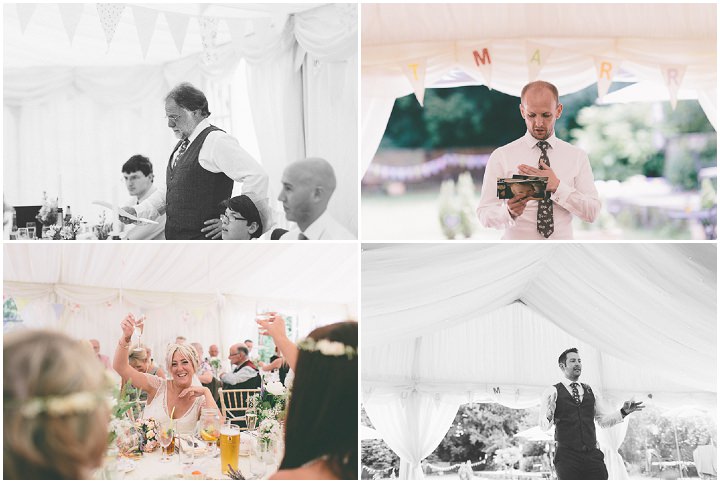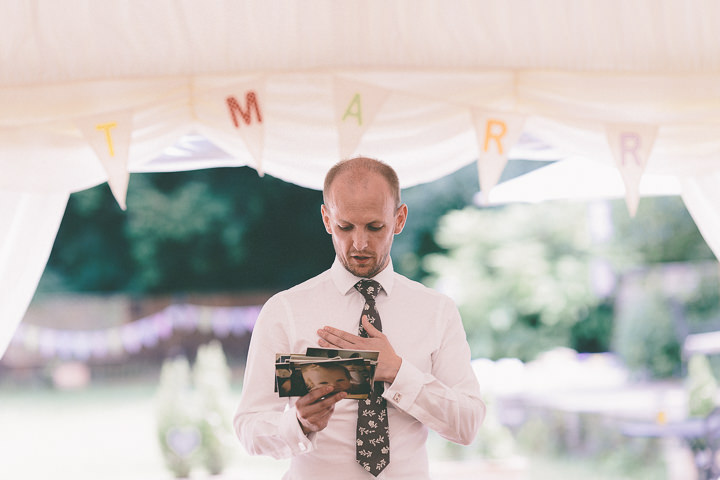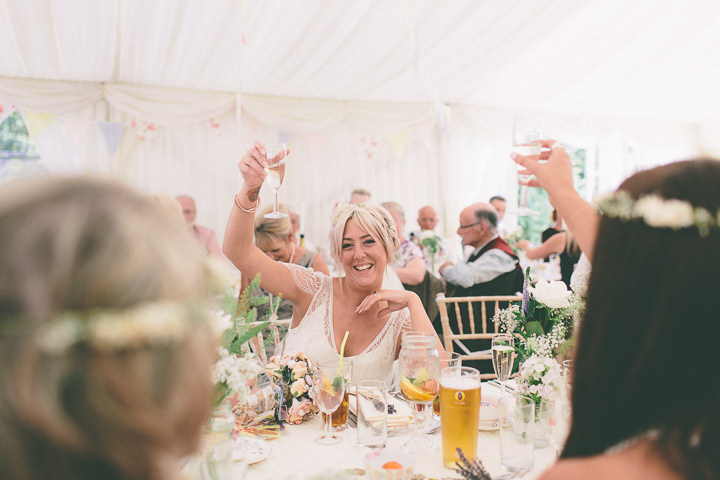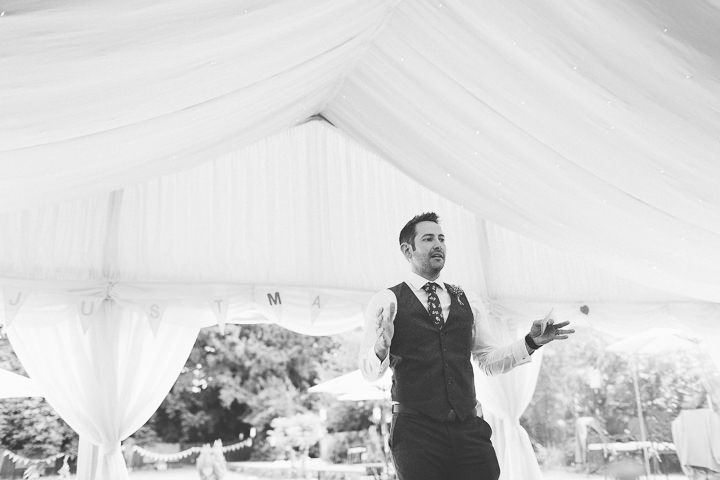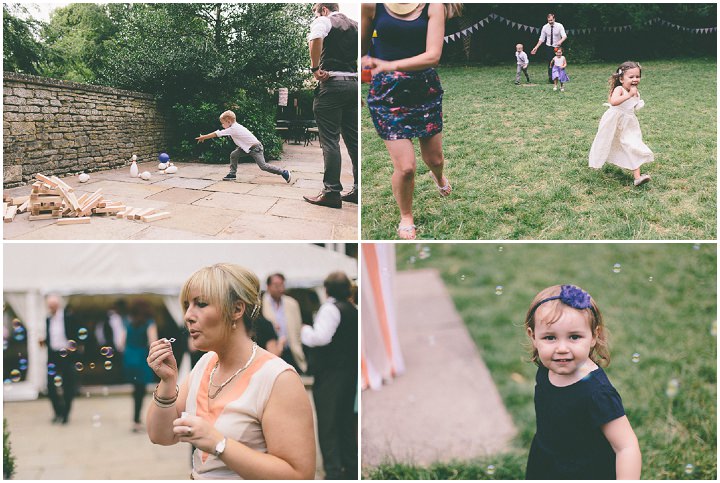 Special moments
Neil: The ceremony part for me – the actual getting married part of it. I just loved that. It was so exciting. It just felt like the only time of the day where it was just Ellie and I (no offence to the guests). Another moment for me will be the fact that our 18 month daughter was there too and so when she's a bit older, we get to look back at the day again together and tell her about it.
Ellie: I also really enjoyed the ceremony as although it was a small room it felt like it was just Neil myself and our daughter! I also have really fond memories of dancing with my bridemaids it was such fun and took me back to our clubbing days it made me feel so grown up but really happy I was still with my best friend from those years ago
Advice to other couples
Everyone probably says this but on the day itself, try and soak up every single little bit of it. It will be a day you will want to relive time and time again but you can't – so take every opportunity to grasp every bit of it. And if you're nervous in the build up, you won't be on the day as you just don't have time to be nervous.
Biggest surprise
Neil: The biggest surprise for me was that sometimes nice weather can be too nice. It was such a lovely sunny day, but with the pressures that come with being the groom (and wearing a three piece tweed suit) I got a little bit too hot. Oh yeah, and that me and my wife are actually pretty good dancers! Apart from that, I don't think there were any surprises which is testament to all the planning that took place.
Ellie: My biggest surprise was how stress free the day was- I had been so worried people wouldn't enjoy themselves or my daughter would misbehave or the weather would be rubbish but as soon as I saw Neil it all just went away! I had an amazing day and can't believe I got so stressed about things I couldn't control the days before the wedding!







Supplier Shout Outs:
For more information on Chris' work please go to:
www.scuffinsphotography.com
www.scuffinsphotography.com/category/weddings
FACEBOOK
@chris_scuffins
[email protected]

[jprel]