Happy Wednesday everyone, so we are halfway through the week already, hasn't it gone quickly! Today I have a stunning rustic wedding courtesy of by Divine Day, a day full of sunshine, smiles and some super pretty details. Charlene and Michael took on lots of DIY projects for their wedding to keep the cost down but decided straight away what was most important to them and made sure they allocated the budget in those areas. They took on a rustic theme with accents of dusky pink, coral and peach, an Italian theme for the food and lots of DIY elements helped out by friends and family. A gorgeous day I'm sure you will agree for a gorgeous couple.
"An amazing celebration full of sunshine, food, drink, music, dancing…and full of love! Without a doubt, the most special day of our lives."
Charlene and Michael were married on the 7th June at The House Meadow in Biddenden, Kent. "We knew that we wanted a relaxed wedding from the start and we had lots of ideas, so we needed somewhere that would allow us to put our stamp on things. When we saw the House Meadow, we knew straight away that it was perfect. It was so beautiful, even though it was winter and muddy, we could see how amazing it would be in the summer. There was a beautiful gazebo on the lake for an outdoor ceremony and a barn (which wasn't yet in use) that had heaps of potential for the reception. We loved that it was all in one place and the location was a nice equal distance between each of our home towns. Not only that but we had free reign to use whatever suppliers we wanted, but with the option of help from Clare (the manager) when we needed it, as well as on the day co-ordination and next day clear-up. Clare was so passionate about the venue and all things wedding, we knew she would be an amazing support.There was one little problem though, the venue didn't actually have a civil ceremony license at that point. An application was in the pipeline, so we took a chance that it would be successful, which luckily it was!"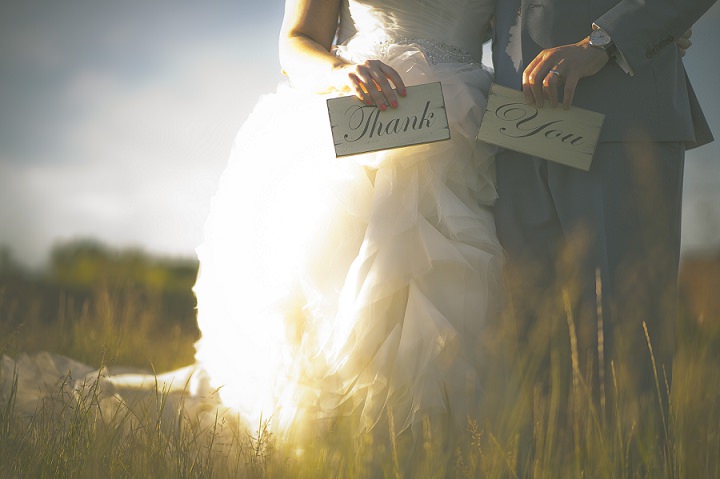 How they met
We met online, through MySingleFriend. My sister got me tipsy and added me, while Michael's best men (he had two) put him on there! We have been together just over three years now.
The proposal
It was Christmas Day and we were sitting under the Christmas tree opening our presents. I opened up my last present and found a ring box. I looked up to see Michael on one knee, he asked, I said yes, there were tears and then much celebration! It all made sense as he had been acting a bit strangely, he disappeared on Christmas Eve claiming he had to go and exchange one of my presents, but it turned out he had gone to my parents to ask their permission!
How did you allocate your budget?
Our initial budget was way off. We wrote a list of everything we thought we would need, then plucked some figures from out of the air. After a bit of research and realising that the prices we were guessing were insanely optimistic, we worked out a more realistic budget. We made sure we gave the big things a lot of thought and research. There were several times when we fell in love with something, decided we would have to just blow the budget, slept on it and realised it wasn't worth it. For those things that passed the 'sleep on it test', we went for it.
How did you choose your photographer?
We didn't actually plan to have a photographer at first, we are both pretty useless in front of the camera, so we thought why torture ourselves with posed shots?! The more we thought about it though, the more we realised how important it was to capture the day. After a bit of research we decided documentary style photography would be perfect…minimal posed shots and lots of capturing the moment naturally. We shortlisted a few photographers and arranged to meet some, Sandra was the first one we met and we absolutely fell in love with her. Sandra's photographs were gorgeous and exactly what we were after and she was so enthusiastic and really understood the kind of wedding we were planning. I had read some advice that it's important to get on well with your photographer and feel comfortable with them as you spend a lot of time with them on the day. Sandra was someone we were happy to spend our day with.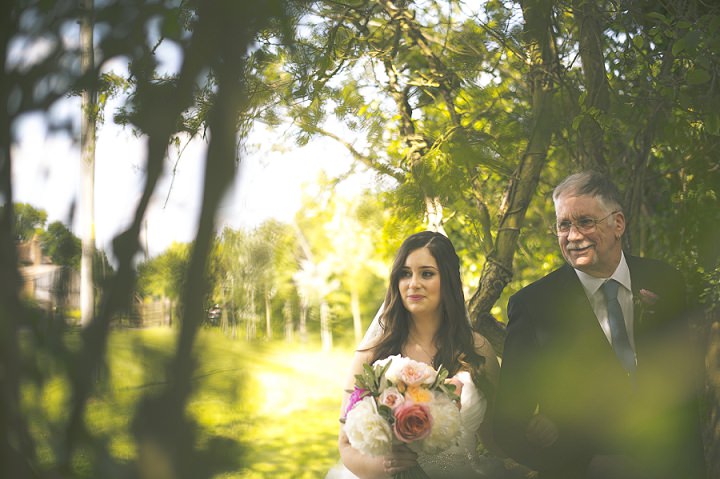 The dress and accessories
I started out sure that I wanted a simple dress. The more I looked though, the bigger ones started to catch my eye. I was particularly in awe of the ruffled Vera Wang dresses, but they were way over budget! I must have tried on about 30 dresses and after finding 'the one' then the next day deciding it was 'not the one', I found a ruffled dress by Sottero and Midgely online and rang around to find a shop that held it. I had to wait for about a month to go and try it, but when I did, it was perfect.
I got the simplest veil I could, as the dress had a lot going on. I was sensible and went for flat No. 1 Jenny Packham shoes and also bought some leopard print wellies just in case, but didn't end up needing them! My diamond earrings and necklace were my wedding present from Michael.
The suit and bridesmaids.
The suit was from Reiss, the shirt and tie were from Ted Baker and the shoes were from Dune. The shirt was quite hard to find as Michael has oddly long arms, so he ended up having to buy it in a bigger size and get it tailored to a slim fit. The sales assistant in Ted Baker was really helpful and took us to a tailors a couple of shops down to check the alterations could be done, so he got his suit done there too. I gave Michael some Dunhill cufflinks as my wedding present and as a massive watch fanatic, he decided to take the plunge and treat himself to a Zenith watch as a wedding present to himself!
One of the bridesmaid dresses was from Coast and the other from ASOS. We decided not to go with matching dresses for the bridesmaids as we wanted them to wear what was right for them. The groomsmen wore their own suits, which all turned out to be blue and we got them their ties and socks as gifts.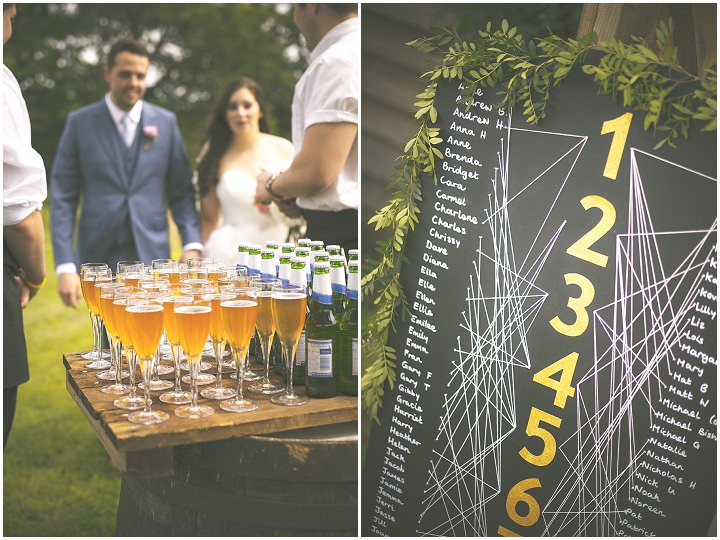 The theme
We didn't set out to have a theme or colour scheme, but because of the venue we went with the rustic and pretty vibe. We fell in love with a picture of a wedding cake early on and loved the dusky pink, coral and peach colours that it had. We decided to base our own cake on that picture and asked our florists to base the flowers on those colours too. We ended up including a few gold touches as well which added a touch of glamour to the rustic elements!
The flowers
Apart from the colour palette, all we asked our florists for were big blooms and for there to be some peonies in there somewhere. The very talented Frida and Sophia did an amazing job and gave us exactly what we wanted. The bridesmaids had smaller versions of my bouquet and the Groomsmen, Dads, Mums and Pageboys had dusky pink peony buttonholes and corsages. We also had flowers as our centerpieces and asked Frida and Sophia to decorate the swing at the venue and add some foliage to our table plan.
The decoration
The venue was so pretty it really didn't need much decoration, but we did go to town with the fairy lights! We had a romantic idea of going to lots of boot fairs and junk shops and getting loads of vintage accessories, but it wasn't as easy as we thought it would be! We did end up with a few good finds though; we had some lovely bottles that the florists used as vases for extra flowers, tea lights, crates and a typewriter that we used to make labels. We struggled to find decent gold photo frames for things like the bar menu and guest book sign, so we ended up having to buy plain ones and spray them gold instead.
The food and wedding cake
Our favourite food is Italian so we went with an Italian theme. We decided we wanted wood-fired pizza for the evening and found a gorgeous pizza van called Pizza Amore. When we found out that Andrew, the owner, had been a chef for over 20 years, we asked if he would be willing to do the main meal as well as we were struggling to find a caterer that could do exactly what we wanted, luckily he agreed.
We served Florence Fizz cocktails and bottles of Peroni for the welcome drinks. We had a really fun evening with some friends in the run up to the wedding, trying to work out the recipe for the Florence Fizz cocktail! We also had a nibbles table after the ceremony with olives, breads and oil and vinegars.
For the wedding breakfast we had antipasti sharing platters to start and then roast lamb, roast potatoes and salads for the main meal. We asked some of our nearest and dearest to bake us their signature desserts for our dessert bar which was beautiful! Then of course in the evening we had pizza from the van which went down a treat!
The design of the cake was the first thing we chose! It was a beautiful three tiered ruffled design, with an ombre effect and large flowers down the front. Ketta from Flossie Pops Cakery did an amazing job!
The entertainment
We had an acoustic duo, Danny and Matt Acoustic Covers, to play during the ceremony and then again at the reception, followed by a DJ. We wanted something nice and chilled to start but then some good tunes we could dance to after a few drinks!
Buy or DIY your Stationery?
DIY – Michael took some photographs at the venue when we went to visit for an open day and we had a couple of gems. He used them to make the save the date postcards and as part of the invitations suite. Our friends Simon and Fran created a lovely hand drawn map for us to include as well. They also spent several hours with us discussing the merits of different types of card and eventually printing and assembling…and they didn't complain once!
Personal or handmade touches
Some things we made quite in advance but we spent the day before the wedding with some of our most creative (and patient) friends making and assembling all of the last minute touches.
-My Dad built us an awesome bar and we made a blackboard bar menu to hang on the front.
-My parents sacrificed their 30 year old dining table which we turned into our seating plan (it's okay they had already ordered a new one). It turned out to be a complete mission to make, but it was worth it!
-We made little bags for each guest which contained an order of the day card and petal confetti.
-I wish we could say that we made the macaroons that we gave as favours…we did assemble the little boxes that they went in though and made the name tags and tied it all up with string!
-For the kids, we put together little goody bags which contained crayons, pads, puzzles, bubbles and tongue tattoos.
-Our friends painted a lovely wedding sign and we made other signs for on top of the bar, nibbles table and guest book.
-We loved the idea of a polaroid guestbook, so we bought a Fujifilm Instax camera for our guests to have fun with and fill a wooden guestbook we found on Etsy. One of the best men, Gibby, wrote us a little poem of instructions which we displayed in a frame.
-The cakes! Our friends and family made an amazing display of homemade goodies.
Special moments
-The whole day was amazing, we were ridiculously happy, but there were a few stand out moments.
-That first moment when we were alone after the ceremony, walking to get our welcome drinks as husband and wife. We also loved the times when we were whisked away for photos, as we got to spend time together and take it all in.
-Seeing everyone that we love all together in one place, looking over and seeing people from completely different areas of our lives having a good chat, wondering what they could be talking about!
-Having all of my Mum's side of the family over from Ireland, it's been years since we've all been in the same place at the same time, so it was pretty special.
Advice to other couples
We definitely think you should try and get the best photographer you can afford and if you are doing a DIY wedding then we would really recommend getting an on the day co-ordinator so you can relax and enjoy!
It's great to get your loved ones involved too. It was so nice to look around and see all of the elements that our friends and family had contributed.
Biggest surprise
The weather! We wanted to have the ceremony outside, but the forecast had been bad all week and it just seemed more and more likely it would rain. On the day, it rained in the morning but then cleared up in time for the ceremony and it stayed beautiful for the rest of the day, we were so lucky! We had tried loads of rituals though; burying a fork at the venue, wedding shoes on the window sill…maybe one of them worked!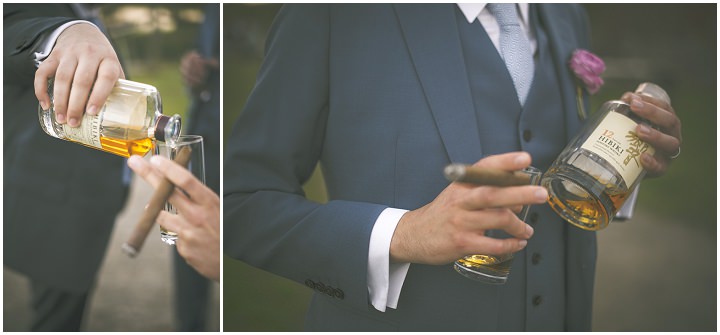 Supplier Shout Outs:
For more information on Sandra's work please go to:
www.divinedayphotography.com
divinedayphotography.wordpress.com
FACEBOOK
@svonriekhoff