Take a well-tailored groom and matching groomsmen and mix it up with a stunning boho hippie bride complete with feathers in her hair and polka dots on her shoulders and you know today's real wedding, sent to us by Document The Day, is going to be special. Add to that the delicate pastel colours of the bridesmaids, the rainbow of flowers in the bouquets and a butterfly release (yes you heard right) and you have a truly unique wedding.
"Something Beautiful"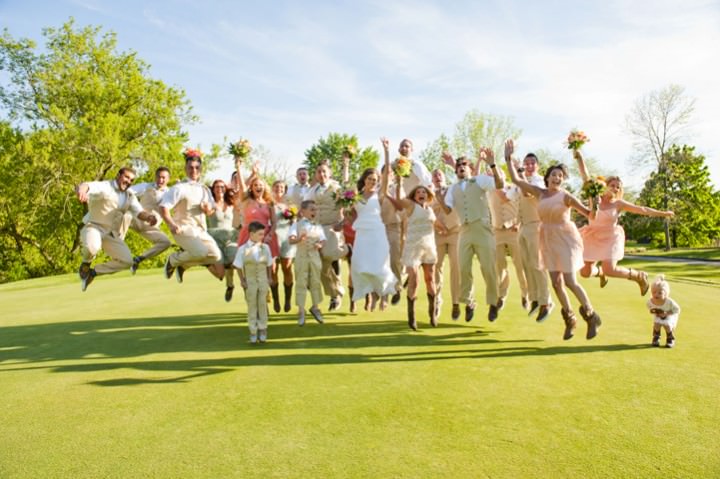 Candice and Zach were married on 23rd May at the Lincolnshire Marriott, Lincolnshire Illinois. "Friends told us to check out the Marriot, it was the first venue we saw and that was it! It made sense for us! It was easy to have everything in one place and that's what we did! I LOVE to plan, I started right away! I had lots of crafts to do! So basically I was planning for a whole year!"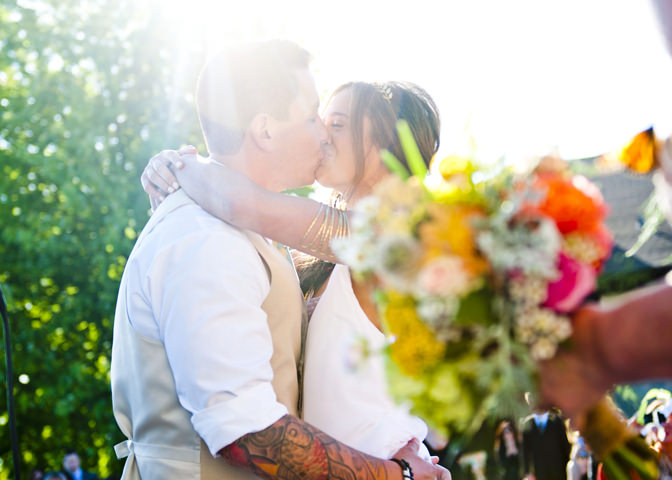 How they met
I was friends with Zach's sister, Carlie. In her words " she though I was the cutest little hippie and wanted me to date one of her brothers" So, I did! We have been together for 3 years.
The proposal
BIRCHBOX! He put my ring in my monthly birchbox! It was so different and unique. I actually shared my story with birchbox and they posted our proposal on they're page (we set the trend, as we were the first to ever have a story like ours!)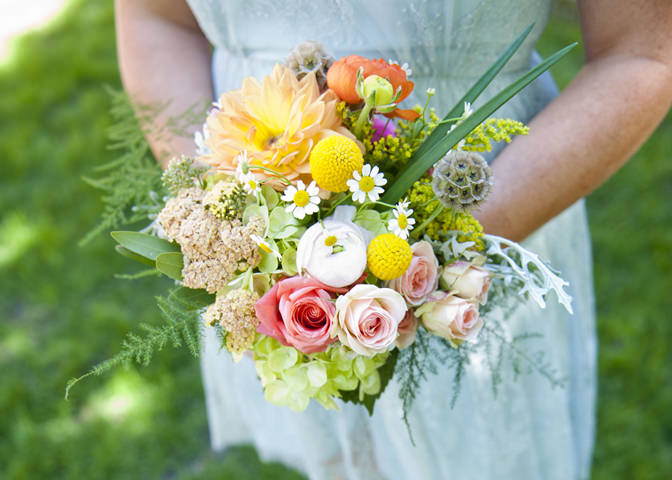 How did you allocate your budget?
We never really came up with a budget, because Things weren't set in stone as far as prices. I made a lot of stuff and always looked for deals. If something was too expensive, I made it.
Why did you choose your photographer?
My best friend used her for her wedding and she was unreal, she fit my style perfectly.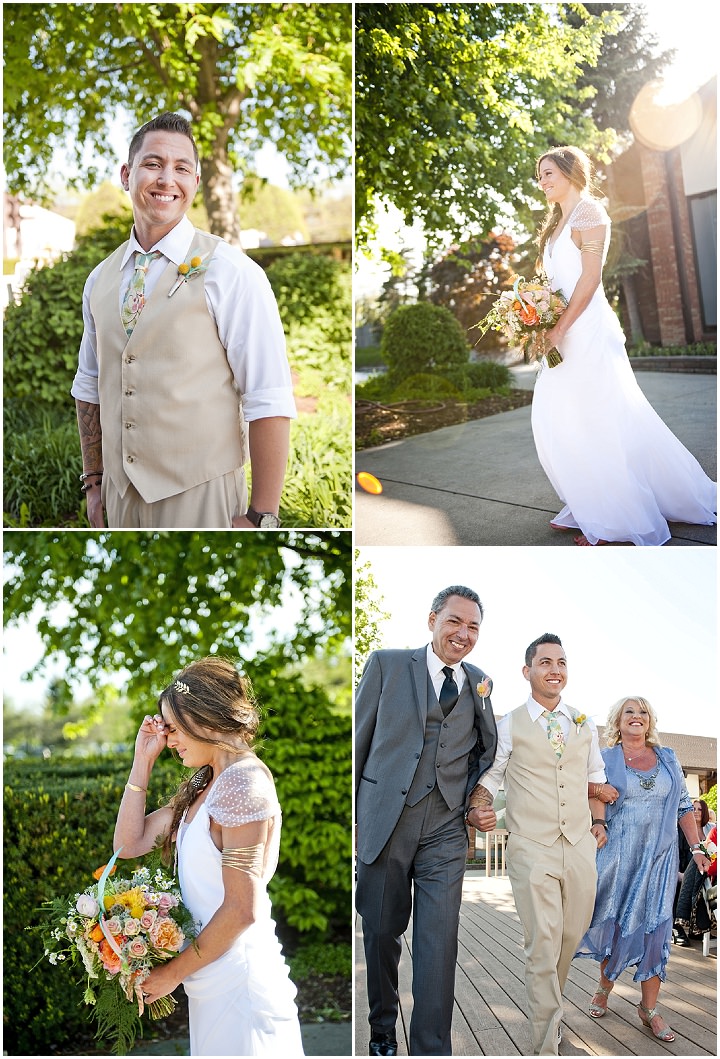 The wedding dress and accessories
Well, I changed my dress a month before the wedding. I didn't feel like the one I had was "the one", I realized that the dress I wanted, needed to be made! I found this sweet little old Italian lady who made me my bohemian dress! It only cost me 500$ My hair piece and bracelet was a vendor on etsy and my arm cuff was by Free People. I made the hair wrap piece that was also in my hair.
The suit and bridesmaids
The suits were rented from Men's wearhouse and the bowties were handmade by a vendor on etsy. The bridesmaids wore BHLDN and JCREW. I let them pick whatever they wanted. The jewellery was all Lenora Dame and they got to pick out the boots!
The theme
How about every color of the rainbow! I love color, and somehow it just worked.
What sort of flowers did you have?
-dahlias
-ranunculus
-garden roses
-spray roses
-yarrow
-craspedia
-feverfew daisies
-queen anne's lace
-seeded eucalyptus
-plumosa fern
-hydrangea
-scabiosa pods
-brunia
-dusty miller
The decoration
Decorations were all handmade. The back drop was made with all different kind of ribbons, I made ribbon wands, wrote on chalkboards, my brother made us the wooden box. I also made all the dream catchers.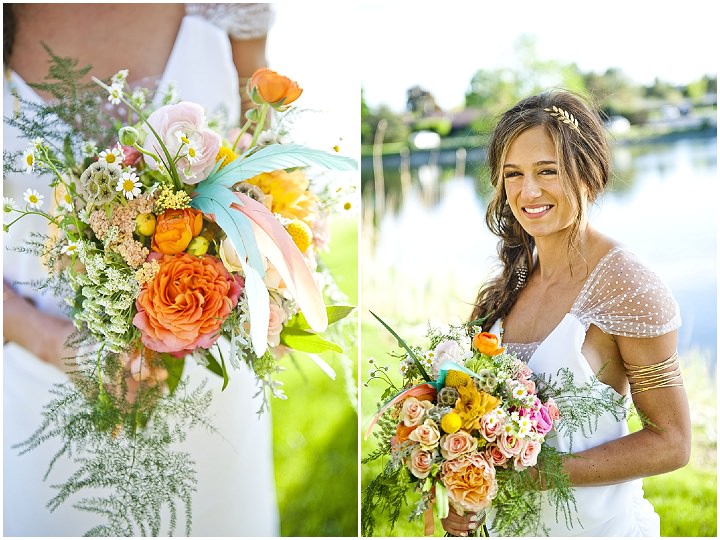 The food and wedding cake
We had stations, flatbread, taco, ravioli, salad.  We had a very small wedding cake. I am a pastry chef and I knew no one would eat it so I did a big sweet table of mini donuts, cookies and milk, ice cream shooters. BTW the cookies were baked right in the room and came out nice and warm!
The entertainment
The best band EVER! Gold Coast Allstars
Buy or DIY your stationery?
My florist made all my wedding invitations
Special moments
The moment I saw everything. It was unreal. I just started to cry as I was about to walk down the aisle. I literally froze. I waved my husband to come get me and we walked together. Also the butterfly release which was magical. They wouldn't leave my dress! They surrounded us the entire ceremony and even then next day!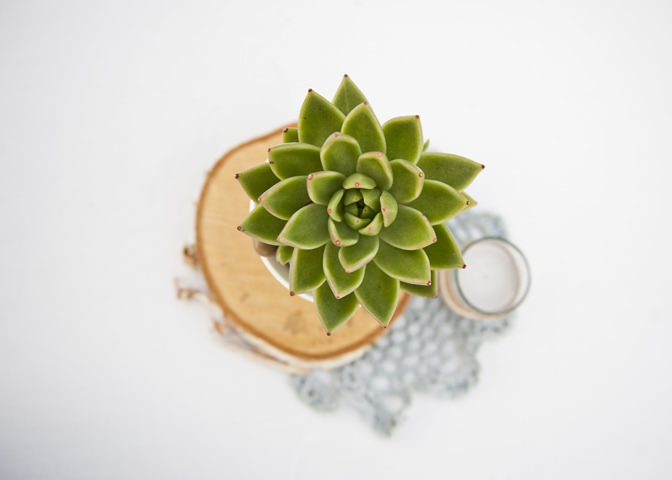 Advice to other couples
Start right away, that way you will be under no stress! I had everything done about the week before!
Biggest surprise
How beautiful everything looked. It was prettier then I ever imagined. And the butterfly release, I wasn't sure if they were going to fly or not, and when they did it was beautiful.







Supplier Shout Outs:
I don't even know where to start with all of you. I didn't have to worry or think about a thing. Everything was PERFECT!  I know I have thanked you all a million times. But whats a million more? Thanks AGAIN for everything! Truly our day was Something Beautiful! Peace & Love
For more information on Angela's work please go to:
website:  www.documenttheday.com
email:  [email protected]
FACEBOOK
@documenttheday
My photography style is photo journalistic and very candid.  Document the Day in based in Denver Colorado.
[jprel]