Oh my! This is truly the most delicious wedding, sent into us by Red Sheep. A remote island, the closest of family and friends, candlelight and miles of unspoiled views. Karolina and Dawid are keen travellers and as soon as they landed on the island of El Nido in the Phillipines, during one of their adventures, they just knew it was THE place to celebrate their marriage to each other. You can't help but be transported to the island when you read this, so I recommend a large, summery, fruity cocktail and flip flops when you take a break to enjoy today's wedding.
"It was the most magical day followed by an unforgettable island hopping expedition (TaoPhillipines) filled with the sounds of waves, beautiful sunsets, unspoiled views, great fun and laughter with our friends. Having travelled the world together, we felt than getting married in such a remote and undiscovered location would be the perfect reflection of our lifestyle and relationship. And so it was – looking back, we wouldn't have it any other way."
Karolina and Dawid were married in front of just 25 guests, on the 25th March last year at the Q Palawan Resort, El Nido in the Philippines. "Since the engagement, we were planning a big wedding in Poland within the next two years and slowly started to look into the venues and arrangements. Meanwhile, we had a survival – style Palawan Island Expedition planned with Tao Philippines in 3 months where we were going to be joined by a 20 people strong group of our closest friends from UK, Poland, South Africa and even Japan. I would be lying if I said it didn't cross my mind, to combine it with our wedding but it was just a crazy thought at that time. In January, we went to visit the island of El Nido where the boat trip was going to depart from a couple of months later. Stepping off the 16 seater plane we travelled on, it took us one look at the surroundings and another look at each other to immediately realise THIS WAS THE PLACE. As we didn't really get the appeal of the few luxury resorts located on the island and the price tag that came with them, after some research, we managed to find an alternative in a little kite-surfing resort on the other side of El Nido consisting of 6 beach cottages. It was not even completely built when we first saw it and it became obvious, that located not only on a remote island but also an hour drive from the closest village, we will face many challenges with the wedding… At the same time we knew have a chance to organize something truly unforgettable and magical. We decided to take the risk."
How they met
When Dawid and I first met 6 years ago, we were working on cruise ships sailing around the Caribbean Islands. For both us, it was a way to gain work experience while pursuing our passion for seeing the world. As I said in my vows, he was everything I ever wanted in a man…kind, intelligent and old fashionably charming. We fell in love instantly and eventually left behind the cruise ship adventure to live a bit more settled life in London. When the opportunity came up 4 years later to relocate to the Philippines with my work, we didn't think twice, packed up our life and moved within a month.
The proposal
From the very first week in Philippines, we decided to pursue our love for travel and spent every day of holiday (and all our money!) exploring SE Asia from Thailand, Malaysia, Vietnam and Cambodia to Yava, Bali, Lombok and later on China and Nepal. On New Year's Day of 2013, we got engaged while on one of our trips through Laos.
How did you allocate your budget?
We didn't really have any budget as we had absolutely no idea what will things cost in the Philippines. We just tried to stay within our means and hope for the best ;)
How did you choose your photographer?
We found our Photo crew from RedSheep via Instagram while looking at pictures of El Nido. We had 3 guys travelling with us to El Nido from Manila and they were not only great photograpers but also fun company. I was stunned by the amazing job they have done on our wedding highlights video which to this day brings tears to my eyes whenever I watch it. Their photos were beautiful and what I loved most is their documentary style of shooting during the ceremony and reception where you could barely notice their presence. Big big thanks to Guj and RedSheep for capturing our memories so beautifully.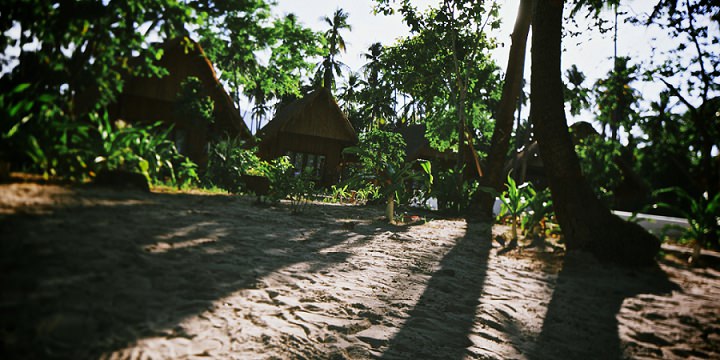 The dress and accessories
The wedding gown and all entourage was my own design beautifully executed by local dressmakers Sunshine and Vanessa Lim which again, was not planned, but with a very limited choice of Western style dresses in Philippines and the surrounding countries and almost none my size, having a gown custom-made became the most reasonable option especially given the 2 month timeframe. The end result was exactly how I imagined, I absolutely loved my dress and it fit me like a glove.
My shoes came from Also but I spent most of the time barefoot in the beach. My umbrella and fan were ordered from a wholesaler in main land China and I had to travel to Hong Kong to pick it up.
The suit
A local tailor in Makati, Manila.
The theme
Ever since I remember, I was in love with an idea of a candle light wedding but we couldn't decide on any particular theme. We spent hours looking at various photos on wedding blogs and Pinterest and we wanted to include all the things we like, so it ended up being a Rustic Vintage Candle Light Evening Beach Wedding…. As ridiculous as it sounds, I think we actually might have managed to pull it off. The colour scheme was sandy beige and turquoise.
The flowers
We went for a combination of ivory roses, wild flowers, dried native grass and my beloved baby breath. Although I had help from a local florist, most flower arrangements were also designed my myself and I was actually still helping out with putting the bouquets and boutonnieres on the morning of the wedding…. Which probably wasn't the best of ideas as I should have focused on getting ready!
The decoration
We used a lot of lace, burlap, mason jars and candles. We also decorated the whole ceiling of the restaurant with fairy lights and even made a string of big old-fashioned festoon lights ourselves. My husband actually spent some serious hours following electrical tutorials online. In UK, getting festoon lights is a matter of one click on Amazon, while in Asia, they were nowhere to be found!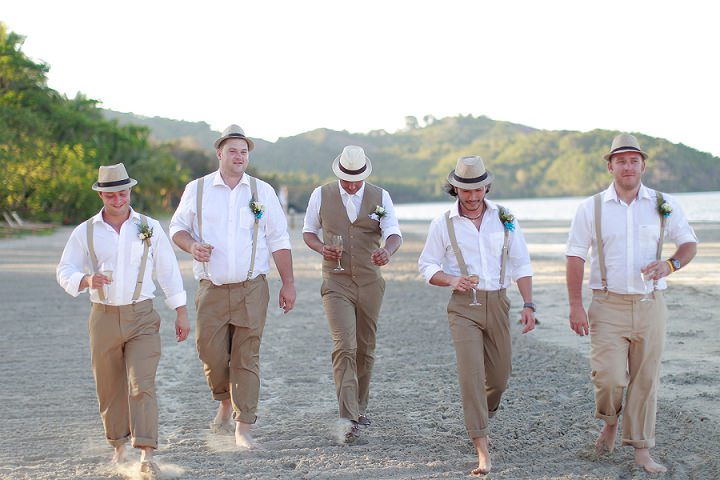 The food and wedding cake
My husband used to work in the hospitality industry, so he took care of working closely with the resort Chef to put together a wholesome menu with various seafood dishes and locally sourced produce. Not everything is available in the remoteness of El Nido and you are often dependant of the catch of the day, so we were not too sure what will be served until the very evening of the wedding. Our choice for the reception included lobster risotto, grilled prawns and calamari and traditional Filipino specialties such as Roasted Lechon (whole pig) and sticky rice, homemade coconut ice cream and fresh mango desert.
Our wedding cake was a Red Velvet cake transported together with flowers from Puerto Princesa (8h away) with an Ice Track.
The entertainment
We didn't need much. We were together with our closest friends on a paradise island with good food and music which was the best entertainment we could have wished for. At midnight, we went down to the beach to sand away fire lanterns which was a great part of the evening.
Buy or DIY your stationery?
We produced everything ourselves. In Philippines, online shopping practically doesn't exist and mailing service is very unreliable and unsecure. I had my friends transport certain elements of my decorations from the UK, such as sparklers, wooden pegs or battery operated fairy lights for the Gazeebo.
Any personal or handmade touches
Given the lack of any kind of wedding supplies websites or shops in the Philippines and enormous taxes on anything sent from abroad, we quickly realized, the only way we can achieve the style of the reception want, is if we produce everything ourselves. And by everything, I mean EVERYTHING from table runners, napkins, flower vases, candle holders, menus, nametags to festoon lights and even the wedding "gazebo". But even finding the raw materials for the decorations wasn't easy as all the markets in Manila are located in areas where expats are not advised to go at all, not to mention alone. Luckily, we have had lovely support from our local colleagues who have kindly "escorted" us to the right places where we spend hours bargaining over burlap, lace and all kind of mason jars, bottles and candles which we then transformed into wedding décor.
We spent almost two months coming home every night after work and sitting down to our "Wedding Craft" which turned out be a hugely enjoyable way of relaxing for us, despite the mess in the flat and the burns all over our hands from the glue gun. What mattered to us what that we were creating our wedding and we poured all our hearts into it.
Flowers, cake and even champagne had to be shipped from Manila so it took some serious logistical planning but luckily it all got there in time. On the morning of the big day, all our friends were helping out with the table set up, decorations and a 1000 other things that needed to be done so it was not a DIY in a literal meaning of the words.
Special moments
Our wedding took place on 25th March 2013 on a gorgeous full moon night. It was the day of Dawid's 30th birthday. He said marrying me was the best way to start his real adult life and the best present he could have wished for. We celebrated with a cake at the beach immediately following the ceremony, which was my very favourite part of the wedding as it felt very emotional. Another very special moment was when we read a very touching letter from Dawid's mum who couldnt join us on the Island. It was when we both missed our parents presence very much but we knew we'll get to celebrate with them in an even smaller, intimate setting at a later date.""
Advice to other couples
Anything is possible. Our wedding plan turned out to be an extremely complex operation but in the end, it was everything we dreamed of, so don't be scared of being creative, however big and bold your ideas might be.
Biggest surprise
My fiancé and then husband to be, travelled to the wedding resort 2 days early to work on decorations and final touches before the wedding. His two best friends since childhood, who travelled all the way from South African went with him to help but also to host a mini bachelor evening the night before the wedding. One person that was missing was a third friend of his who told Dawid he couldn't make it. Yet, on the morning of the wedding, he showed up on the Island fully equipped in best man attire which was an amazing surprise. His friend travelled for over 20 hours one way to join us for less than 2 days – this is what you call real commitment.






















Supplier Shout Outs:
Flowers: Monette Montego, Puerto Princesa
Make up and Hair: Agnieszka Wieczorek, Nail Code Studio, London
Resort: Q Palawan, El Nido
Photo & Video: RedSheep www.redsheepcinema.com
Dress: Sunshine and Vanessa Lim, Makati, Philippines
Event styling and decorations: Bride and Groom
You can follow Karolina's travels on her own blog.
For more information on Red Sheep's work please go to:
www.redsheepcinema.com
FACEBOOK

[jprel]