Today's wedding is perfect for adding a touch of sunshine if you are currently without any. It's full of fun and polka dots and splashes of colour and comes courtesy of photographer Lisa Howard who has really captured the personalities of Rosie and Michael and their wish to enjoy a relaxed and informal celebration. Lots and lots of laughter, big blue balloons and plenty of DIY touches to get your creative juices flowing, including a special gift of two taxidermy mice dresses as a bride and groom!
'Relaxed, informal and fun. Reflective of our personalities, our friends and our families.'
Rosie and Michael were married on 25th April at Hope Street Hotel in Liverpool. "We've lived in the area near the venue for five years and always loved it but never had a reason to go. When we decided upon an urban wedding it was only the second place we viewed and expected it to be out of our price range. The package that they offered was incredible but not as stunning as the view from the room overlooking the city where the ceremony would be taking place. As soon as we saw it it was pretty much a done deal and even if it was out of our budget, we would've made it work. It suited our personalities and the ideas that I'd already started gathering as to what I wanted our wedding to look like."
How they met
We met at Sheffield University in 2006. Mike was security staff and I was working on the bar. I made him some juice while we complained about the clientèle at one of the themed evenings. After some retro Myspace messaging we went out for a beer and the rest is history.
The proposal
We had been talking about a city break for a while, and I suggested Paris, as I'd always thought it looked beautiful. Unbeknown to me, Mike had bought an engagement ring in this time, and was planning on proposing wherever we went. Our second day there was a relatively gloomy December day, and we walked up to the Sacre Coeur, as Mike had been before and had pointed it out as somewhere with a great view of the city. A short walk and an encounter with a particularly "interesting" group that left us shy of a few euros and in possession of two friendship bracelets that we did not want, we arrived at the top. Due to the aforementioned encounter, I was furious, and fortunately Mike gave me a few minutes to calm down and look on the view. Without even realising what was happening, Mike got down on to one knee, and before he could say anything, I'm pretty sure my response was along the lines of "get up you idiot, people are looking." I let him finish what he started, and I was the proud owner of a diamond ring (and a friendship bracelet).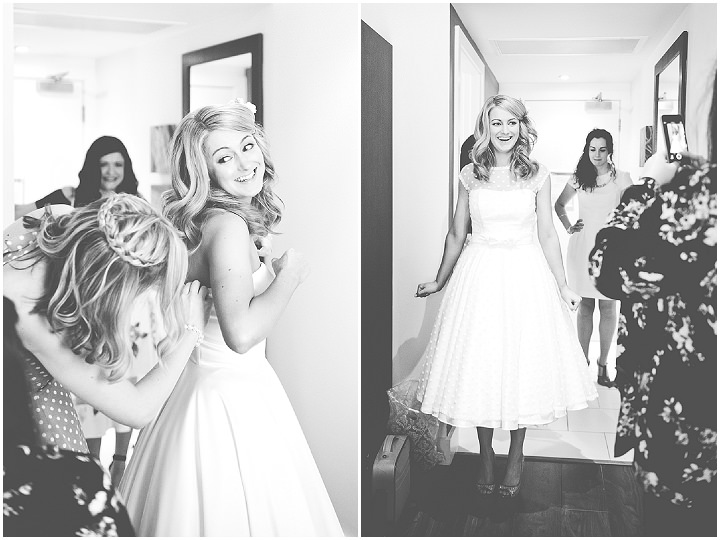 How did you spend your budget?
We didn't want to spend a fortune as we're hoping to buy a house in the next couple of years so I took one of these 'stock' budget planners from the off the shelf wedding magazines and basically halved everything and cut out what I deemed a bit frivolous (cars for example, I got a Black Cab and I don't regret it for a second!)
Why did you choose your photographer?
We met Lisa when she photographed my brother's wedding in 2012. The pictures that she and her former partner Emma took were brilliant, I didn't need to think twice when I was thinking about who I wanted. I'd seen some of her previous work and knew that she could match what I had in mind, even when I clearly stated that I hated "coupley" wedding pictures, she took it in her stride and I am over the moon with the finished pictures.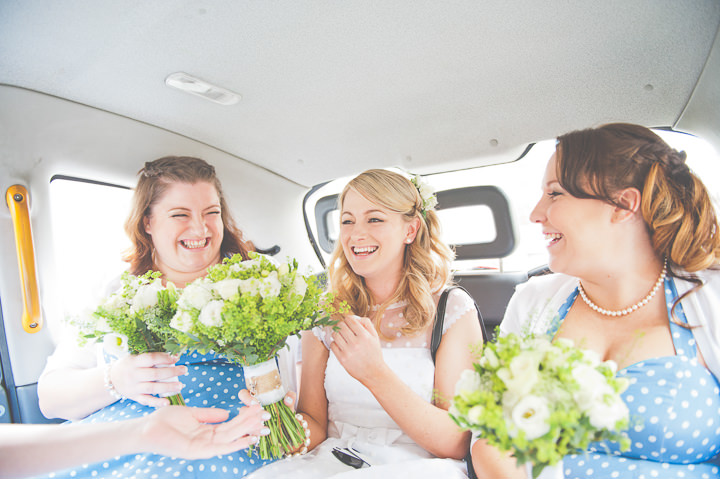 The dress and accessories
Having tried a few full length gowns on it quickly became obvious that they weren't for me. Not being a particularly girly girl I was struggling to find something that suited me. I went to Candy Anthony in London and fell in love with a dress 2.5 times my dress budget. Defeated, I took to the internet and found one, in my size being sold second hand by a lovely lady in Birmingham. I didn't even need to get it altered, it was perfect and exactly what I wanted.
The suit and bridesmaids
We hired the suits from Slaters. They were brand new to their collection and the customer service from the shop staff in the Liverpool branch was fantastic. Mike only wanted something relatively simple, as he wasn't into the idea of morning suits and top hats. This was absolutely ideal for me due to the type of dress that I wanted, and what I had in mind for the bridesmaids. The suits were a standard two piece with a shirt, and we ended up buying the ties and pocket squares ourselves to match the bridesmaid dresses. Everyone was asked to get a specific colour of shoe, which they duly obliged. All quite simple in essence. The bridesmaids dresses were bought from Ebay three weeks before the wedding. This was the only last minute stress but they suited my 'maids perfectly, complemented my dress and went with my entire artistic vision. Perfect impulse buy!
The theme
I wanted to keep it fresh, fun, clean and spring-like. My favourite colour is blue and because my dress was spotty, so this became a bit of a recurring theme. All the accessories and flowers were kept white and minimalist to keep it simple and complimentary to the Hotels interior which was mostly white, exposed woodwork, brickwork and glass. I love all things natural so everything was tied together with brown parcel string and we had blue cloud themed table names (Top table was cumulonimbus – my favourite)
The flowers
I went to the florist with a very vague brief. Messy and white! He did an excellent job after looking at my Pinterest and figuring what I had in mind. My bouquet was mostly made up of white roses, peonies, gypsophila and lots of greenery and bound with brown string. Mikes buttonhole was simple gypsophilia bound in string.
What sort of decoration did you have? I spent months making pom-poms to make a pom-pom garland which was strung up during the ceremony and moved downstairs to the bar for the evening. I also collected a large amount of jams jars and tied them up with brown string to use as tea light holders and vases for the tables which the florist filled with the same flowers he'd used in my bouquet. It was relatively simple because the view from the room was decoration enough, even in the rain.
The food and wedding cake
The food was one of the best bits. We had pan-fried halloumi to start followed by daube of beef for the carnivores and tomato, onion and stilton tart for the herbivores. Then came the best bit: Bannoffee Eton Mess. I know a few people didn't finish their dinners because they ate their pick 'n' mix style favours before the food arrived.
My sister made our cake. It was a three layer taste sensation decorated by hand with a natural but stylised design that included clouds and a handmade (by my own fair hand) Mike and Rosie to go on top.
The entertainment
Due to Mike's musical hobbies, he has a lot of very talented friends. His friend Ric played guitar during the ceremony, Paul played renditions of our favourite songs on the grand piano in the bar during reception drinks and Stuart, the best man was the drummer in the band in the evening. Mike even replaced the bassist for the second half of the set during the evening. Who plays at their own wedding?!
Buy or DIY your stationery?
My brother designed our invites and everything else graphical and I enlisted my friends to collate and tie them up with string. I enjoy papercrafts but I wanted to avoid any extra pressure so got them professionally printed. I was really happy with the results and it added perfectly to our casual and non traditional approach.
Personal or handmade touches
The favours were pick'n'mix bags tied off with luggage labels and a button badge for everyone during the day. I'd spent ages making them so I was happy to see most people pinning them to their expensive outfits.
Special moments
Aside from the obvious point of marrying my best friend, it was so nice to see everyone else beaming from ear to ear all day long. I loved seeing the interactions between our two families and different groups of friends and colleagues. I really enjoyed getting ready and getting a taxi to the venue, who thought a sober Black Cab ride could be so hilarious. Getting out and about around my favourite streets in Liverpool with Lisa and Marc and taking pictures was also great. It was almost relaxing compared to the rest of the day! Mike particularly enjoyed playing as part of the band in the evening, I've been told since that the decibel levels were a bit too high.
Advice to other couples
My main piece of advice would be to relax as much as possible in the days running up to the wedding. It's amazing but absolutely exhausting. I'd also say be prepared to not talk to everyone as much as you'd like, it was hard to come to terms with but having spoken to people it turns out it's very common. Also, take some time out just the two of you to realise what's happening because it all goes much too quickly!
Biggest surprise
The taxidermy mice hand stuffed by the best man and his wife! Priceless.





Supplier Shout Outs:
For more information on Lisa's work please go to:
www.lisahowardphotography.co.uk
www.lisahowardphotography.co.uk/blog
FACEBOOK
@LisaShoots
I create stories of fun, love, laughter…capturing naturally beautiful moments filled with light & emotion. I've been a professional photographer for 14 years, based just outside of Liverpool and covering the North West. 
[jprel]