Simplicity is key for the wedding featured today. Georgina and George's main priority was to marry in a place that was important to their history and in front of dear loved ones. So that's exactly what they did! With just seventeen guests at their wedding by the side of a loch in Edinburgh, the happy couple then went on to celebrate with 100 friends later on. Their dear friend Fraser Stewart captures their day perfectly – their individual style, their sense of fun and their obvious commitment to starting as they mean to go on. I love that they deliberately stayed away from tradition and just went with what felt right for them.
"Surprisingly stress free but over too quickly."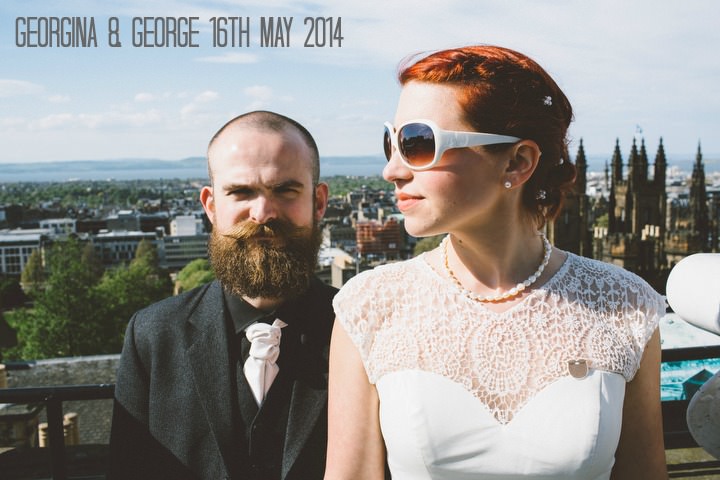 Georgina and George were married on 16th May at Dunsapie Loch in Edinburgh "Holyrood Park is where we went on our first date, and also where we got engaged. And we knew the photos could be epic!! There was just 17 of us including the photographer and priest at the ceremony and about 100 at the reception. We had to book the evening venue a few months in advance but it all really came together in the last few weeks."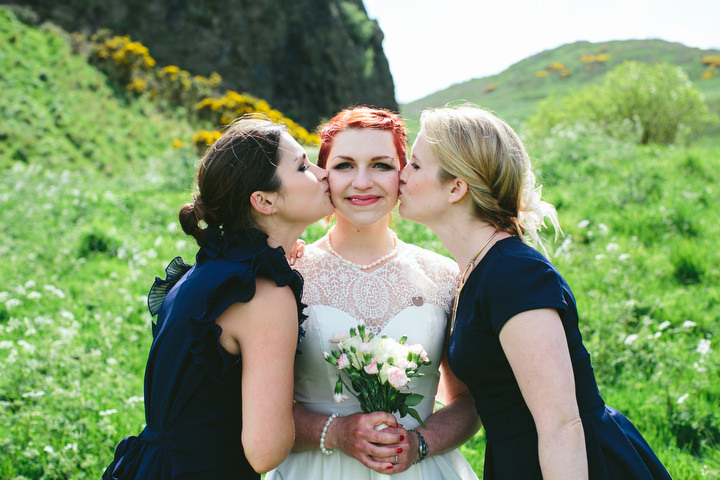 How they met
It was just after our 3rd anniversary when George proposed, so about 4 years now.
I played in a band and George was working as bar supervisor in a bistro/venue. I came in for a sound check before a gig one day, having never been to the venue (with cello on my back) and didn't realise the venue was upstairs and walked into the restaurant. George met me at the door, I assume about to ask "Can I help you?" I said "I'm in a band…?" and he replied "Good for you!" and then he got himself put on the bar upstairs for the gig, we had a bit of banter that evening.
After the gig he found my band on Facebook, figured out which one I was, found my profile and messaged me, but nothing came of it. I replied once but then was distracted. A couple of months passed and then my friends had gigs in that venue too, I bake a lot and often would take cake/brownies to gigs for friends. I went to 3 gigs and made sure George got cake every time before one of his colleagues told him "She's brought you cake 3 times. She's interested. Ask her out!"
The proposal
Unexpected! It had been the anniversary of our first date a few weeks before and George had bought me earrings, he usually gets me earrings for Christmas so I thought "I can wait til Christmas" as we had been talking about our future together. But then we went for a long walk when we finally got an evening off together and at the end (at Arthur's Seat) he had bought beer and strawberries (I can't drink wine/champagne), told me to close my eyes, which usually means a bag of sweets or other wee treat, and when I opened them there was a happy meal minion toy holding a ring in my hands and George was on one knee! Then it turned out he'd taken the next day off work and we went diamond shopping.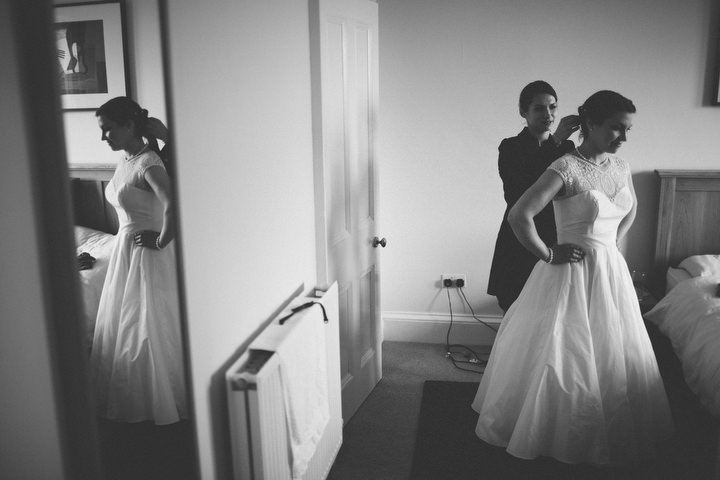 How did you allocate your budget?
We didn't really have one, just kept everything simple. The biggest expense was the kilt, but we figure it will be used again and again. And the dress I can sell back to the shop and get half the money back. We avoided expensive flowers/bridesmaid dresses/shoes etc.
Why did you choose your photographer?
Fraser is a very talented friend who was keen to be involved.
The dress and accessories
I think the dress was by "Phil Collins" but I bought it second-hand at Bliss Studio in Edinburgh. The pearls were borrowed from my mother-in-law. Hair clips borrowed from sister/bought at Claire's accessories. Red ballet shoes from Primark. Red Converse from Office Car handbag bought years ago at Octopus in London.
The suit and bridesmaids
George bought his kilt at kilthire.com on Haymarket Terrace, the ladies all wore their own dresses.
The theme
The theme was "as little fuss as possible"! I like red so stuck with that for shoes and nails (and hair!), the handbag I had owned for years and I realised last minute I needed one so just went with it!
The flowers
I bought a bunch of white roses and a bunch of pink carnations from Lidl on the Wednesday before so they would have time to open, and put them together with ribbon myself the morning of the ceremony
The decoration
Not much! The venue was gorgeous as it was with fairy lights and candles, we didn't need any extras.
The food and wedding cake
The family went to Piatto Verde which is our favourite Italian restaurant across the street from our home. The sister of my best friend from uni was the creator of the Minions! Another dear friend made a variety of cupcakes (she's amazing) and I made a load of individual bakewell tarts and gluten free carrot and walnut cupcakes (we like cake)
The entertainment
George organised a musician to come and play as a surprise, followed by a dancey playlist that he'd spent weeks making up…. only to have people mess with it on the night!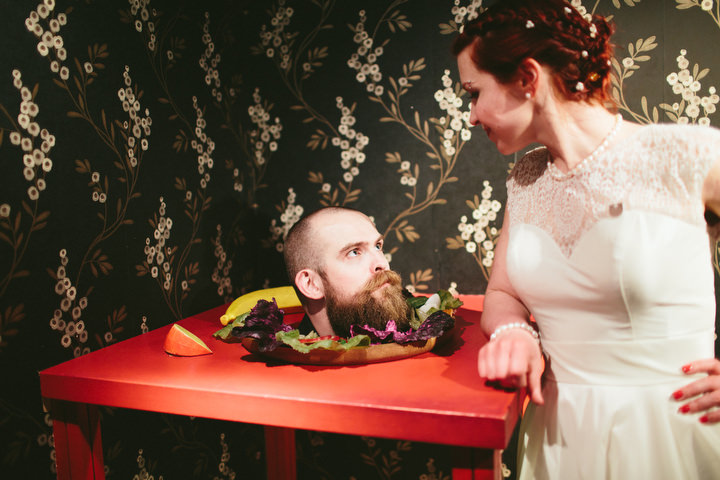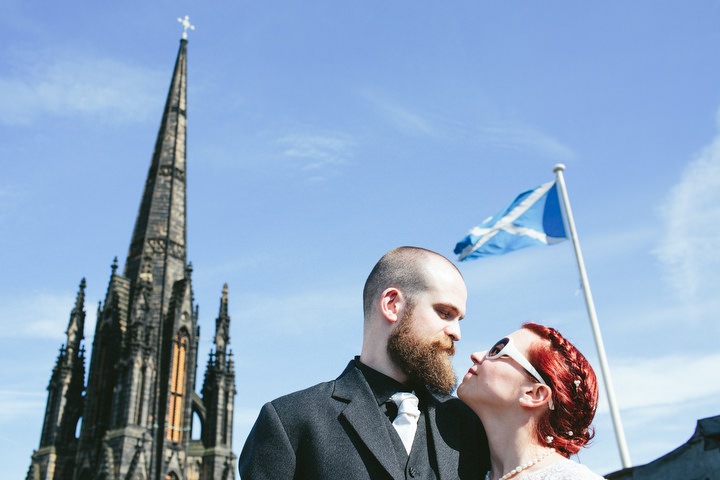 Buy or DIY your stationery?
The cake labels were the only stationery we had and I hand wrote those. Instead of invitations we had done a Facebook event and phoned/emailed non-Facebook friends rather than waste loads of paper and spend a fortune on stamps!
Special moments
Seeing each other in full outfits for the first time, climbing up a hill to get epic shots of just us, messing about in the Camera Obscura, unveiling the cake!! Being sung my favourite song, and being surrounded by friends and family
Advice to other couples
We were told in the lead up to it by various people that no matter what you do or want, someone will think you should do it differently. Stick to your guns, it's your day and you only get one!
Biggest surprise
Mine was the musician… George's was my dress and the weather. And how much everything actually went according to plan!








Supplier Shout Outs:
Paper napkins for cake at Tiger
Paper plates on ebay.
Dress came from blissstudio.co.uk
For more information on Fraser's work please go to:
fraserstewartphotography.co.uk
FACEBOOK
@FraserStewart87