Blame it on Strictly Come Dancing perhaps, but the rise in popularity for the perfect first dance has many bride and grooms in a fluster over what to do with their feet.
Picture the scene. The lights dim, the audience is hushed, the introduction to that song you have spent hours choosing starts to play. Are you filled with dread or will your happy feet be tapping out a perfectly choreographed routine to the delight and amazement of your wedding guests?  Let's talk first dances.
(Photo source – Image by Paul Marbrook)
The "first dance" is traditionally performed by the married couple, as the guests of honour of the wedding. They open the dancing, before the other guests take to the floor. In the past, the dance of choice was commonly a waltz, later followed by the introduction of more complex latin American dances, as made popular by programmes such as Strictly Come Dancing.  Because of the more routine led dances, as opposed to the 'slow dance' shuffle, rehearsing the "first dance" has become a very lucrative business for dance studios and independent dance instructors alike.
So, what type of wedding dancer were you? How far do you plan to go with your first dance?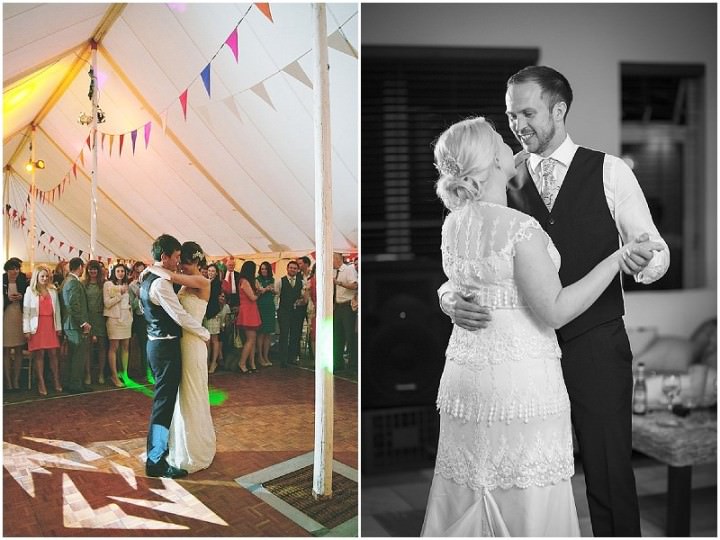 (Photo source – Left – Image by Nicola Thompson. Right – Image by Real Simple Photography.)
The go with the flow – you are just so happy to be married and amongst loved ones that any old song would do as long as you can smooch cheek to cheek with your new spouse. Dance like there's no-one else in the room, but remember all eyes are on you, so keep your special moves for your wedding night!
(Photo source – Images by Mark Tattersall.)
(Photo source – Left – Image by How Photography. Right – Image by Paul Joseph Photography.)
(Photo source – Images by This and That Photography.)
(Photo source – Images by Photos by Zoe.)
The Fred and Ginger wannabe – dance lessons, counting out moves without your mouth moving and an official outfit change for taking to the dancefloor. If you are set on creating magic for your first dance, then it's wise to invest in some professional lessons but make sure it's what you BOTH want to do. Not for the shy or faint-hearted.
(Photo source – Top Left – Image by Tarah Coonan. Top Right – Image by Pixies in the Cellar. Bottom Left – Image by Live it Out Photoraphy. Bottom Right – Image by.)
The centre of attention – With the birth of the flash mob, wedding dances are now a hugely choreographed affair. The only thing with including nearly all of your wedding party in your first dance is, will there be anyone left to surprise with your routine? There are some incredibly clever ones on the internet to give you inspiration but remember to factor in getting everyone together to rehearse, Rome wasn't built in a day.
So, you know what kind of dancer you are, but which will be the song that you dance to as husband and wife? A fast or slow pace, meaningful words, popularity – choosing the perfect song to start your married life with can sometimes need careful consideration. The most important thing is that the song represents how you feel about one another, or even better, is a song you both share special memories of together. Just make sure the lyrics are appropriate!
I'd love to hear what song you chose for your first dance. Which category do you fall into? Are you going all out with a massive routine or just winging it on the day?
Big Boho Love
Bran x