With July almost upon us, I thought I would end the sunny month of June with this really jolly wedding. I don't use the word 'jolly' very often, but it sums this one up perfectly. Nicola and Martin are beaming from ear to ear, surrounded by loved ones and showing everyone how to rock the 1950s with ease! The couple was keen to keep things casual and all their hard work over the 12 months it took to plan the wedding, really paid off. Nicola and Martin fought hard to get photographer Jay Emme and we can see why. Her attention to detail is superb and she has really caught the true essence of this fun-filled, nod-to-the-nautical wedding.
'The best day of our lives by far even if we both had a little stress in the morning. It was a really relaxed day where we enjoyed watching people enjoying it with us and most of all, having FUN!'
Nicola and Martin were married on the 24th May at Leigh Town Hall followed by the reception at Hindley Hall Golf Club. "We wanted to stay local to where we live and we were also on a "budget wedding" as we were paying for everything ourselves. We have been to functions at Hindley Hall Golf Club before and we really like the surroundings there, we know the area quite well as Martin's Dad, Ian, is Club Secretary there. Now, I say "budget" but we probably WAAAAAAAAAAY overspent!! We had 41 daytime guests and evening guests was anyone's guess! We kept things very casual for the evening invites and it was a case of, turn up if you want to. I think we pretty much invited all the important people to the day time who we REALLY wanted there. I would say proper planning would have been around 12 months, but really I (Nicola) have been thinking about it since Martin asked me to marry him. I've had this picture in my head of how I wanted things to look and how I wanted things to be really relaxed and informal. We are possibly the most two relaxed and laid back people going, we don't get called sloths for nothing!!!"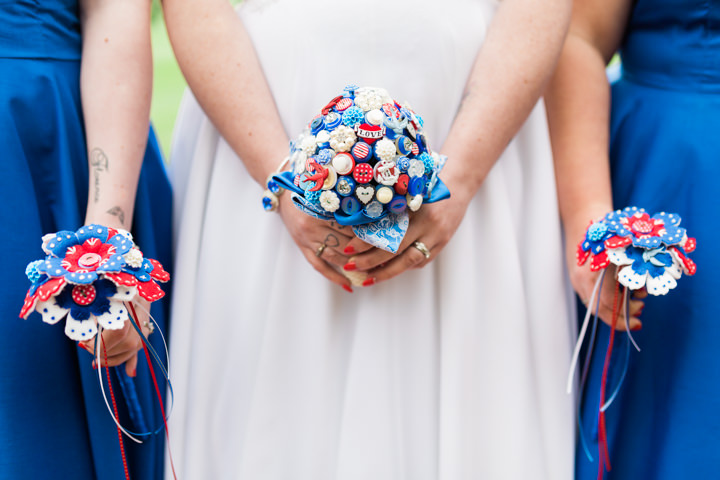 How they met
It was an Easter bank holiday weekend in 2008 and we had both decided to go out with friends, not knowing that we had pretty close mutual friends. We were in a nightclub towards the end of the evening, and I saw Martin slouching next to a wall looking a little worse for wear!! I asked if he was okay and he managed a little "grunt". And I suppose the rest is history! 6 years on, and here we are!
The proposal
We were at Leeds Festival, watching The Libertines, who were playing one of my favourite songs "Don't look back into the sun". Next thing I know, Martin is asking me to MARRY HIM! Sorry, not really much romance, we were both sat down in the mud (ha ha) so no bended knee or fairy lights in this one!
How did you allocate your budget?
We didn't really have a budget as such, but we tried to do as much DIY with our wedding as possible. I also asked a lot of people I know from Facebook to do the finishing touches for our day which helped loads as they kind of discounted a lot of stuff for us! We got a lot of things handmade which I think kept things cheaper than buying from big companies and we were also really lucky with Martin's Dad being the Secretary at the Golf Club – mate's rates and all that! I got all of the dresses handmade, which saved a fortune, and Martin went for a suit that was compiled of separates, not a full tailored suit. We spent most of our "budget" on the finishing touches such as, the photo booth, the band, the centrepieces and the aisle runner.
Why did you choose your photographer?
Our photographer was recommended to us by the lovely lady who was blinging up my (Nicola) shoes. And, after seeing her work on her website, we just couldn't say no. We really wanted Jay, and in fact we were in a bit of a battle with another couple. Luckily we got in there first with our deposit! We love the fact that right from the very start, Jay was really professional, but really friendly too and super cool! We met up a couple of times, and we've never laughed so much. We knew we had made the right choice. Not only was Jay a great choice in Photographer, she has really become a friend of our family.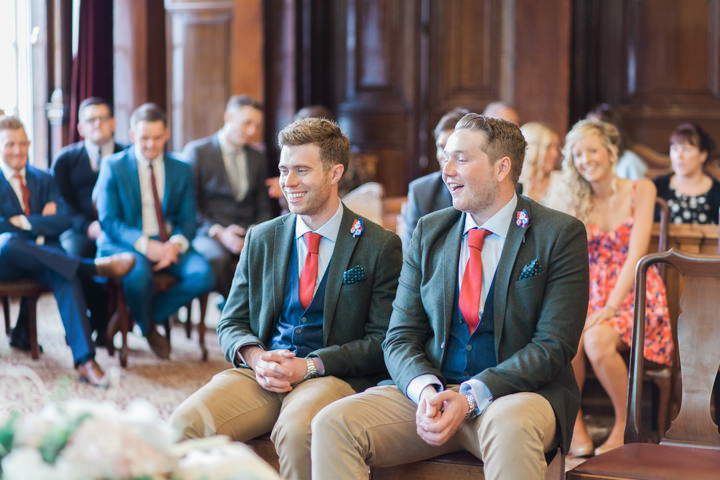 The dress and accessories
My dress was by Dresses by Julia, as were the bridesmaid dresses. Shoes were blinged up by Revivemeboutique and my accessories were by Petite delights – shabby chic, vintage jewellery, who I found on Etsy.
The suit and bridesmaids
As mentioned above, the bridesmaid dresses were also Dresses by Julia. Martin's suit was a bit of a mix. Shoes were from Steve Madden, shirt was from Charles Trywhitt (because he has super long arms and no normal shirt will fit him!), vest was by Austin Reed, trousers and jacket was from Next and the tie was from Amazon. Martin's best man bought him cufflinks as a gift too.
The theme
We are both really into retro tattoos, kind of Sailor Jerry type. We knew that we would want to use this as a starting point. I LOVE the 50's style of dresses, hair and makeup, also American style nautical things (as I'm obsessed with swallows and anchors). I really wanted a bright colour for the bridesmaids and following in the nautical theme, I thought royal blue would really suit this. The room was decorated red, white and blue to keep with the theme that we had chosen.
The flowers
I had a button bouquet made by the lovely Beaubuttons – Bespoke Button Bouquets.
The decoration
We had THE best centrepieces. They were wooden ducks hand-painted by Mucky Ducks with tattoos on their bellies. We had some lovely bunting made by Blossom's and the rest of the room was decorated by the lovely Bev who is catering manager at Hindley Golf Club. We had a meeting with her about a week or so before the wedding and told her our theme and colours and we trusted her with the rest, and I can really say she did an amazing job!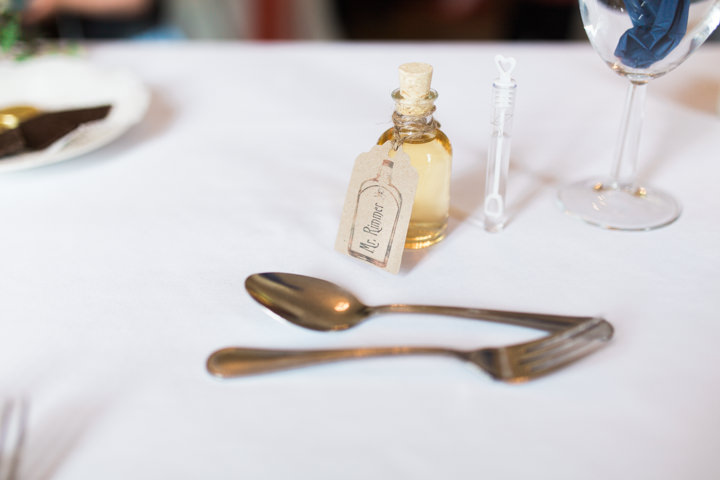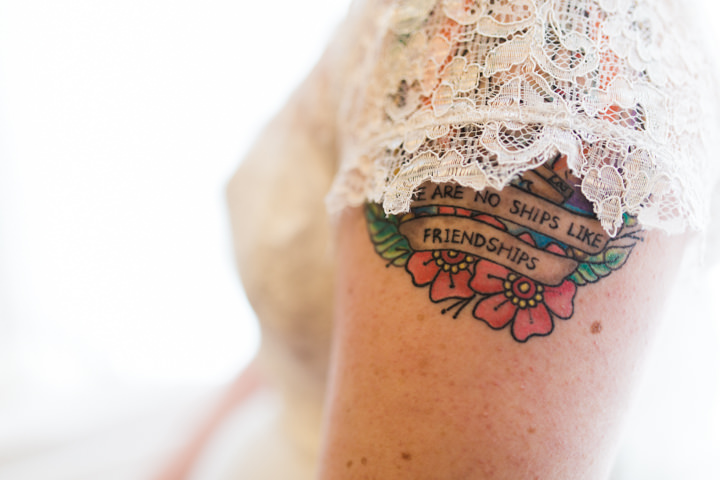 The food and wedding cake
Soup or melon for starters, a "help yourself" carvery for main meal with a choice of turkey or gammon (OR BOTH) and profiteroles for dessert. We kept it quite simple really to please the masses!
Our amazing cake was made by Little Cherry Cake Company (T-Cakes). The top tier was plain jam and sponge, the bottom two tiers were chocolate orange. We actually FORGOT to cut the cake (OOOOOOOPS) at the venue as we were having SOOOOOOO much fun, so we cut it at home the next day and went delivering cake!
The entertainment
We had Polka Dot Fox UK come and set up a Photo Booth for us, which I can say was SO worth every penny we spent on it. Andy was great throughout the whole booking process and on the day he was amazing. Everyone really had a great time in there. We also had some live music by the wonderfully talented Kings of the Dance Floor. They were booked via Warble Entertainment and were totally AMAZING. A really great bunch of lads with such funny personalities! For the kids, we had a colouring and playdough table set up, although, I think that all the boys were more interested in watching Fin (Martin's Nephew) play on his IPad!
Buy or DIY you're stationery?
We had Satin and Tat Wedding Stationery do our invites and place names for the favours. The girls there are fantastic and were very helpful all along the ordering process. Everyone commented on how lovely the invites were and how unusual they were.
Personal or handmade touches
– On arrival to the Golf Club we did cupcakes and cocktails (or a beer) which we thought would be appreciated as we had a VERY early wedding!! We had Jeremiah Weed Alcoholic Sweet Tea with real lemonade and also Anchorsteam Beer. We had the cocktail in jam jar glasses and candy stripe straws which were also part of the favours as people could keep the glasses.
– We had a basket of flip flops for the girls as a little treat, because I know I can't do a full day in heels so it was only right to look after my girls!! I myself, had blue converse for the evening (my dancing shoes).
– The favours on the table were made by ourselves, a long tedious night of pouring Tequila into tiny bottles, corking them and wrapping name tags around them, but I think it paid off!!
– I had signs made for the top table (Mr & Mrs) a sign for my flip flop basket "A little treat for your dancing feet" and also the sign for the cupcake table "All because two people fell in love".
– My friend Shaz made the cupcakes for us.
– The table plan was handmade by myself.
– Also another long and tedious job of stamping individual letters the spell names onto pegs! But again, I think even though it looked basic, it worked well with the theme. To be honest, I feel that the whole wedding was just one big personal touch. Everyone commented after the day and said "it was SO you". BINGO! That's exactly what I wanted people to say J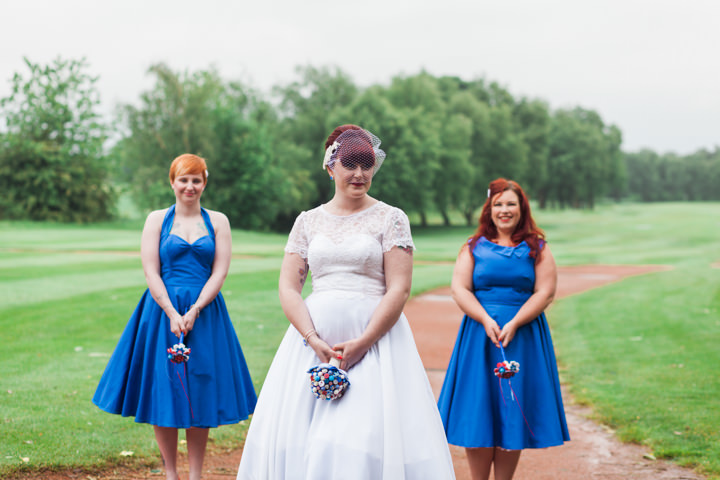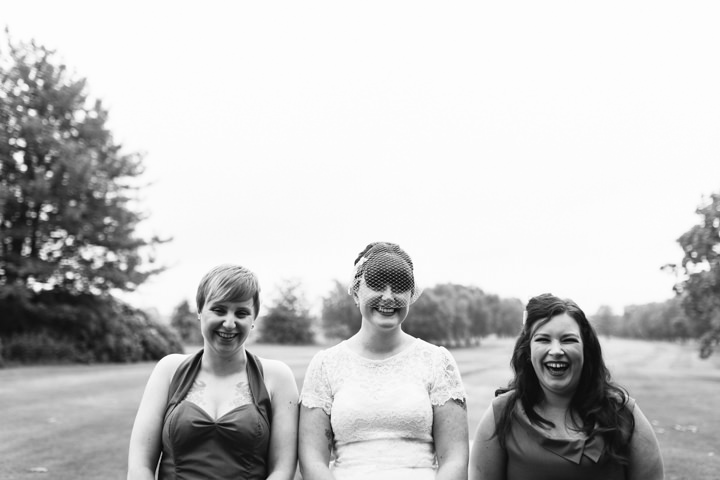 Special moments
Nicola: After the wedding day when Jay had given me the photos, there was one photograph in particular which stood out to me, and that was one of my Dad stood next to me, crying. My Dad is a very hard man, and doesn't show his emotions, like, at all. So to see this on a photo, and not even being aware that I was happening right next to me, was one of the most treasured moments I have. I could be really cheesy and say "marrying the man of dreams was the highlight of my day" but really, making my family one, and making it a "proper" family was a really special moment. Knowing that I've found someone who I am actually willing to spend the rest of my life with is AMAZING!
Martin: The special moment for me was when Nicola walked in to the room to a song that we had argued about being played right up until a few days before the wedding. Needless to say I lost but nevertheless, it was a special moment when she walked into the room. The cars which after the troubles we had with them, blew me away. We had a blip when we found out that one of the cars had been burnt out and we had to have a replacement. It's safe to say, we got an upgrade! Another highlight of the day was being heckled by my friends during the speech. They kept asking me why I was asking questions (I was nervous and kept shrugging) and finally my grandma telling me I had done a good speech, not very good, but just good!
I think overall, the highlight of the day was seeing how happy everyone was for us, and seeing how much fun people had during the whole day and evening. It really is the best feeling. The funniest moment has to be our 2 year old Euan, roaring as he walked down the aisle!!! My sister Sarah had told him not to be scared and pretend he was a big brave Dinosaur…. He took it literally!
Advice to other couples
– Don't worry about things that are out of your control!!!! We had a big stress with the cars as Martin mentioned before and I was heartbroken about it. I spent days, and I mean days, crying about it, and when we went to see the replacement car, I really did feel so stupid for being so upset about it!! Also, the weather. Seriously, there is NOTHING you can do about it. I was the weather man for weeks leading up to the big day, and in the end, I think Martin had enough of hourly updates on what the weather was going to be like on the day! It really didn't matter at the end of it all, the day was still amazing, rain or no rain.
– Easier said than done, but, try not to stress. Things happen for a reason. If people don't attend, don't rsvp and don't give a damn, then really, they are not worth the upset, stress or anxiety. Invite the people YOU want there and that YOU will be comfortable having there. Don't just invite people because you fear you will upset them!!
– GROUP SHOTS… Jay will understand what I mean here. If you can either 1) get away with not doing them at all or 2) make them as fun as possible DO IT! We didn't have a great deal of luck with people being compliant with ours, and it made me really stressed, which is what I didn't want!!!
– Take some time out in the day, for just you and your other half. Seriously, you won't get much time to be together as silly as it sounds, and embrace the whole day!!! It goes SOOOOOO fast!
Biggest surprise
Me and Martin have a running joke that he doesn't have a romantic bone in his body. So, when I was getting my hair and makeup done and the doorbell rang, I was shocked! A MASSIVE bouquet of flowers and a little note telling me not to be late! He's always full of surprises!










Supplier Shout Outs:
For more information on Jay's work go to:
Website: jayemmephotography.com
Blog: jayemmephotography.com/blog
FACEBOOK
@jayemmephoto