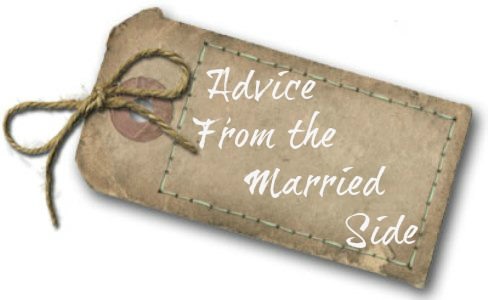 This afternoon it's the return of  'Advice from the Married Side'. I have so many amazing real weddings on the blog and for each one I feature I ask the brides a number of questions. One of these questions being advice for other couples. Sometimes the answers get lost amongst the pretty pictures of each wedding so each month or so I bring you a selection of these brides (and grooms) words of wisdom! I hope there will be something amongst these brides experiences that help you while planning your own wedding.
(Photo by Photos By Zoe)
General Advice
Don't panic about the weather! That was our biggest worry before our DIY, outdoor wedding… it ended up raining most of the day and it didn't make any difference at all!

Don't assume that soon to be hubby wants to wear a formal outfit, ask for his opinion and see if you two can smash it together with the vision in her head.

Enjoy, enjoy, enjoy! During the last week building up to the wedding I was so stressed and Ben said to me ' as long as you and me are there all the rest is fluff' which is so true. The small touches are lovely but ultimately if you as a couple are having an amazing time, nothing else matters.

Definitely invest in finding a great photographer who gets you!

Don't sweat the small stuff!

The last 2 weeks will be stressful and you'll probably have a few snaps at each other!

First of all I would recommend to make sure the bride is getting ready in a large room where there is plenty of room for the photographer and videographer.

For the bride – buy a new perfume. This smell will always bring you both back to that special day and happy memories.

Don't let people tell you that a wedding has to be expensive either,  if you're prepared to think a little creatively then a small budget doesn't have to limit your dreams.

Remember, your suppliers are experts in their fields – let them tell YOU what they can do. Just let them get on with it; they do this all the time!! Plus it kept me relaxed knowing I could trust them!

Brides – visit as many sample sales as you can – I paid £175 for a £1300 dress, just because it had been worn for wedding fair?! I was lucky; I went to one sale by chance and found THE dress.

Don't go straight off on honeymoon!! I got sick two days after from sheer exhaustion! Luckily we don't go until May 31st! Have some time to wind down and take some time off to be at home or escape to the country for a couple of days to chillax!

Get married later, skip the stress and expenses of a sit down meal and just enjoy the party.

Spend as much as you possibly can on a photographer. They are probably the only thing from the day (other than your marriage!!!) which will last forever. Choose photographers who have the same style as you. And trust them when it comes to timing. They are the professionals and know how long it will take to get what you want.
(Photo by Stacy Paul Photography)
On The Day
Relax and enjoy it, other people are there to sort out the problems so leave it to them.
Don't be put off by doing the unexpected, we took the time out from our wedding day and used it with our photographer to take in the local landscape in our wedding attire. These moments couldn't have been captured without being diverse and adventurous with our photographer, these are the long-lasting recollections of our amazeballs day.
Be present in the moment of your own wedding. The wedding day does fly past very quickly. Just don't forget to enjoy every moment of your wedding day – don't worry about anything just chill out and enjoy!

Enjoy the day as much as you can as it goes so fast.

Take a moment throughout the day and night where you step back and appreciate everything that's going on around you and that these people are here to celebrate your special day with you.

All the little hiccups, like the wedding cake falling over and having to be remade or forgetting the flowers and having to turn around in the car actually make for the best memories and the biggest laughs when we look back so just relax and enjoy! 

We always hated going to weddings and seeing that the couples spent hardly any time together because they had so many guests to greet. We loved that our wedding was small and personal and that we actually had a blast spending time together on the day!

To the bride – get ready on your own!! I chose to get ready on my own, with my make-up artist and hairdresser. I set the bridesmaids and Mums up in an adjacent room to get their makeup and hair done separately. I supplied them with Prosecco and left them to get on with it!! Being surrounded by your maids and Mums sounds lovely and the 'done' thing to do, but trust me, being on your own keeps you calm and relaxed!!! You'll enjoy the experience more, plus the Mums kept popping in to see me and escape from the chaos!! Oh and don't drink before the event no matter how much you think it'll calm your nerves!! I had my first glass of fizz AFTER I'd said I do; I enjoyed it so much more!!
It will go fast!! So many people told me so and it really, really does!! You will never get round all your guests, you will feel like you barely said two words to them, but they're your friends and family who love you, and they understand that this day is yours! Do not worry about your guests!

Do photos before the ceremony! It was great to have everything out of the way and just relax after the ceremony.

It's so true what everyone says……it does go too quickly so don't get too drunk else you might miss some of the best bits!
(Photo by Sansom Photography)
Getting Organised
Get the important discussions that involve family members (guest list, money, seating plan) out of the way early on. Although it's your day you will quickly learn that it means an awful lot to an awful lot of people. Be firm where you need to be and be willing to make compromises where you are willing. Once you have the big decisions sorted the rest is a doddle.

Talk to your other half when making decisions as this is both your days.

Don't be discouraged by a small budget, you can be creative and work round it

Do as much of it as you can along the way. Take your time to plan it and have everything in place well in advance of the day. I'm a very organised person and hate being rushed and panicked. So anytime I saw anything that I could utilise in the wedding, I got it. I trawled the internet for ideas and created them myself

Always ask for referrals from friends and suppliers; I didn't use anyone that hadn't come recommended or who didn't know someone else I was using.
(Photo by Yvonne Lishman Photography)
Planning
Don't forget to ask each other for help, advice, or opinions, it's just as much his day as it is hers.

It's difficult planning a wedding over an extended period, especially if you work, but we were reminded that what really mattered was that we both showed up with someone to officiate the event and we would still be married. The rest is icing on the cake, so have fun planning and have fun on the day! It will be beautiful no matter what.

The main thing we learned from planning our wedding was to not get stressed and savour every second of it all.

I couldn't have planned this wedding without my other half. We can look back and appreciate that the wedding was exactly what we both wanted, if given the chance I would relive our wedding weekend all over again and wouldn't change a thing. 

I would say make sure you plan together and make sure the day represents what your all about. 

Don't take tips from anyone about your guest list, invite everyone you love right now and have a brilliant time – try not to be sad about the people who RSVP no, their loss not yours, focus on the wonderful people who said yes.
(Photo by Tux & Tales Photography)
DIY Weddings
Ask for help, DIY does not mean solely yourself. (Boys are just as crafty as girls… wink wink)

I had a lot of DIY projects on my list, which I was excited about and put upon myself willingly. But I have to admit that I was very stressed out the few weeks before the reception, all the way up until the last minute (thankfully we had already had the wedding and that wasn't stressful at all!) So my best advice would be to take care of as many projects as you can as far in advance as possible. You not only want to make sure you have enough time to finish everything, but you want to have time to decompress a few days before the wedding, too.
(Photo by Paul Underhill)
Making the Wedding Personal
Don't be afraid to be different and trust your own vision!

Just go with what YOU like, don't be influenced by others, it is your day after all. And if it's just your ideas, you can take all the credit when it turns out so perfectly. 

Don't be afraid to throw traditions out the window, we didn't stand on the "right side" during the ceremony; didn't have a guest book; matching plates; a bouquet toss or did I even wear a garter.
Twist the traditional………. Embark on the alternative personality of yourself.
Don't worry so much about what other people are doing and don't over judge yourself because it will all come together on the day!

Don't worry about themes or 'traditions', just pick what you like and it will all come together naturally

Try not to get caught up in the formalities and little details that everyone tells you should have. If you are true to yourself and your partner then you will have a happier experience overall. Decide what is important to you both and stick to it – (it's your special day, so it's the one occasion where you can be a little bit selfish) don't be swayed by other people's expectations

Don't worry about breaking the rules. I had a bridesman, we married late, I walked down the aisle alone, we saw each other before the ceremony. Traditions are lovely but only if they work for you!

Follow your heart and dreams and do what you want to do it's your special day after all.
(Photo by This Modern Love)
I hope you found these pieces of advice helpful if you are in the process of organising your wedding. If you are already married is there anything you would like to add ? Was there anything in these words of wisdom that has resonated with you?
Is there something you would particularly like to ask me  for advice? any questions just email me 

[email protected]