Today's wedding is full of gorgeous yellow daffodils and I just love it! The couple Sophie and David decided to hold a later wedding at 4pm, so they could stay away from the normal formalities, this resulted in a fun, laid back, party like wedding that suited them down to the ground. Working to a tight budget they prioritised the photography that came via the fab Toby and Han from Red On Blonde Photography who have captured the day perfectly. What I really love is that Sophie and David decided to do all the group and couple shots before the ceremony, to give them more time to spend with the photographers. This also meant their other guests weren't hanging around without them at the reception. They found this worked perfectly and I'm sure you will agree resulted in some fab images. A super fun wedding, with a gorgeous grey and yellow theme that I just adore!
An informal, relaxed day with good food and wine. A party with a wedding attached!
Sophie and David were married on 5th April at County Hall in Matlock, celebrating their special day with 150 friends and family. It took nine months to organise the wedding. "County Hall is the County Council office, so not an obvious choice but it's a beautiful building and was once a hydro when Matlock was a spa town. The ball room is stunning, with views across Matlock, which is on the edge of the Peak District. And it's only two minutes from our house! It was the venue for our school's 6th form prom, too, so we had lots of happy (slightly hazy) memories of the place. Leah, the venue manager, was amazingly helpful and we could have our own caterers, which was so important to us."
How they met
We were at the same primary and secondary schools but we didn't get together until we were in our early 20's, when we were both finally single at the same time. We've been together 8 years.
The proposal
We'd seen the ring in an antiques shop in Matlock, so it wasn't totally out of the blue… however that was in February and Dave didn't propose until June! According to Dave he'd taken the ring to New York, Boston, London and everywhere in between but not found the right time or place to propose. In the end he proposed while we were out walking our dog, George. He chose a beautiful spot on the hill overlooking Matlock. It's a spot that we both love and I'm glad he chose it over Central Park!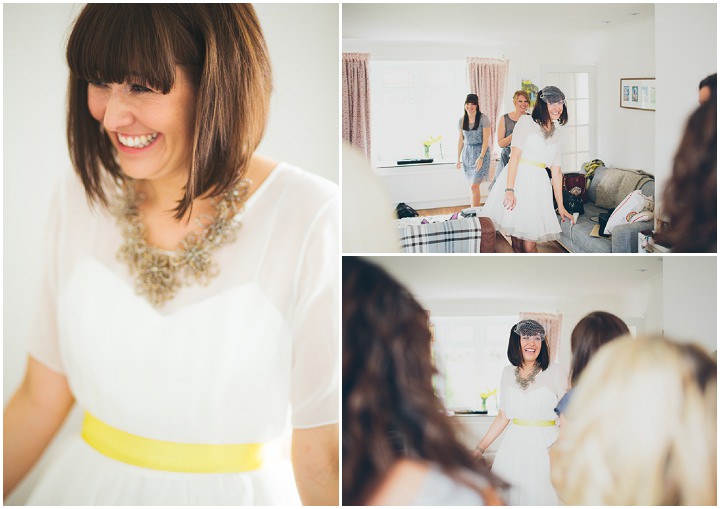 How did you allocate your budget?
Dave is the spreadsheet king and I'm rubbish with money, so he kept the budget in check. We chose the venue first and set aside a big chunk for food and everything else fitted around that. It came in bang on budget at £7k.
Why did you choose your photographer?
I've known Han since we were 16 and always loved Red on Blonde's work. That said, when we started planning we just couldn't see any room in the budget for photography and didn't think it was a priority. I'm so thankful that we changed our mind and found room in the budget. The photos are fabulous and on the day Toby and Han were incredible: calm, professional and incredibly creative. We didn't want to leave our guests hanging around while we did photos after the wedding so decided to do them before the ceremony. We met at an old barn on Matlock moor and then headed into town for photos in the park. I really enjoyed the photos and we could relax because we didn't feel we had to rush back to our guests. The day passed in such a blur and I'm so glad we have an incredible record of the day.
The dress and accessories
My dress was made and designed by Susie Greening. Susie is my maid of honour's "little" sister and a talented wedding dress-maker. I made a Pinterest board, shared it with her and away she went! She is amazingly talented and some of the little touches she added were a lovely surprise (she stitched 'together forever' into the hem of my dress and attached one of the buttons with blue thread) she also sourced some 1930's mother of pearl buttons for the back of the dress. I made my own veil. It was a bandeau style box veil. I didn't want anything fussy or heavy and after scouring the web couldn't find anything to buy. So I bought some Russian net and made my own. I attached some vintage brooches which were a gift from my uncle. Although I'd had a few trial runs I only made the veil the day before the wedding. It was a nice relaxing job when everything around me was chaotic!
I had two pairs of shoes. Heels for the ceremony and photos which were from Dune and sparkly pumps from Pretty Ballerina for dancing!  My necklace was a last-minute buy from Aldo, I love it and have worn it loads since. I made my bracelets from freshwater pearls and also made one for each of the bridesmaids and our mums which had an initial charm.
The suit and bridesmaids
Dave already owned his suit. The waist coat is Ted Baker and his awesome shoes are Fred Perry. My bridesmaids all have their own style, so they found their own dresses, my only stipulation was that they wore grey! Susie also made her sister's dress. I also had Joe as a bride's man because he is one of my very best friends & he wore his own grey suit to match the bridesmaids – it was from Reiss.
Theme
We didn't start out with a theme in mind but once we chose daffodils as our flowers the grey and yellow theme developed naturally.
Flowers and decoration
The best thing about not having a sit down meal is not worrying about table decorations, favours etc. We had pots of narcissi on the tables and we bought boxes of daffodils wholesale and had vases scattered about. The bouquets were Ducat double-headed daffodils, tied with yellow ribbon. I made them up on the morning of the wedding. In total the flowers, pots and vases cost under £100. I had planned to make button holes but I'm so glad I didn't as the ones we ordered from Robert Young florists in Matlock were stunning.
Food and wedding cake
We didn't want a formal sit down meal but food is very important to us! As we married late (4pm) we didn't need to feed everyone twice so we had 'British' canapés: mini Yorkshires with beef sirloin, honey mustard sausage and mash and jacket new potatoes filled with smoked salmon and 'cheese on toast'. In the evening we had a ploughman's supper buffet: pork pies, ham, and the most amazing selection of cheeses. As much of the food as possible was locally sourced including Peakland Blue Stilton from Hartington, just up the road. I think people assume a buffet will be sandwiches and sausage rolls but Judith at Strand Fine Catering is so creative and the table looked like a work of art! I didn't want to hire crockery but didn't like the idea or paper plates so we found palm leaf disposable plates online and they looked great.
We had two cakes! A pork pie tower as part of the evening food and a lovely lemon cake made by our incredibly talented friend, Zoe. She used to be a wedding planner so as well as baking she was at the venue on the morning of the wedding to help the boys decorate (and boss them about when they had yet another coffee break) she also did my nails for the day. To top it off she has a toddler and a baby and was moving to Brighton the day after the wedding – she was a bit of a hero!
Entertainment
My dad, aunt and uncle are in a Skiffle band called 'Please Y'self'. They played an hour's set and were amazing. We had skiffle versions of Abba and Jake Bug and for the finale they got the wedding party, plus our Mums up to play washboards, tea chests and swanny whistles! After that we had a DJ, Paul from Spirits High. We'd seen him DJ at several weddings and been impressed that the music he played was always different to fit with the bride and groom. We had a meeting with Paul to discuss music choices, lighting and timings and he was brilliant on the night.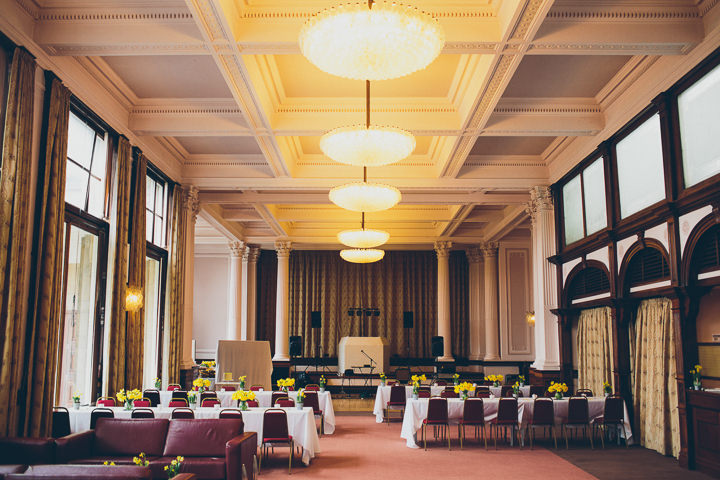 Buy or DIY your stationery?
Dave's sister is an artist and she designed and printed our invites. They were simple but beautiful.
Personal or handmade touches
– As well as making my veil, bracelets and flowers we also made our own confetti! We'd assumed we wouldn't be allowed to throw any, as so many venues ban it but a few weeks before we found out we could. We knew that most people don't take confetti these days so tried to buy some in bulk on-line. It was going to be very expensive so we bought a heart-shaped paper punch and a stack of yellow tissue paper and several hours and a dose of repetitive strain injury later we had baskets of confetti to hand to our guests.
– Dave's mum made a lovely cross stitch and our friend Karen made a lovely sign for the card box using liberty print fabric.
– Our mums made pickled onions and piccalilli for the buffet and Dave's sister made name flags for the cheeses.
Special moments
I loved spending time with Dave and the wedding party for the photos. It was so relaxed and fun.
We had some brilliant funny readings and it was lovely to have everyone at the ceremony laughing and relaxed.
My favourite moment was the final dance. We had Take That, Never Forget and everyone ended up in a huge circle with people having dance offs in the middle. It was a great way to end the night.
Advice to other couples
– Get married later, skip the stress and expenses of a sit down meal and just enjoy the party.
– Do photos before the ceremony! It was great to have everything out of the way and just relax after the ceremony.
– Don't worry about breaking the rules. I had a bridesman, we married late, I walked down the aisle alone, we saw each other before the ceremony. Traditions are lovely but only if they work for you!
– Don't sweat the small stuff. We weren't allowed to have the song we wanted to walk back up the aisle, as it was classed as a spiritual song 'Etta James, Swing Low' I couldn't find another song I wanted and in the end the registrar agreed to leave the room by a back entrance beforehand so we could be announced by one of the ushers and then have the song we wanted. It seemed very important beforehand but in the end everyone clapped us up the aisle and no one could hear it any way!
– Spend as much as you possibly can on a photographer. They are probably the only thing from the day (other than your marriage!!!) which will last forever. Choose photographers who have the same style as you. And trust them when it comes to timing. They are the professionals and know how long it will take to get what you want.
Biggest surprise
My maid of honour, Jo had the biggest surprise when she gave me a charm bracelet with charms she had been collecting since we were 16 from places which meant a lot to us. I had no idea she had been doing this and Toby captured the moment she gave it to me (and I sobbed) and I love the photos.
I was also surprised how incredibly nervous I was just before I walked down the aisle. I had a last-minute panic about walking alone but my bridesmaids calmed me down and it was fine!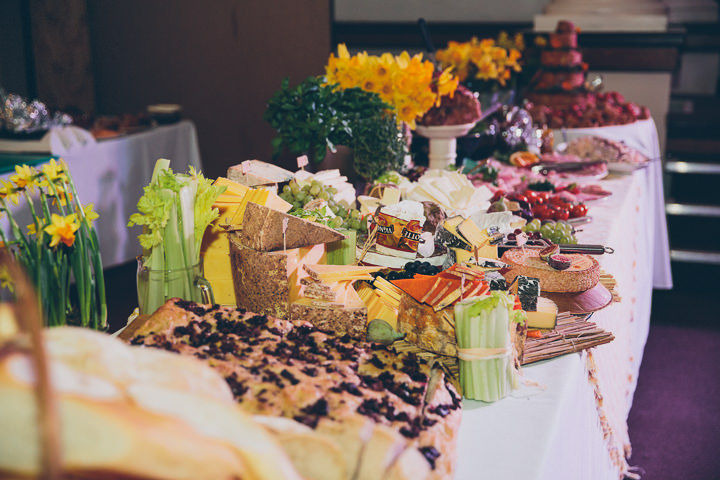 Supplier Shout Outs:
For more information on Red on Blonde's work please go to:
www.redonblonde.com
www.redonblonde.com/blog
[email protected]
07515 275399
FACEBOOK
@Redonblonde
We're Toby & Han. We live in Derbyshire & photograph weddings all over England & beyond! We love to tell the whole story of your wedding day, from your morning preparations, until everybody's boogieing on the dance-floor. Our style is natural and relaxed and we photograph everything, from the little details, to the big moments, without any cheese.