Toda'ys wedding is a bit different as I am only showing you the reception. The reason being is that the couple chose to have the ceremony as a very small private affair in Ireland, with their reception as a much bigger celebration back in their home town of Georgia. The reception itself took on a subtle Irish theme, mixed in with an eclectic mix of art deco vintage, with inspiration from nature. Each table was decorated differently and they really went to town with all the DIY and handmade details. The wedding was actually sent into me by Maria Thacker – a planner and stylist. I think it is clear from these lovely photos taken by Harper Noel Photography that Maria is an expert in her field. The wedding looks amazing with so many pretty details. I am loving the succulents on the tables, and as for the pet dog, how cute!
Ireland was such an intimate ceremony for us, so we wanted our reception to be more about our friends and family and a time to just celebrate. We kept the atmosphere casual and fun, but with romantic ambiance, some seriously delicious southern food, and a fun band that could start the night with 20's jazz and top it off with our favorite 80's songs.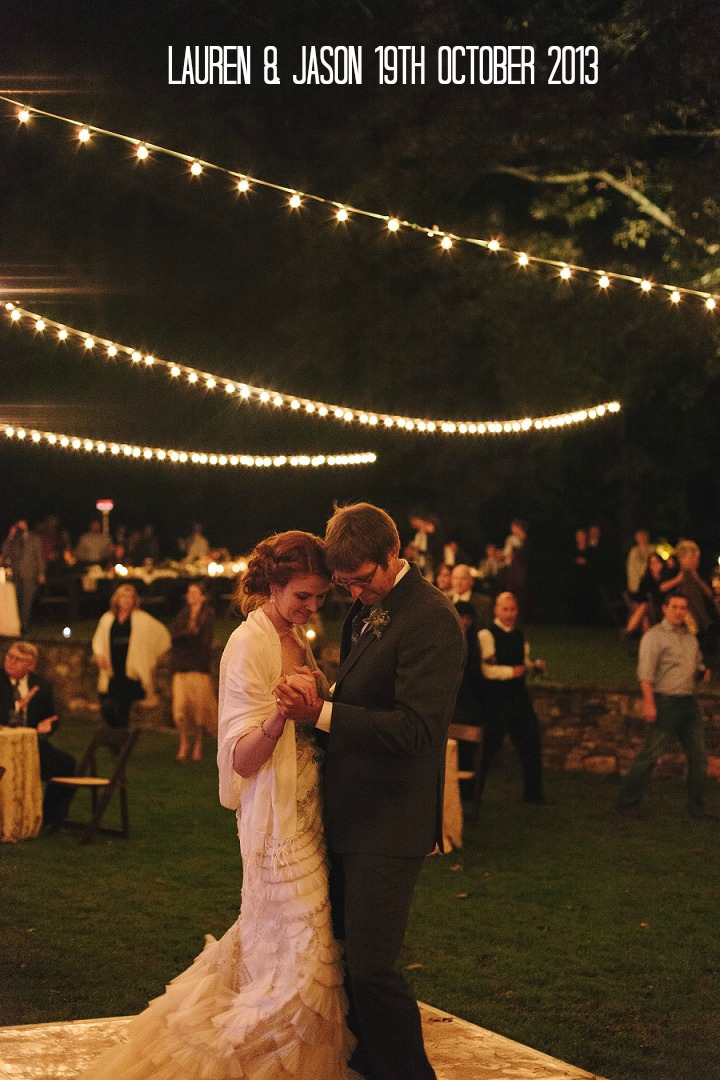 Lauren and Jason were married in front of 120 guests on 19th October at the Jason's home in Acworth, Georgia. "Jason wanted an intimate destination wedding and ever since a family trip to Ireland in high school I have wanted to get married on the Cliffs of Moher. Jason surprised me with the suggestion that we get married on the cliffs and I was totally on board.
We decided to have the reception at Jason's parents' house because the backyard is big and open, with a stone wall elevation and a beautiful woodsy backdrop. It was a perfect spot for a large party with friends and family. We would have the freedom to decorate however we wanted and people could stay as long as they wished. We thought another perk would be saving money on a facility rental fee, but that wasn't the case. The expense of renting tents, chairs and tables can be quite high, so I think the cost was pretty comparable in the end.
We started planning the wedding and the reception right after we got engaged in mid-February because we only had 8 months to get everything together, and a few weeks of that we would be out of the country for the actual wedding. From the beginning we wanted a destination wedding to be followed with a backyard reception where we could really celebrate with friends and family.
How they met
When we met in 2011, I had just moved to Atlanta from finishing grad school at UGA and Jason was working on his PhD at Georgia Tech. A mutual friend was moving away for her new graduate program in North Carolina and had a big get-together to celebrate, which is where we met. We went out for dinner the next weekend and have been together since then. That was the first time I ever felt like calling my mom after a date and talking to her about the guy – so that was probably a good sign!
The proposal
Our proposal story is based on an inside joke we have from the movie "Ted" where Mark Wahlberg's character leads his girlfriend to believe he's about to propose at a really nice restaurant on their anniversary, then disappoints her with a pair of earrings. After we saw that movie, I joked with Jason that he better not make a mistake like that if I ever thought he was setting me up for a proposal.
Fast forward nine months to Valentine's Day 2013 and Jason knows exactly how he wants to propose. He started the evening by taking me to Atlanta's Botanical Gardens for a food and wine tour. The park was romantic and beautifully decorated and Jason was dressed up, so I was suspicious the whole night that he would propose in one of the gardens. It wasn't until the end of dinner, around 10:30, that he proposed. Jason and I were finishing dessert when he brought out a little red box tied with a cream ribbon and handed it to me across the table. I recognized the gesture from the movie and laughed because I just knew there would be earrings inside. I said, "These better not be earrings" and when I opened the box there were a set of pretty art deco pearl studs. Then when I looked back up at him, he was holding up the engagement ring and said, "Is this what you were hoping for?" Then he asked me to marry him. Apparently the restaurant staff were in on it and waiting around to take pictures – which I hadn't even noticed.
How did you allocate your budget?
– Catering & Linens: 30%
– Decor (centerpieces, farm tables, lighting, miscellaneous & DIY items): 15%
– Bridal Gown: 10%
– Rental items (chairs, tents, dance floor, bar): 10%
– Band: 8%
– Photographer: 7%
– Florist: 5%
– Bridesmaids' & Groomsmen's Attire: 5%
– Liquor: 4%
– Groom's Suit: 2%
– Invitations & Save-the-Dates: 2%
– Cake: 1%
– Hair/Makeup: 1%
How did you choose your photographer?
I actually put a bid request out on thumbtack.com for photographer bids and Harper was one of the vendors we reviewed. We loved the photography on her website. She had the style we really liked and her fees were very reasonable. And we really enjoyed working with her through the whole process – her personality is the perfect balance between easy-going and professional.
The wedding dress and accessories
Wedding Dress: Lazaro. I tried a few different shops around town, but had a hard time finding the right dress that was both unique and classic. I finally found my gown at "Bridals by Lori" in Atlanta – the boutique where they film the TV show, "Say Yes to the Dress". I was lucky to have my appointment the same day they were hosting a trunk show for the designer, Lazaro. Not only did I find the perfect dress, but I was also able to meet the designer and be assisted by the entire team that I always see on television. And before I left, Lazaro himself made a sketch of the dress for me. It was a very exciting day.
The suit and bridesmaids
Groom's Suit: Joseph A. Bank. The bridesmaid dresses, each different, were pulled together by me from Ebay, Bluefly and Piperlime. It took time to coordinate the different styles and colors – a couple of returns were necessary – but I tied them all together with matching accessories like Seychelles wedges, gold floral earrings, and a few leather sashes.
The theme
The style of the reception was eclectic – inspired by nature, bohemian, and art deco vintage. With weddings everything gets repeated – the bridesmaids, the groomsmen, the centerpieces. I've never been a match-y style girl, so I knew I wanted every table to be unique, every bridesmaid and groomsman to be individual. It just all needed to still coordinate, of course!
We tried to bring a little bit of Ireland into the evening without making it a completely Irish theme. We had "Ireland in a Jar" centerpieces on all of the tables. Our seating chart was a map of Ireland, with table assignments being Irish counties. I even marked the seating cards with a sheep stamp I found on Etsy. After dinner we showed a short video of our ceremony on the cliffs in Ireland and during our first dance everyone tossed white rice paper butterflies – the same kind we had used when we finished the ceremony. Those were a huge hit in Ireland and at the reception.
Lighting was a really important element in the decor, too. Behind my in-laws' yard is a forest, so we cast spotlights up into the trees to create a woodsy, dramatic background. That really set the stage beautifully for the dinner farm tables, which were all decorated differently based on what we already had at home or picked up at thrift and antique stores. Above the table, dance floor, and bar we strung long strands of Edison bulbs we found at Target. We also had tea light candles hanging from trees and set out on the tables.
I actually picked out my color scheme on a trip to the Home Depot. I went over to the paint section and pulled out some favorites, which I narrowed down to a palette of Venetian gold, jade gray, aubergine, cream, and stormy gray. I wanted the color scheme to be defined, but not restricted, and bold, but still romantic. Since the plan was to pull together miscellaneous decor items over the next few months, I gave stacks of color swatches to my mom and bridesmaids. So everyone had the exact colors on hand in case they went to thrift stores for decor or looking for bridesmaid dresses.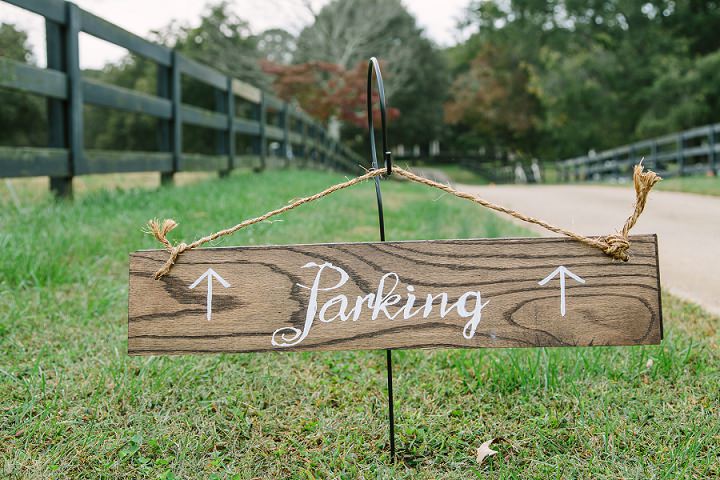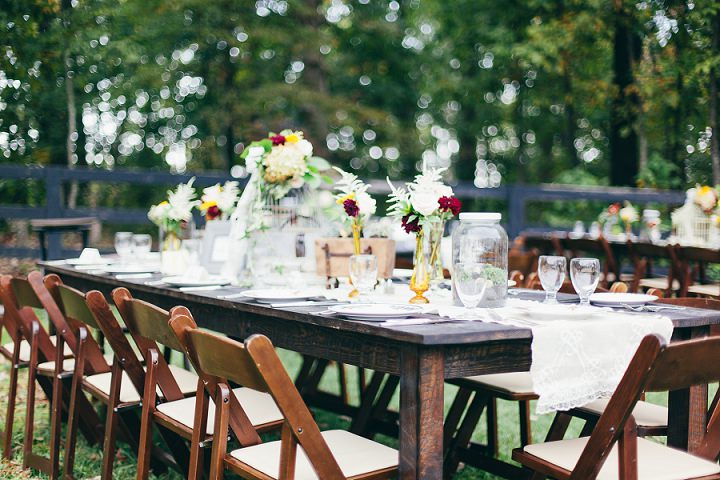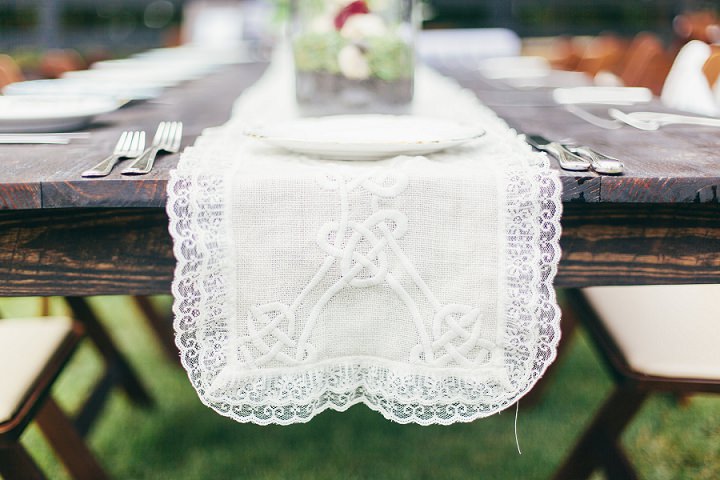 The flowers
Mostly succulent blooms from Viridis Designs.
The decoration
The most impactful elements of our decor were the lights and the farm tables, but details included beautiful collections for the table decorations, vintage bird cages around the yard and colorful lounge seating in front of the dance floor. Centerpieces on the farm tables were all set up differently, with various knick-knacks picked up at thrift stores and flea markets. We had everything from tiny milk glass vases to large wooden dough bowls. We incorporated a lot of amber and cranberry glass as those went well with my aubergine and Venetian gold colors. We added succulent blooms to the tables which then brought in the jade gray hues. Some of the tables also had linen and lace runners embroidered with a Celtic design. We also had "Ireland in a Jar" on all of the tables. We used shabby-chic style picture frames to display the table names and I was able to reuse these as gifts with framed wedding pictures afterward.
The food and the wedding cake
Southern-inspired comfort foods. Guests started out enjoying boiled peanuts, devilled eggs, a cheese tasting and shrimp and bacon jam brochette. They then enjoyed a dinner of fried chicken, Southern Harvest Salad, shrimp and grits, beer brined pork loin, and fried green tomatoes. The wedding cake was from Sweet n' Sinful Bakery in Decatur and the Groom's cake was a Black Forest cake made by the mother of the groom. She also baked an assortment of gluten-free apple and cranberry pies.
The entertainment
A live band called the Diane McIntosh Band. Wedding Music- Reception Entrance: 80's era Theme Songs from the couple's favorite television shows – Matlock, Happy Days, The A Team, My Little Pony, Night Rider, Jem & the Holograms, Ducktales, Fraggle Rock, the Fresh Prince of Bel Air and MacGyver — This was so much fun for me and Jason! We came up with this plan the week before the reception and didn't tell ANYONE about the songs. They were top-secret and up until the moment they were introduced and stepped out, our wedding party had no idea what they would walk to. Ducktales and Fresh Prince were our favorite songs out of the group. We walked out to the MacGyver theme song because that was Jason's favorite show growing up.
First Dance: "Ho Hey," The Lumineers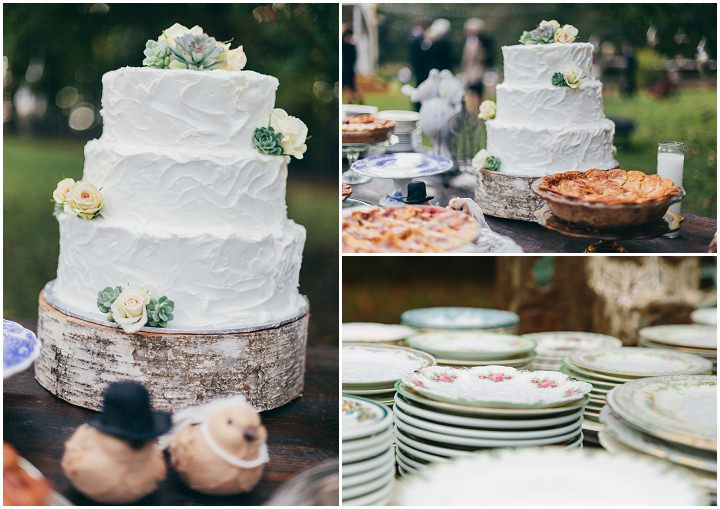 Buy or DIY your stationery?
DIY, with much inspiration from Pinterest! The save-the-dates were my own design and easy enough as we just ordered prints online. I saw something on Pinterest similar to the invitations for the reception and they were much more labor-intensive. Jason, his mom, and I spent hours cutting the design into cardstock with my Cricut machine, inserting the center sheet, and finally scoring and folding the final invitation.
Personal or handmade touches
– Tables.  Jason hand-built and stained 13 10'Lx4'W farm dinner tables and one 10'Lx4'W cake display table (with taller legs) – this took him and his dad three months to complete (June to September); Jason and I cut down one of the tables as a dining table for our house – we love it!
Ireland in a Jar – over 8 months we collected very large vintage pickling jars and placed soil, moss, rocks and a little wooden sheep inside each for the tables
Table Runners – with help from my mom and grandmother, we sewed gorgeous linen and lace table runners for about 5 or 6 tables; the linen fabric had the perfect subtle Celtic pattern stitched in; I gave these away to Jason's mom, my Aunt Virginia (who was at our ceremony in Ireland), my mom and grandmother – and I kept one!
– Signs. The past few years I have painted custom signs for weddings, so I created a few of those for myself and we set them out all over the place. I think I counted a total of 22 signs the day before the reception! They were perfect for guiding our guests across the large open space to lawn games, the guest book, the bar, the restrooms – everywhere.
– Seating Chart / Cards. I painted the seating chart myself like I did the other signs, but on a huge board so we could place nails to hang the seating cards. I knew some of the RSVP's were still outstanding, so I didn't want to commit to having to re-assign and re-write seating cards as new guests popped up. Plus one of my bridesmaids was doing the calligraphy for me. So I had her write out all of the guests' names on the tag stamped with a sheep; on smaller yellow tags, I had her write out the table names. I punched holes in both, placed the yellow table tag in front, and tied them together. At that point I could switch around table assignments as necessary. Which was a life-saver, because people were still giving their RSVP two days before the reception!
– Setting up everything. What can I say, I have amazing family, in-laws, and friends! The creative team of me, Jason, Jason's parents, my parents, my grandmother, our planner and a few of our friends strung lights, set up furniture, and decorated tables – down to every detail up until the last minute. It was a lot of work and a lot of fun. They even came back to help clean up and take the decor down the next day, which was just incredibly sweet and supportive.
– Moss Monograms. I love the look of the moss letters and the filled in a spot on the house that was bare above where we had set out the seating chart. This project was super easy and I finished in a couple of hours. I just picked up the large paper mache letters from Michael's craft store, bags of sheet moss, and a glue gun and covered the front of the letters. It's funny looking back, because I accidentally covered the wrong side of the J. I held it up for Jason's approval and he looked really confused – that's when I realized what I'd done! So the J was covered on both sides – ha!
– Guest gifts. The birdseed ornaments fit really well with our reception theme – woods, birds, nature. And though the DIY project was time-consuming, it was very cost-effective and something that is a momentum, but not something people feel like they have to hold on to or feel bad for throwing away. Our guests were able to enjoy taking them home, setting them out for the birds and forgetting about them!
– Save-the-Dates / Invitations. The save-the-dates were my own design and easy enough as we just ordered prints of my sketch online. I recreated an invitation I saw on Pinterest for the reception and they were pretty labor-intensive. I drew the design with Microsoft Illustrator and used my Cricut Silhouette machine to cut each invitation out of cardstock. Jason, his mom, and I spent quite a few days and nights cutting the cardstock, inserting the center sheet, and scoring and folding the final invitation. But we were really happy with them!
Special moments
When the rain stopped! Our reception started at 5:30 and it showered on and off all day until 4:00 or so. Maria, our planner, would set everything out on the tables and a shower would come through, then she would have to wipe the tables down and thirty minutes later another shower would come through. It was crazy. We had to wait until the last minute to put out some of the nicer pieces of lounge furniture and all of that was happening while they were trying to do my hair and makeup. I couldn't sit still I was so anxious about the weather. So when the rain finally went away for good and the sun came out, I was able to relax a little.
Once the reception started, the most special moments were on the dance floor. We had rice paper butterflies set out for our guests to toss while we had our First Dance and that was really fun – all of our friends and our youngest guests had the best time pelting us with the confetti pieces and they just get picking them back up off the dance floor and throwing them again. By the end of the song we had wet butterfly confetti all over us. The next moment on the dance floor was the Father-Daughter dance. I danced with my dad to a song from an old Elvis Presley movie that I used to watch with my mom when I was little. Dancing with my dad to that song really put me at ease for the night after all the stress leading up to that day. It was really special.
Advice for other couples
I had a lot of DIY projects on my list, which I was excited about and put upon myself willingly. But I have to admit that I was very stressed out the few weeks before the reception, all the way up until the last minute (thankfully we had already had the wedding and that wasn't stressful at all!) So my best advice would be to take care of as many projects as you can as far in advance as possible. You not only want to make sure you have enough time to finish everything, but you want to have time to decompress a few days before the wedding, too.
Biggest surprise
Across the street from Jason's parents are a horse barn and pasture. We were out in front of the pasture taking some portrait shots when the owners of the barn came out and offered to saddle up one of the horses for a few pictures. That was pretty cool and I loved the pictures.
Supplier Shout Outs:
For more information on Maria's work please go to:
Maria Thacker Events & Consulting – www.mariathacker.com
404-966-2027
[email protected]