Happy Friday to you all and it's an even more special Friday as it's a bank holiday! Yay! as we speak I am in the car on my way to Cornwall to spend the bank holiday with my mum, step dad and of course Nik. What about you? It may be bank holiday but we still have time for a Diary of a Boho Bride catch up and this time it is the turn of Louise. With 4 months to go before the big day the list of things to do is getting bigger and the emotions are mixed. However Louise is a planner, so it seems that all is in hand. Today she will be giving us an update on how everything is going, and offers some sound advice on the legalities and also insurance!
I'll pass the Blog over to Louise………
So, with just under 4 months to the wedding it's safe to say that the mood is ranging from excited/stressed/nervous/excited in the Loughlin/Howarth household! I thought I'd give you all a brief update on where we're at with the planning and whether we're all on track or not!
Legalities
We gave our formal notice of intent to marry this week and yeah, this is what it's all about;  it's formally dotting the i's and crossing the t's but it's safe to say that I think it's just now that the enormity ( and excitement) of what we'll be doing in a few months has hit us – funny what a half hour appointment can do!  I would say to all couples planning a wedding ; get your preferred date in as soon as possible. We provisionally booked our date in May last year and we were we only given the choice of 3 suggested times for our chosen date – luckily one of them suited us but I think if, like us, you're getting married in the midst of 'wedding season' and you want a particular time – get it booked in as far ahead as you can. It does cost to provisionally book – it was £24 for us and we then had to pay £70 to give notice plus the registrar's fees and our wedding certificates; all in all,  it cost us about £400 to get married in an approved venue so please don't forget to budget for this in your plans!
Invitations and Wedding List
All of our formal invitations have now been sent and RSVPs have been coming in; it's so nice to see friends and family who seem as excited as us about the wedding! We sent Save the Dates out last August. I would really recommend this particularly if you have guests from overseas to make the journey to celebrate your day or even if, like us ( well, me mainly) you prefer to be organised and get things in the diary. I know that I have friends who have children and plan holidays in advance, so for me, it's best to get the date in people's heads so that they don't double book themselves.  We are very lucky that we were able to ask, Andy of AisforAnything  to design our Save the Dates and Invites. He did a lovely job on them and they're just how I imagined when we told him what we wanted. We ordered prints of the invites via printed.com and they did a great job – very reasonably priced and came within a few days; we've had loads of compliments about the invitations and we're so happy with them – we're very lucky to such talented friends – Chris and I wouldn't get far on our own!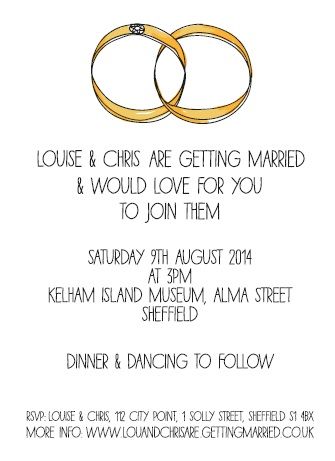 We didn't want to bog our guests down with loads of info in the invitation so we decided to get a wedding website where we could store travel info, hotel info, plans for the day etc. There's tonnes of them out there but we opted to go with www.gettingmarried.co.uk – it was free to set up a website, you could customise the site and you could also add on your own wedding list. Now, this was something that didn't sit easy with Chris and I, we've been in the flat now for about 2.5 years – we don't need any more 'stuff' and we didn't want to just ask people for money! But as soon as we told people we were getting married, they begun to ask us where we were having a wedding list so we bit the bullet and decided that the best thing for us would be to ask people to 'buy' us experiences for our honeymoon. The good thing about gettingmarried.co.uk is that you can add various wedding lists from high street stores as well customised wedding lists for your own choices and we decided to pay extra to allow us to add our own list, so guests can buy us 'Cocktails in our Hotel in NYC', 'Tickets for the Rockerfeller Centre at Night' or a meal at Coney Island. Our site can be found here: louandchrisare.gettingmarried.co.uk – and I would really recommend it, it's easy to use, looks good, easy to navigate and free if you don't go for any of the add-ons.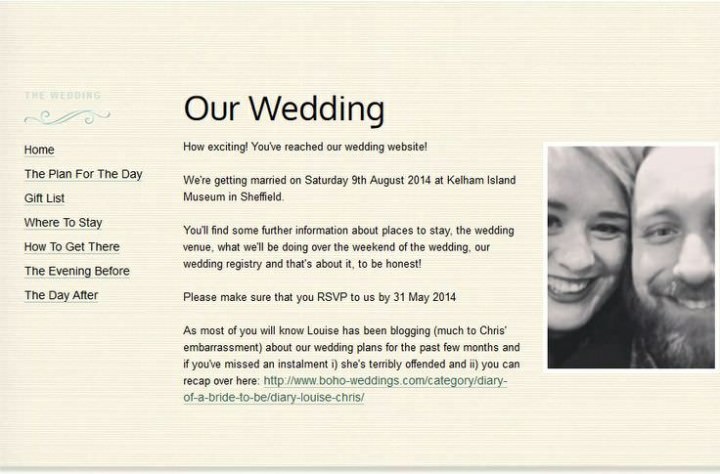 Outfits and Rings
A couple of blogs ago, I was telling you all what a marvellous experience choosing my wedding dress was however, disaster struck – the wedding dress shop went bust. Nightmare. Luckily I had paid the deposit on my credit card so could claim the money I had paid back but money aside; I just wanted my dress! Luckily my organisational streak reared its head. I got on the phone to stockists of my dress-THE dress, explained my situation and 2 days later I was getting re-measured for the dress. Admittedly in Liverpool but it means my mum is close-by and it's near enough to run to for a last minute fitting. Speaking of which, my dress probably won't arrive til beginning July – good job we like to fly by the seat of our pants, eh? ( But yeah, make sure you get insurance and/or pay for large items on a credit card if you can)
Chris' suit is yet to be bought, but we have a good idea of what we're getting and will be paying the dreaded Meadowhall a visit at the end of the month.
We ordered our rings a couple of weeks ago; we're getting them made by the same jewellers who made my engagement ring and to us that's quite special. Chris is not a wearer of jewellery so it was a bit more of a novelty for him to try on rings and see what he preferred – whereas I knew exactly what I wanted and of course, I wanted it to match my engagement ring.
And last but not least, the DIY aspects of the wedding
Well, the flat is filled with empty beer and gin bottles and there's crepe paper and felt galore strewn everywhere…so that sort of sums it all up! I've started work on my crepe paper streamer curtain – my main DIY want ! I've started so early as this was something I really want for the venue and I'm not known for my neatness plus imagined all sorts of disasters with the hot glue gun but it went surprisingly well. And given that I've got 32(.5) metres to cover, it's best to get started early, eh?
I'll be back in a few weeks time to let you know how we are getting on with everything. In the mean time I'd love to hear about your wedding plans and how things are progressing for you.
Love Louise
x