Today's wedding comes all the way from Pennsylvania and is FULL of the most amazing decoration and delicious looking food! With a 10 course Italian feast as well as cocktail hour a beer truck and a pizza truck, Stephania and Brian made sure that each and every guest was well looked after! The wedding looks amazing and that is all down to the bride and groom's great taste and collection of fabulous objects and the hard work of April at The Kept Nest a furniture hire, styling and floral company who actually sent me in this wedding. I just love that everything takes place outdoors, with so many interesting objects and details to look at, and that Stephania and Brian and all of the guests really look like they are having THE best time. So much effort went into this wedding I hope you love it as much as I do! Photos by The Wiebners 
Our wedding was a beautiful warm autumn day filled with our closest family and friends. We sprinkled in special homages for all the love & support of our guests, our appreciation of our Italian name and our adoration for our sweet little town of Hershey.
Stephania and Brian were married on October the 5th in a backyard wedding at their home in Hummelstown, PA. ' We always knew we wanted to have it at our home in the backyard & when looking for houses we specifically picked our house because it had a beautiful backyard, perfect for our wedding. We had 100 guests and I have been planning since I was a toddler but I'd say 2-3 years of planning went into the wedding.'
How they met
We met through work, the groom works for Hershey Entertainment & Resorts and the Bride, Pepsico…Chocolate & Pepsi, a perfect fit! We've been together for approximately 6 years
The proposal
The proposal was silly simple & casual and happened one random night while we were watching TV. Boring compared to our wedding, yet quite perfect!
How did you allocate your budget?
A lot of thought, planning and spread sheets went into the budget. We prioritized food & beverages as #1, Decorations #2, Photographer #3 and Misc #4 (Misc includes everything from Rickshaw bikes, Cow Bells to a Pizza Truck…lots of Misc pop up!).
Why did you choose your photographer?
I had been sort of stalking photographers, The Wiebners, for years on their social media sites and became completely smitten with their work. They find these amazing details that deliver such unique candid shots vs. vanilla staged pics. We booked them 2 years in advance and are so happy we had them here to capture all the fun of our big day.
The dress
The dress was from Lilla's Bridal Boutique, York, PA. Necklace from Saks Fifth Avenue and Shoes were Old Navy gold glitter flats. It's funny as my necklace came from high end store but my shoes were a steal for I believe $9.99.
The suit
Custom suit from TMB Clothing, Lancaster, PA. We decided to skip a wedding party and just keep it to the two of us. We did ask a few close family and friends to readings and present the rings but otherwise it was just the two of us up there.
Theme or colour scheme
Outdoor space we went with all fall/autumn colors and inside the tent we went with white & creams.
Flowers
We went with autumn arrangements that April from The Kept Nest beautifully created and we also added a lot of natural elements that we literally walked around our yard and gathered…like tall grass, cat tails, leaves, etc.
Decoration
Autumn Vintage Elegance…lots of candelabras, vintage furniture, chandeliers, etc.
Entertainment
Ceremony & cocktail hour we had a local blue grass band, Colebrook Road. Dinner we had family friends, father & son team Rich Sr. & Richie Jr. Ranaglia playing accordion and clarinet from table to table while the meal was served. Dancing after dinner fun we had DJ to spin tunes the rest of the evening.
Food
Our dinner was a traditional Italian 10 course meal listed below. We had the dinner served family style as we wanted all the guests to have fun & interact together while breaking bread vs. a formal stuffing served dinner.
1. Aperitivo- Prosecco Toast to kick off dinner
2. Antipasto – Assorted Italian Meats garnished with Tapenade, Hummus & served with Focaccia
3. Primo- Lemon Pepper Lasagnetti with Tuscan Kale
4. Secondo- Swordfish Salmoriglio & Braised Short Rib of Beef
5. Contorno- Rapini in Garlic Butter
6. Insalata- Endive Salad with Apples, Spiced Walnuts and Sherry Vinaigrette
7. Formaggio e frutta- Regional Cheeses, Preserves & Fresh Fruit
8. Dolce- Traditional Italian Desserts
9. Caffe'- Coffee & Espresso with assorted flavoured syrups
10. Digestivo- Limoncello Toast to kick off the Dancing for the night!
Wedding cake
We had a very simple cake with butter cream icing and lemon raspberry cake. The groom was surprised with a groom's cake of a can of Bud Light…his favourite beer.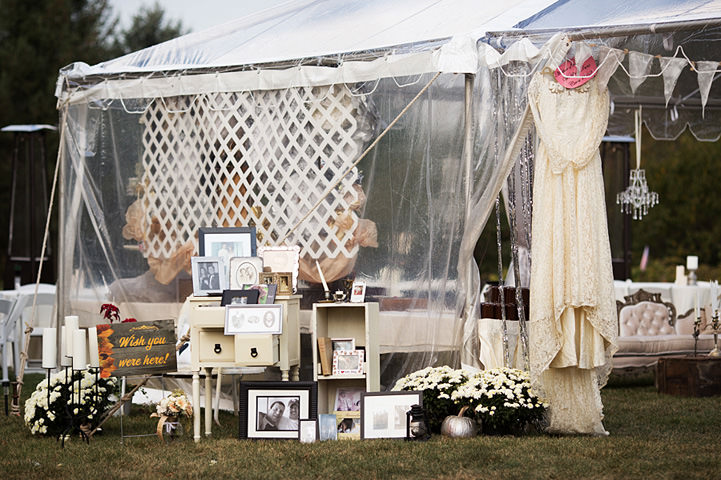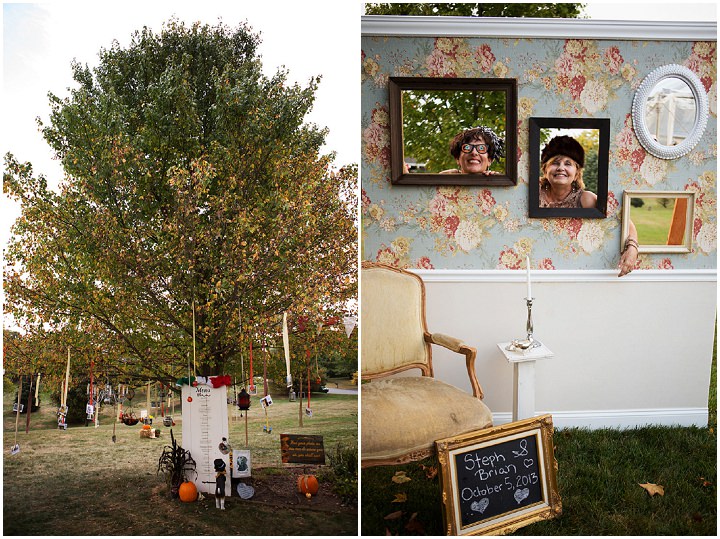 Handmade or personal touches
Wow…not sure where to start with this one. We had many very personal touches to this wedding as we wanted to honour all our cherished guests for being with us on our big day & helping us become the people we are today.
• We LOVE hats so we requested Hats on our invitation + word of mouth so all our guests we're great sports and showed up wearing their best & or most original fedora, top hat and fascinators! Having all the hats made for lots of great pics & laughs!
• Parking was within our neighbourhood so to help with guests who may have had to walk a decent amount to get to our home we rented Rickshaw Bikes to transport guests from their parking spot to our home. The Rickshaws were decked out with "I Do" & Just Married Signs" on the back of them.
• We lost our furry kids (Chocolate Lab, Bob who was 12 and Beagle, Brownie who was 15) all within the last year and were heartbroken as we planned on having both of them walk down the aisle during our wedding. A dear friend gave us beautiful gifts of cufflinks of both dogs that Groom wore with suit and charms of both dogs that Bride wore on her bouquet. We were able to have them close to us throughout the entire day & night which meant a lot to us.
• We collected the guests actual wedding pictures from their big days (99% of guests are married) and used these as their place cards for dinner. They had to find their actual wedding photos to find where to sit – it made for some great conversations and sharing of each other's wedding photos. This was a nod to their love and their weddings/marriages, not just ours. It was a timely project but one that we're so glad we did.
• Each table was named after our favourite U.S. Cities so each place card was an actual Postcard of that city with their wedding photos on the back of it.
• The Kissmobile: we love Hershey for many reasons – we live here, it's our community. It's where the groom grew up. We met because of it (Hershey Entertainment & Resorts and Pepsi partnership). Brian has worked HE&R for over 17 years, we have a tremendous amount of pride with our allegiance to Hershey and the meaning & heart to Milton S. Hershey's legacy here. We had many Hershey touches throughout but one big one was having the Bride dropped off to the ceremony in the Kissmobile, this made for quite the dramatic & humorous entrance!
• I'm in love with the movie Love Actually so I flat out stole the "All You Need is Love" wedding scene. We had a full choir, violinist, clarinet and guitar players all playing the song to our first dance. We surprised everyone with coming out to another song and having it stop and then…boom, the choir started us into "All You Need is Love" and we danced our first dance to this while everyone sang along. The groom's niece played the violin so it was really just an amazing experience.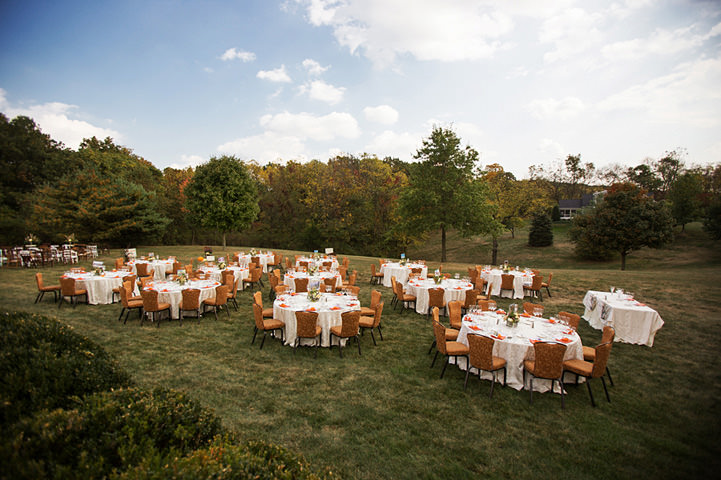 Special moments or highlights
I think our first dance was crazy special with the choir singing "All you need is love" and I also cherished walking down the aisle with my Dad. Also having Brian's mother with us at 92 was very special, she was a trooper throughout the wedding and at one point was singing along with the accordion player belting out Italian tunes.
Biggest surprise
We have two. First is the rain shower. We looked all week and there was not a chance of rain, in fact it was quite unseasonably warm for October (75-80 degrees). When I showed up for the ceremony it began to rain and then turned into a downpour. We hurried and all made it under the tent soak & wet but the funny thing is it sort of made the day better. Everyone hunkered in and said "the heck with it", let's have some fun!" So we persevered through the ceremony in the pouring down rain and within minutes, we had a rainbow and the sun was out the balance of the day/night with no more rain. It was a quick little annoying but pleasant surprise that soaked us but gave us a rainbow which was so special. Our second surprise was the bride's two best friends. Since we decided to not have a wedding party, they were not going to settle for this decision so they went out & bought matching gowns and surprised us with these so they could at a minimum, look the part of a bridesmaids! A funny surprise from my two besties!
Advice for other couples
I think it's important to have a budget and ensure you include "misc" funds as they really add up. I dedicated a big amount to miscellaneous and I'm glad as I needed it from the favours to pumpkins to spray paint to toilet rentals…it's essential to give yourself a significant buffer fund as it's inevitable that things do & will come up. Also, I found that if I could limit the # of suppliers and bundle in as much as possible with each, this gave me room to negotiate or save on pricing. For instance I used The Kept Nest not only as wedding stylist but for flowers and vintage rental furniture (3 services from 1 supplier). This helps with costs and sanity by minimizing the amount of suppliers you need to deal with.
Supplier Shout Outs:
For more information on April's work go to:
www.thekeptnest.com
thekeptnest.blogspot.co.uk/
FACEBOOK
[email protected]

[jprel]