Today on Boho Loves I'd like to introduce you to a new wedding stationery company Elsie May Designs that set up last year. Elsie May Designs creates fun and quirky wedding stationery that is bold, bright and modern. The clean design will suit many a stylish bride and groom, or a couple looking for something a step away from the ordinary. With 12 stunning stationery collections to choose from there is something there for every taste and if you are looking for something a bit more individual then why not choose from the bespoke range. I love these designs, so full of colour and fun, if I were a guest I'd be delighted to receive one of these through the post, what a great taster for the wedding!
'Elsie May is a new British wedding stationery designer offering a variety of modern, quirky and fun wedding invitations & stationery that we personalise for your big day. We create everything in-house, ranging from modern wedding invitations to our unique wedding thank you cards. We also offer a completely bespoke wedding stationery service for those wanting a more personal touch and as part of our service, we can illustrate any aspect of your bespoke wedding invitations by hand.'
'Elsie May understands the importance of your Special Day (we've been there!) and strives to produce great quality wedding stationery at an affordable price. All of our collections are designed by our in-house design experts, printed on 350gsm internationally renowned GF Smith paper and supplied with 135gsm envelopes. We also use high quality HP Indigo Printing to ensure that your wedding invitations and stationery are something you really want to send out.'
'Elsie May also cares about the environment and ensures that all of our stationery paper stock is printed using Carbon neutral printers and on FSC certified paper. It is our attention to all these finer details which sets Elsie May apart from the rest and makes us confident that our modern wedding invitations & stationery are something to be proud of.'
What made you start your business?
A lack of what we were looking for really. We knew we didn't want anything traditional and what you would normally associate with wedding stationery so with Alex being a graphic designer we decided to design our own range and took it from there! We had so many positive and encouraging comments about our wedding invitations that made us think this could be a really exciting business!
When did you start?
I suppose we started in March 2013 around the time we organizing everything for the May wedding but we didn't officially launch Elsie May until around September as we wanted to take the time to set out exactly what we wanted to do and how that was going to look. We really do realise how important your wedding day is and all the thought and effort that goes into making it just right that we wanted to make sure customers could feel completely happy with every aspect of our business and do their wedding justice.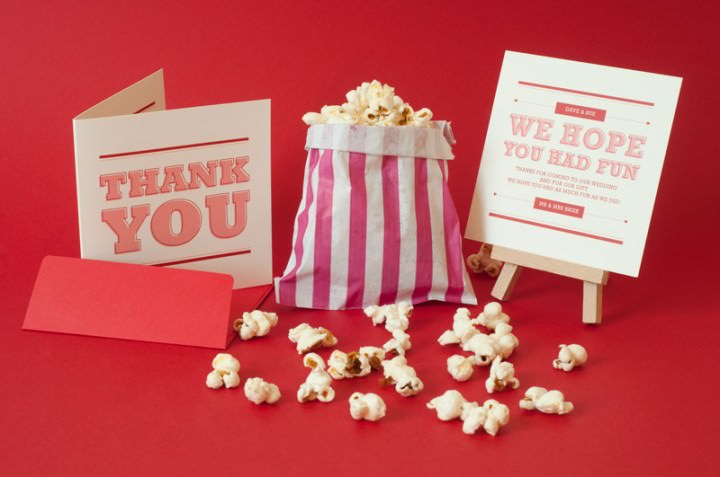 Where are you based?
Islington in London where we love living and working.
What sort of geographical area do you cover?
We cover all areas, most communication is made by phone or e-mail so you can be anywhere in the world and order our stationery, as long as you are prepared to pay the postage!
What were you doing before?
Alex is a talented graphic designer so this was a natural move for him. He is passionate about creating new designs and especially gets excited when commissioned for a bespoke service. Jo has been an accountant within a few media companies so has a creative side from those environments. She plays a key role in sourcing things like paper stocks, envelopes and any other items we need as well as ensuring that our customer service is excellent.
How would you describe your style?
We offer more modern, quirky & fun designs than many other competitors as we feel like our wedding, it should be a really fun day for everyone and you look back with great fondness!
What was your inspiration?
Inspiration can come from anywhere for both of us but we try and maintain you will get something different to our competitors with Elsie May. Our favourite range is Just My Type which was designed for our wedding and it summed us up perfectly, it's simple yet effective, we are definitely each other's type and the word 'type' signifies Alex's love of typography and design. Our wedding also featured the colour red quite heavily so it was the perfect match.
What makes you different to your competitors?
Our creativity, high quality design and excellent customer service. We found some competitors were cutting corners on things like papers and envelopes so we wanted to provide lovely invitations in every way without compromising quality and still being competitive in price. We pride ourselves on great customer satisfaction and we have had some great testimonials so far!
What do you enjoy most about your job?
We love the variety of people you speak to as they are so excited about getting married and the fact that no two days are ever the same. Sometimes it's focused on design work, sometimes writing posts for our new blog that we just started. Even the boring admin can break up the day but nobody likes doing that task!
What sort of couple do you think you attract?
We generally attract couples like us looking to put some personality into their wedding and this is reflected in their design choice. We did everything our way with our wedding and even went on honeymoon before the big day! Recently we have been creating more traditional invitations particularly with our hand drawn bespoke illustrative service as it lends itself to that style. We are more than happy to provide a service to anyone who likes our current designs through to people wanting something truly unique.
What would be your ideal wedding to work on?
A wedding with no budget for their stationery! I think Alex in particular would love a brief where they told him to create something out of this world, you can use gold foiling, embossing, whatever you like, just make it fantastic! Jo would relish sourcing lovely papers and envelopes or ribbons to bring it all together and make some really special stationery.
Can you give me some information on your pricing structure?
Pricing starts from as little as £1.10 for place cards and luggage tags and £2.60 for invitations.
We decided to adopt a very clear pricing structure so that all designs that can be personalised are the same price so there is no confusion with us and our customers to how much things are. This is then adopted with our bespoke service along with a custom design fee as a rule unless you want to go even more bespoke and then we can produce whatever you like
What is your ideal way to spend a day off?
It sounds cheesy but we enjoy spending time together especially as soon we will become 3! Whether that's a nice meal or relaxing in the park, it's important to continue making time for each other and to always have fun which we seem to do very well anyway.
What can you never leave the house without?
Alex can't leave the house without styling his hair and checking himself in the mirror. Whereas Jo can't leave the house without her Chanel make up, she is addicted to the stuff!
Who would be your dream dinner guests dead or alive?
Alex would be more design focused so someone like Jonathan Barnbrook as he is a very clever designer who is also ethical in his approach to the clients he works with which is admirable. Jo would definitely choose Coco Chanel for her style, determination and stubbornness and then we would both go for someone like Keith Lemon or Sean Lock for the comedy value, that would make for an interesting evening!
What would you do if you won the lottery?
Probably the same as we feel it's important to have a purpose and to achieve things for yourself but obviously we would have more resources to expand and spend time creating even more beautiful stationery! We would definitely spend more time on holiday, we both have traveled quite a lot and miss the freedom of just waking up and going on another adventure!
For more information on Elsie May Designs go to
www.elsiemaydesigns.com
www.elsiemaydesigns.com/blog
[email protected]
FACEBOOK
PINTEREST
@elsiemaydesigns