I just love today's wedding, it is FULL of so many pretty details, an amazing venue, a wonderful couple and fabulous photos by Mon Photography. The bride describes the day as a boho-music festival theme and titled the whole day 'Weddstock'. With custom-made wedding programs to look like VIP passes, beer holders and loads of other amazing detailing, they really have gone to town with the theme. Throw in a gorgeous colour combo of beige, white, gold and turquoise and you have a winning combination. The whole thing was planned in 3 months and they managed to put the whole day together on a  tiny budget. A glorious day in the Missouri sunshine that I just love!
'It was business in the front [yard] and a party in the back [yard]. It was a great time to get everyone we love together to listen to music, drink, and camp!'
Leigh & Nick were married on October 12th in Willard, Missouri. 'We choose to marry on my parent's property in Willard because they live on 12 acres of beautiful land with lots of space. Plus, it saved us a few thousand on a venue! We had been seriously talking about wedding planning and decided that we wanted an outdoor backyard wedding theme and October seemed like the perfect month. We had about 220 guests. We were only engaged 3 months before we married, but we had been talking about it pretty seriously so I started planning the month before he proposed, but never made any "final" plans or bought anything.'
How they met
We met at the University of Central Missouri around 2005. He was my bartender and concert going companion. We didn't start dating until July 2010 when our lives crossed paths once again.
The proposal
Every year on 4th of July, we have a group of friends out to our house to watch an amazing fireworks display over the lake we live on in Lake Lotawana, MO. It is also our anniversary… So, we had a group of friends, drinks were involved, and he had planned on proposing during the fireworks. Once he realized how inebriated we were going to be he ran to the house to get "snacks" and the ring. Someone got out a camera and so I posed for a picture and that's when I realized what was happening. He got down and proposed on our dock in front of our friends. It was perfect for us!
How did you allocate your budget?
I'm pretty cheap, also, very fortunate to be an only child. My parents wanted to help out tremendously for the majority of the costs of the wedding. Besides using a lot of Groupons to help save money, I used a lot of the things/decorations from our house and my parent's house. I used Groupons for the tent, tables, chairs, linens, tent lighting, guestbook, bridesmaid gifts, and parent's gifts. Venue was free. Our sound man gave us a huge "friend discount." I work for a company that gave me discounts on the glassware we used as party favors. We didn't get engagement photos (we have plenty of photos of ourselves). My cousin is a wedding planner, she gave me great advice and already has many of the things I imagined in my wedding. Plus, we have multiple musical talented friends who performed at a very valuable price. The Men's Wearhouse where we bought all their attire gave us buy one, get one free on everything! (Never hurts to ask!)
How did you choose your photographer?
I chose my photographer because he was a friend from college. Over the years, I've seen his work and knew they would be able to capture the Boho-music festival theme I was going for! Best decision I made! People were talking about the photos for months. They were able to capture every detail I worked for!
The dress
The dress was by Maggie Sottero, Earrings by Lauren Conrad. Necklace & bracelet were my grandmothers. Hair piece was a handmade piece I found at a Bridal Expo. I wore barefoot sandals from Etsy.
The suits
All random brands from Men's Wearhouse. Shoes were from Steve Madden
Theme or colour scheme
I like neutral colors: tan, beige, white. I also added some pops of gold and turquoise to the theme. The orange flowers were an after- thought. I just liked them!
Flowers
I ordered them from Sam's Club, it was such a deal! Everything comes in the mail before the wedding and you put them in water and they plump up! Baby's breath and mini dark orange roses for the center pieces. Our bouquets & boutonnières were a mix of earthy colors, lilies, and others.
Decoration
I used a ton of mason jars from our house, as well as my parent's house. My dad cut a small tree into slices for center pieces. My aunt had a ton of vases and hemp ribbon to add some rustic touches and height to tables. My mom cut random dried flowers and plants and used them in old milk tins. It was perfect!
Food
We had Works Catering. It was only $7.50/per person! We had pork shank with a blueberry bbq sauce, mashed potatoes, corn, green beans, & a mixed greens salad. It was sort of country cooking.
The wedding cake
From AmyCakes. It was and still is the BEST cake I've ever had! 3 layers: carrot, pumpkin spice, and golden vanilla. Also we had golden vanilla cupcakes.
Entertainment
We had three bands on stage that played into the late night. We had a big campfire in the camping area, and my dad's biker friends who played "security" for the crowd….that was very entertaining, haha!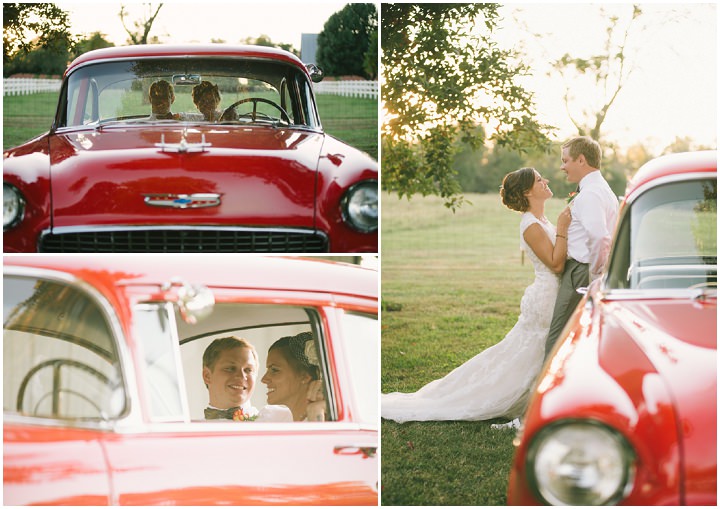 Buy or DIY your Stationery?
I bought it from Michael's craft store. I would go once a week to use the weekly 40% off coupon until I had enough boxes. Luckily it was on my way to work. I was also able to buy my Thank You cards the same way. I saved hundreds of dollars! It's also how I decided to incorporate small birds into my wedding theme.
Personal or handmade touches
• I found our "cake topper" at the craft store and spray painted it.
• I bought an old microwave plate and stemmed glass from a thrift store for $1.49, spray painted the back and inside of them for my cake plate.
• The theme of our wedding was "Weddstock." Our friend designed a logo and we had t-shirts made for anyone who wanted one, coozies, and mason jars for everyone to drink out of.
• I work at a brewery and was able to get 2 whisky barrels to use as our bar.
• A friend of mine bar tendered for free, and just made tips from guests.
• We hot glued hamp and lace to some jars to add color.
• My dad's friends provided all the brush and firewood for the fire. I
• made our guestbook online with old pictures of us for $10 with a coupon!
Special moments or highlights
I had my mother and father walk me down the aisle. I felt like my mom didn't have a big enough part for being the one who helped me the most. A close friend of Nick and I got ordained to marry us. It was great to have someone you are so close to say such kind words and crack a few jokes. Dancing with my dad was something I didn't care to do, but did anyway and it was one of the most memorable moments of the night I will ever remember. Then, me and Nick's first dance as a married couple. We started dancing to a song playing from my phone and then the band realized they knew it and all broke out into a jam. Everyone got up and started dancing around us. So amazing!
Biggest surprise
Seeing Nick for the first time
Advice for other couples
I'm no professional, but no one should stress over such a special day. It always has a way of working out. Just make the best of the situation and concentrate on the special things and your soon to be spouse. There are always ways to save money. People raise their prices the moment they see "wedding".
Supplier Shout Outs:
For more information on Monika and Jason's work go to:
www.monphotography.com
blog
FACEBOOK
We are Monika and Jason, based out in Kansas City, Missouri. We also travel with destination wedding. We are two quirky, animal loving, fools in love! We really strive for our couples to be relaxed and loving in shoots, this way we can get their intimate emotions! We love anything vintage, but not sold out. We really lean towards the beauty of natural light and building our photography around that, plus our amazing couples!
[jprel]