Todays DIY Tutorial is a rather special one as it comes straight out of a Book. The book in question was written by DIY expert Morgann Hill who has her own Etsy Shop called Bragging Bags which is considered the number 1 etsy seller in the wedding category. With 41,000 sales you can see why. Morgann has been working hard to put this rather gorgeous book together called Rustic Chick Wedding and she was kind enough to send me a copy. I liked is so much that I asked if I could share with you one of my favourite DIY tutorials from the book. So today Morgann will be showing us how to make these super cute Love Notes Table Runners. I hope you like them as much as I do.
With vintage sheet music and lace you can create inexpensive table runners that will add a gorgeous touch to your reception décor. The faded paper, musical notes, and ornate lace are an eclectic mix that enhances any DIY wedding design.
 Spread the love and gift these table runners to your bridal party to use in their own homes.
STEP 1)  Measure the table you are creating the table runner for. Calculate the number of sheet music pages and the length of lace you will need, making certain to add several extra inches so that the lace will overlap the sheet music on all four corners of the runner.
STEP 2) Using a glue stick, add glue to the torn edge of one of the sheet music pages and secure the other sheet so that they overlap, covering the torn edge. Smooth the glued edge. Continue by gluing new sheets to cover the torn edges. All torn edges should overlap on the inside seam of the table runner with the clean edges as the border. Repeat these steps until the table runner is as long as you'd like it to be.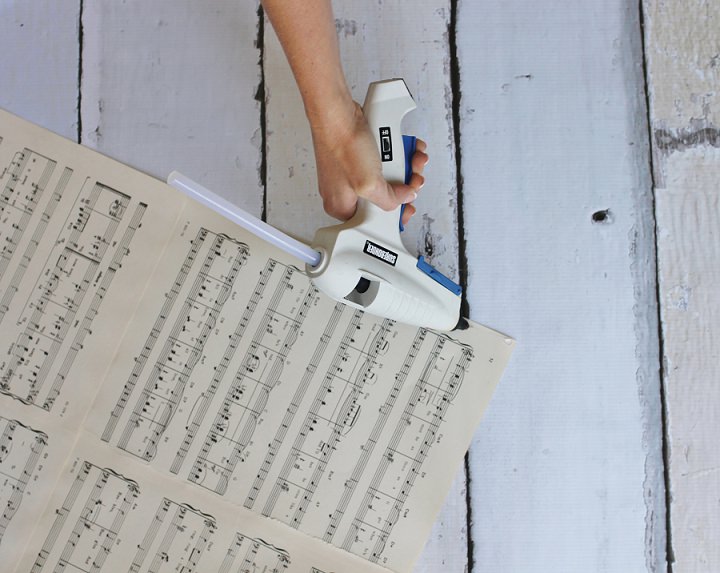 STEP 3)  Measure your lace to accommodate all four sides of your table runner, and then cut it into four separate pieces being careful to add an extra 2 inches to each cut so that the edges will overlap. Using your glue gun, apply a thin layer of glue along each edge of the table runner, and smooth your lace into place, again being very careful to include the over-hanging 2 inches of lace at each corner.
STEP 4)  Using a pair of scissors, make a clean diagonal cut into one corner of the lace. Trim the sharp edge to make a nice scalloped edge. Add a dot of glue to the two cut corners and overlap them. Repeat this process for all four corners to finish the lace edging.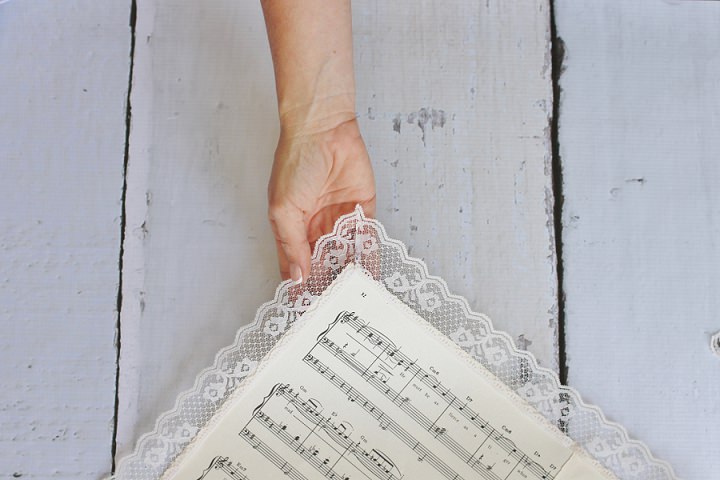 For more details about the book and the full range fo DIY tutorials available go to
www.rustic-chic-wedding-book.com
www.morgannhilldesigns.com
www.etsy.com/uk/shop/braggingbags
www.amazon.co.uk/rusticchicwedding