Happy Monday everyone and how are you all today? Glad to be back at work? No I didn't think so! I hope you all had a good weekend and managed to spend some time with loved ones relaxing! Today's wedding comes all the way from Paris with the reception in Chester, and is full of fun and a very cute and happy couple. Carrie and Thomas decided to get married in Paris after Thomas proposed there in the Christmas of 2010, what a perfect place for a wedding! The couple kept it simple with a handful of close friends and family then organised a big party back home in Chester. Thanks to Fluke Photography for the images.
'Absolutely the most fun we've ever had. A truly special occasion and a time that we'll never ever forget!'
Carrie & Thomas were married on August 20th at Bercy Park, Paris. 'The area of the park we chose is just beautiful & looks surprisingly like a church aisle (what gave us the idea to marry here). We had the reception at Telfords Warehouse, Chester  as the venue itself is a hub for all our friends/family/band friends & others, it would have been wrong to celebrate anywhere else. We both love Paris so much. It was where we got engaged & the one place we could see ourselves living in the future. Our wedding was quite an intimate occasion with just 12 of our closest friends & family however, as we wanted to celebrate with all of our friends, we had a big party for around 200 guests. We decided the date just after Christmas 2012 & started planning around February 2013.'
How they met
We met in 2008 around October time. Tom was working in a late night member's bar for staff of other bars to enjoy a drink after work which I used to frequent from time to time with colleagues after a busy evening. I'd always referred to Tom as 'hot bar boy' as I thought he was really cute. We never really spoke to begin with as I was always quite nervous around him. We first got chatting when we found we had almost identical outfits on; green & red chequered shirt, wayfarer glasses & green flash pumps. It was quite amusing! The next time we chatted more & he did the very gentlemanly thing of saving me from someone who was bothering me quite a bit. We saw more of each other over the next couple of months then had our first 'date' on Boxing Day of that year.
The proposal
For Christmas 2010 Tom booked us a holiday to Paris for the January. I had always wanted to go and was super excited. We did all the sights and had the best time. On the last evening I was asked to dress up fancy as we were going somewhere special for dinner. We went to a restaurant called Chez Justine in the trendy Oberkampf area of Paris. The meal was beautiful! Afterwards we went back to our hotel room on the 7th floor & Tom opened the balcony windows. I complained I was too cold but he had a plan… He handed me some pieces of paper & asked me to read them out loud. They started with 'Take Carrie to Paris', 'See the Eiffel tower', 'Go to the Moulin rouge', 'Go shopping down the Champs Elysees', then we had 'Go for a posh meal' & then… 'Ask Carrie to marry me'. Then I cried! Almost forgetting to say yes…I obviously did after the crying subsided.
How did you allocate your budget?
We decided not to go crazy as Tom had recently been made redundant so was only working part time hours & I'm self employed running my own vintage shop. Our funds were limited but that just added to the fun of organising.
Why did you choose your photographer?
Our friend Mazzz is just awesome! The main premise of our whole wedding was that it was an occasion for us to celebrate with our friends & family so it was important to us that everyone involved was a friend. We're just very lucky that we have such a brilliant photographer as a friend!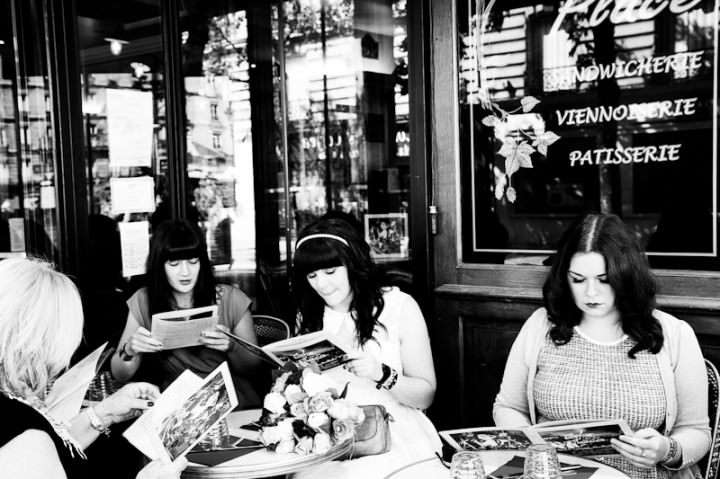 The dress
One of my old friends Louise O'Mahony made mine and my bridesmaid's dresses. She's quite the dressmaker, having outlets in Canada as well as the UK.
Tom & I had matching Dunlop Green flash pumps (as we used to wear them when we first met)
The suit and bridesmaids
Tom had 2 blazers (weather dependant) one was a Harris tweed from my shop & the other a finer Italian wool from Zara.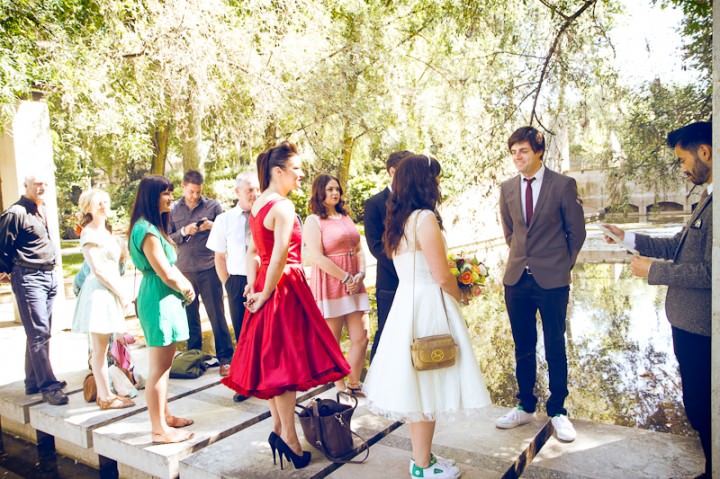 Theme or colour scheme
The theme of the evening is just to have fun! Although we're suckers for a few fairy lights.
Flowers
On the morning of our wedding I called into a florist near our hotel & in terrible French (but aided by the wonderful Mazzz our photographer/translator) asked for a wedding bouquet of all different coloured roses. They were beautiful!
Decoration
Very simple. We just had lots of fairy lights, candles in vintage glassware & a big dressing up box.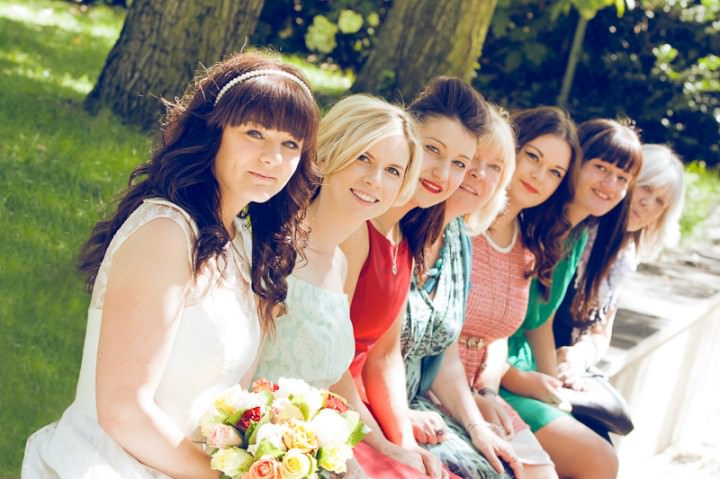 Food
At the reception we had big bowls of Chilli, rice, fries & nachos. Our favourite sharing food.
Wedding Cake
Our friend Kat made us a selection of different cupcakes & our chef from the restaurant made us 3 huge cakes, Espresso & walnut, White chocolate cherry & amaretto and Double chocolate & honeycomb. Plus we had a huge variety of retro sweets (popping candy, sherbet fruits & lollipops to name a few)
Entertainment
We started the afternoon with a playlist of all our favourite songs. Then two of our friends played their own choice of music followed by our friend's band that we absolutely love.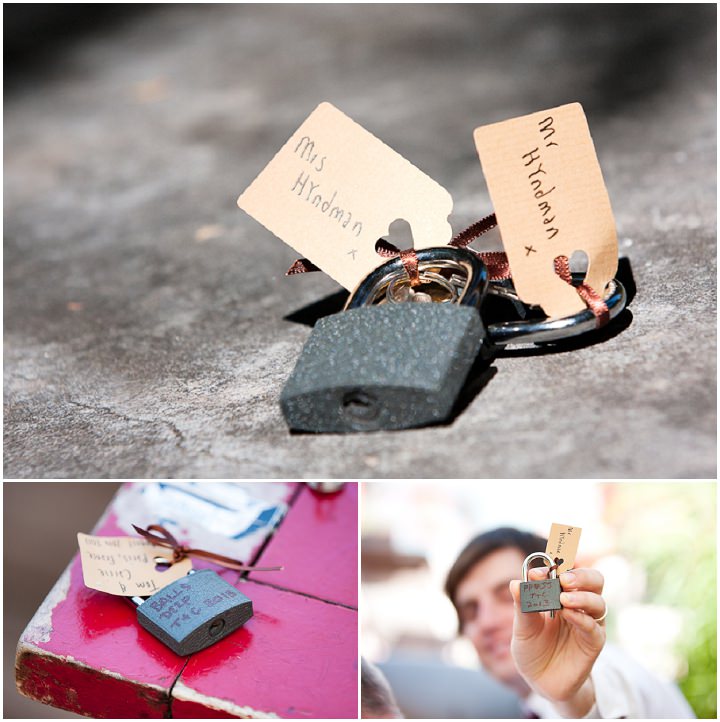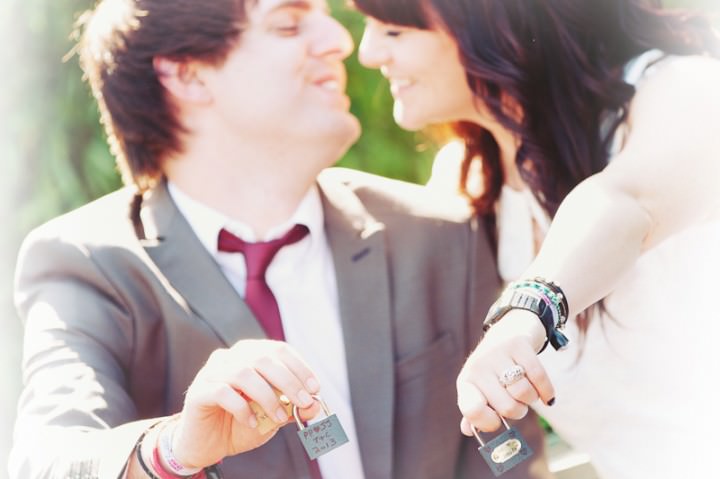 Buy or DIY your invitations
We bought vintage Parisian postcards from one of the flea markets in St Ouen when we visited in February.
Personal or handmade touches
Everyone & everything that was a part of it meant a lot to us both: Telfords (Toms new bar), Chez Justine (where we got engaged) & Le Deux Moulin (favourite film Amelie), Sing J Lee (best friend/performed our ceremony), Louise O'Mahoney (old friend/made mine & Lisa's dresses), Adam & Pinky (BBC wales DJ & close friend/DJ), Kathryn Spragg (cake maker extraordinaire), Artichoke cafe/bar/bistro (my part time work place & great cake makers), Shy & the Fight (singing songs & stuff).
Special moments or highlights
Firstly, being married in the most romantic city on a beautiful summer's day with our nearest and dearest. Then, seeing all of our friends having the best time at our party. It was like the best night ever with all the people we love around us. The 'favours' for our party in Paris were simple yet meaningful padlocks so our next stop was Pont de L'archeveche. Pont de L'archeveche is one of the famous love bridges of Paris whereby couples write their names on a padlock and lock it onto the bridge. They then throw the key into the Seine River as a symbol of their undying love.
Biggest surprise
A friend of ours has always prided himself on giving the best ever wedding gifts and true to form he outdid himself. For our first Christmas together Tom hadn't a lot of money and was unsure of what to get me as a gift so he wrote me a song! He is an amazing singer/songwriter & we are in a band together (Shy & the Fight). The song has the most beautiful words in it about how his life has changed since meeting me and how happy he now is. Our friend spoke to the band without us knowing and asked them to perform their own cover of the song for us. When they started playing it I just cried. The song stirred up so many wonderful memories and emotions; it was just the best surprise ever.
Advice for other couples
Don't worry about what anybody else wants. Just do what you & your husband/wife to be really want. We made our whole wedding time as personal as possible. We wanted to celebrate not only our relationship but everything we love about each other & life.
Supplier Shout Outs:
For more information on Maria-Claire's work go to:
www.flukephotography.co.uk
theflukeyblog.blogspot.co.uk
[email protected]
FACEBOOK
@flukephotos
I'm Marie-Claire, from FlukePhotography – A little girl with a big camera and the person responsible for the future 'ooohs' and 'ahhhhs' over your wedding, event and special occasion photographs. I smile and laugh a lot and like to have fun. I'm based in North West England but am more than happy to travel.