Todays wedding takes us to Belgium for this beautiful wedding set in an old farm location, complete with orangerie. It's a gorgeous relaxed wedding, full of personal touches and DIY details. We hear from the Groom as he tells us how he went about choosing the location and all about the personal touches they added to make the day theirs. Big thanks to Speaking Through Silence for the wonderful images.
We only need one word: "Us"
Isabel and Ben were married on August the 24th at Ferme Coquimont, Ittre, Belgium. 'Isabel knows what she wants. She wanted a dream location with an "orangerie". This "prerequisite" of the bride immediately tore down the number of possible locations. I was an active groom in the location hunting. My internet quest led us towards the small village of Ittre near Brussels. Ittre is a charming wedding village with multiple beautiful, authentic wedding locations. My first visit was on my own. There I met our caterer, La vie de Château. I explained him how Isabel wanted a fairy tale location and I I wanted a relaxed party, a barbecue with all my friends. He told me that he knew a location which was only to be finished a year from then (with an orangerie!) and which he had not shown to anyone before. As a son of the countryside I was immediately sold for this old farm, but I was curious how my city girl would like what I had found for us. When I returned to the spot with her, she said 'yes', just the way she would do 1,5 year later. We had 195 guests and it took 1 and a half years to plan'.
How they met
Our first meeting was rather explosive. When I falsely accused her of stealing a book from the library in which I was working, I experienced her Mediterranean roots for the first time. Let's call it a volcano of justice. Three years later, we ended up, after a succession of coincidences, on the same trip to Krakau, where we visited the camps of Auschwitz-Birkenau. Our second meeting was opposite to our first one: silence. When we were walking through the streets of Krakau we both sensed the same strange, harmonious, peaceful feeling of completion. We talked and talked. Our lives where very different and when she walked away at the airport, I thought it would be forever. But one week later, December 14th 2006, we dated and kissed at the Central Station of Brussels, in the front lights of her mom's car. We have been together ever since.
The proposal
Actually, there were two. Since 11 is my lucky number and I wanted to opt on a maximum of luck, I already knew a few years ago that 11.11.2011 would be the chosen moment in time. Our month in Peru in summer 2011 became a chain of romantic highlights and somehow it felt spontaneously right to connect our love to this place. On the evening before departing, I went to a local market to buy a yellow and a black corn. In the traditional Peruvian way, men pop the question by offering a yellow (for yes) and a black (for no) corn. We were about the first ones to arrive at the Sungate of Machu Picchu at sunrise. Enough privacy to mumble the poem I had thought up during the last 4 days on this legendary path amidst the clouds and offer the two corns. She chose the yellow one and I threw the black one down the hill. On our way down to the eternal Inca city, a small blue bird followed us from branch to branch, singing a song. We hid the corn under a stone in Machu Picchu.
We just had to wait until 11.11.11. I left with my friend very early that day, lying I had an emergency at work. At 11 o'clock, Isabel's mom rang the bell and at 11h11minutes, she offered an envelope with "instructions". Isabel had to watch a movie and found an i-pod with two hours of music and poetry to entertain her along the way. At 1 o'clock my best man rang the bell, picked up Isabel, picked up her mom and drove her to Ovifat. After a walk of 30 minutes, she arrived at the fall at sunset where I had been waiting the whole day. Isabel said "yes", we all dined together and spent the night. The next day, we walked back to the fall.
How did you spend your budget?
We agreed never to think of the final budget anymore, but consider it worth this unforgettable moment.
The dress
I bought the my Pronovias dress and veil at Pierre Yves, (authentic wedding store in Brussels). I had a silver necklace from Diamonfire and 3 rings (my engagement ring, my wedding ring and my grandmother's ring)
The suit and bridesmaids
The suit was from Café Costume. The bridesmaids received a colour pallet – Mint green / turquoise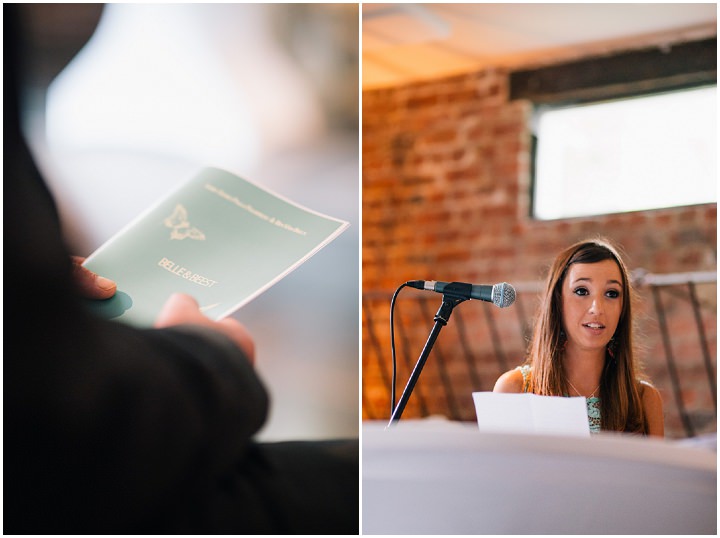 Theme or colour scheme
We didn't have a special them in mind but wanted to work with natural colours: white, wood, brown and very small touches of mint green
Decoration and handmade touches
We've made everything ourselves:
• We wanted to give our decoration an antique look. In order to obtain this look, we've worked with authentic materials (lace, glass, wood, rope)
• Candle holders were old glass pots that were customized with lace, brown rope
• We've made from wooden pieces we found, received, and collected all kind of sign boards. In order to give the authentic look to the signboards, we first painted the wood in brown than in white. Once the painting is done you only need to scrub until you obtain the wanted result. Afterwards you can write whatever you want on the signboard.
• I also love to paint, so I've made some paintings
• Flowers
• We had hundreds and hundreds of candles (normal and floating candles)
• Wine and Champaign corks bar décor
• I've bought an old suitcase for the cards
Flowers
We simply had green leaves, White roses, Gypsophila and White Hydrangea
Food
We had a barbecue
Entertainment
We had Float Fall, a very promising Belgian band, our favourite, were so friendly to play in our ceremony. Also, Marino Punk, a legendary Belgian 'punk' accordion play, brought everybody in the right mood between dinner and party. DJ Fila built a truly crazy party. Finally, my sister created a 'fairy tale' animation.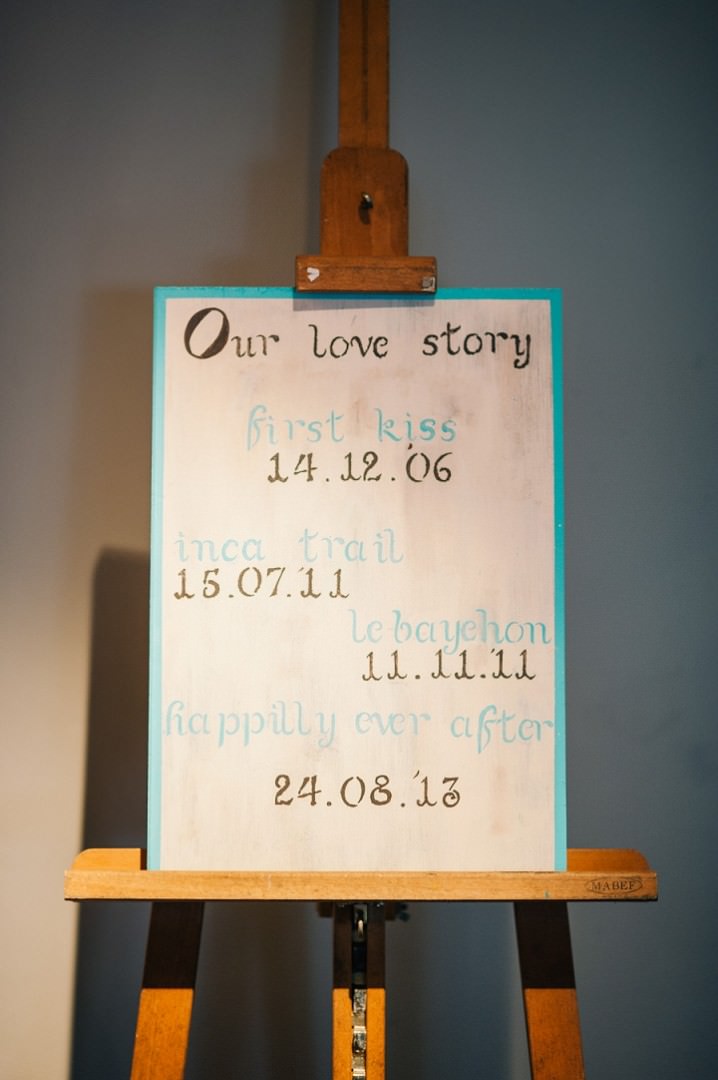 Personal touches
• We did not marry in a church, but created our own ceremony, preceded by two of our friends.
• We wrote our own texts for the ceremony.
• We had speeches from the bridesmaids, best men, parents during the ceremony.
• We had a moment of remembrance for the people we had lost, especially Isabel's dad.
• Some friends a family prepared a moment of contemplation from different religions or traditions: Buddhist, Jewish, Christian, Muslim.
My football coach opened the ceremony, explaining the tactics of the marriage game, and my football buddies formed a row of honour when the bride and her mom entered.
• Float Fall especially adapted "Here comes the sun", our Peru song.
We spent the night with the whole family on the farm, which was decorated in a "personal" way.
What were your special moments or highlights of the day?
It was one highlight for us. The thing that struck us the most was the pure happiness of our family. A personal highlight for me was when my mother in law called me (jokingly of course, but with all of her heart) the best football player ever. The speech by my father, a man of few, but always important, powerful, words was an absolute highlight. He literally threw away his preparation and talked straight from the bottom of his soul. In my vows, I finally could present 'Final Match' as my wedding present, a 333 paged novel I had been writing for Isabel since the fateful year 2008.
Biggest surprise
The fairy tale cartoon created by my sister. It was the only thing we did not know about.
We really planned and organised it to the bone, but on all aspects it got even better than we had ever hoped for. We let it go 1 hour before the ceremony, so we could ultimately enjoy it intensively from start to end.
Advice for other couples
Just do it your own way. From an organizational point of view, make sure you are freed of all practical stuff by a good wedding planner or friends helping you out. Plan a specific moment, e.g. 1 hour before the start, "where you all led it go and just let everything happen the way it happens". Enjoy every second of it, because it end before you even know it.
Supplier Shout Outs:
Music – Float Fall / Marino Punk / DJ Fila
Technique – Ki Music
Shuttle – Willy Bellen Cars
Catering – La Vie de Chateau
Photography – Dieter Decuypere – Speaking Through Silence Photography
Hotel – Van Der Valk Nivelles Sud
Dress / Veil / Shoes – Pierre Yves
Engagement ring: Tollet
Wedding ring: De Witte
Flowers – Mel'Ange de fleurs
For more information

Dieter's work go to:
www.speakingthroughsilence.com
www.speakingthroughsilence.com/blog
[email protected]
FACEBOOK
@DieterDecuypere
Due to an email issue if you have emailed me between the 2nd & 9th of December, please resend it.
X