Today we are talking flowers, winter flowers inparticluar as Trcey from Campbells flowers offers up some suggestions for a winter wedding. Summer and spring weddings are lovely but there is something magical about a winter wedding that can really capture the imagination, so let your creativity run riot with the flowers you choose! Let Tracey guide you and give you some ideas!
I'll pass the blog over to Tracey……….
My thanks as always to Kelly for the chance to share a bit of flowery inspiration with all her lovely readers, today I bring you some lovely ideas if you're thinking of doing it a bit differently by having a Winter wedding. Not everyone's first choice as, without a doubt, Summer weddings are still by far and away the most popular season. However, here at Campbell's HQ we've been incredibly honoured to work with some wonderfully creative Brides all of whom have chosen to get married over the past few months.
Think dusk, romantic candlelight, log fires, crisp days and soft silvery, shimmery light and you'll start to get just what's so wonderful about this time of the year. In terms of flowers because there's plenty to choose from in a whole host of colour palettes – here's just a few of the weddings we've designed recently.
Blushes
One of this (and next) year's most popular colour palettes, team soft buttery creams, delicate shell pinks and pretty peaches with ultra-cool dove greys and silvers of fabulously textured succulents for a gorgeous feminine look.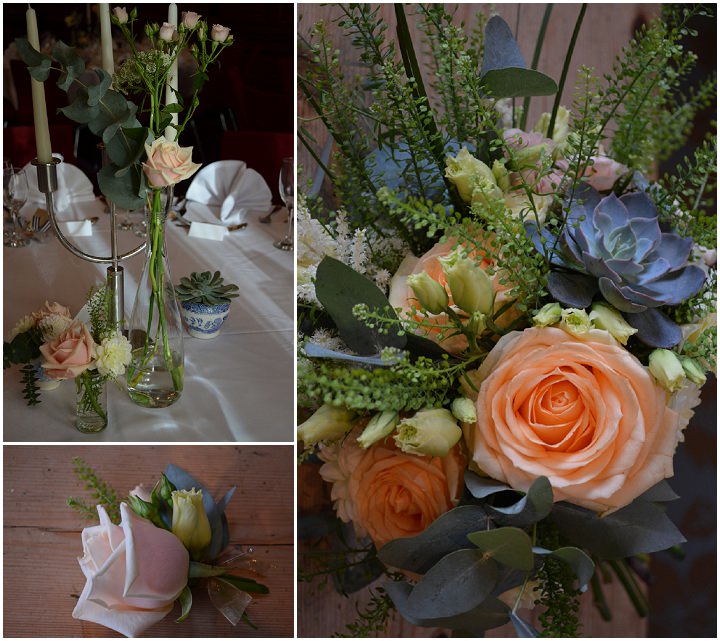 Wintery Whites
I'm absolutely delighted to share with you this pretty, pretty wedding which we designed really recently for our lovely Bride, Hannah, who absolutely adores white roses and cones. We also introduced wintery vibes by using silvery foliage reminiscent of 'snowflakes', along with some exquisite white thistle and grey-green eucalyptus – an absolute favourite of mine!
Traditional Reds
We just love these beautiful rich, opulent colours, full of seasonal berries and wonderful foliage, which look totally amazing by candle or firelight. A really stunning combination with emerald green bridesmaids dresses – our bride carried this bouquet with her ivory full length wedding dress and wore a very cheeky pair of bright red T-bar shoes under her gown!
I do hope this post has brought you lots of fresh ideas when planning your winter wedding flowers.  We keep adding to our wedding portfolio all the time which might help a bit more with inspiration especially for bridesmaids, buttonholes and venue decoration, or grab a cuppa and pop over to our latest 'real weddings'.  As you might have guessed, we love sharing, so feel free to get in touch if you need any advice on choosing seasonal flowers, or you're struggling with colours for your special day.
Tracey x
For more information on Tracey's work go to
www.campbellsflowers.co.uk
http://blog.campbellsflowers.co.uk/
FACEBOOK 
TWITTER
Pinterest
YouTube