I have been dreaming of writing this post for months, no, actually years now, but today I am delighted to be able to share some really good news.
I'm pretty terrible at keeping secrets, so I have to admit I may have been far from cryptic over the last few weeks, but after an incredibly exciting and nerve wrecking 12 week scan on Wednesday, I am absolutely over the moon to let you all know that Nik and I are expecting our first baby!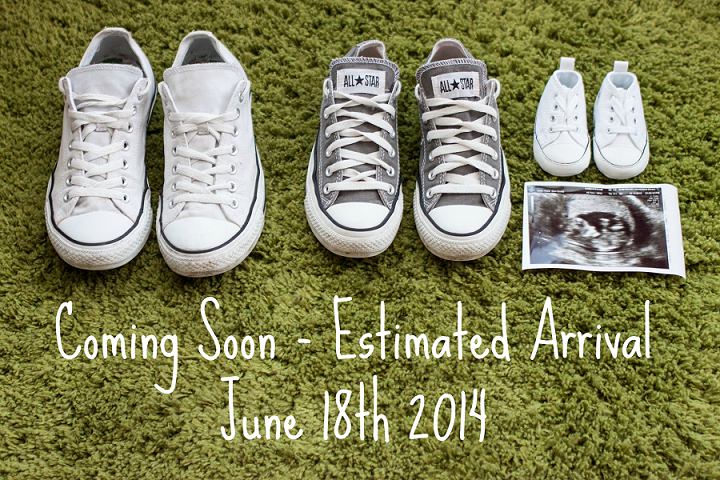 As some of you may know if you follow my personal posts, the whole baby journey hasn't been an easy one for us; we started trying for a baby straight after our wedding 4 and half years ago, but after a long and very emotional journey our amazing miracle baby is now growing in my ever expanding tummy!
I cannot tell you how excited Nik and I are, the last few weeks have been completely surreal, and so full of happiness I have wanted to shout it from the roof tops! I was never ready for the happiness getting pregnant would bring me. It has been such a long journey getting to this point, we are both revelling in our happy news and totally besotted with the idea of making a home for our new arrival. Hours spent discussing names, looking at prams and nursery furniture, discussing what sort of parents we want to be, have been some of the happiest hours spent.
However it hasn't been easy getting to this point, and at times it has really put our relationship to the test. Not being able to get pregnant is hard, and for anyone reading this that is currently going through the same thing I salute you! It seemed every time Nik and I got some bad news regarding our baby plans someone else would pop up announcing their pregnancy, at times it was pretty tough but we carried on and tried to make the best of things.
After being let down by our GP, and then the NHS with failed IVF promises we decide to seek private advice. It was here that we had more tests done and eventually last summer, I was told that I would never be able to have my own children. I have to say that after a series of blows, my world pretty much fell apart! It was a difficult time for us, as you can imagine, but with most things in life there are always other options!
Luckily science stepped in, and with the help of a donor egg we were able to start looking at our baby plans in a more realistic light.
I have always had faith in the human spirit, always believed in the good in people. However the kindness of a complete stranger really has made me appreciate how totally astonishing and truly selfless some people can be, and how the actions of one person can have such an amazing and life changing effect on another.
Someone out there, for no other reason than doing a good thing for another person, a complete stranger has made it possible for me to have a baby and for that I will be eternally grateful! I will never meet this person and she will never meet me, but I think about her every day and what a wonderful thing she has done.
So for other couples out there going through the same thing, there is hope and there are options, they may not be something you first considered, but there are ways around the problems that are thrown at us! You just have to be ready to adapt and choose a different road to travel down.
(Me on the day of our last treatment)
As some of you may know I went on a bit of a health kick over the summer, I stopped drinking, started to watch what I ate and started to exercise. I decided that I had to give my body a fighting chance and make it react to the treatment as best as possible. After 3 months I was completely t-total and had lost a stone in weight…it must have done some good as it did the trick and all the hormone injections and tablets worked!
The day we got our test results will go down as one of the best days of our lives! (as you can see we were pretty happy)
Since then I haven't had a bad day. Pregnancy so far has been great. Admittedly I have spent the last few weeks feeling sick and not being able to eat, nausea is a bugger! But for every day I feel like crap it just re confirms that the baby is growing strong and taking what it needs from me.
I have been ridiculously tired, some days having to go and have a sleep in the middle of this afternoon (how do people with normal jobs cope?) And I have to apologise to anyone who has sent me an invitation to something, I may have given a flaky excuse but I hope now you understand! The constant need for the toilet is a pain, but luckily my office is next to the bathroom, so all is not lost! I am constantly in tears, (happy tears) my emotions are all over the place. And please don't cook a full English around me, or baked beans for that matter, the smell makes me want to run a mile!
But with all of the normal side effects the actual fact that I have another human life growing instead me is amazing! And every day I am thankful that this miracle has happened.
As I mentioned we had our 12 week scan on Wednesday and oh my the emotion was incredible! I wasn't ready for how I would feel when I saw the baby moving around, at one point it even waved at us! I have no idea how I'll cope when it actually comes out and we get to meet it properly, I may just cry for a week!
As for the blog, normal service will carry on. My assistant Laura will be taking on more responsibility and I will be training her up over the next few months to look after things while I am off for a month or so. The blog won't miss posts and you will never be left without new content, that I am certain of!
I don't plan to start a baby blog, although it is incredibly tempting, there are so many cute things out there to write about, this is a wedding blog and always will be! However I may be tempted to add in the odd pregnancy or baby post every now and again, if you don't object too much? I have lots of baby boards on Pinterest that have been secret over the last few months that are now visible so go and check them out if you so wish!
I am really excited for the future. Nik and I have a massive learning curve in front of us, and we couldn't be more excited to learn what parenthood holds for us. I know Nik will be an amazing father, he was born to be a dad, me on the other hand, I'm not too sure, but I'm going to give it my best shot! And try my hardest at being the best mum I can be……and there go the tears again! Honestly these hormones!
Lots of Baby Love
Kelly xxx
If you would like more information on fertility treatment or about becoming an egg or sperm donor I can highly recommend CARE. We used the Sheffield branch and cannot recommend them enough. Amazing staff and first class service.
www.carefertility.com
FACEBOOK
@CARE_fertility