Happy Monday everyone, I hope you all had a lovely weekend? Mine was very busy but a really good one! I became an aunt on Saturday morning, as Nik's little sister gave birth to a beautiful baby boy called Ted. It's her first baby, so we rushed down to Leamington Spa yesterday to meet him and oh my he is gorgeous! Mother, father and baby are all doing well. I also got to spend some time with my friend Becky, go out for two dinners and get a trip to the cinema in to see the Hunger Games, so all in all a great weekend.
I have some fabulous weddings for you this week and to start them off is this beautiful beach wedding from Emma Lucy Photography. Bournemouth beach is still the only beach in the UK that holds a wedding licence, well it's actually the beach hut that holds the licence making it possible for couples to get married on the beach itself. I love featuring weddings from this venue and today's is no exception. Alexandria and Paul did a great job of pulling the wedding together in just 5 months and I'm sure you will agree that they both look stunning!
Simply the best, most fun, beautiful day of our lives. We felt like movie stars in a dream. The best party we are ever going to host!
Alexandria and Paul were married on the 6th September at the Beach Wedding Hut, Bournemouth followed by an evening reception at the Jazz Café, Sandbanks. 'We found the venue before we were engaged! We had 54 guests during the day, 100 in the evening, and it took 5 months to plan'.
How they met
We met 9 years ago on a night out in the summer of 2004, in Newquay when I was 17 and Paul was 18, a post A-level camping holiday!
The proposal
We had spoken about getting married one day, but to be honest we both thought it would be in many years to come, definitely not something we expected to be doing at the beginning of 2013! I mentioned how amazing the venue looked to Paul one evening, I think back in January, and he said, very casually, 'shall we get married there then?'. A few weeks of 'are we actually going to do this?!' followed and I enquired about getting married in 2014. My mum suggested we get married the day before our 3 week (pre-booked) holiday to Bali in September. I enquired on the off-chance this could be a possibility with the Beach wedding hut and they were free on Friday 6th September for a ceremony and breakfast slot, so I booked it! The holiday to Bali was now our honeymoon! Paul bought me a gorgeous diamond ring from Brighton when we visited with friends one weekend in March. He let me to wear it in the car on the way home but then took it back and said I had to wait for the actual proposal! A week later, he took me to Durdle Door in Dorset on a beautiful sunny Saturday afternoon and proposed with the ring over a homemade picnic, very romantic.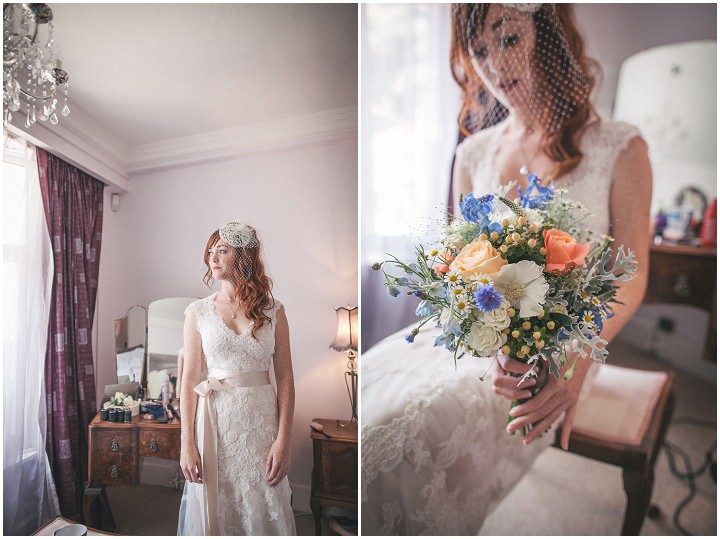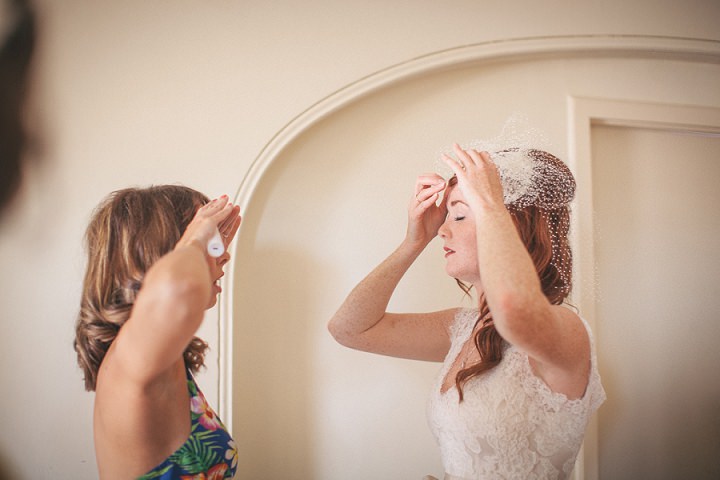 How did you allocate your budget?
We had a rough budget outline and allocated money to the venues, food and drink first then prioritised the other bits (photography, cake, transport, entertainment etc) with the remaining budget in mind, if we felt they were worth the money, we bought them and if they weren't, we didn't.
Why did you choose your photographer?
I hadn't thought much about a photographer, we weren't even going to hire a photographer until my mum insisted and as she was paying for it, why not! I had some suggestions from friends but other photographer's albums all looked very cliché and too 'done' which we both knew we didn't want. I came across Emma Lucy's photos randomly on the beach wedding hut facebook page and I knew as soon as I saw the first few pics, I had to book Emma! I emailed her straight away and luckily she was free!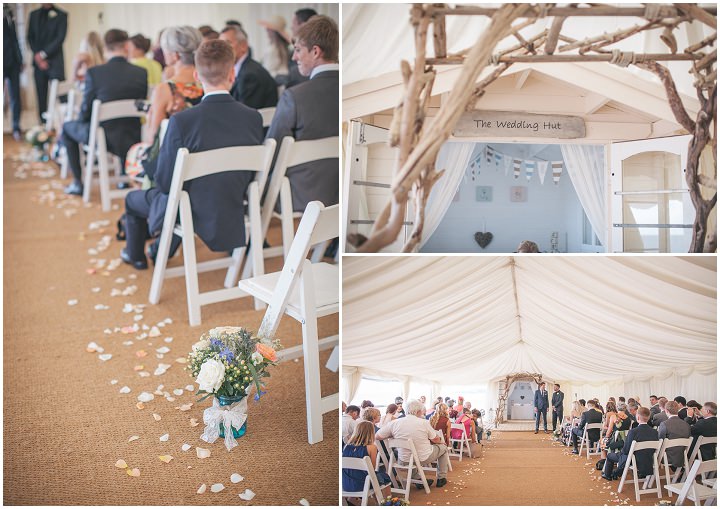 The dress
My dress 'Bronwyn' was Maggie Sottero – first one I tried on! My evening belt/tiara headpiece was 'Ivory & Co'. My birdcage for the day was 'Sasso Headpiece'. My shoes were by 'Perfect'. Earrings and necklace from Goldsmiths
The suit and bridesmaids
Suit was Hugo Boss. We didn't have any bridesmaids!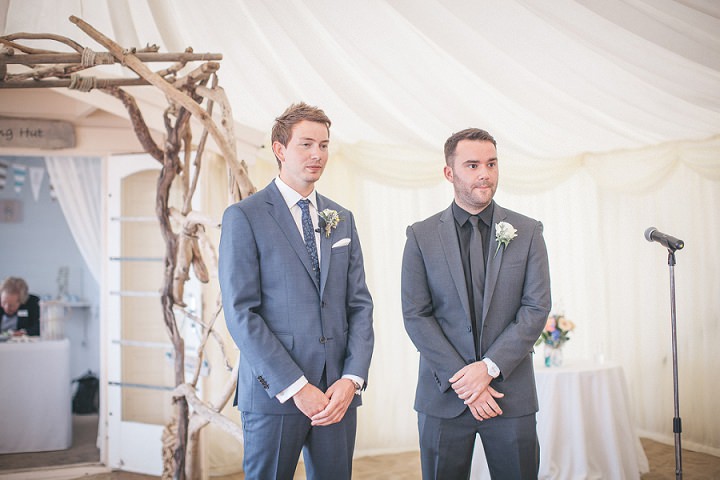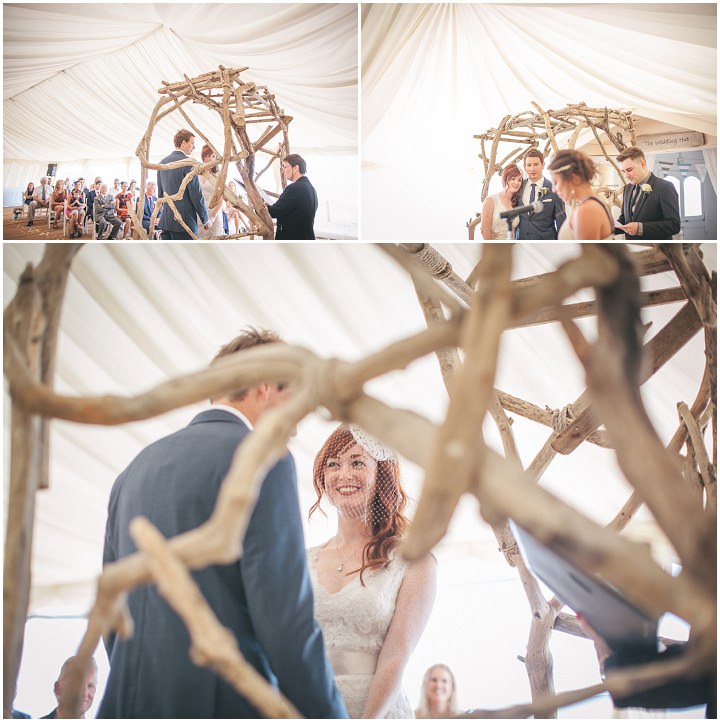 Theme or colour scheme
An informal 'beach' theme I suppose with lots of handmade bits. Something simple, classic and beautiful.
Decoration
Very simple; rose petals and the table vases with flowers down the aisle during the ceremony. The only extra decorations were some 'wedding day' sweets I bought in Brighton and handmade tealights and tin tea lights for the evening.
Flowers
I had informal bunches of flowers on the tables, with my bouquet as the bride/groom's table flowers. I wanted the flowers to look like they were picked from the garden, with peach, 'Miss Piggy' and cream roses, white anemones, blue/purple delphiniums and blue thistles.

Entertainment
Our own music from our iPod. My aisle song was Etta James's 'At Last'. We had reggae and motown during the wedding breakfast. We hired our friend's Ska band for the evening 'Ska'd for life'.
Food
Buffet of salmon, amazing crab mousse, beef, salads, homemade bread and sauces, followed by fruit pavlova, lemon tart and strawberries and cream
Wedding cake
Sandcastle cake by local, independent cake maker Karen's Clever cakes (the sand is brown sugar!). The top was lemon sponge with lemon curd and buttercream and the bottom was a chocolate fudge cake.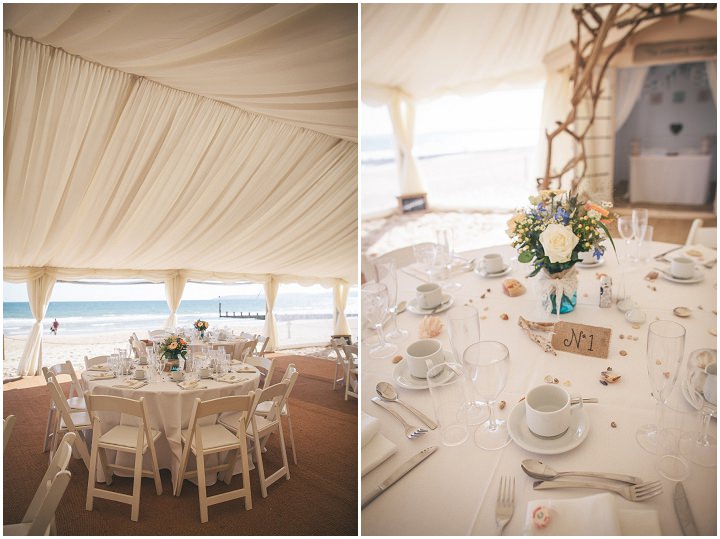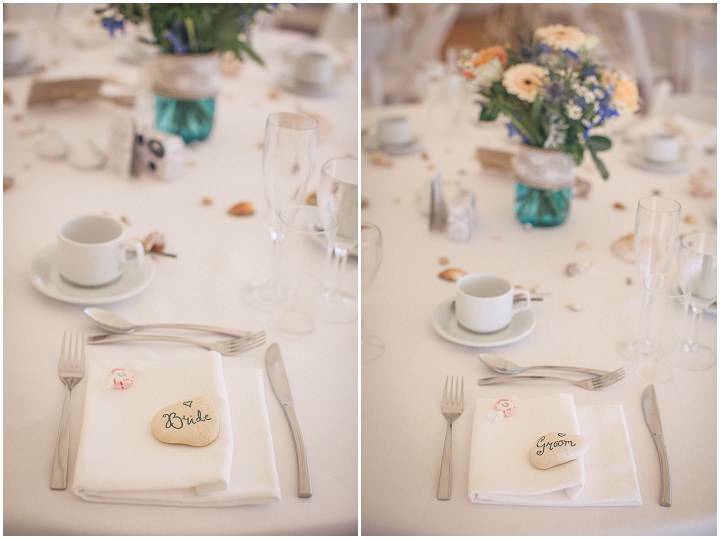 Buy or DIY your stationery?
Paul and I handmade the most amazing cardboard beach hut invites with doors that took us many, many, many hours!
Personal or handmade touches
I got all my ideas from Pinterest.
• A very good family friend sourced the jars for flower vases, painted them and decorated them with lace and hessian.
• She also handmade us the beautiful pebble place names.
• My friend had our beach themed post box custom made and hand decorated our guest book.
• My uncle made us the beach huts next to the cake from scratch!
• I collected all the shells from Bournemouth beach and my travels from around the world and varnished them.
• Photo montage board
• Table plan
Special moments
When I walked into the cliff lift and saw Paul had drawn, in massive writing 'P loves A' in the sand next to the beach hut! The swim in the sea at 9am on the wedding day with all our friends and family! My friend's reactions to how I looked in the morning. Dancing to Crazy in Love back down the aisle. Everyone staring at me walking to the venue. My dad's pep talk before I walked down the aisle. My dad's speech. Best men speeches. The evening band! How good the evening venue looked. The midnight swim in my 'bride' bikini and tiara with everyone at 1am after the wedding!
Biggest surprise
The biggest surprise was how it felt like I was in a dream. Not because it didn't feel real or go very quickly, the exact opposite in fact. How beautiful everything and everyone looked. The weather! How nervous I felt before walking down the aisle. How it was the happiest and most fun day of my life. How proud I was of my husband and I for bringing it all together in a short period of time. How much fun it was! How much I love saying 'husband'.
Advice for other couples
My advice would be firstly, definitely book a photographer, and the right photographer. After the wedding is over and people have stopped talking about it, the wedding pictures are the best pick me up, ever! Stick to your guns, you know better than anyone else. Spend time, money and effort on the things that people will remember and will add to the fun time people are going to have. Finally, involve the mums and your best friends!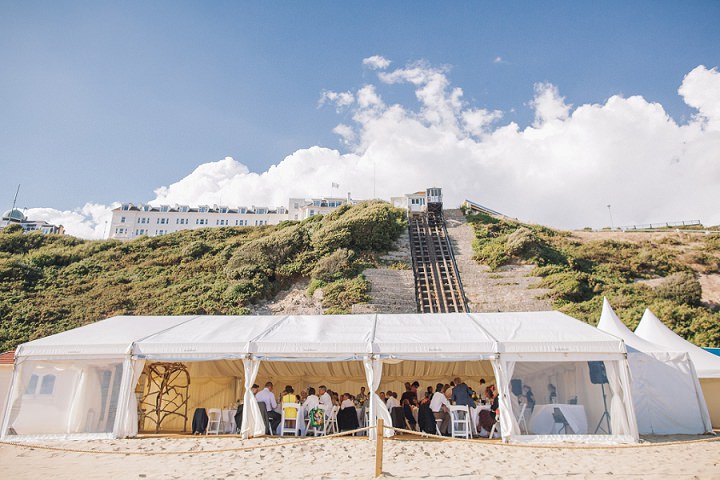 Supplier Shout Outs:
The bride is on twitter as : @Mrs_A_Brock
For more information on Emma's work go to:
www.emmalucyphotography.com
www.emmalucyphotography.com/blog/
FACEBOOK
@emmalucyphoto