Today's wedding is full of fun and colour, with a 'Wedfest' theme this Tipi wedding is bursting with all things festival related, from wrist bands, to street food, paper pom poms, rustic decorations, homegrown flowers, a photo booth, space hoppers and a rocking band! Sarah and Brian did a fantastic job of really putting their own stamp on the day and really created the festival wedding they were looking for. Big thanks to Simon Dewey for capturing it so well.
'The best day of our little lives!!'
Sarah and Brian were married at Bassettwood Farm in Tissington. 'We visited Bassettwood Farm in Tissington and asked if they would consider a wedding in their paddock. They had never held a wedding before but thankfully they realised our vision and agreed to let us use their beautiful home. Bizarrely they shared the same names as us too, so it was meant to be! Tissington is a beautiful village and we had been there many times and loved the village.'
How they met
Nearly 14 years ago now, our friends arranged a blind date. We met up in derby, and we each took a couple of friends to make it a bit easier… the night by all accounts should have been a disaster as we didn't talk to each other at all. I think we both thought it was a no go, but Brian made a move towards the end of the night and used his best line on me.
The proposal
After 3 years together, we were on holiday in Cuba.
We had been to a beautiful restaurant and on our way back to the room we passed a waterfall , he led me over and started telling me what a great holiday he had. He then asked will you marry me, I was completely gob smacked and truly didn't see it coming, I of course said YES!!
How did you choose your photographer?
We didn't want any starchy photographs on the day, or to have our guests huddled together for formal group shots, instead we wanted to capture real moments, real emotion of us and all of our friends and family. We looked into journalistic photographers, and came across Simon Dewey.
We met Simon and explained what type of day we were planning, he totally understood what we wanted from the photography and he was excited by our ideas. He did an amazing job, and we couldn't be happier with our photos, or his approach. The results are stunning.
How did you allocate your budget?
We never really gave ourselves a fixed budget to work towards, other than we didn't want to break the bank! Most of the day was home grown, handmade and the labour came in form of our close friends. We used everybody's skills wherever we could, not just to save on the cost but to make it a more memorable experience for us all.
People were so willing and keen to get involved, it was a real team effort on the lead up to the day and on the day itself.
The dress
I am lucky enough to have a best friend that owns a wedding dress shop in Derby called the Wedding House, I am always popping in for a coffee and trying on a dress or two while I'm there. Early last year I tried one on, and felt that I had that moment of finding the one!
Of course at that point we weren't even getting married, but I had always said to Abi that if I planned a date then it would be the one I would choose. My hair was done by my lovely hairdresser – Natalie Rankin.
The bridesmaids
Brian and I are lucky enough to have a beautiful 3 year old daughter called Isla, she along with my brother's 7 year old daughter, Megan, were our flower girls. Megan was really excited about wearing a beautiful dress, whilst Isla was insistent on coming as Spiderman! After a gentle push from Megan, Isla was happy to wear her dress to the ceremony but quickly changed into her super hero character one we got back to the tipis. They both did a wonderful job, and looked gorgeous in their dresses.
Theme or colour scheme
It was always going to be a relaxed day, involving lots of music, and loads of friends and family, that is when we decided to invent our own little WEDFEST!
Decoration
We loved this part, we had seen the giant letters you could hire but Brian decided he was going to have a go at making some. We wanted to draw people's eye to the eves of the tipis so made over 150 huge paper pompoms and suspended them at different lengths using fishing wire, we never had a colour theme so had loads of different colours. They were so effective for something so simple to make. Brian also wrote out a blackboard to list the order of the day, it ended up looking like a Jack Daniels label by the time he had finished!
Flowers
When it came to the colour scheme we didn't have one, we just wanted to make it a really colourful affair, so when it came to flowers we had family and friends growing them for us. All different colours and types, it had a very home grown feeling on the day. It was full of colour, from the church to the tipis, even down to the porta loos, they did an amazing job and everybody loved seeing their flowers that they had grown.
Entertainment
We're great fans of live music and wanted to find a band that could play our type of music from indie/rock to current chart. They were local to Derbyshire and we went along to hear them play, and booked them straight away. They were also keen to learn a few songs for our day, and went down a storm with all of the guests…the dance floor was packed all night. In addition we had an acoustic singer in the day, she set the mood perfectly with her live lounge style and we felt lucky to have secured two brilliant acts which would create the atmosphere we were hoping for, and it paid off!
Food
My parents run a catering business within a golf club so when it came to deciding on who was going to do the food it was a no brainer. We opted for something really simple in the day which was a posh ploughman's. We had some delicious cheeses, pickles, meats and a bakery load of fresh bread which we picked up on the morning of the wedding. The deserts were being made the morning of the wedding by a local we had a trio of strawberry, chocolate and lemon mini deserts. We were keen to avoid a buffet for the evening so decided to set up three different cooking stations, we had a choice of curry, noodles, and gourmet burgers.
The wedding cake
The wedding cake was never really discussed, it didn't seem that important to either of us at any stage of our planning. I do however have a good friend who has a real talent for cakes so as a little gift for Brian I asked her to make me a groom's cake. It came in the shape of Bobba Fett from Star Wars. Just before we started our first dance I grabbed the microphone and presented him with this huge cake – he loved it, and so did all the children who attacked it with spoons later in the night!
Personal and handmade touches
• We hand made all of the invites by taking photos of ourselves holding up pieces of A4 with the invite, wedding date, location etc all written out on them
• We hadn't wanted any favours, but did end up with making a little keepsake in the end. They came in the form of the name tags for the seating plan, we cut a tree branch into disks and Brian burnt everybody's names into them with their table number on the back, we then hung them on a display tree for people to find before lunch.
• One thing that was special to us was creating a memory corner dedicated to our grandparents that had passed away.
• As well as the giant letters, the pompoms and the table numbers, the jars and the flowers we also made our DIY photo booth.
Special moments
There were so many to list, but above all it was saying our vows to each other. We had spent so long planning the party that it hit us both at that moment that we were doing something really special in making these promises to each other.
Biggest surprise
We're in complete agreement that our biggest surprise was simply how much we both enjoyed it! The thrills of seeing all our hard work unfold, seeing the delight on people's faces and the genuine feeling of fun and happiness that was buzzing around in the air.
Advice for other couples
Explore your creative side, get people involved, don't get hung up on what's expected at a wedding, don't compromise on your invite list, make sure every face you see around you is someone that makes you smile…..and love every minute of your day!!!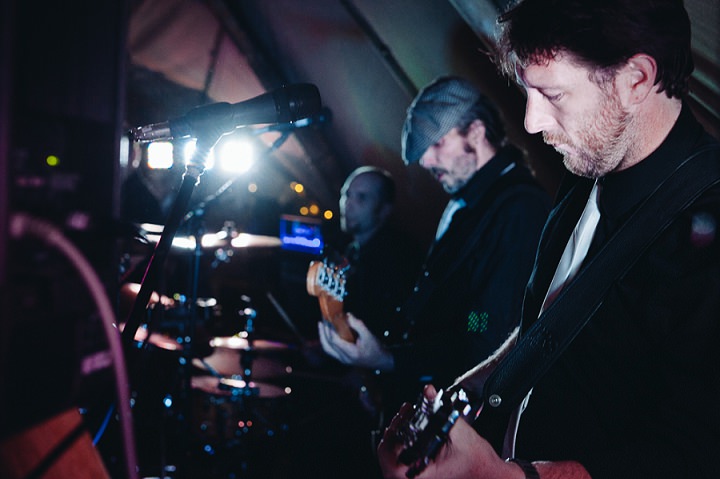 Supplier Shout Outs:
For more information on Simon's work go to:
www.simondewey.co.uk
www.simondewey.co.uk/blog
FACEBOOK
@simondeweyphoto
I'm a storytelling photographer from Derby in the UK. I like to let the day unfold naturally and capture people as they really are. I was awarded as one of The Guild of Photographers (UK organisation) Top 10 Wedding Photographers of 2013 (Number 9, if you must know). I love spending time with my young family and I'm terrible at blogging.