Welcome along to another edition of Boho Pins, where I delve into my pinterest board collection and choose one to share with you. If you're planning a wedding then pinterest is the perfect visual planning tool. Fantastic for putting ideas together and keeping all your ideas organised! You can find me here www.pinterest.com/bohowedandlife and I update my boards on a daily basis!
Today I am looking one of my favorite wedding trends of the moment; Neon weddings. Neon is fab, it brightens up any dull day and adds a splash of something modern to any wedding. I have loved neon since I was a child when I was obsessed with neon yellow and wore neon yellow everything, socks, gloves, earings, hair accessories, bangles and all at the same time, what a sight! Now neon can be seen in all the on trend weddings, but in  a much more stylish manner. By adding a splash of neon to your big day you can mix stark whites and dark blacks together and make it a super modern and stylish day. An accent of neon added to the cake, flowers, invitations, decorations, your shoes, bag, jewellery or even the mans attire can really go that extra mile into turning your wedding into something unforgettable!   You can see my full Neon pinterest board HERE.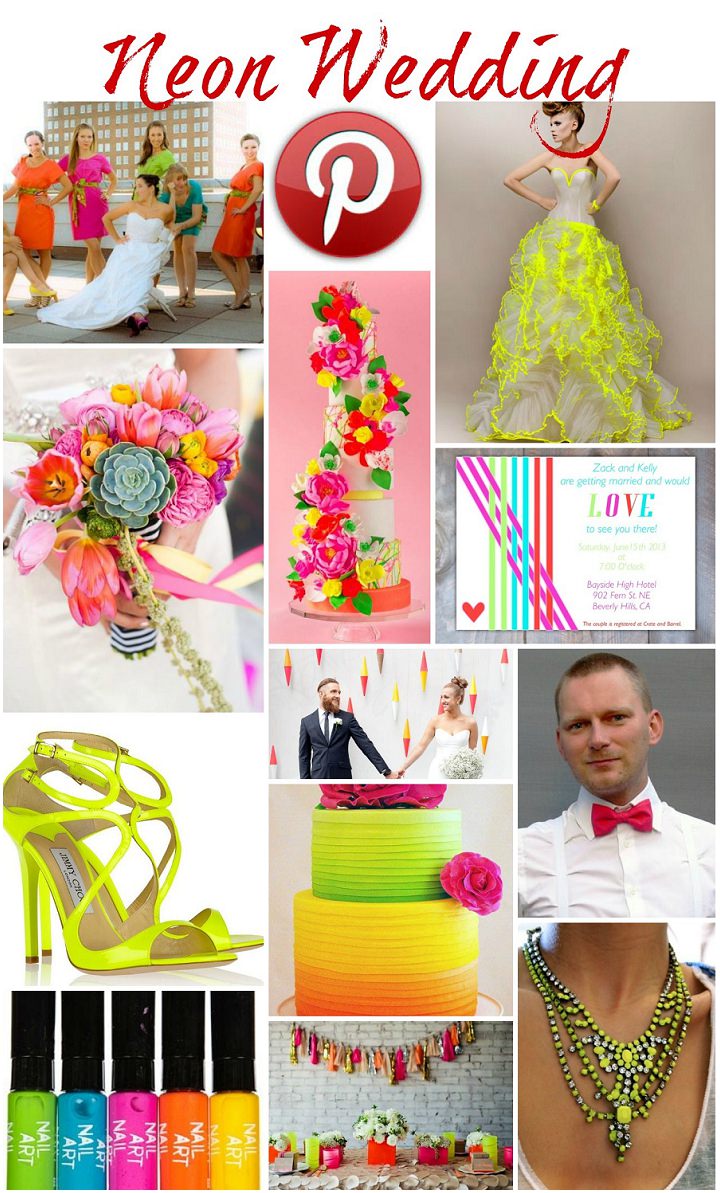 Source and Photographer: Bride and Bridesmaids / Bouquet (Photography by Candice Benjamin Photography) / Flower cake (Photography by Union Eleven) / Yellow wedding dress by Max  Chaoul / Inviation / Shoes / Back drop (Photography byLisa Deiderich Photography) / Yellow, orange and green cake / Bow tie / Nailvarnish / Table Decorations (photography by  Amanda Watson) /Necklace.


You can see past Pin Boards HERE