Today we are back with Lisa and Alex from 2 people 1 life for wedding number 40…….Yes 40 can you believe we have been following their journey for such a long time now! Last time it was all about bagpipes and kilts in Scotland, but today they move to Wales for a Druid ceremony organised and photographed by the very lovely Nicola from Daffodil Waves Photography. I have to say I love this wedding, Lisa's dress is just stunning, the kind of thing I would choose if I were to get married again, and I am loving the little touches of yellow dotted about!
(In case you have missed it the whole story Lisa and Alex have spent the last two years travelling round the world getting married in every country they visit, you can read more about their adventures HERE.)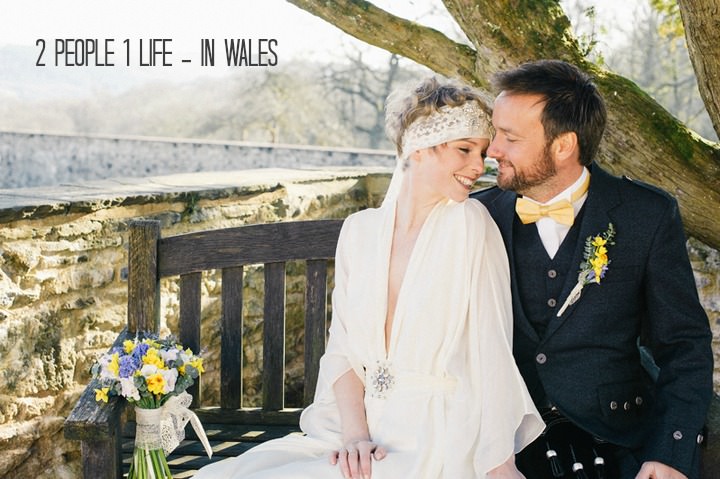 Aberglasney House and Gardens is stunning. Set perfectly in Tywi valley in Carmarthenshire it was once a private house and has been lovingly restored for visitors. The gardens history spans back all the way to 1477. The trees are thought to have been planted in the eighteenth century and when they had grown tall they were bent over to form an extended arch. Nicola of Daffodil Waves Photography had literally arranged everything and we just had to show up! It was wonderful not knowing what really to expect and to just go along with the flow.
The only person we had arranged ourselves was Jeff Wood who was coming along to film our day. Alejandro Calore who filmed our tango wedding in Argentina had recommended him and it turned out that we had lived just around the corner from him in Manchester for years! Jeff ran around filming as we got ready. We were so excited to have him with us for the day, he has been filming weddings for 10 years and knows his stuff, we had looked at some of his work and could NOT wait to see what kind of masterpiece he created for us!
I had my hair and make up done by Jayne from Colour me Perfect. We chattered as she airbrushed my face and added some wonderful colours to my eyes. Once I was ready, Jaynes Mum handed me a beautifully decorated scroll and told me she had made us a gift. I was allowed to open it, rather silly as my make up had just been finished and in it was a beautiful personalised poem which almost had us reapplying my make up. The dress was a stunning flowing ivory gown from The Wedding Club which was perfect for the druid ceremony. Dramatically cut at the front with a trailing train down the front, I loved it. I pulled it on and had my gorgeous headband added and I was ready to go.I was handed a stunning bouquet from Sheilas Flowers which smelled quite literally of spring.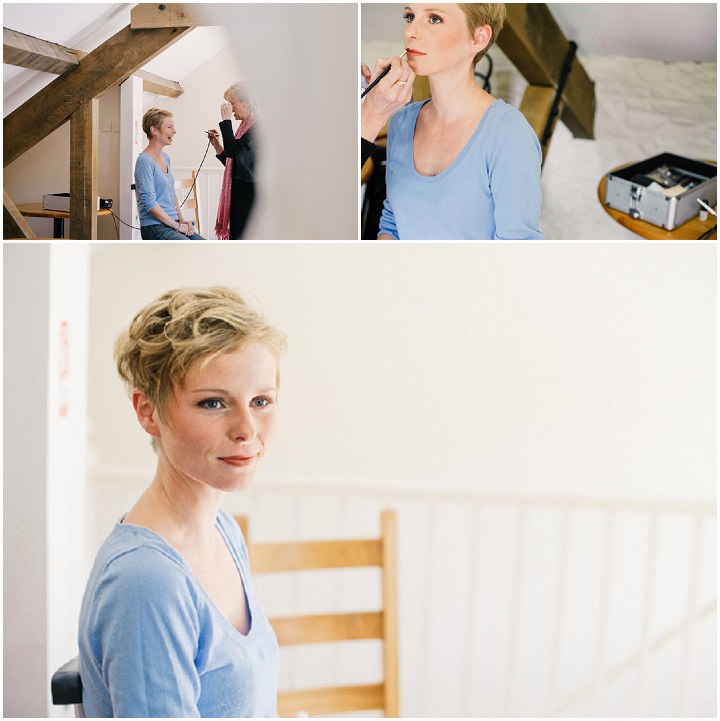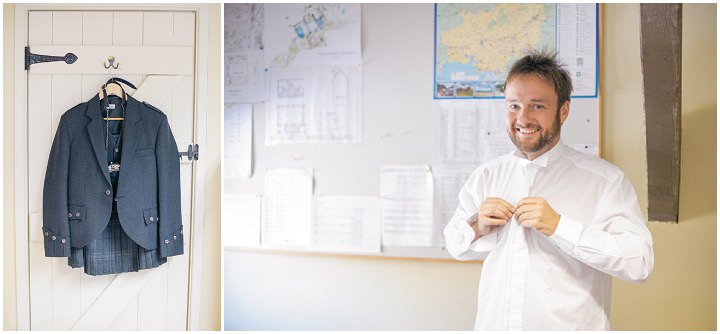 Mark Townsend, both a Christian priest as well as a member of a large Druid Order would be holding the ceremony for us. He, like ourselves, has a deep love of many other cultures and religions and always tries to bring as much eclectic spirit into his ceremonies as possible. The area for the wedding had been set up in a special place in the gardens facing the four points of the compass, next the Spirit of the place was honoured and asked to bless the ceremony. Then the whole ritual area, marked out by the elements/directions was also sanctified by the Druids who drew a circle in the air at the beginning. Then peace was given to the four directions and the spirits of the directions were welcomed.
Mark explains the meanings of the flags and blessings a lot better than I do so I will let him!
"The coloured flags mark out the Four Directions (N,S,E,W) and an Element is attributed to each one. Using sacred circles, directions and elements is quite a universal practice when it comes to nature based / indigenous cultures.
The directions and elements usually go together this way:
North / Earth / Green / symbolic of the senses, the body and everything that is tangible
South / Fire / Orange / symbolic of the deep gut level will, the inner spirit, creative energy, passion, adventure etc.
East / Air / White / symbolic of the mind, the thinking and rational part of the brain etc.
West / Water / Blue / symbolic of the emotions and the soul, the flowing spirit of awareness, the mystical union of deep love etc.
These four elements were a running theme throughout the whole ceremony, even linking to the blessing of the rings"
I walked through the fiery gates (gold flags) and joined Alex dressed in a kilt! He looked amazing, we never knew that a kilt was traditional dress in Wales so that was a lovely surprise! It was very different from the Scottish one, longer length in the kilt and a shorter jacket. We sat together on our ornate chairs in the blessed circle.
Mark explained that he had no power to join us but that we held all the power we needed to be joined together as one.
This is one of my favourite passages from the ceremony itself.
'All things in nature are cyclical.
Night becomes day, day becomes night, and night becomes day again.
The moon waxes and wanes then waxes again.
There is spring, summer, autumn, winter, and then spring returns.
A circle is the symbol of these natural rhythms.'
In the context of marriage, these two circles made of precious metal are also symbolic of faithfulness and undying love. And So…
'May these rings,
Materials of Earth,
Forged in Fire,
Cooled by Air,
And symbolizing the flowing waters of Love,
Be to you both, an ever constant sign of your hearts' commitment.'
There was also a handfasting which is where our hands are bound together by several ribbons in the same colours of the flags and each representing a commitment in our marriage.
Mark explains that no one really knows exactly how far back in Celtic culture handfasting goes but it has been used by both Pagans and Christians over the centuries. To him it is "quite simply a lovely colourful and highly realistic way of saying wedding vows and 'tying the knot (s).' It's also quite humour filled and leaves the couple with a tangible symbol of their commitment."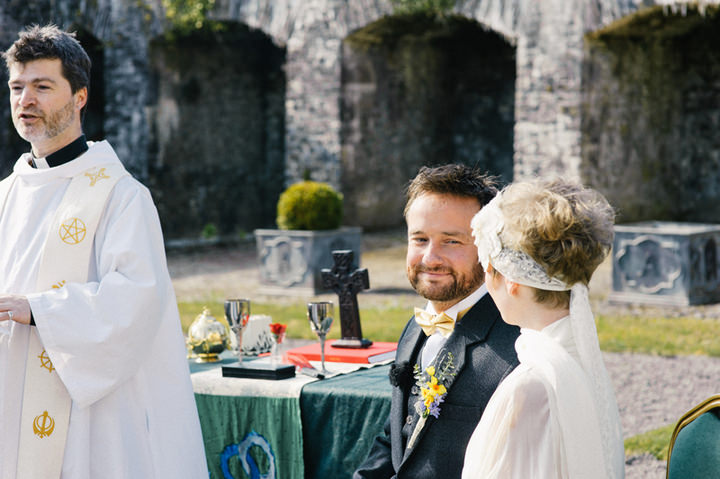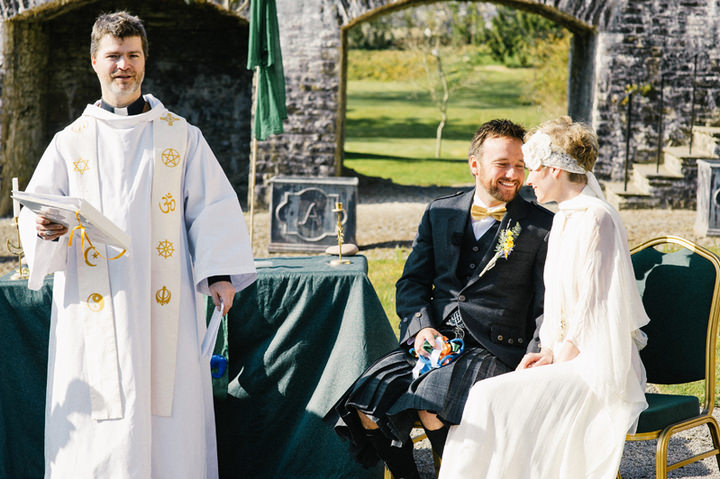 The ceremony was just perfect for us. Being respectful of nature and how it affects and touches our lives daily is something we feel strongly about, more so than the ideals of a particular God or spirit looking down on us and showing us the way.
We loved Mark's presence, his spirit and his humour and of course, his magic! Make sure you watch Jeff's incredible video for a small taster!
At the very end of the ceremony the spirits are thanked and said farewell to.
We were applauded by the group that had gathered around us and took a few pictures with a few of the guests before we were dragged off to do a few interviews for TV and radio and a few more shots for the newspapers. As we asked a couple of photographers who they were shooting for they told us no-one..they were PAPARAZZI! Hahahaha we laughed hard and wondered who would be daft enough to pay money for pictures of us!!!
We were made so welcome in Wales, we were even given a gift of a love spoon  from a couple that had come along to see the wedding. The wife of the couple had seen us in the newspaper and was intrigued as she had the same surname as me before she married. Read here for more information about the tradition of the love spoon! Such a thoughtful gift!
We wound up the day with a few more shots with Nicola who we hoped we could spend more time with that night, sadly she had family plans (her Nans shepherd pie…which I can TOTALLY understand) and we had to say our farewells there. As always, we can't thank Nicola enough for everything she did for us. Such a unique ceremony in such a beautiful place. Our eyes had been opened once again to the difference in the celebration of marriage…and on our very own doorstep.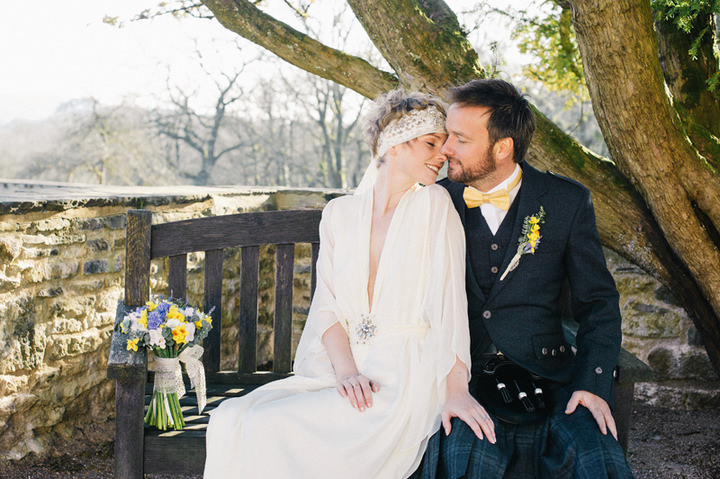 We had a final unexpected treat that evening, Ellen from Aberglasney Gardens had arranged for us to stay in a boutique hotel in a nearby village so we all headed there for dinner and some wine. We had a great meal at The Cawdor Hotel and a fantastic night with Toff, Nats, Eleanor and Jeff and lots and lots of wine..and then Guinness and port and after Toff and Nats had gone to bed we talked future wedding plans with Jeff! Little did he know what he had gotten himself into by coming drinking with us that night!
Such a great way to end such a great day. Again Nicola, such thanks cannot be put into words, we hope we can meet again sometime for that drink!
For more information on Daffodil Waves photography go to:
www.daffodilwaves.co.uk
www.daffodilwaves.co.uk/blog
FACEBOOK
@DaffodilWaves
To follow Lisa and Alex's journey go to
http://2people1life.com/blog/
http://2people1life.com/blog/the-whole-journey
FACEBOOK
@2people1life
If you have missed any of the previous weddings you can catch up HERE 
Due to an email issue if you have emailed me between the 2nd & 9th of December, please resend it.
X