Happy Monday everyone, I hope you all had a wonderful weekend? I had a few days off from the office as Nik and I travelled down to Dorset on Friday to spend some time with Nik's best mate Matt, his wife Lucie and their ever so gorgeous baby Sonny. It was SO nice to get away from everything and switch off for the weekend. We had a lovely time, with walks on the beach, good food and a great catch up. Dorset is such a beautiful part of the country, I can't wait to go back and visit them again. What about you? What did you get up to? To ease you into this rather windy Monday (I hope you have all survived the storm!) I have this gorgeous beach wedding all the way from very sunny Florida. The gorgeous couple are Taylor and Andrew who managed to plan their wedding in just two and a half months! Not bad going! Proving that it isn't the details that are important, all you need is a couple completely in love to make a wedding work. Thanks to Alexx Duvall for the photos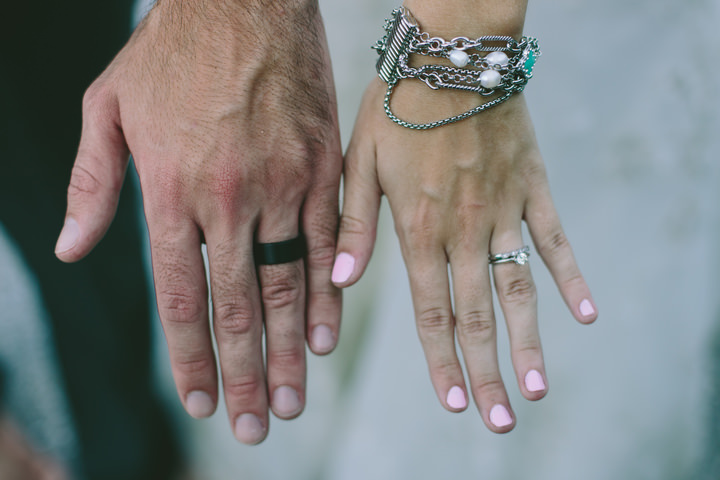 Taylor and Andrew were married on 21st September at Coral Cove Park in Florida with the reception at Palm Beach Shores Community Center. 'We had dreamed of a beach wedding and this venue was just perfect. We had 18 guest to the ceremony and 65 to the reception and it took just 2 and half months to plan.'
How they met
We met through a childhood friend Via skype while groom was stationed at 29 Palms, California for Marine Training. We have been dating since December 2012.
The proposal
It was a Surprise proposal in Waxhaw, NC on an old train overpass bridge…a train came just after the proposal!
How did you allocate your budget?
Food, flowers, reception venue
Why did you choose your photographer?
Alexx is a long time & very talented friend of the groom
The dress
Justin Alexander
Theme or colour scheme
Earthy browns, pinks and greys
Flowers
White and pink Lillies, roses and babys breath
Decoration
Seashells, burlap, flowers, ribbon curtain, chalkboard signs, thumbprint sign in for guests (rather than guest book)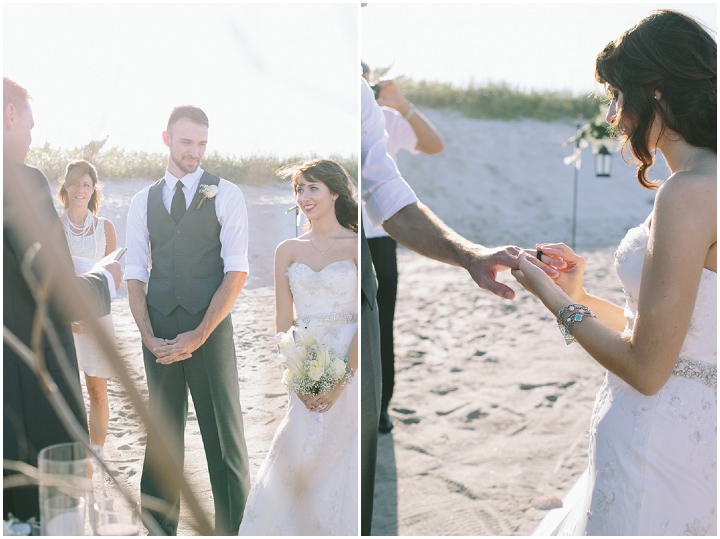 Food and wedding cake
Pollo Tropical catered grilled chicken, black beans and rice, plantains, salad. Publix Greenwise provided a raspberry filled cake with fondant/marbled chocolate seashells
Entertainment
Dancing, music, popcorn bar with an instagram photobooth
Special moments
My mom and maid of honour, Mollie Kush, and I all helping each other get ready was a highlight! But the most special moment for me was when my brother gave me away in honour of my dad who passed away 4 years ago. And seeing Andrew, my groom, for the first time that day and finally becoming husband and wife was awesome!
Biggest surprise
I had no idea what the ceremony was going to look like, so when I walked down the stairs and onto the beach where we exchanged our vows I was blown away! It was stunningly perfect and all the credit goes to Momma Kush and all her friends who helped it all become a reality!
Advice for other couples
My advice for couples planning their big day is to prepare first with marriage counselling. That's an important foundation for the bride and groom-to-be. As far as the day itself goes, keep it simple and keep your heart and mind set on why you want to get married and its true meaning. So many people get wrapped up in the "perfect wedding," perfect dress, flowers, venue, etc. They lose sight of what really matter which is what God created marriage to be…a reflection of Jesus Christ and the church through a man and a woman who are perfectly designed to walk through life together. And on the day of your wedding, have fun! Enjoy yourself and your new spouse, family, friends. If something goes wrong, don't worry about it because at the end of the day it won't matter. This is a day to make wonderful memories. Have fun with it!!
For more information on Alexx's work go to
www.alexxduvall.com
www.alexxduvall.com/blog
FACEBOOK
@alexxduvall