Afternoon everyone, I hope you are all enjoying your Friday? Today on Diary of a Boho Bride we are welcoming back Alison and Joe. Last time it was a very interesting subject as Alison was talking us through her wedding dress story and how she had first thought about having a fake dress made to save money but how she then (thankfully) changed her mind. It was an interesting discussion and one I'm really glad we were able to bring up on the Blog. Today Alston is talking to us about food; what to serve, where people will sit, weather they should have a seating plan, lots of decisions to make!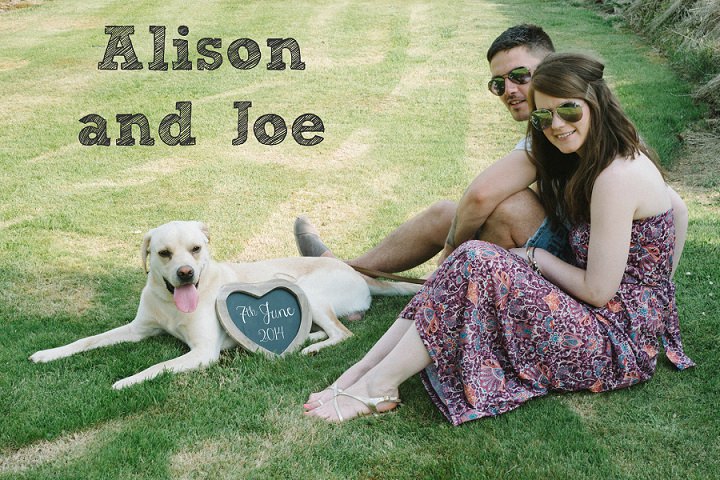 I'll pass the Blog over to Alison……….
When we first started to think about the kind of day we would like, we wanted something quite relaxed and a little more informal. I also didn't want to organise some 'grand' day that was going to cause me to start stressing out working to some kind of military schedule and fussy details. When it came to catering I also wanted this to be a bit more relaxed. We aren't really the kind of couple to have a posh silver service six course meal or the like…
Along with it not really being 'us' there was no way that I was going to pay all that money per head to have a sit down meal. For a while we weren't even going to have a 'sit down' meal. We thought about keeping things very informal and just having tables for people that wanted to sit down, some seating outside and just generally leaving it up to people as to where they wanted to eat. I thought this was a great idea as there would be no table plans to get stressed about, no worrying about numbers too much (as Joe wanted to invite everyone he had ever spoken to!) and no worrying about a top table and who was going to sit where. My parents are no longer together so I didn't even want to attempt to work out any kind of seating arrangement to keep everyone happy. I preferred to just bury my head in the sand on that one. I wanted to enjoy planning the wedding – not get stressed about who was sitting where and next to who!
A lot of people seemed against this, pointing out all the negatives like what if there isn't room for everyone to sit down bla bla bla… and we have since decided that we will actually have a table plan. I have come round to the idea and have started to map out the top table and it shouldn't be too bad. The advantages of having a table plan is that we do now have some kind of number to work to for guests (and more importantly a limit!), everyone will have a place to be – particularly when the speeches are going on and also it will bring our families and friends together. Joe really liked the idea of the whole top table thing too so he is happy we have decided on it.
I do like lists too so it gives me a chance to do a bit of organising and colour coding! I just keep telling myself it is not worth getting stressed about. We sat down together a few weeks ago and started to roughly plan out some of the tables. At the end of our first plan we had a few full tables and then a number of half full tables with a range of people left over who don't fall neatly into a group of 8-10 so we have a little bit of work to do there to think about how we might start to arrange that and mix people up! I can see some kind of movable sticky note plan coming on.
Getting back to the food and not wanting to spend a fortune, we decided that we would have a hog roast in the evening for all guests. Then we were wondering what to do in the day… We thought about some canapés/snacks or afternoon cream tea for the day guests as we will be getting married around midday. We then decided that our day guests (and us!) would be quite hungry having got to the church late morning and then wouldn't be eating anything substantial until later in the evening! We then decided why not have the hog roast in the day and then some kind of buffet in the evening. I contacted a local hog roast caterer who had been used by some family members before and the food was lovely (Pig Out Hog Roast www.pig-out.co.uk) and got some prices. This was going to be a much more favourable option to spending all that money on a more traditional three course meal option. We have agreed on hog roast along with all the trimmings and salad, coleslaw, potato salad etc. Heather at Pig Out was really helpful and agreed to supply our evening catering too – bacon/sausage baps and bacon/cheese oatcakes (for anyone unsure on what an oatcake is, here in Staffordshire it's like a savoury pancake that's normally filled with cheese or other breakfast items!).
For dessert we wanted something a little different yet still in keeping with the relaxed informal theme. Our friend Nicole runs a company called "We are Lollapalooza" that provides catering from vintage vehicles – ice-cream, crêpes etc. We have enlisted her with her ice-cream van to provide ice-cream for the dessert for the day guests. Her vintage style fits perfectly with our day and should provide some cool photos too. For dessert in the evening we are going to rope some talented friends and family in to make some cupcakes for dessert in the evening.
I think we have saved a lot of money by taking this route of catering compared to if we had chosen a £20/£30+ per head option. Everybody wants different things from their day. For us having some nice food that everyone will enjoy and spending a modest amount of money is preferable to spending a small fortune on what is essentially one meal!
Love
Alison x