Happy Monday everyone and welcome along to another week here at Boho Weddings. I have a bit of an epic week coming up with lots going on and lots of amazing weddings to share with you here on the blog. Starting with this gorgeous Italian wedding from Stefano Santucci. It's a wedding with a 1950s theme, where the bride wears a gorgeous 50s style wedding dress, as well as her bridesmaids. The reception is full of vintage bits and bobs, as well as a whole heap of fun! This wedding is bound to put a smile on your face with so much sunshine and smiles!
'A crazy party in 50's style where all the guests were an active part of it and where everyone enjoyed themselves as children'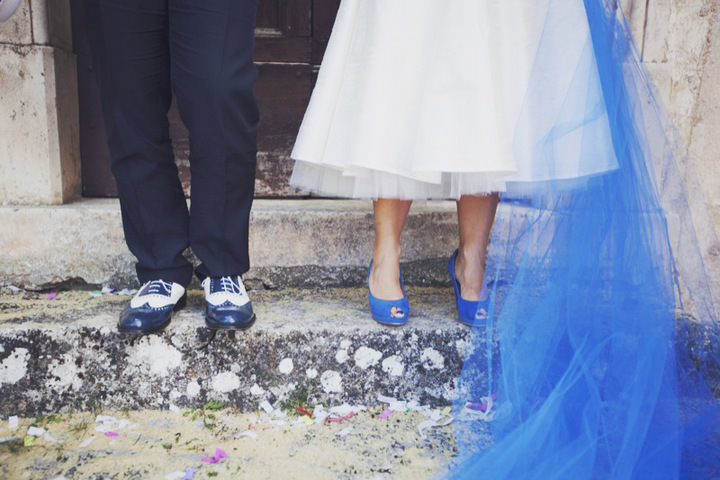 Marianna and Massimo were married on 7th September 2013 at the Church of S. Pietro in Valle Caporciano Abruzzo Italy with the reception at Agriturismo Centuria San Pio delle Camere Restaurant. The had about 100 guests and it took a year to plan.
How they met
We met on Facebook, while we were trying to meet people with the same surname as us, Trying to find some relatives in common, instead we found the Love. We've been together for four years before we got married.
The proposal
Massimo simply looked at me in the eyes and told me "Marry me!! You're the woman of my life"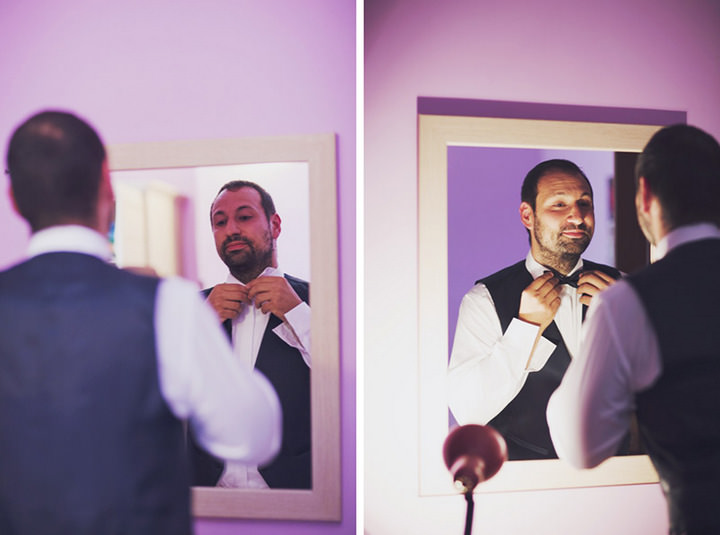 How did allocate your budget?
Most for the restaurant and for the flowers decoration
How did you choose your photographer?
We discovered him on an internet site, and we fell in love with his shots. He has a special way to tell love stories through photography .We decided that he was the only one who could tell our crazy love story and our funny wedding day.
The dress
My wedding dress and my bridesmaids' dresses was sewn by a seamstress friend of mine while we bought shoes and accessories at flea markets or in local stores.
Theme or colour scheme
The party was focused on '50 style and the dominant color was blue, which was the colour of the flowers delphinium, the bridesmaids' dresses and of the tulle train of my wedding dress
Decoration
I chose to decorate everything with rustic and vintage items, old wedding's photos, leather suitcases, wood, raffia with a touch of shabby chic
Food and Cake
We ate local products belonging to the tradition of my land like "Arrosticini" tasty skewers of mutton.
For the wedding cake we chose a puff pastry with chantilly cream, decorated with lavender, olive branches and gypsophila served on an antique wooden barrel
Entertainment
A band that played rock and roll
Flowers
Blue delphinium and white gypsophila in compositions with jute and raffia
Buy or DIY your Stationery?
I did it all by myself
Personal and handmade touches
We did everything ourselves, from the invitations to the wedding favors, decoration at home and in the restaurant, guestbook and small gifts for the guests
Special moments
The strong emotions when my father took me to the altar, looking into my husbands eyes when we swore allegiance for life and the look the happy faces of the guests when we dance rock and roll
Biggest surprise of the day?
The guests, dancing and laughing and their compliments for the party saying it was fun and original.
Advice for other couples
Be yourself and put a lot of yourself in your wedding day, Don't be afraid to do things differently, be original and have fun because that is your day and it will be the day that you will remember for a lifetime
For more information on Stefano's work go to 
www.tastino0.it
[email protected]
FACEBOOK
@photosantucci
+39 340 3075216