I am delighted to share with you today's wedding as it is Boho Bride Faye. You will remember Faye from her diary entries HERE . She wrote for the blog for a year and we learnt all about her wedding planning and how she was planing her UK wedding while living in Germany with her then fiancé Jens. Well today Jens is her husband and I have the full wedding to share with you, and it's a corker! Such a pretty wedding, Faye really didn't disappoint with all her wedding chat – I love everything about it. The amazing farm venue, the outdoor ceremony, the beautiful flowers, the gorgeous purples and greens and the fab decoration, just lovely. Jordanna Marston has done a fabulous job of capturing the day.
'Our day was relaxed, fun, had lots of smiling, good music and some fab food. It was just so nice to see all of our family and friends from all over the world coming together and enjoying each other's company, it was the first time that everybody had been together and who knows when they would meet again so we just soaked it all in.'
Faye and Jens were married on 3rd August 2013 at South Farm in Royston. 'Jens and I first started to look in London as that is where I am from, but as Jens loves nature he didn't like how we always had to stay indoors, I stumbled across South Farm by accident after seeing it in an advert, we drove by and knew it was the place for us, and it was nice and open for Jens. We had 86 guests during the day with another 50 in the evening. We booked our location 18 months before, but we really started planning everything about 6 months before the wedding.'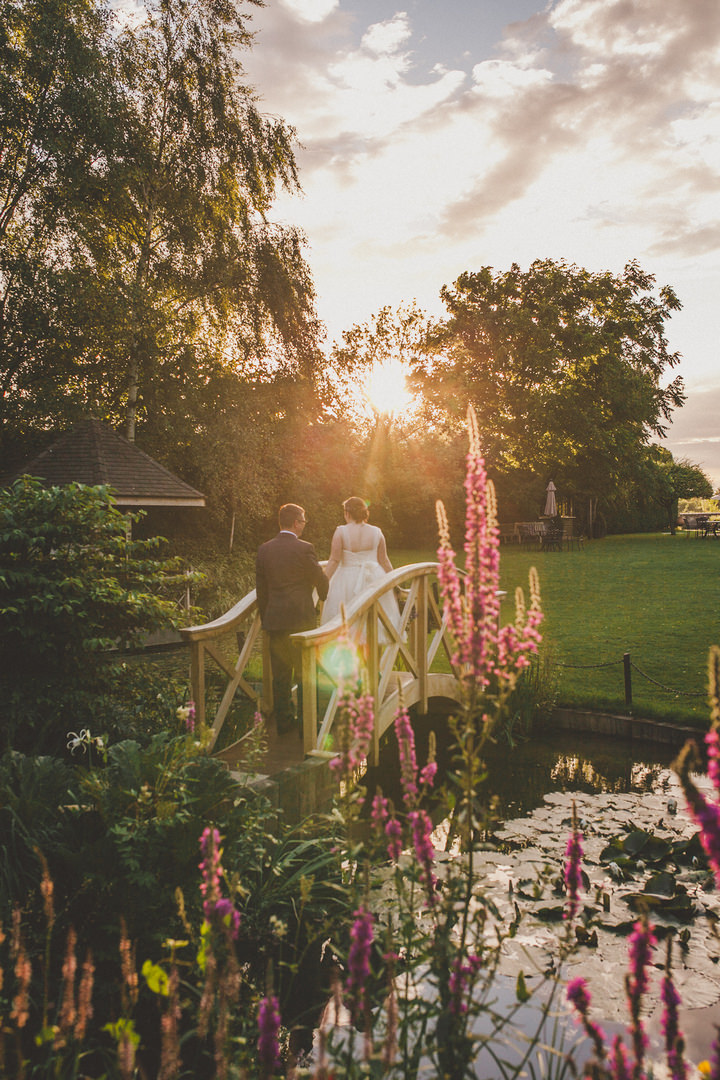 How they met
We met in a student bar in Reutlingen, Germany. I had the flu and only went to the bar on the promise of free drinks all night, Jens only went to the bar to embarrass a professor friend of his. I only wanted to stay for an hour and within that hour Jens walked in, our eyes met across a crowded room etc. and that was it, I still went to bed after an hour though, but I had Jens' number firmly written on my hand! We have been together for 7 years this October.
The proposal
We were on holiday in Canada visiting my bridesmaid Julianne and Jens' usher Trevor. Jens and Trevor hatched a plan to organise a road trip from Calgary through the rockies into BC to stay in Kelowna, Jens asked me to marry him after we had been trying free wine in a vineyard looking over the lake. He had put the ring in a kinder egg as that was what he gave me on our first date, I didn't think anything of it as Jens always gave me kinder eggs on special days and that day was our 5th anniversary, the poor guy stood there for 20 minutes till he had to ask me to open the egg. Trevor and Julianne were hiding behind a hedge the whole time and were also relieved that a) I said yes and b) they could come out of hiding.
How did you allocate your budget?
We were lucky enough that my parents paid for the reception. The rest of our money was mainly spent on the photos, our outfits and the band as these were the most important to us.
Why did you choose your photographer?
Jordanna was recommended to us by another photographer who we tried to book and was fully booked for our date. We took one look at Jordanna's website and knew that we would love her style, and after talking to her on the phone (due to the distance between us) we booked her on the spot.
The dress
My dress was Isabella by Sottero and Midgley which I purchased from the lovely ladies at Clifford Burr in Ware. I bought 3 pairs of shoes, 1 for the ceremony, 1 for the evening and then a pair of flats for dancing. I bought my first pair of shoes before I had even seen my dress in a shop in Stuttgart. I couldn't decide between two colours and the sales assistant who was trying to help me decide couldn't believe that I wanted to buy coloured shoes for my wedding. The other pair of shoes came from Dune UK and were bought online on a whim as my evening shoes. My accessories were all items that I already had and meant something to me.
The suit and bridesmaids
Jens and his boys bought their suits from Marks and Spencers and ties from Tie Rack. The bridesmaids dresses came from Coast. These were purchased in Oxford Street after Julianne and I flew to London to meet Claire and my Mum. The boys also flew to London but as already said in another blog post, they stopped in quite a few pubs on the way during their shopping tours.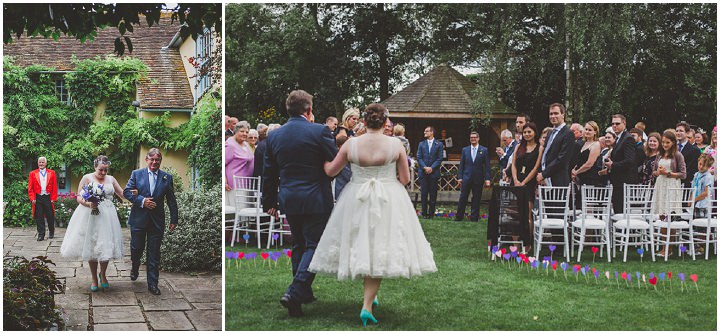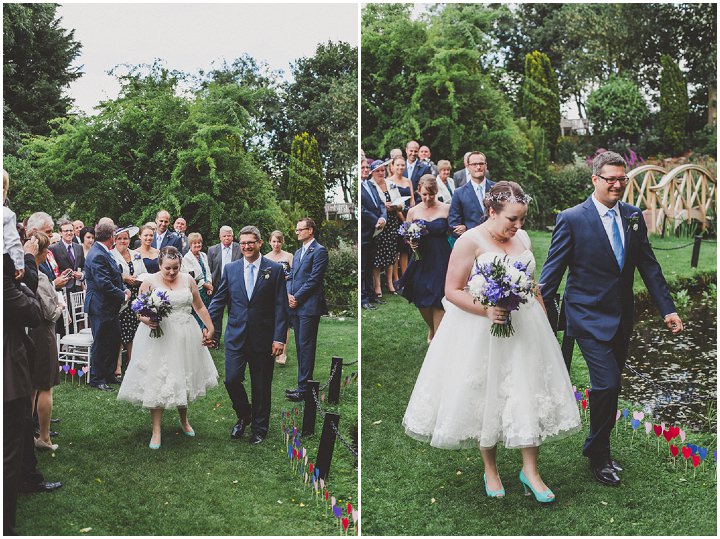 Theme or colour scheme
We didn't have a theme, we just chose our favourite colours of blues, purple and greens.
Flowers
My mum's very talented friend Caroline did my flowers, we went to a shop and I showed her all of my favourite flowers and she just took it from there. I didn't see them till the day before the wedding and I loved them, much to her relief.
Decoration
We were lucky that South Farm didn't need a lot of decoration as the whole garden was in bloom. I made some paper hearts to stick in the grass during the ceremony, we also had flowers on the tables and Caroline our florist lent us some storm lanterns for the evening to give the barn a nice warm glow.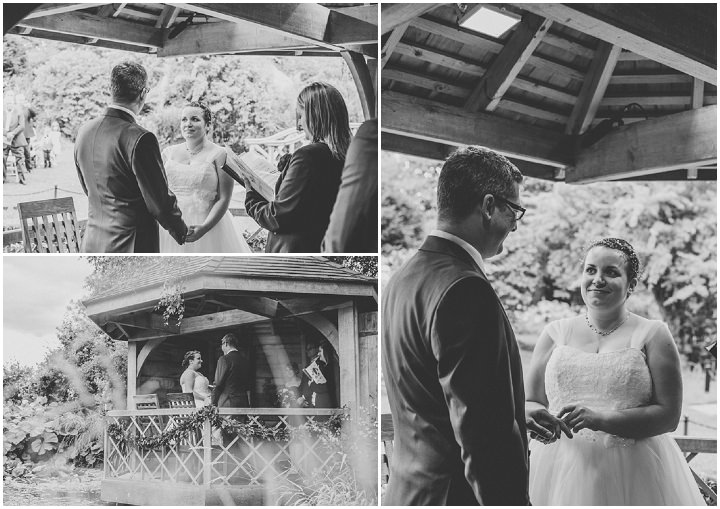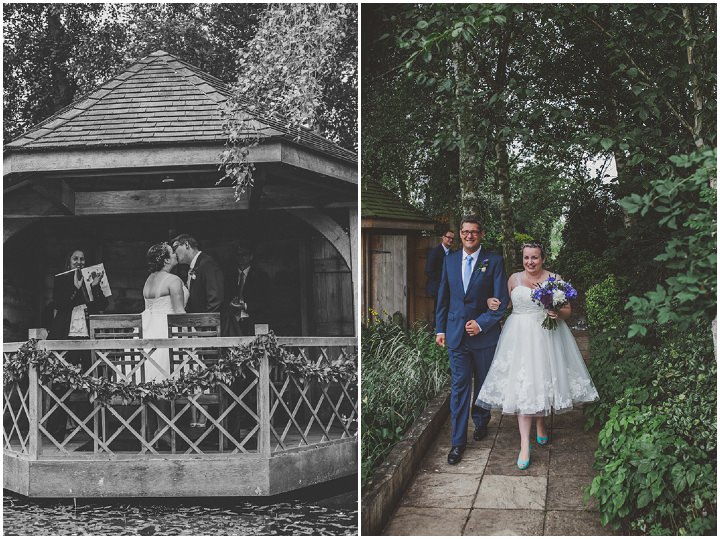 Food
We had a 3 course sit down dinner and then a buffet in the evening.
Starter was Sag Chard Paneer, main was chicken wrapped in home cured breasola stuffed with a sweet red pepper mousse and we had lemon posset as dessert.
Entertainment
We booked a band called The Professionals through function junction. They were great and had everybody dancing all night.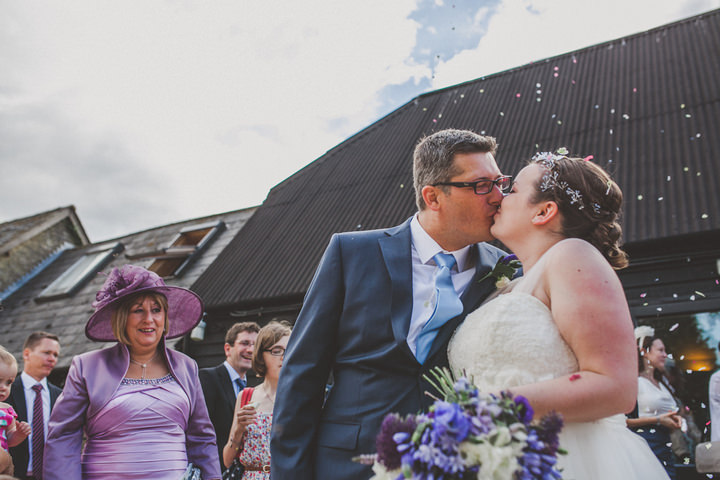 Personal / handmade touches
– Jens made our seating plan, he loves records and the Beatles so he really went to town.
– We cut out around 100 paper hearts for the outdoor ceremony.
– Our wedding programmes were handmade by us in German and English.
– My Mum made our wedding cake, we didn't know how it would look till the wedding and we both think she did a fab job.
– I made our postbox, I wanted there to be something German so I made it in the shape of a Deutsche Post box.
– We placed our favourite engagement photos in a frame for our guests to enjoy.
– My chief bridesmaid Claire and myself hand stamped all of the place settings.
– Every guest received a kinder egg as a gift.
Special moments
For me it was walking out with my Dad and seeing first Jens and then looking around and realising that everybody that I loved was in one place just for us.
I just asked Jens and he said for him it was marrying me and then driving off in the Tuk Tuk and enjoying 10 minutes with just the two of us.
Advice for other couples
Things go wrong, you can't help it and you shouldn't lose sleep over it. Things went wrong on our day, but when they did we really didn't care as they seemed irrelevant next to fact that we had got married and our family and friends were all their for us.
Guests will also drive you crazy with the rsvp so leave plenty of time and there will sometimes be family dramas, so just rise above it and remember why you are getting married to each other. Sometimes all you really need is love, wine and some fab bridesmaids.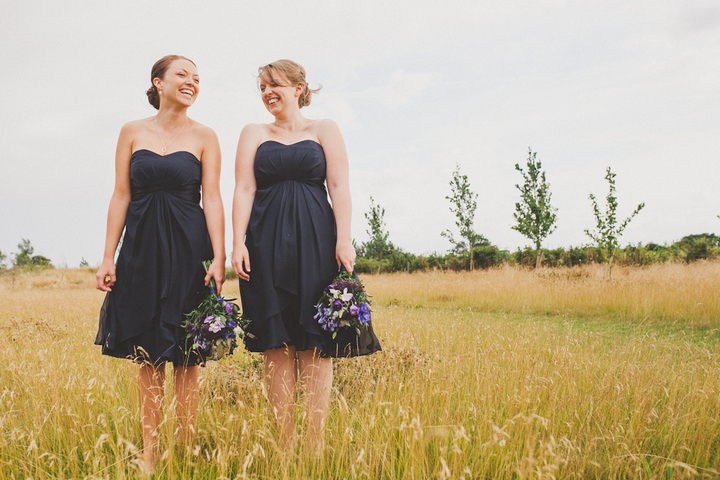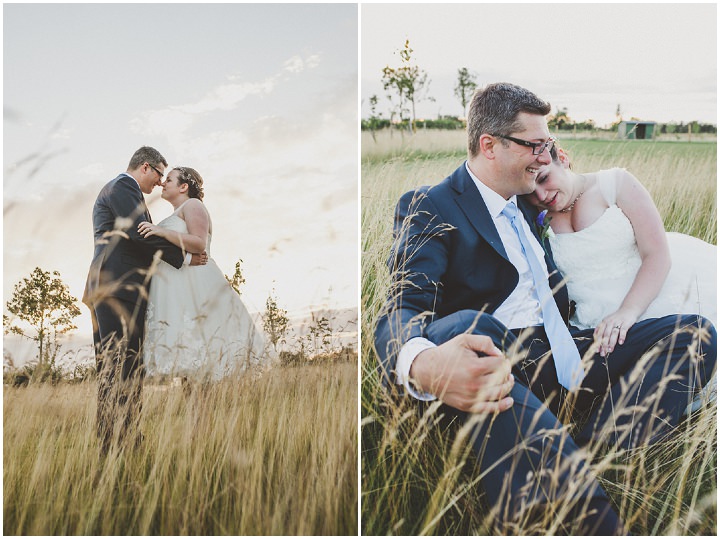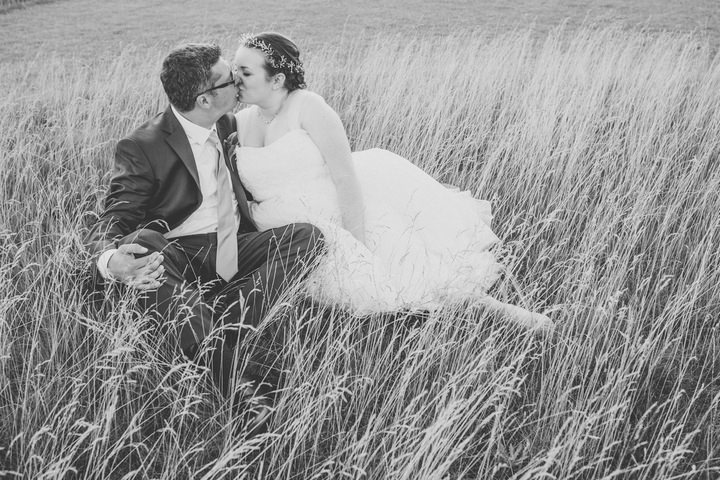 Biggest surprise of the day
It didn't rain! (well apart from 5 minutes)
Jens' sisters organised some traditional German games which included us cutting out a heart from some fabric, the person who cut out their side the quickest wore the trousers in the relationship. We actually finished together.
My great aunt and uncle were also married the same day as us 48 years ago, when we presented them with some flowers during the speeches they then told us that they were also married at 3pm and they presented us with a photo of my Dad handing them a horseshoe on their wedding day (my Dad was 6 at the time, sorry Dad for giving your age away.) it is now one of our favourite photos ever!
Supplier Shout Outs
Jordanna Marston Photography
www.jordannamarston.com
www.jordannamarston.com/blog
[email protected]
FACEBOOK 
@JordannaMarston
07795622594
My photography is genuine, characterful, artistic and beautiful. I live in Northamptonshire but I travel anywhere and everywhere. I love my job and I LOVE a good wedding