This is my first Real Wedding of 2011 and it's a great one! A special New Years Eve wedding brought to you by the amazing and incredibly talented Lee Allen.
Lee has been kind enough to get some more information about the wedding for me from the couple, and it really does highlight the individual touches this wedding holds!
What I love about this wedding is the way the couple have done things their way, a quite intimate ceremony with tea and cake, a meal out at a fancy restaurant then seeing the new year in with their closest of wedding guests. the a  massive knees up 2 days after, very relaxed and unstructured!
I personally think this is a great idea and if  I was to get married again/renew my vows I may do it myself…plus you get to wear two dresses!
I also love all the personal touches in this wedding. Robin and Sian's friends and family certainly pulled together to make sure they had an amazing day!
Full names
Robin Elliott Field and Sian Bond
How did you meet and how long have you been together
We met on the school bus..our first date was at Macdonalds…Rob was 17, Sian was 15, so we've been together 14 years now.
Date of wedding
31st Dec 2009 – 2nd Jan 2010.. it was a 3 day affair!
Location
We were married in Sian's local church by the vicar whose known her since she was little. Then back to her mum and dad's farmhouse for tea, scones and cupcakes. Dinner at a local hotel, where we saw in the new year, and stuffed ourselves silly with a 6 course meal.
On the 2nd, we had a big party in a winter wonderland marquee at my mum and dad's house, attached to the barn.
Dress
My dress was from Wooton Bassett in a little bridal shop. It's made by White Rose, and was kind of Midsummer Night's Dreamy. Silver converse trainers completed the look!
Suit
The boys bought their suits from Moss Bros, kind of silvery grey to go with the colour scheme. They wore scarves too, knitted by one of the bridesmaids.
Sum up your day
The wedding day itself was chilled and intimate – a tiny wedding with only 20 guests, our closest friends and family. It was a really intimate and special day. Then, the party on Jan 2nd was a really happy, stress free affair – everyone mucked in, from making the cake and canapes, to decorating the marquee, building the seats, hanging the ivy, etc. It was really chilled and informal – no sit down meal, just hig roast and lots of cake!
What was your theme or colour
The colour scheme was silver andice blue, because we'd called it a Winter Wonderland Wedding. and we worked on a kindof woodland/narnia theme. it all took place on the farm, so it was about bringing the outdoors indoors!
Why did you get married where you did?
We love my mum and dad's home, and the wiltshire countryside that surrounds it, so it was a natural choice really.
Any Personal touches?
Lots of them! Scarves knitted by the bridesmaid, all our photos done by the best man, all the food (except the hog) made by my mum, bless her.. All the decorations etc were home made, and we designed the whole look ourselves. Some of the musicians from the Rock School I run played a set, the groom and his mates DJ'dat the party, our friend made all the invites…it was a hands on affair for all! The speeches were ace too – really personal and meaningful.
How many guests did you have?
At our wedding, there were only 20 guests, essentially our closest family and friends. Because the party was so informal, we could have as many people as we wanted, so ended up with about 150 partying until the small hours!
Any speical moments
My dad played and sang for us during the wedding ceremony, which basically had us all in floods! The whole of the wedding day was really special – because there were so few of us, we got to spend lots of good time with everyone, and really make the most of the day.
The other incredible moment was when it started snowing! At about 11pm, right in the middle of our Winter Wonderland party, the snow started falling, so we all piled out of the marquee for a photo in front of the house!
What if anything would you do differently?
In all honesty, not much! Occasionally I wished my mum and dad didnt have so much to do at the party so I could have seen more of them, but I know that's what they were at their happiest doing. I think the marquee company definitely regretted committing to building a huge, complicated marquee on a hill top in the middle of winter (they were there, building til about 3am for 4 nights running!), but I'm glad they stuck with it because it looked beautiful.
Do you have any advice for other couples?
Do it your own way, and stick out for what you want. People really notice the personal touches, so it's worth spending time on them.
What was your biggest surprise?
The biggest, and most emotional, surprise was when my dad stood up to give his speech. After the formalities, he asked my sister to come up and they sang a song for us – 'The Folks who live on the Hill'. We had no idea they'd plotted this, and it was so lovely, and really really special.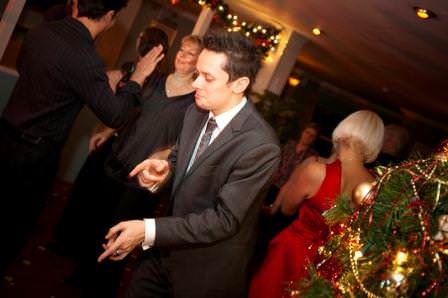 Thank you so much to Lee for sharing this wedding with me, and a very bealetd Congratulations to Elliott and Sian on  their amazing wedding!
For more infomration on Lee's photography services go to:
www.leeallenphotography.com
www.leeallenphotography.com/blog
[email protected]
07855 443437