Happy Monday everyone and welcome along to another week, I hope you all had a wonderful fun filled weekend? Mine was over way too quickly as I was back in the office yesterday trying to catch up on some work. I have a very busy week ahead and will be out of action for a few days for personal reasons. I am going to do my best to keep the blog running as normal, but if things are a little less organised than normal I apologise now. I have a wonderful wedding to start the week with, this fun filled DIY, Eclectic wedding courtesy of Neil Thomas Douglas. The bride describes the day as 'haphazard' and a 'hodgepodge of ideas' but the couple certainly pull off a wonderful day that is totally them, including dancing with a 3ft long Rubber Trout!!
'A relaxed, haphazardly-planned day that accidentally came out feeling like a festival… in church. There were heartfelt vows, good music and good friends, lots of lounging on sun-strewn grass, and some furiously sweaty dancing!'
Faith and Owen were married on 13th July at Left Bank in Leeds. 'We wanted a venue with a bit of character and which would suit our DIY ethos, rather than pushing a 'package' on to us. We also wanted to get married in Leeds, our city, rather than decamping to somewhere pretty but remote to our day-to-day lives. We struggled at first, but as soon as we walked inside Left Bank we knew it was the right place for us. It's a community venue, inside a beautiful former church building, and we have both lived in hopping distance from it in the past. We had 100 guests for the ceremony and afternoon tea; another 75 joined us in the evening as the wedding day segued into party/gig mode. We got engaged in December 2012 and didn't really make a start until March, procrastinating types that we are. So, 4 months. Bear in mind that we organised everything ourselves, throw in an unplanned house move and a broken car, and you can probably guess that things got a little hairy! It all worked out great in the end, though.'
How they met
We've been together for five years. We were in the same vague social orbit for quite a few years before we really got to know each other and realised we were like two daft peas in the same pod!
The proposal
It took place on a bright, frosty December day in the middle of a stone circle, near Keswick. As we sat on one of the stones looking at the surrounding hills, I asked Owen if he would marry me. After his initial delighted "of course"', he said a little bit indignantly "but I was just about to ask you that!"
How did you choose your photographer?
We originally approached Shelly at Toast, who was busy but kindly offered to put us in touch with some of her friends. Neil was Glasgow-based, but we really liked his shooting style – a mixture of reportage stuff and some offbeat 'couples' shots in which the subjects were clearly having a blast. After a chat on Skype, we were convinced he was the man for the job!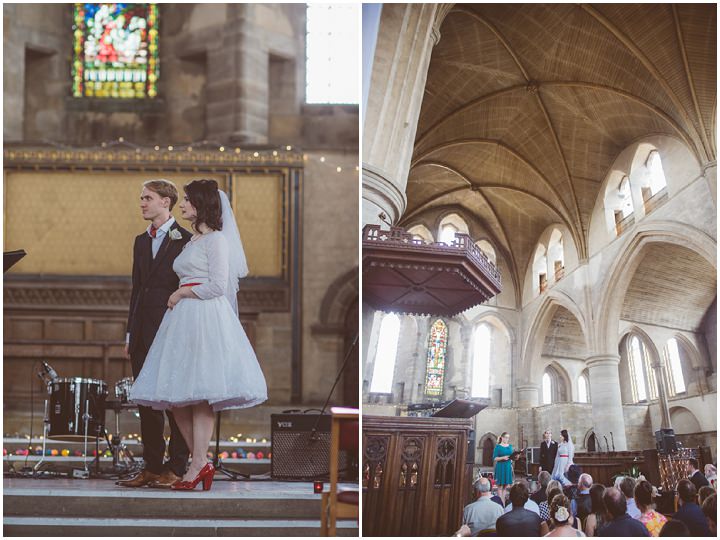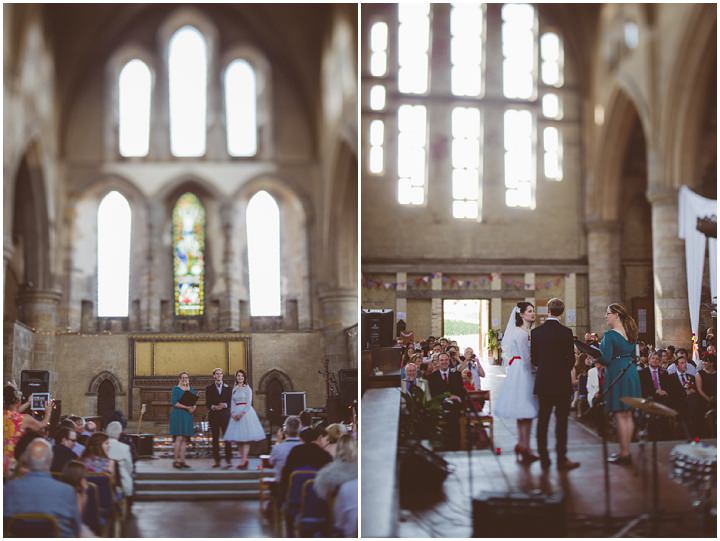 The dress
My dress and veil were 1950s vintage, from Glory Days in York. I was somewhat cool towards the 'white dress' concept, but I fell in love with this one at first sight- it was the embroidered cherry pattern that clinched it. I also wore an atomic-style brooch by Luxulite (Etsy), and two necklaces which my mum and bridesmaid gave me on my wedding morning.
The suit and bridesmaids
Owen was looking very dapper in a bespoke three-piece by King & Allen, although he was regretting the heavy herringbone fabric a bit given that it was 29 degrees that day. I had one bridesmaid and one 'bridesman'; I wanted my oldest friends to support me on my wedding day, and one of them just happened to be male! Catherine wore a navy dress by Coast and John wore a suit of his own in the same colour.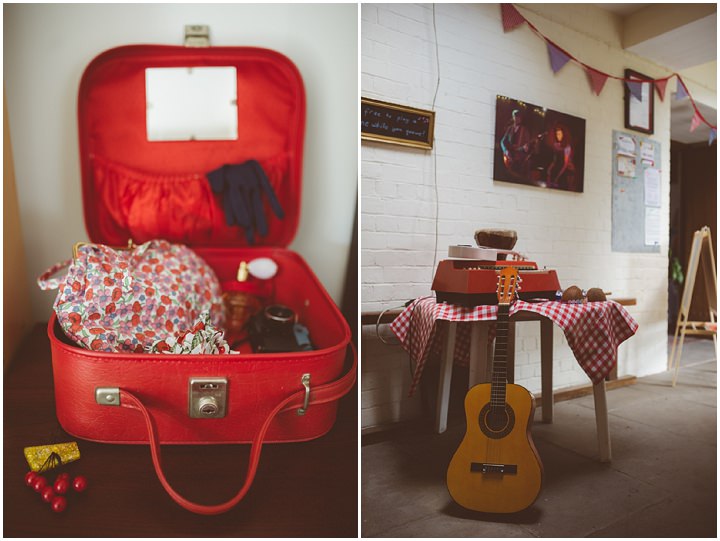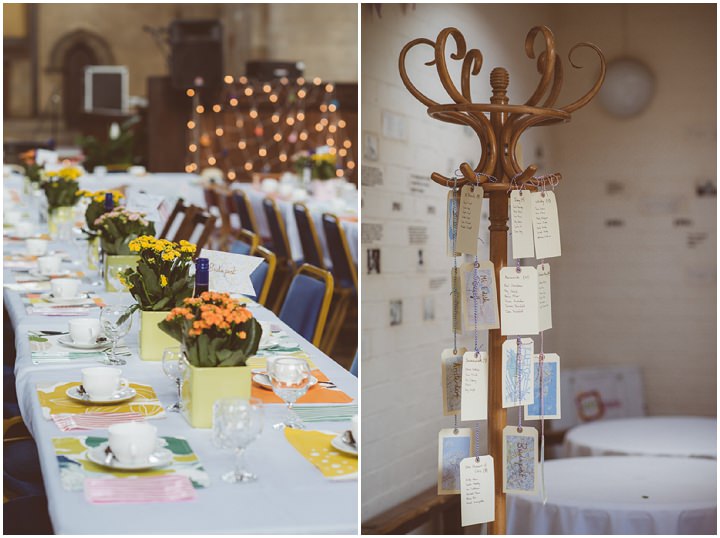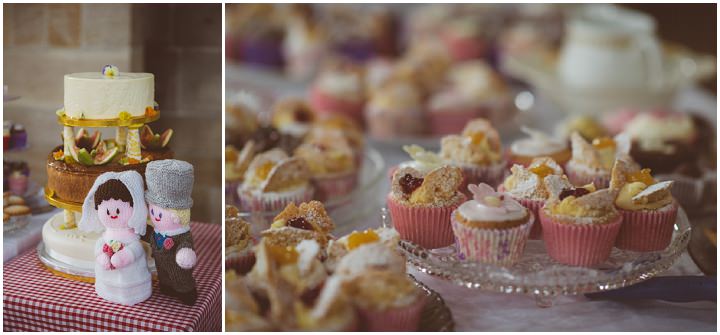 Theme or colour scheme
No; we wanted to avoid any kind of artifice and just have things we liked around us, regardless of whether they fit with a theme. Fortuitously this haphazard approach actually ended up with everything looking great together!
Decoration
A real mishmash of ideas… lots of things were just items from home that we loved, repurposed for the occasion; for example, the table plan was our hat stand, bestrewn with giant luggage labels, and the card box was our picnic basket. The kid's corner included a mini-big top and circus toys…and there was plenty of colourful bunting, candles and fairy lights throughout (some things are wedding clichés because they just work.) We also put together a box of props for a photo booth in the corner; these ended up being worn all over the dancefloor!
Food
Afternoon tea was served after the ceremony, and in the evening there was street food outside (Market Wraps' amazing pulled pork and brisket).
Throughout the day, people munched on homemade cakes brought by our guests, plus the wedding cake itself, which had three very different tiers – fruitcake, pork pie and Wensleydale cheese. (Fruitcake with Wensleydale is a venerable Yorkshire tradition, and, well, who doesn't love a good pie!)
Entertainment
We are lucky to have some very talented musicians as friends, which made choosing a wedding band incredibly hard. In the end we had two – This Many Boyfriends opened the evening's dancing (including our first dance), and then Mock Lobster (the UK's premier B52s tribute act!) kept the party going into the night. It was around this time that things got a little hazy for many people… many attendees (us newlyweds included) have seen photos of ourselves dancing with a 3ft long rubber trout, but have no memory of them being taken…
Flowers
The flowers for the bouquet and buttonholes were made of paper, including some old book pages (from Pride and Prejudice), by A Paper Rose. We wanted flowers we could keep forever.
The table flowers were cheery houseplants from Ikea; lots of people took them away after the wedding, and it's nice to think that they'll live on in people's homes. We also had some larger houseplants as aisle decorations, which are now making our living room look somewhat jungle-like!
Personal / handmade touches
Almost everything about this wedding had a personal touch; in particular, we couldn't have done it without our army of lovely volunteers! All of our family and friends were absolute troopers, whether they were humping furniture around, teetering on stepladders, cutting and sticking, entertaining the crowd or baking up a storm.
• One of our favourite handmade bits was the guest 'book'. We drew and photocopied a selection of loose activity sheets which prompted guests to describe their experience of the wedding, draw us a picture or tell us a funny story. We had a great time reading them over breakfast on our honeymoon; now we will get them bound into a book for posterity.
• But the most significant personal touch was the ceremony itself! We had a humanist ceremony in which every single word was personal, written for us by our lovely celebrant Christine Berrisford, after extensive discussions over cups of tea. We got a ceremony that told our story and truly represented our own thoughts about marriage.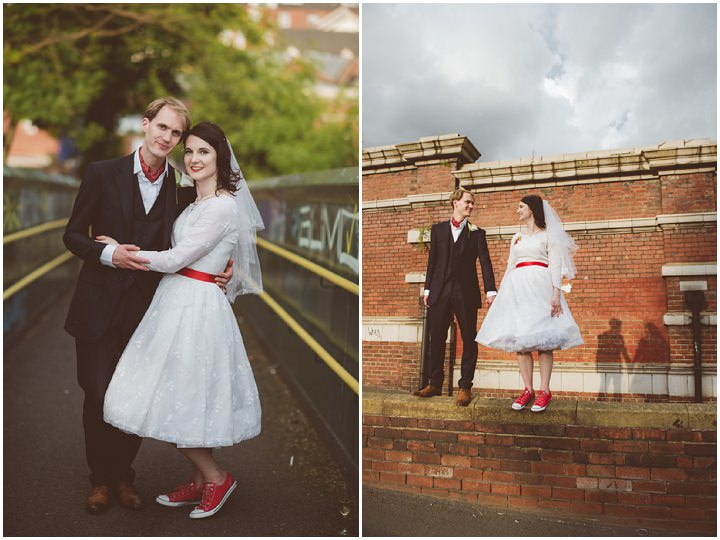 Special moments
Weirdly, some of our favourite moments came about from things going wrong! For instance, we hadn't done a trial run of the table layout and as we were sitting down to eat, we suddenly realised that people were so squashed together there was absolutely no room for the caterer to get in and serve the food! As all our guests looked over at us, nonplussed, we started to panic…
After a moment however, we realised that people were simply passing the platters of food down along each row of tables, leading to lots of laughs and people chatting to people they might otherwise never have spoken to. By the time we both jumped up ourselves to start passing down the fizz for toasts, we were wondering why we hadn't planned it that way all along…
Similarly, as the dancefloor reached its peak that night, the music suddenly cut out… the laptop that was serving as our 'decks' had suddenly decided it was time for a Windows update! No matter, our guests simply started singing along 'a capella' to the finish the song that should have been. It was a lovely moment.
Advice for other couples
Don't panic: even if the worst happens, sometimes it can turn into something great.
Don't sweat the small stuff: I guarantee that on your wedding day you won't notice those tiny details you spent months getting 'just so'; you'll be too busy having fun.
Biggest surprise
That our hodgepodge of ideas came together into something that really worked!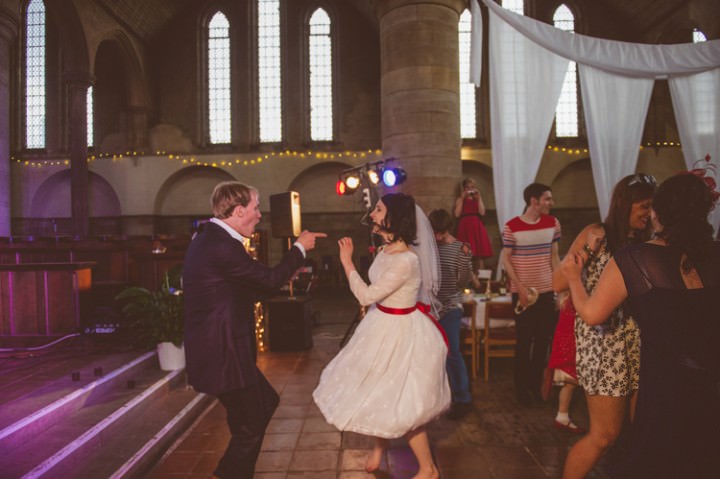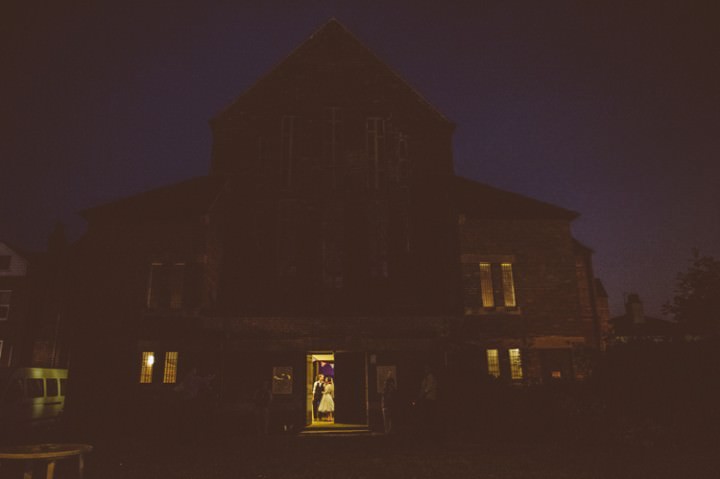 Supplier Shout Outs
For more information on Neil's work go to
www.neilthomasdouglas.com
www.neilthomasdouglas.com/blog
FACEBOOK