I have a fabulous new venue to talk to you about this afternoon; 'Peak District Farm Weddings'. This farm venue is perfect for the Boho Bride, set on a working farm, you get access to 4 acre's of land, onsite accommodation for 22 people as well as a wedding field perfect for any marquee, Tipi or Yurt! Set in the gorgeous Cheshire countryside, this venue is idea for the DIY bride or groom looking for a blank canvas to do what they want with!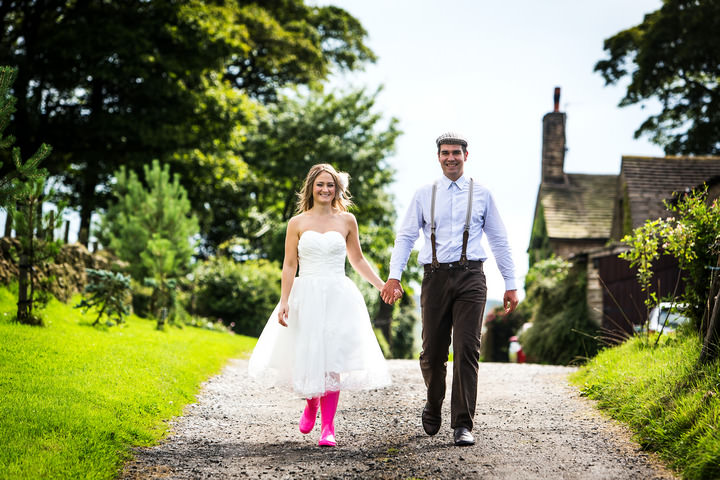 Jennifer from the farm is here to tell us more about it…….
'Our farm is the perfect wedding venue, set amidst rolling hills in Macclesfield, Cheshire.
Hire of our venue includes our 4 acre wedding field in addition to our 4* onsite accommodation sleeping up to 22 people. Our wedding field is perfect for marquees, tipi's, yurts, as well as glamping villages, and provides plenty of space for your guests to camp if they wish. Our onsite accommodation consists of two 4* self-catering cottages (Croft and Meadow) and 5 bed and breakfast rooms.
We offer exclusive use of our venue, as well as the flexibility to choose your own suppliers as we believe that your wedding should be personal to you. Our farm provides you with a blank, albeit beautiful canvas to make your wedding day truly unique. We do not restrict you to a pre-approved list of suppliers, nor do we charge you any corkage fees on alcohol.
Our venue also offers plenty of great photo opportunities, as we have a 'secret garden' complete with wishing well and wedding swing. Of course, we also have our fantastic views, as well as rustic stone walls and wooden gates that photograph well.
As we are a family run business we are able to provide you with a friendly, personal and professional service and I believe our location, flexibility and onsite accommodation make us stand out from the crowd.'
When did you start?
Taking bookings now for 2014 and 2015.
Where are you based?
In a small village called Rainow in Macclesfield, Cheshire.
What made you start your business?
My family has lived on the farm for over 50 years, and it is still a working farm – we have 800 sheep. In 2003 we converted our hay barns into two self-catering cottages (Croft and Meadow cottage) and 5 bed and breakfast rooms, all of which are graded 4 star. One B&B room is specifically adapted for disabled access. All rooms and cottages have free wi-fi access.
In 2012 we completed our third self-catering cottage, Cook Hill, (located just 2 minutes' drive from the farm) which was awarded a 5 star rating. Cook Hill has 4 bedrooms and can sleep 8 people.
We had not considered the potential of our farm as a wedding venue until we received our first enquiry for a wedding in June 2012, and then our second for a wedding in August 2013. This made us realize that people were looking for something unique for their wedding day, somewhere where they could create special memories and that family and friends would remember.
We therefore recently started advertising properly (in around August 2013) as a wedding venue and are taking booking for weddings for 2014/15 – therefore we still have availability for last minute bookings!
We are not currently licensed for civil ceremonies, therefore couples would need to do the official stuff at the local registry office (there is one in Macclesfield, but they could do it at any registry office), but they could consider having a blessing, hand binding or humanist ceremony at our venue afterwards. These are often a lot more personalized, and we can recommend experienced celebrants if necessary.
How would you describe your style?
Relaxed, unique, country, boho, festival weddings
What makes you different to your competitors?
Our stunning views, flexibility, as well as onsite accommodation
What do you enjoy most about your job?
Talking to brides about all their ideas and making them come to life!
What sort of couple do you think you attract?
A couple that wants to move away from a 'conveyor' belt style wedding and wants something unique and different. A couple who have specific ideas of what they want and want a 'DIY' wedding
Can you give me some information on your pricing structure?
We hold weddings at our farm between May and September, and due to logistics we can only hold one wedding per week – normally on a Saturday (other days could be accommodated)
Hire of our venue includes our 4 acre wedding field, as well as 1 night in our 5 B&B rooms and 3 nights in our 2 self-catering cottages – Croft Cottage and Meadow Cottage(fri – mon).
We include the accommodation in the price of hire as the wedding field is only around 150 metres away from our accommodation and so we wouldn't want the wedding to disturb other guests – or vice versa, other guests to disturb a wedding. Although we find that this isn't normally a problem as some wedding guests will want to stay the night somewhere close anyway, so our wedding venue is ideal. Also, it is extremely unusual for the bride and groom to pay for the guests accommodation, therefore it can be recharged to them if they wish.
Our new 5 star cottage, Cook Hill, can also be booked if needed, but as it is not onsite (it is 2 minutes' drive away) we do not include in our hire price.
We charge a flat fee for our field (rather than per guest), and the B&B and cottages are charged out at their normal cost (which varies depending upon the season)
We are currently offering £500 off for our first 10 bookings – our current prices are on our website.
Our prices are very reasonable and as we don't restrict brides and grooms to a pre-approved list of suppliers, they can keep better control of their budget and spend their money on what matters most to them – whether that be a tipi, hog roast, and an ice-cream van, or a traditional marquee and a 3 course meal.
We have an open day on Sunday 29th September 2013 from 11am – 3pm, along with a number of local suppliers.
Suppliers attending are as follows:
Fore more information on Peak District Farm go to
www.peakdistrictfarmweddings.co.uk
[email protected]
FACEBOOK 
@PDfarmweddings
07714793289