Today's vintage inspired wedding has been sent in by a Boho reader. I LOVE receiving weddings from readers of the Blog, especially when they are full of home-made and DIY details such as this one. Deborah, today's bride, really went to town with all the handmade elements of her wedding and has a pretty impressive list of personal touches that can be found further down in the bridal report! Thanks to Pja Photography for the images.
'A dream day filled with laughter and love. A day that passed so quickly but surpassed all our hopes for how wonderful it would be'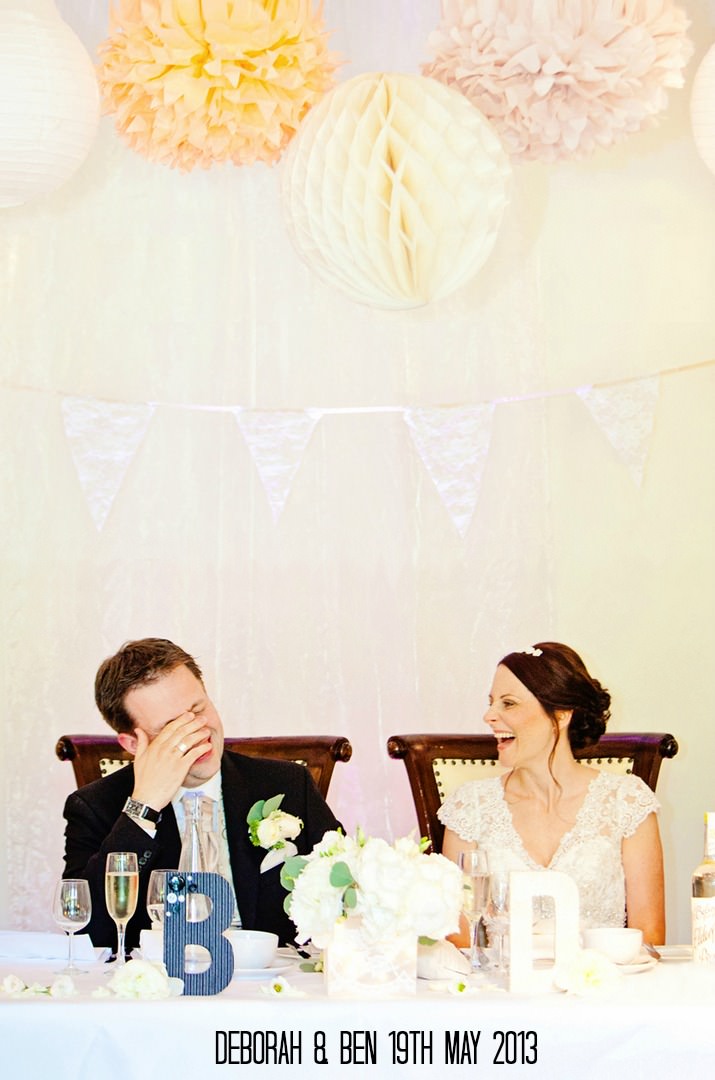 Deborah and Ben were married on 19th May 2013 at Woodhall Manor, Woodbridge with a Blessing at St Margaret's Church, Shottisham. 'We searched long and hard for a venue that had a lovely outdoor ceremony setting great reception spaces and accommodation. We also wanted a church on the grounds or nearby and Woodhall Manor not only ticked every box but we could picture our wedding there. We had a wedding blessing at the pretty St Margaret's Church the next day with only close family and friends.We had 75 days guests and 100 total in the evening. I had promised that I would just enjoy being engaged before I started planning the wedding but I just couldn't help it. I started finding bits at boot sales and antique fairs over 16 months before the wedding.'
How they met
Me and Ben met whilst working on a site specific theatre piece in an old bus depot in 2009. Not the most glamorous of places! I'm a Stage Manager and Ben is a Theatre Lighting Designer and we worked together for 6 weeks on this production. We had our first date by the sea in Aldeburgh and have been together nearly 4 years now.
The proposal
Ben had searched for months for the perfect engagement ring as he knew I would like something antique and pre-owned. I love the idea that jewellery has a history to it. He found the ring in August and waited so patiently as he wanted to propose once we were in our new home together. In November we finally moved into our house. Ben had always wanted to ask for my Dad's blessing and had called him a few days before.
I came home from work on Monday evening and he led me through to the living room to show me something, I presumed another patch of damp in our beautiful yet problem filled Victorian house, but instead I was greeted by a dark room full of candles. To this day neither me nor Ben can remember the exact words he said to me, he was so emotional and I was so shocked but I remember that he kneeled and produced a ring and asked me to marry him. I cried and said yes, and then asked if we could turn on the lights so I could see the ring properly! (Ben still maintains I asked this before I even said yes!)
It was the most beautiful antique ring with a central cushion cut diamond and stones either side on the band. We drank champagne and I rang almost my entire phonebook.
How did you choose your photographer?
When researching Woodhall Manor I had searched online for real wedding at the venue as I think it helps you see the venue from more angles. Paul's website came up with the most beautiful photos of weddings at the venue. His photos were vibrant, bright and always filled with such laughter. He also offered incredibly reasonable packages and with lots included. We also asked him to photograph the Wedding Blessing next day so we had a consistency in the photographs and because the Blessing was an extension of our wedding day for us. Paul was incredibly efficient and completely unobtrusive and lots of our guests commented on how good he was.
The dress
My dress was by an American company called Allure. I'd always known I wouldn't want strapless so I searched for a designer that made several styles of dresses with straps/sleeves. I tried on several others over the next few months and even bought a Vintage dress which I planned to have altered. In the end I passed Hilary B in Colchester and saw a dress in the window that I fell in love with. I tried it on and I knew.
It completely blew the budget but I felt so special in it. Hilary B were wonderful every step of the way.
My shoes were by Meadows Bridal as I wanted something quite low and I hand decorated them myself with pearls. I make bridal headbands and headpieces and sell them on Etsy so I knew I would make my own headpiece. It was lace applique, hand beaded with pearls and crystals and embroidered with gold thread to match my dress and simply pinned into my hair.
My blessing dress was by Dessy and I wore my mum's guipure daisy lace jacket that she wore on her wedding day that had been made originally by my grandmother.
The suit and bridesmaids
Ben's suit and all the suits came from Moss Bros. The ability for each person to try on in their local shop worked perfectly for friends and family who live so far away and he had always wanted traditional morning dress.
The bridesmaid's dresses were Kaliko. I found them in the summer sale a year before the wedding and loved them. We bought an extra dress to make sleeves and the lovely wardrobe mistress Mary from the theatre where I work altered them all to fit and gave one dress a cap sleeve and another a long sleeve to hide a tattoo. They all looked stunning.
I made their necklaces and bracelets myself which featured a rose and pearls and gave them as gifts on the day along with a vintage beaded bag, each one chosen to suit them for them to use in the evening.
Theme or colour scheme
Me and Ben don't really have a favourite colour so we went for a neutral palette of peach, blush pink and pale caramel. Our theme was pearls, lace and light and this ran through many of the diy elements we made.
Decoration
We had paper lanterns and tissue pom poms which were suspended above the top table. We also had silks that hung across the wedding breakfast room and were up lit with colours. I'd made lengths of ribbon and lace bunting and was strung behind the top table and in the foyer.
Ben and his Best Men were tasked with the setting up all the decorations, lights, silks, tables and foyer. I know he was quite nervous about getting everything the way I imagined it, but armed with lists and diagrams he and his helpers did the most wonderful job and I was so proud of everything he did on the day.
Our cake had a special topper made by the lovely Kate from Little You. We even had Eddie our little dog at our feet. She got my dress absolutely right
Flowers
Our flowers were one of my favourite elements of the day. I met Nicola from Mooi flowers at a wedding fair. I had a stand for my jewellery and she was next door. We chatted all day and her flowers. We wanted a mix of flowers including hydrangeas, roses and peonies and a palette of white, cream, pink and peach. Our top table displays were lace covered acrylic cubes that I had made and fitted with fairy lights inside. Nicola created a stunning display in each and scattered flowers and petals along the table too. Our guest tables featured smaller versions of these cubes on either side of our illuminated lace lantern centrepieces.
The bouquets were a mix of roses, peonies and my bouquet had astilbe too.
Food
We chose a gorgeous starter of butternut squash risotto or red pepper soup. For the main guests enjoyed stuffed chicken with a yummy sauce or a tasty roasted veg gateaux and for dessert we had a trio of mini puddings; chocolate brownie, vanilla panacotta and exotic fruit salad.
Our cake was three flavours; spiced carrot, lemon and blueberry and vanilla sponge with strawberry jam and was cut and eaten in the evening.
Entertainment
We chose our own music for the ceremony. I entered to a piano version of Coldplay's Fix You, Ben's favourite song. And we exited to a piano version of One Direction's What Makes You Beautiful which not many people will have recognised from this version but was our own little private joke and made us laugh.
We had a band in the evening The Buzzlightweights. They were outstanding. They had everyone dancing and even got some of the wedding party and guests up to sing with them. They played Dire Straits Romeo and Juliet for me to dance to with my dad which was one of my favourite moments of the day.
Later in the night we had fireworks. A friend of mine works for a firework company and offered to work that evening for free to save us money and gave us the most amazing display. All of our guests, especially my mum were wowed.
Personal or handmade touches
I always knew I wanted to make quite a lot of the elements as my job in theatre is very creative and I'm someone who likes to be crafty and diy. As one project finished I thought of more and more and in the end I had very few weekends free in the months before the wedding but I wouldn't change it for the world and I was so pleased with how everything turned out.
• We chose a vintage postcard style for our Save the Date and photographed me, Ben and Eddie in the garden in vintage garb and turned it into an old fashioned postcard with our wedding details on the reverse. We used the same design for our evening invites too
• Our day invites were made using intricate paper doilies to echo the lace theme and were bright white laid over ivory. Each invite was hand embellished with pearls and tied with ribbon in a light caramel colour. We had bought a clever corner punch which we used to detail the corners of our menu's, rsvp and other inserts, which although time consuming looked wonderful and was the best £5 we spent.
• We used the punch again to create little name tags that tied on to the front two rows of chairs at our ceremony.
• Our guest book used the vintage postcard idea from our Save The Date and featured a photo of every guest. They hung in the huge frame made in the Theatre Workshop on lace ribbon held by tiny pegs decorated with pearls and crystals. Guests found their photo and slotted it into the guest book and wrote us a message next to it.
• We decided to have a sweet table after I found 6 jars in a charity shop. We had small striped bags stamped with a custom stamp we bought online, which said our names and the date of the wedding. We decorated the lids with a lace pattern made by stretching lace over and spray painting them. An effect we also used on all the big gift boxes that we gave bridesmaids and the mum's gifts in, big enough to keep as keepsake boxes.
• Inside the mum's boxes were candles identical to the ones on the top table, a handmade piece of jewellery and a photo frame with a peach lace design that I'd found in Laura Ashley and couldn't believe how perfect they were.
• We collected vintage mismatched photo frames for months and months, from boot sales and charity shops. We sprayed some white and dusted with gold and used them to hold our menus. Others we painted pastel shades of pink, peach and beige and displayed photos of our Bridal party and our parents and grandparents on their wedding days when guests arrived.
• Light was a huge element of our wedding day as my husband is a Lighting Designer. We had fairy lights in almost everything. Our card box had a lace covered window through which lights shone. Each lantern was made from polycarbonate and covered in lace whilst the bases were decorated with pearls. Inside the fairy lights gave each table a soft glow of pinks, peaches and yellows. Our table plan also had lights behind it to illuminate each coloured table name through lace and held in a huge vintage frame I found at a boot sale.
• Our table number holders were created out of plastic to replicate what a theatre lighting gel frame looks like, holding each tables colour and number written in chalk and each one decorated with scrolls and pearls.
• Pearls were a huge theme too and I must have glued over 4000 in total. Tables were scattered with pearls and handmade confetti made by punching heart shapes from the gel colours was used too.
• Our top table had illuminated lace cubes filled with flowers and B and D letters decorated by us.
• We had large steel candle lanterns outside which I had bought from the high street and lined the windows with lace so the pattern shone out at night.
• Our ceremony bay trees that stood at the start of the aisle were bought and decorated with pearls and fairy lights and stood in lovely white lace effect pots from Ikea.
• We made small confetti cones from paper doily's and me and my mum filled them the day before the wedding, lining a vintage wooden tray we had rescued from a friends shed and cleaned up.
• We wanted a favour that would be a keepsake of our wedding so we handmade keying's using resin. The ladies oval shape contained lace from our lanterns and pearls and hung on ribbon and the men's rectangle shaped one contained lighting gel from the lanterns. The favours were inside an ivory envelope decorated with white doily detail and inside were a card which detailed in photos how each one had been made and a special message on the reverse.
• We used the resin to hand make the best men and the dads cufflinks too featuring tiny bits of embedded gel.
• To keep the kids occupied we made kids packs with personalised activity books, colouring pencils, bubbles and mini pots of playdoh with a picture tick list of things to make. We also had giant jenga and croquet that we had bought to keep them occupied outside.
Special moments
• Our little dog Eddie was a special ring bearer at the ceremony. It was a complete surprise to me and he had a special little morning coat. It reduced me to tears and was a great moment in the ceremony.
• The speeches were also a highlight, my dad did such a wonderful job and got lots of laughs and some tears and Ben's was so well written and made me so proud.
• The best men were absolute stars all day. They ran around doing so much behind the scenes and always made sure I had a drink in my hand so many thanks to them.
• So many people from the theatre helped make things or helped on the day and we couldn't have done it without them too.
• I also loved the ducks at Woodhall who wandered all around the venue and became honorary guests for the day, appearing in several wedding photos.
Advice
Don't be afraid to make things yourself but give yourself plenty time. Work to your strengths – I made all the crafty elements whereas Ben made all the graphic designed details.
A lot of people told me not to fret about the details but they were the parts that mattered to me so I chose to spend time on them. You should focus on the things that matter to you – it's your day after all.
Enjoy it! All of it, the planning, the making and the day itself. And it is true what they say it flies past so fast so soak as much of it up as you can.
Biggest surprise
The weather! We had worried about the weather a lot as we wanted an outdoor ceremony. We became obsesses with looking at the BBC Weather app. A few days before it was forecast to rain on the day and we had visited the venue and worked out how the day would run if it was all indoors.
But the sun shone and it was the most beautiful of days and couldn't have wished for better.
Supplier shout Outs
For more information on Payne's work go to
www.pjaphotography.com
www.pjaphotography.com/recentshoots
[email protected]
FACEBOOK 
@pjaphotography
07873593480
Pja Photography is a boutique wedding and portrait studio driven to success by multi award winning photographer Paul Armes. Pauls unobtrusive 'Photojournalistic style is blended with a fine selection of relaxed, modern group photographs to produce natural romantic shots for his bespoke designed storybook albums. For more information please visit the website.
Due to an email issue if you have emailed me between the 2nd & 9th of December, please resend it.
X