Today's wedding may be THE most fun wedding I have featured on the Blog. I don't think I have ever seen so many smiles in one wedding, EVERYONE is having so much fun! I love to see a smiling bride and Tara is certainly one of the most smiley brides this blog has ever seen! As I was looking though the photos I wanted to be a guest at the wedding! Why so good? Well when you put together outdoor dancing with hay bales,  sunshine, a rodeo bull, fish & chips, candy floss, wedding popcorn, Chinese lanterns, pizza, an ice cream van, a super fun photo booth and an amazing first dance, well that is what you call a FUN wedding!  Massive thanks to Kirsty at This and That Photography for the photos.
'A fabulous festival wedding day full of friends, family, sunshine, rodeo bulls, fish & chips, candy floss, popcorn, Chinese lanterns, pizza, ice cream van and last by no means least marrying my best friend and soul mate and sharing the love we have with everyone'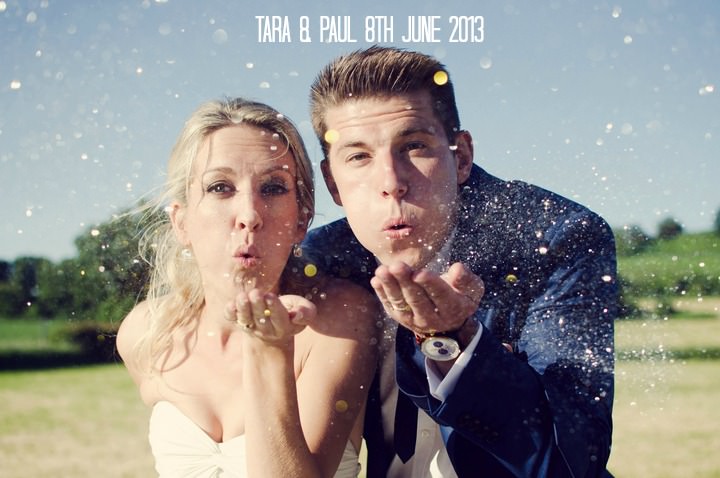 Tara and Paul who were married on 8th June at St Lawrence Church, Salisbury and the Reception was held in a privately owned field in Stratford-sub-castle, Salisbury, Wiltshire. 'We live about a 3 mins walk from the church, it is our village church and it is the church we held my fathers service in, 2 years ago when he unfortunately passed away, so it holds a very special place in my heart. Also 2 of my cousins have married there previously. The field is owned by my uncle who lives next door to us and it was always our dream to have a 'festival wedding' so we couldn't get much better location. We had 134 guests and it took just 5 months to plan.'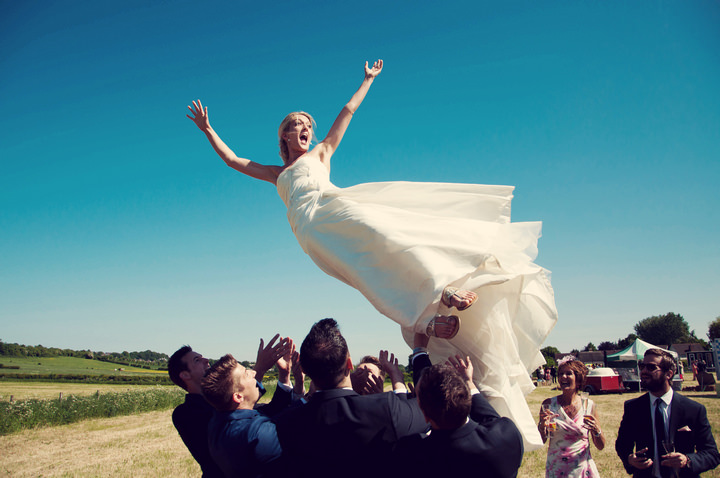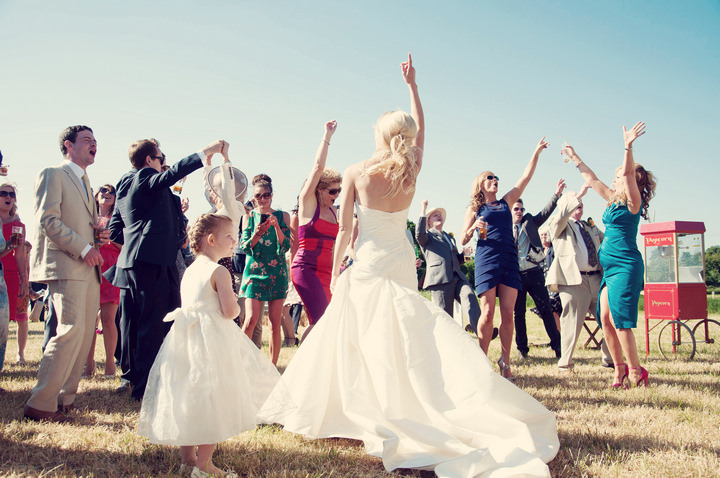 How they met
We met through a friend from college (my husband is her younger brother!) so we have known each other for about 12 years and as he said is his speech – he's been in love with me since he first saw me – he just played the 'long game'
The proposal
Paul surprised me with the holiday of a lifetime for my Christmas present (2011) and took me to Las Vegas in February 2012. I had no idea of his big plans, I promise you. We were there for a week and it was on day 3 of our trip that the 'Big proposal day' was upon me. He had planned EVERYTHING! The day was a very relaxed affair, walking up and down the Vegas strip, taking in the sites, going on a rollercoaster, placing a few bets (and winning big!). Onto the evening…he has pre ordered a table for us in the Eiffel Tower in 'Paris' where we were treated to an extraordinary meal whilst sipping on champagne and then afterwards we went to a to watch a show called 'This is Vegas'. After the show we bumped into David Haye and later on he told me seeing him gave him the encouragement to do the proposal that evening! So after the show we went to watch the fountain display at The Bellagio – truly fantastic. We had been there for about 3 minutes when I felt his arms go around my waist and he slowing turned me round and there he was in a beautiful suit, on one knee and he asked me to marry him. I burst into tears, hugged him and screamed YES!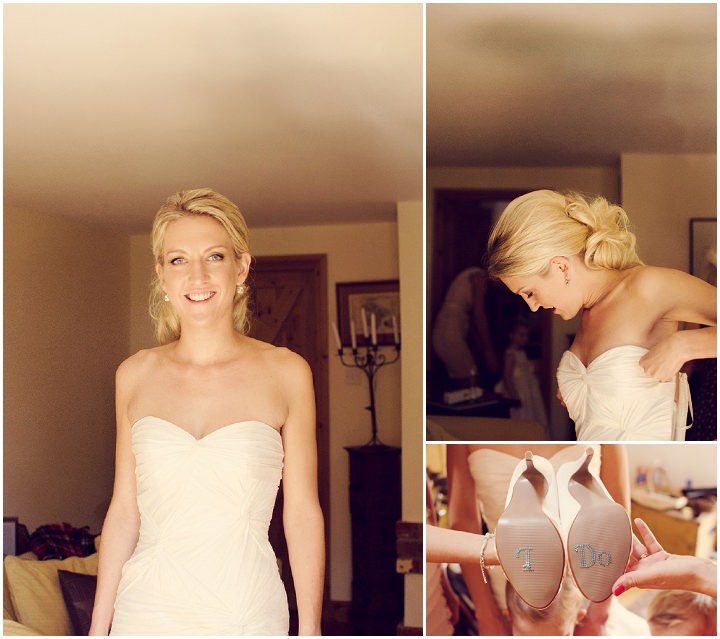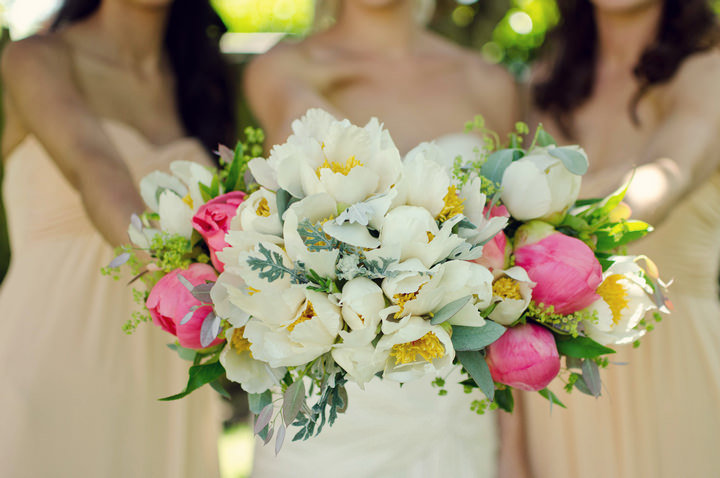 Why did you choose your photographer?
I met her through a mutual friend and she is truly fantastic! I couldn't have wished or hoped for more. Kristy's laid back approach is one of the main reasons we chose her. After looking on the website and seeing previous weddings she had done – we new this is what we wanted and therefore they were the people needed for the job! From the very first moment we spoke to Kirsty and indeed met her, we knew we had made the right choice and we knew that every shot would be one that we would love and cherish. Her dedication to getting 'the shot' is phenomenal – she gets herself into positions you wouldn't even think possible. At one point of the wedding when we were on the dance floor, we were rocking to Tina Turner 'Rolling on a River' and the next thing we knew Kirsty was on the floor – taking an 'up shot! Unbelievable. Also another massive plus to this photographer (and this is meant in a very nice way – but you don't even know she's there) she fits into the background and is a wonderful part of the wedding day, smiling, professional and an absolute pleasure to work with, she's never intrusive (we even had to order her to eat breakfast with us!) When we got our photographs back she blew us away – with over 1000 shots! I've looked over them about 20 times and she only sent the link through yesterday! Anyone who hires her is privileged to have her services and skill!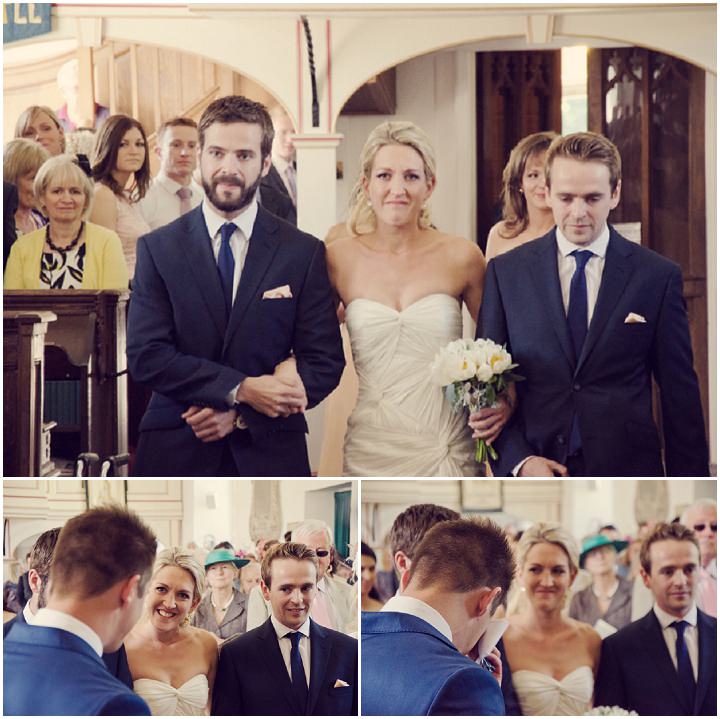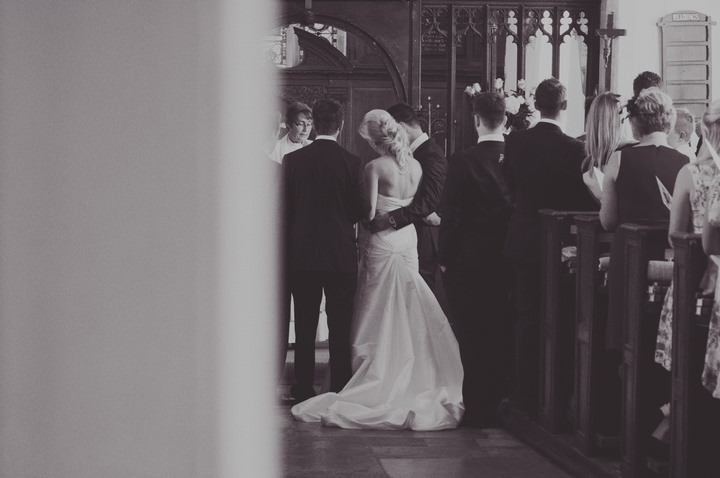 The dress
Dress was from: Pronovias
Accessories: Swarovski Earrings
Shoes: Debenhams
The suit and bridesmaids
Suit: Was from a tailors called Slaters in Basingstoke and the bridesmaid dresses were from Missguided
Theme or colour scheme
The theme was 'Relaxed, Festival, Fun' and the colour scheme was peaches, navy blues and coral
Decoration
The flowers were on each table alongside peoples fish & chip menus. We had a sweet bar to enter the marquee with 2 wedding cakes!

Food
Canapés to start with (which an amazing friend did as a wedding gift!). The Main meal was Fish & Chips with Ice cream for pudding, followed by pizza in the evening.
Entertainment
Live band for when we entered the field – playing for 2 ½ hours and then a DJ in the evening. We also left the church, rocking down the aisle to 'Love Train by The O'Jays! – Fabulous!
Flowers
Peonies, Roses, Stock, Alchemilla and Foliages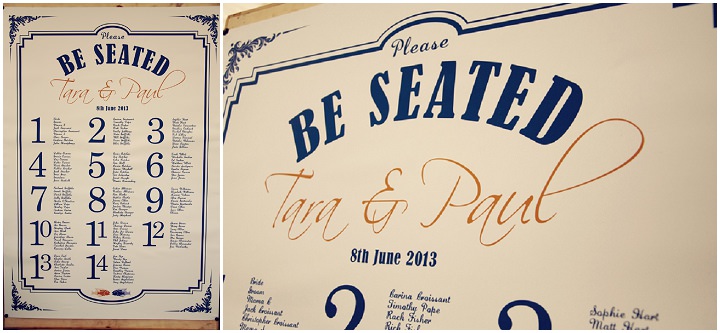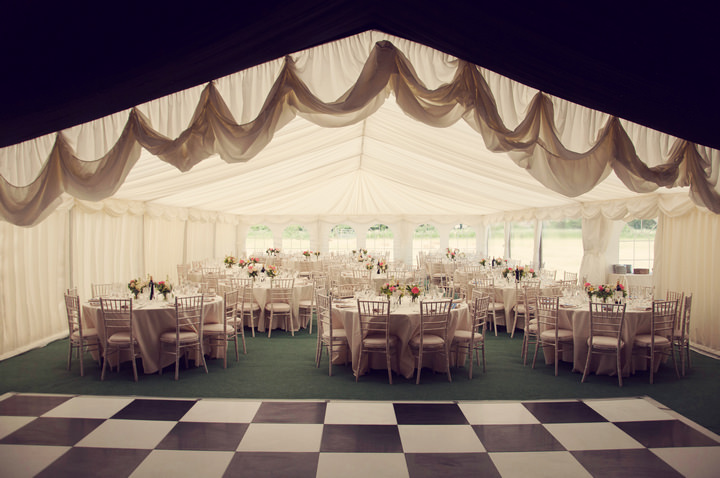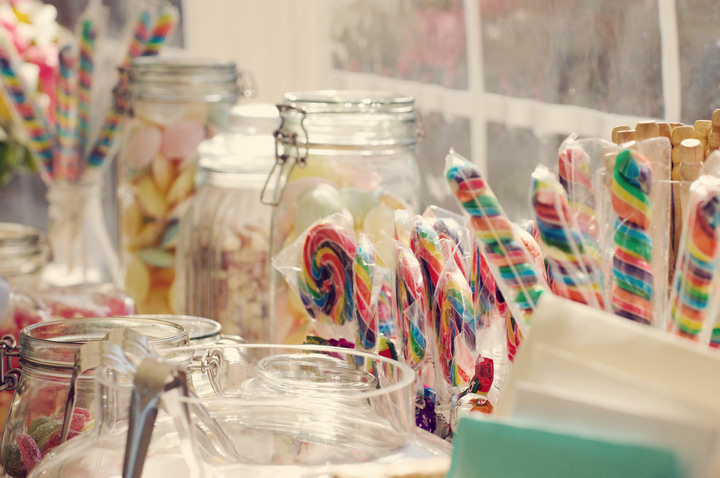 Personal / DIY touches
• We designed the field as we wanted too. Creating a lantern and straw bail entrance.
• We had a 'self service' bar made from metal buckets, troughs, filled with lots of ice and drink. We then made 'bottle opening stations'.
• All the inviations, save the dates, order of services were drawn by one of my best friends and one of the bridesmaid. We wanted to keep within the theme of the day and had cartoon illustrations.
• The make up was all done by myself.
• We made a fire pit area.
• We laid all the tables and designed them ourselves.
• All of the food and drink was organised by ourselves and chosen by ourselves
• We then continued the 'party' the following day with a hog roast and bouncy castle in the field!
Special moments
Quite honestly – how brilliant and fun it all was.It was everything and more than we could have wished for and wanted and everything just turned out perfectly. I loved riding the rodeo bull, being thrown up in the air by the ushers and dancing my heart out with my husband to some fantastic music, with all our friends and family around us.
Advice
The only advice I would give is make sure you do what the two of you want. Make it feel like 'you' as you two are as a couple and have the most amazing fun with all of it. Don't get stressed…its the most amazing day. If things don't work out – who else is going to know and who cares?! If they are all your friends and family and there's food & drink – everything is fine!
Biggest surprise
A beautiful bunch of flowers being delivered to the house by Paul, how well it all turned out and seeing him waiting at the end of the aisle with the biggest smile on his face when he saw me walk in.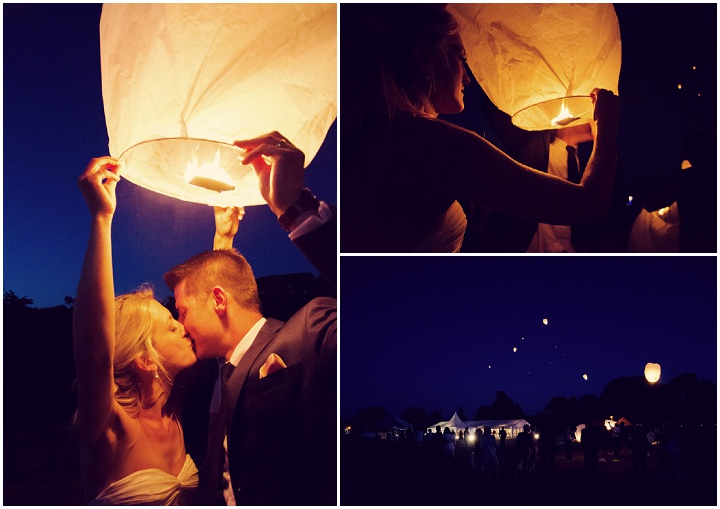 Supplier Shout Outs
For more information on Kirsty's work go to
http://thisandthatphotography.co.uk/
http://thisandthatphotography.co.uk/recent-stories
FACEBOOK
@ttp_photography