Today's wedding sees us visit the rolling hills of South Wales as Christopher Ian shows us some stunning scenery in this gorgeous farm wedding. The couple kept the day relaxed and chilled out with a Festival theme and hand fasting ceremony. Tractor rides for the bride and bridesmaids as well as vintage tea sets and lots of pretty decoration makes this wedding a beauty!
'We knew we wanted a wedding that would represent who we are and equally as important an environment in which our friends and family could celebrate with us and feel completely relaxed and comfortable.'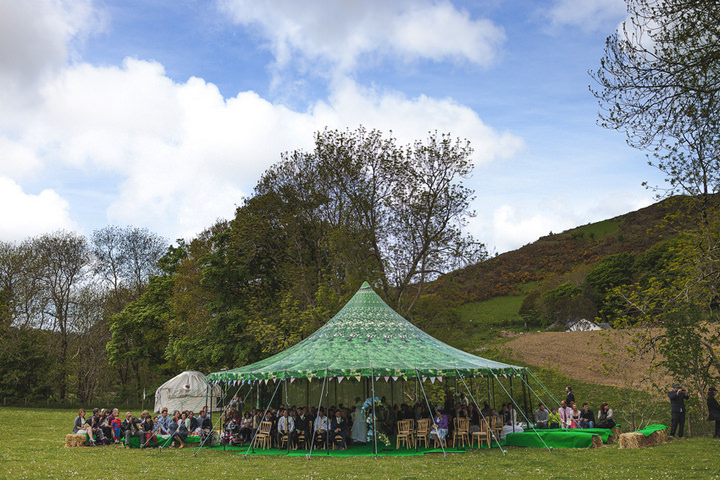 Rachel and Ben were married on 1st June at  at Moelgolomen Farm in gorgeous setting of Ceredigion South Wales.'The Saturday was like a mini festival in one field; we had a wedding marquee which was really fun with the canvas printed with trees! Here we had a hand-fasting ceremony among our friends and family and were luckily not restricted by space! . Everyone camped in the top end of the field and Ben and I had a beautiful yurt for our wedding night overlooking the little river, secretly decorated by some family and friends. The weather was stunning for the whole weekend which of course really helped!'
The Planning
The planning was something I tinkered away with for months; we quietly got legally married in the registry office in town the Wednesday before, but really kept the main focus on the Saturday.
The Food
We wanted the food to be local and as organic as possible, and so a shop/restaurant in town, the Tree House agreed to cook up a feast. We worked together on ideas, and were able to cook organic lamb from the farm itself on fire-pits and have a number of options that suited everyone, no need to pre-order! The food was a huge success and the Tree House told us after there was almost nothing left over!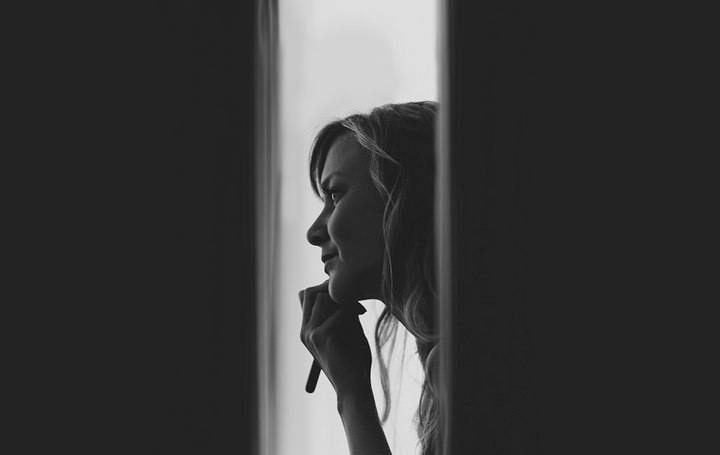 Theme or colour scheme
We didn't really have a theme and I think that whole idea is overrated and actually quite restrictive. I found that as everything came together it had it's own feel, or theme. We had a lot of wild flowers which happened to have lots of pale yellow going on. The bridesmaids wore lemon yellow dresses and in hindsight this possible became our theme, but I believe this came really naturally and so for those worrying about which theme to go with, don't panic it's just the result of all your other ideas.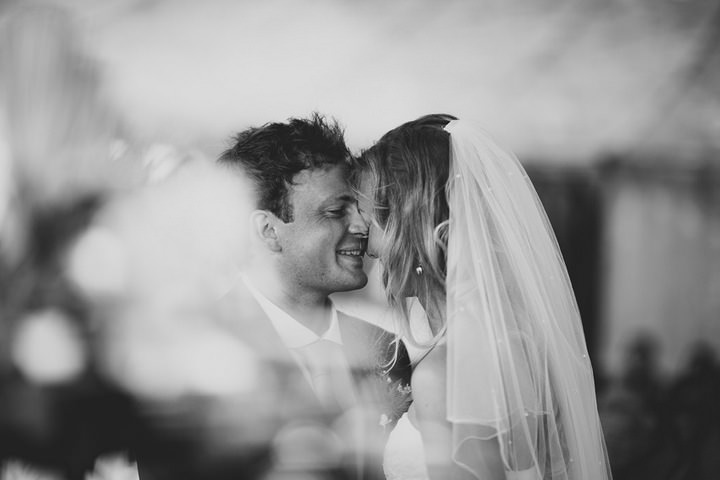 Flowers and Decoration
The reception marquee was huge and busily decorated inside with heaps of bunting, lanterns, flowers and lights. Our center-pieces for the tables were drift-wood structures we both made over the months preceding the big day, my mum who is incredible with flowers filled them with wild-looking arrangements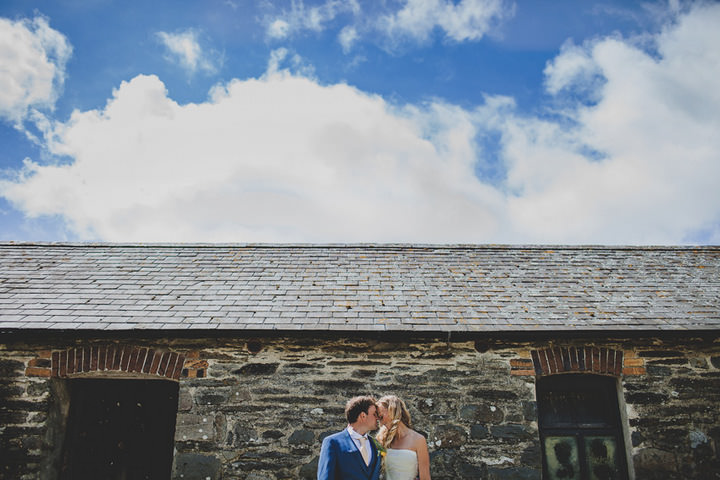 Special Moments
I felt as a bride one of the most important parts of the big day is the time you spend with your girls getting ready. It's such a valuable time to capture, and having already gotten to know Chris, during the pre-engagement shoot, I felt totally comfortable with him being all over the house that morning. To be honest it was like he was one of the girls (no offence Chris), they all knew I was totally comfortable with him being around while we were doing our hair and make-up, and so were they. We all had a really lovely morning and it was actually really fun, I now have this to cherish forever!
Advice
My one piece of advice if you are trying to keep to a budget: a great way to save on the cost of alcohol is a 'Home Brew Competition'. Everyone brought an entry and we had a designated table with lots of different little tasting glasses. Everyone was invited to taste each other's throughout the evening, put a vote in the box and at a certain time, the winner was announced. This was a brilliant way for people to meet and have something fun to chat about and share. They also felt invested in some way which added to the enjoyment. We still provided wine for the tables but had lots of ales and ciders which were available in casks left over. Bonkers but fun!

For more information on Christopher's work go to
www.christopherian.co.uk
[email protected]
FACEBOOK
@Chris_Ian_Photo
07929671925