Today on Diary of  a Boho Bride it's Becki's penultimate Blog Post as her wedding is in just 1 month! With only a month to go Becki's to do list is growing ever longer, as I'm sure every brides does! But as Becki says if you don't think you'll have time to do something just scrub it off the list. Wedding DIY is great, but don't let it consume you and don't let it ruin the planning process as it's meant to be fun!
Last time Becki shared with us her love shoot with Paul and Kelly, from Paul Joseph Photography. Today it is all about the Hen do, DIY and her dress.
The Hens, The Dress & the DIY…..Oh My!
I always seem to start my posts with an oh my gosh, how fast is it going?? But I am trying to forget about the countdown, as much as my non-stop wedding brain will allow me to anyway, and concentrate on the things that are important and are still on my to do list.
You know the one… THE LIST!
The one that brides have ingrained in their mind 24/7.
The one you run through every night in bed at least twice before trying to go to sleep.
The one that your fiancé seems to forget at least two thirds of, even though you reminded him about it all yesterday!
And any DIY bride will know how much we ourselves are to blame for adding to that very list.
THE DIY
My wedding mantra so far has been "ooh that's a great idea, can we make it?" Well this has resulted in a lot of trial & error, a lot of stress, far more happiness and satisfaction, but at this point now with only a month to go, the new mantra is "if it's not made already then it may not get done" A concept so strange to me that it almost feels unnatural, but also quite liberating at the same time!
So here's a few sneaky peak pictures of what I've got up to in the quest to complete a few diy tasks from the list.. with a promise that once the dust has settled and we return to normal life again I will provide tutorials for some of the things I've created.
LONDON BABY (The Hen Do!!)
I knew from very early on that I wanted to go to London for my hen do with just my 3 bridesmaids, who are my oldest friends from school and to go see a show at the theatre. With not a willy straw or a flashing veil in sight, my girls did me proud!!
So we headed off to London on the train very early on the Thursday morning, surrounded by business people in a fairly quiet carriage and being the sophisticated young ladies that we are, we behaved reasonably well actually! Or did we?
There may have been three spillages of champagne over the same bridesmaids lap, there may have been inappropriate games of truth with a few raised eyebrows from the business man to the side of us, seeing as it was only 9am! There may have been plastic fantastic bride to be sunglasses which Elton John would have died for, but of course I can't confirm or deny any of this behaviour!!
There definitely was a gorgeous memory box, a hand painted champagne glass created by my lovely bridesmaid Sammie, a bespoke Bride necklace made by the lovely Miss Cake, chocolate covered strawberries and champagne flavour cupcakes and that was just the train ride down!!
We had booked a full day for when we arrived so we dropped off our bags at the hotel and then headed off on the tube to Hamleys toy store with one mission in mind.. we had to get a Hamley's giraffe for my very cute little page boy Lucas who is my bridesmaid Emma's, 7 month old baby boy.
Mission complete! Just look at his face, he truly is the most happy smiley baby in the entire world!!
Then we arrived at the Below Zero Ice Bar which is as the title suggests, a bar made out of ice! Something none of us girls had ever done before. You get a cocktail of your choice served in a glass made from a block of ice!
Just look at my girls in the wonderful pointy hooded coats trying to keep warm, like ice queens or what!!
We had booked a theatre ticket and restaurant package for that night so we had a lovely meal at BBar on Buckingham Palace Road no less which is an African themed restaurant with gorgeous plush leather seating and animal print everywhere. Then we arrived at the Apollo Theatre to see the show Wicked which I've wanted to go see for such a long time and it absolutely blew us all away! When they sang Defying Gravity I nearly cried, I'm a sucker for musicals!!
The next day we were heading for Camden Market, which again is somewhere I have never been before but I definitely intend to come back as it's such a diverse mix of cultures, flavours and crafts that I want to go again to try soak it all in a little more. So with a few purchases made at the market we then set off to the secret location number 1. Something the girls took great pleasure in because they know I normally have to try work out secrets or surprises, but all I knew was that I wouldn't be embarrassed by it and it was very me! Hmm….
I was following the girls out of the tube station and then all of a sudden they took a sharp left into the huge department store that is Harrods.. sneaky! At this point I'm thinking this could be expensive, they do know I have a wedding to pay for don't they?
And the surprise was lunch at The Disney Café in Harrods! I was so surprised as I didn't know it even existed and it was so lovely. Obviously meant as a nice treat for children with the clock tower in the middle and they play Disney music on the hour, but as the girl who is going to Disneyworld on her honeymoon it was totally me and I loved it so much I nearly cried again!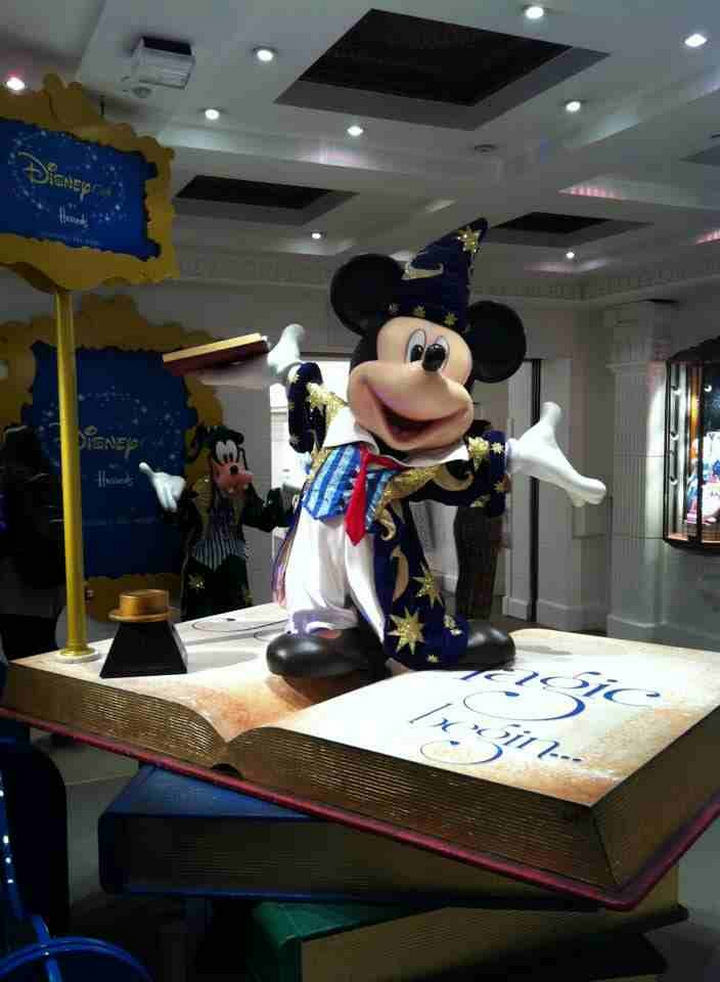 We had a gorgeous meal at Blackhouse Bar and grill with complimentary Prosecco, wonderful food followed by wine and cocktails! In fact I requested a cocktail which was not on the menu called the Breakfast Martini which to me is lemon heaven and they thankfully obliged but had to go out to buy a vital ingredient in order to make it for me! Diva!! Oh well you're only a hen once aren't you.
And you can't go to London without a flying visit to Buckingham Palace can you? Changing of the guards and gift shop done and then it was time to get the train home.
As far as celebrity spotting in London, I think we failed on that front. Apart from Ben Freeman of Emmerdale fame being in Wicked, the only other potential celeb we saw was Jack Tweed getting off of the train at Wakefield on the way home so it doesn't count really does it!?
I want to say a massive thank you to my girls for all they did to make my hen do such an amazing trip. I had such a great time and they did an amazing job with surprises for me. Love you very much girls xx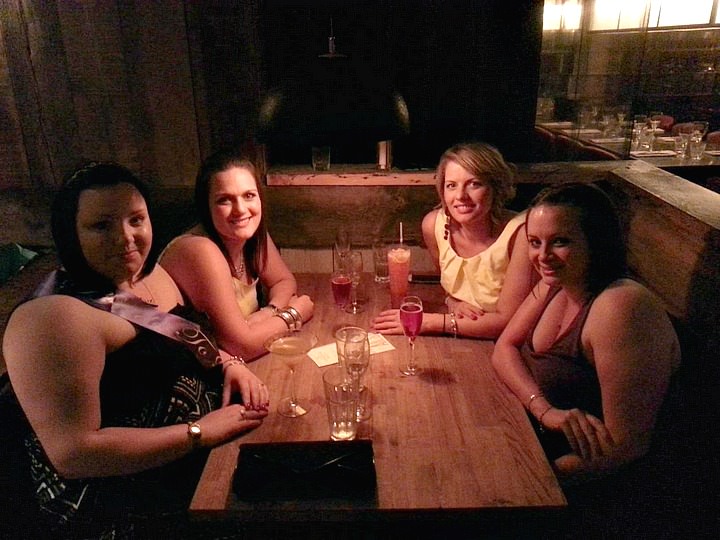 THE DRESS…
I've not really talked much about the dress so far because I really don't want to give anything away, but I really need to share now because I've just had my second dress fitting this week and I'm literally over the moon excited about it!
After visiting a few different bridal boutiques last year I finally chose my dress in October, then after not seeing it for nearly 8 months I'd started to forget how I actually looked and felt in it and trying to buy accessories and shoes to go with it was starting to worry me.
So I have managed to buy 4 very different pairs of shoes (two in the Next sale so mega cheap honest!) and 2 different necklaces and whilst not being sure that anything I'd bought would indeed go with the dress.
The reason it was so hard was because of the colour of the dress, whilst it's not completely an alternative shade for a wedding dress, it sort of is and that's about as much as I can tell you right now without giving it completely away.
But after a few alterations I went back on Tuesday to try it on again and it literally is the most perfect dress for me. It's everything I ever imagined it to be!
There are so many blog posts and bride diaries which have provided lots of absolutely wonderful advice on trying on and choosing your wedding dress so if I can add to those in any way what I would say is this..
Choosing Your Wedding Dress Advice……..
From the very first moment of starting to talk wedding dresses with my mum, I knew we both had very different visions of what my wedding dress should be like. For that reason I went to my first bridal dress appointment completely on my own and I would seriously recommend it to anyone. I was able to just concentrate purely on what I liked and didn't like about the different styles of dresses without anyone's opinion to cloud my judgement and that sounds really harsh but I was able to try on so many more dresses in that time frame than I would have if anyone was there with me.
Secondly, don't be afraid to stick to your guns on the style you prefer, even when you think you might be running out of choices. I think my mum and most of the sales assistants preferred me in the more blingy dresses whereas I felt as though I was playing dress up in them.
The dress I chose was not one that the sales assistant picked out for me. It was hung on the rail between two other dresses and even seeing it from the side it just stood out to me so I pulled it out to see more of it and it was literally exactly everything that I had described that I wanted. If I hadn't have spotted it I don't think the sales assistant would have even shown it to me, but as soon as I put it on they all commented that the colour and shape was perfect for me and I felt amazing in it.
So there we have it with one month to go there is still lots to do. Hair and Makeup trial is next, bridesmaid dress fittings and final last minute preparations.
Oh and is anyone else like me in as far as I keep forgetting that the need to pack for a two week honeymoon in the midst of all this?? At this rate I shall be turning up at Manchester Airport with the contents of my handbag and a toothbrush if I even remember it!!
Lots of "it'll be reet" love,
Becki xx
If you want to be the next Boho Bride or Groom I am now taking applications. Share your wedding plans with the Boho Readers and see your self up on the yellow gingham pages of the Blog. More information on how to apply is here 

www.boho-weddings.com/2013/07/05/diary-of-a-boho-bride-needs-you