Today we are back with our lovely couple Jo and Nick on Diary of a Boho Bride and Groom and sadly its' their last diary entry before their wedding in 2 weeks time. I have really enjoyed having them both on the blog and it has been wonderful having them on as a couple, sharing both of their points of views, not just the brides! So for now it is bye bye, but they will be back in a few weeks with their bridal report, sharing with us the story of their day. They have also promised to pop back in a few months to discuss how thing are getting on from the married side!
Today they are giving us their final thoughts and a bit of a reflection on the whole planning process and how they have found it.  I really do wish them all the best and I'm sure they will have an absolutely cracking wedding!
JO: Happy Friday to you all! 2 weeks today I have a funny feeling I will be running around like a headless chicken making sure that everything is ready and in its place all ready for our wedding the following day! I know it's been said time and time again but it is just so surreal how quickly the time has gone and I can't believe we are now writing our final pre-marriage blog. Both Nick and I have loved writing for Boho and it has definitely added a unique twist to our wedding planning and the way we have thought about the day we are planning.
NICK: It's true that blogging has been such a cool experience (even if I have been getting stick from some of the lads). It's made me realise just how much I have been involved with the planning and hopefully it will make the next two weeks less stressful as both me and Jo know exactly what needs doing by when and by whom. That being said, I am getting very jittery every time I think about the speech. I hope Jo's Nan will forgive me if I accidentally let slip a few swear words, it will be the champagnes fault, the bubbles will go straight to my head.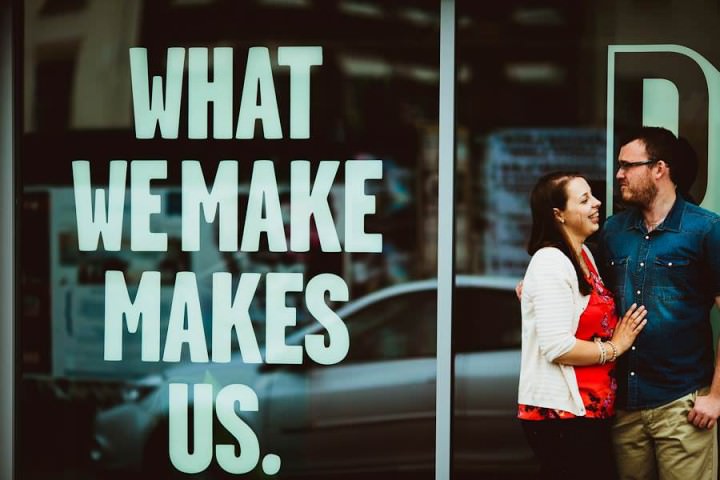 JO: Except for a few minor issues, I have loved every minute of planning the wedding with Nick. It has proved to me how strong our relationship is and has strengthened it even further. We have grown from a couple who didn't speak for two days after arguing about whether to have curry or fish and chips for tea (honestly, true story), to being able to sit down together, have discussions and make decisions about what will be the biggest day of our relationship so far. Nick's reined me in when I've got over excited about colours, shoes and decorations but has assured me that everything will be fine when I've been in emotional meltdown and everything has got a bit too much. He has also earned major brownie points by fulfilling my little girl wedding dream and making sure that I will be walking down the aisle to the live music of a string quartet. Good work Nick.
NICK: Jo is giving herself a disservice. I expected many a tantrum, a handful of breakdowns, and a couple more arguments over what to have for tea. I had fully prepared myself for Jo to become the queen of the bridezillas. Jo has taken everything in her stride and has put so much effort into making sure the wedding day will be the best of our lives and something we will remember forever and ever. It can't have been easy as I was a complete wedding novice compared to Jo and her childhood dreams. We have managed to pull all our ideas together and it has probably helped to look at things through two different sets of eyes. The last 18 months have been an incredible journey which I think we both agree we don't want to ever end. Heaven only knows what we will talk about once all the dust has settled and the last of the honeymoon tan has faded away.
JO: As the day gets closer I've been thinking more and more about being married and what it will mean to mine and Nick's relationship. I guess it's that question; will anything change? Practically, I'll take Nick's last name. Now this means I'll lose my unusual last name (Herapath – not as simple as it sounds apparently!), which I am quite sad about. However, I'm incredibly excited about Nick and I becoming our own little team unit of The Thompsons. More than just a name change, to me this means that we are committing to each other, we are making a conscious and fully thought through decision to be with each other in a marriage and all that goes with that. I had a conversation about this with two of my lovely bridesmaids last weekend and asked them how this was different to having a child, surely that is a bigger commitment? Their take on this was that, whilst having a child is a huge moment in your life, marriage is committing to each other, one person to another with nothing else being considered. And this hit the nail on the head for me, I want to marry Nick because I love him and I love our relationship, for everything it is now, but also for everything that it is going to be, no matter what that means.
NICK: Me and Jo are approaching the end of our wedding planning, which is a little sad. However (and this is where I am going to get a bit cheesy) it's fantastic that this is really only the beginning of our relationship and I really look forward to where this journey will take us, and how my love for Jo will strengthen. We are not quite there yet though as there is still the small matter of pulling 17 months worth of planning into one big celebration of our love (sorry I got really really cheesy there). If these last two weeks run as smoothly as the rest of the planning process then I am in no doubt that we will pull it off.
Me and Jo have learnt so much about the whole wedding scene over the last year and a half. So much so, I now consider myself a bit of a wedding planning Jedi and I feel it only right I (and Jo) pass on just a bit of what we learnt:
Wedding Planning Advice
Do think outside of the box. After researching string quartets and realising they were way out of our budget Nick approached the local University who were more than happy to point us in the direction of an extremely talented group of students who charged a much more realistic fee.
Do it yourself and get involved. We were a bit daunted at first dealing with all the professionals but we got our hands dirty and really made sure everything has our own stamp on it, whether homemade or expertly aided.
Don't get too hung up on trying to be on trend. Your guests won't have been reading wedding blogs and magazines at every opportunity and it is likely they will have no idea if the sweetie table is cool or not, or if birdcage centrepieces are last season; they'll just be happy to be a part of the day!
Don't be afraid to book new and upcoming suppliers. We booked our venue when it had only just finished its first year of weddings, and our photographers had only shot a handful of weddings but these are two of the things we are definitely most excited about.
Do try and have conversations about things other than the wedding, not only with each other but also friends and family! The wedding has been the centre of our world for the past year and a half but we also realise that doesn't mean it is the case for everyone. Life goes on and this is fine!
DO DO DO DO DO it together! Planning as a couple is the biggest and best piece of advice we could give to any engaged couple. It's amazing.
Thanks so much to Kelly for giving us the wonderful opportunity to write for Boho. We look forward to seeing you and blogging again soon as Mr and Mrs Thompson.
Lots of Love
Jo & Nick xxx
If you want to be the next Boho Bride or Groom I am now taking applications. Share your wedding plans with the Boho Readers and see your self up on the yellow gingham pages of the Blog. More information on how to apply is here 

www.boho-weddings.com/2013/07/05/diary-of-a-boho-bride-needs-you

 

[jprel]