Happy Monday to you all, I hope you all had a lovely hot weekend! How are you coping with the weather, it always seems better at the weekend, not when you are stuck at work on a Monday! But lets all power on and hope we get to spend some time in the sun at lunch time/after work! To ease you into the week and make sitting at your desk that little bit easier I have a super cute wedding for you today, brought to you by Jules Fortune. The wedding is full of quirky details as it takes place in an old Victorian swimming baths and the couple actually get married in the deep end!
'Our wedding day was a unique experience not just for us, but for our guests as well – We have so many happy memories and had a fabulous day!'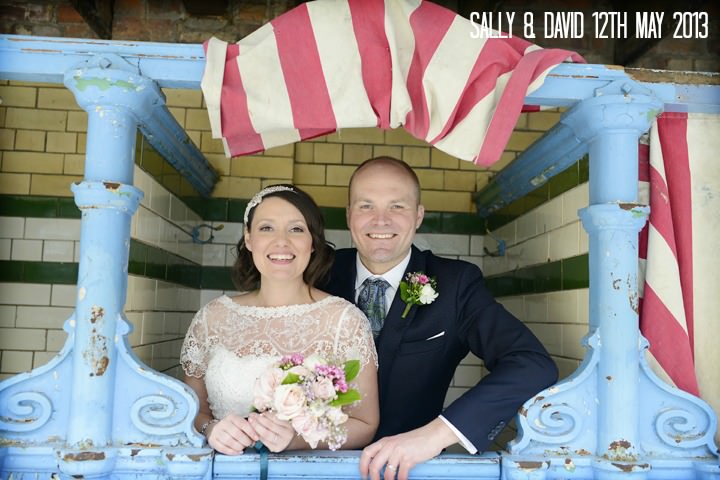 Sally and David who were married on 12th May at the Victoria Baths in Manchester with the reception at Didsbury House Hotel, Didsbury Manchester. 'Both venues amplified our personalities. We're creative individuals and really appreciated the aesthetic quality of the venues. Also, we wanted something a bit different and quirky and for our wedding day to be something people would always remember! People are always very intrigued when you say "We took the plunge in the deep end of the first class men's pool at a Victorian Baths.'' We had 80 guests, we got engaged in January 2012 and started to plan our wedding in the June 2012.'
How they met
Although we have both lived in Flixton village all our lives, we had never met each other. I apparently caught the eye of Dave first but I was seeing someone else at the time. So, nothing happened instantly.
We were then introduced to each other via a close friend of both of ours. Dave and I formed a good friendship and seemed to make a beeline towards each other for a chat whenever we found ourselves in the same place. We had so much in common and we always made each other laugh.
A bit further down the timeline we both met on a night out in Manchester – Dave was with a group of his friends and I was out with some University buddies. We both recognised each other and Dave's opening line was "Do you know where the toilets are?"
We ended up getting a taxi home, where Dave proceeded to ask Sally on a date – to which she said 'yes'. The rest is an 11-year history!
The proposal
Dave surprised me with a Christmas present to Paris in the New Year, little did I know that he was planning to propose. It was the best kept secret, nobody knew what his plans were. However, our family and friends were keeping their fingers crossed that Dave would pop the question.
He led me up the street where all the expensive jewellers are and I pointed out Tiffany's & Co, to which he replied, "that's where we're going!".
I can't repeat what I said, but then he turned to me and was just about to ask those fateful words when, a motorcyclist decided to skid and crash right in front of us. We didn't know what to do as the moment became increasingly more awkward. So as people were helping him up, we stepped over the accident kafuffle where Dave asked me to marry him. I said yes!
Why did you choose your photographer?
I am a keen photographer and it was really important to us to get the right person for the job. We had particular ideas about how we wanted to capture the memories of our special day. We also wanted to capture the beauty of VB.
I was doing some research online, I discovered Jules Fortune's blog and added her to my wish list. We really liked her style of photography and admired her work. At a later date, I was given Jules's contact details by Vicky at Isla Jean Bridal Boutique. I didn't realise it was the same photographer I had initially put on our wish list until I did a bit more research. As they matched, I like to think Jules chose us! I am great believer in fate.
When we met Jules, we knew instantly she was the one for us. We all got on really well, our personalities really gelled and we loved Jules's passion for photography.
We had an e-shoot with Jules before our big day and were keen to have some urban shots taken in Manchester city centre. We chose a number of locations, which included some of the gritty corners of the city with amazing street art backdrops and doorways. We both love the city and Jules photos really captured the urban atmosphere and our personalities. This session helped us prepare for our wedding day photos. Jules is great at directing and makes you feel really comfortable in front the camera.
Following our shoot, we could not wait to show her our wedding venues. She instantly fell in love with VB and loved how excited she was to photograph our big day. Jules is full of energy and was fantastic on the day – we absolutely love our wedding photos and cannot thank her enough!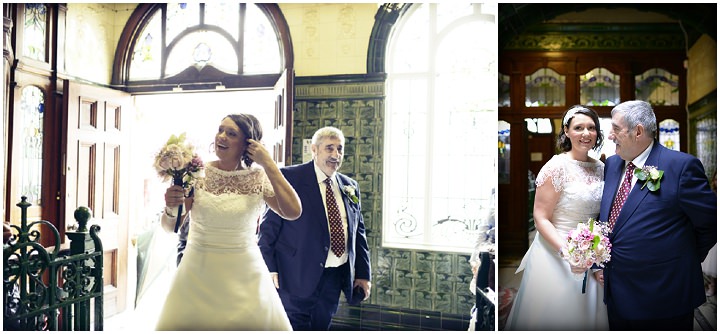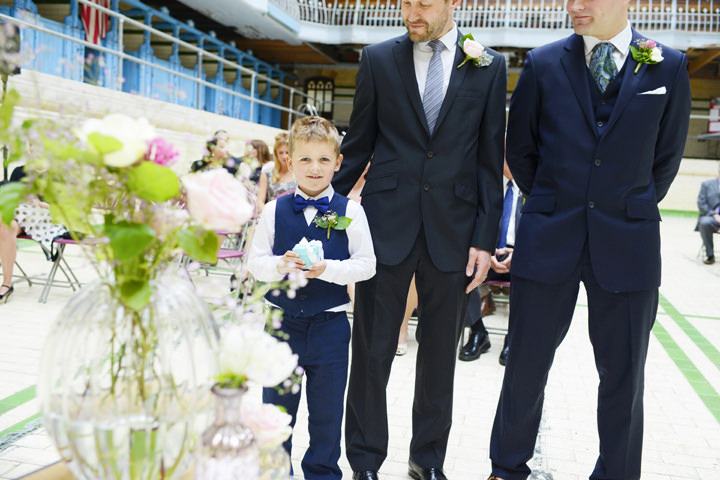 The dress
I bought my dress and accessories from Isla Jean Bridal Boutique.
• Wedding dress – Romantica
• Shrug by Stephanie Allin
• Head Dress by Pearl and Co
• Shoes Rainbow Club Vintage Style Bridal shoes
The suit and bridesmaids
The groom's suit was a navy blue T M Lewin three piece along with a green and blue paisley cravat. I tried to tie in the colours with the tiles at VB. The adult bridesmaids also wore green and their dresses were made by Isla Bridal to reflect the 1940's. I personally love this style of dresses, the girls looked fabulous along with their gold accessories. The small brides were our nieces and wore powder pink to contrast against the adult bridesmaids. Their dresses were purchased from Monsoon. These colours were the same as my mum's bridesmaids.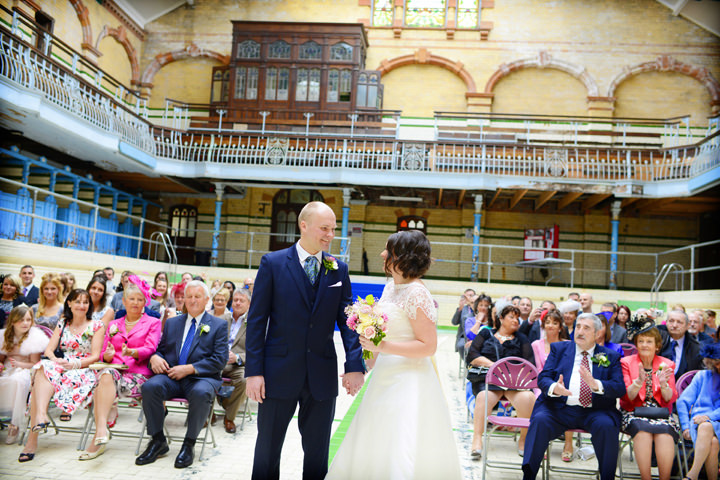 Theme or colour scheme
We didn't have a particular theme. However we were keen to have a vintage feel to our day. We kept it very simple and just wanted everyone to wear what they were comfortable in. The venues didn't need much decorating as their beauty spoke for themselves.
Decoration
We had flowers, candles and the natural beauty of each venue. We didn't need to go over board, as both venues were interesting in their own right.
Flowers
Avalanche Rose and Gypsy Grass and a few others to capture a vintage style.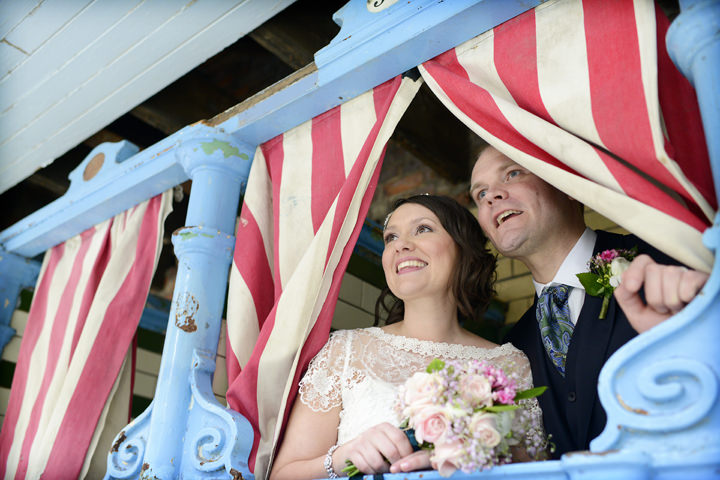 Food
We had a range of Canapés presented on slate, which were accompanied with a chilled glass of Prosecco. Our guest enjoyed these as they explored VB, whilst we had our photographs taken.
We were keen not to have a formal sit down meal, so opted for a BBQ, which included a range of meat and vegetarian dishes along with a selection of salad. Guests enjoyed Summer Fruits with cream for dessert.
We also enjoyed mid munchies which consisted of small cones of fish and chips and sausage butties.
Entertainment
We hired an amazing band called The Riviera Band. They play well-known songs in a contemporary, 1930s Parisian gypsy jazz, busking style. They created a great atmosphere and everyone enjoyed dancing the night way to their husky tones. We definitely recommend them – there are real treat!
Personal / DIY Touches
We wanted every quirk to have a personal reason or connection to us both
Wedding invitations – Dave (the groom) designed the wedding invitations, using Victoria Baths as his inspiration. He designed our logo, which included vintage female swimmers and an emblem including the fishes found on the tiled floor as you enter the first class males entrance.
Ceremony Music – We selected a range of music that was personal to us. We are both jazz fans. I walked down the aisle to My Funny Valentine by Chet Baker. We both love the words and this is very special song for us. Seth (one half of the Ushers) was our music man for the day and did a sterling job.
Our Reading – The reading was written and expertly delivered by our talented and very good friend Kate. She created a poem all about us. It represented us as a couple, included some audience participation and was very thoughtful with a twist of fun!
The London bus – London – because this was where my sister and husband resided for a few years before moving back to Manchester. Bus – because Dave's late Granddad used to drive one in Manchester. Our journey between venues included his old bus route.
Cupcakes – Laura from Sugarbuns Sisters made the cupcakes.  She is a personal friend to us both and it was a great honour for her to create our wonderful cupcake tower.  She is a very special friend as she was the one who brought us together and if not for her, we may not be the new Mr and Mrs Merrell.
The Wedding Cake Topper, the chocolate lovebirds were purchased on a trip to Brighton from Choccywoccydoodah.  We love birds so we had to have them. Laura incorporated them into her cupcake design.
Cupcake Menu – Dave created a menu so guest could choose what cupcake they would like to eat.
Victoria Baths – My dad used to swim there when he was a young boy and loves Manchester's history. He always says, "if you don't have a past, you don't have a future." Wise words from a very wise man! I like to think we have added to the history of an amazing building that has serviced so many people in Manchester.
Didsbury House – Dave's mum used to work in a building right next to it when she first left school.
Gift box  & Signs – Dave also designed a thank you sign, which we placed in an old suitcase for our gift box. He also produced some Mr and Mrs signs, which used on our e- shoot with Jules.
Thank you cards – We also created our own thank you cards, using one of the images from our e-shoot. 
Our wedding was not following traditions, however, we did like the idea of incorporating  Something old, something new, something borrowed, something blue…
• Heart shaped picture frame with our E-shoot photos – These were accompanied by a picture of each of our parents on their wedding day in two vintage style frames- these photos were our something old. Don't tell our folks!
• All our clothes for the day were new purchases.
• A Polaroid camera – Something borrowed, for guests to take photos of themselves and stick I them in the guest book along with a message. We have some wonderful messages along with photos that have caught an instant memory of our guests.
• Blue Bow – Something blue, I had a small blue bow sewn into my wedding dress and the bridesmaid's dresses.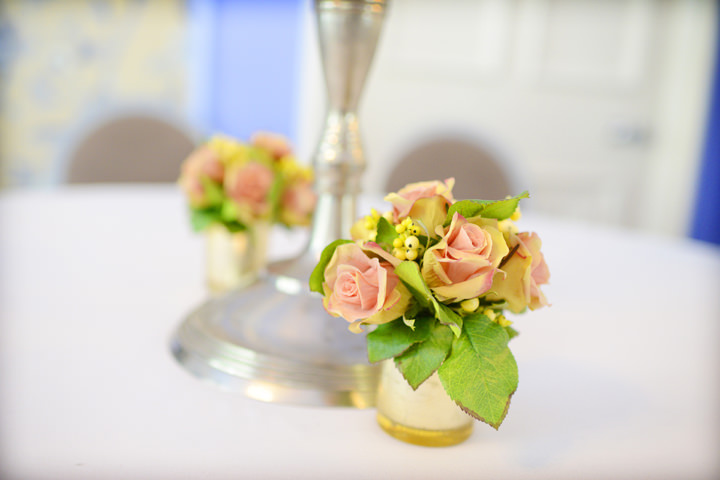 Special moments
The whole day seemed comfortably surreal but highlights were the ceremony, first dance and seeing everyone who has played an important role in both our lives in one place at the same time. There was far too much to take in. We also loved our bus journey with all guests travelling back to Didsbury House. Everyone moment is special; wish I could do it all over again, it went far too quickly.
Biggest surprise
Dave's biggest surprize was seeing Sally walk down the aisle/pool to the deep end, I was overwhelmed with how amazing she looked. I had to take a deep breath to look at her.
Sally's biggest surprise was how emotional I felt all day, I kept getting over whelmed with how lovely everything and everyone was. This is the very first time I have felt like this in my life.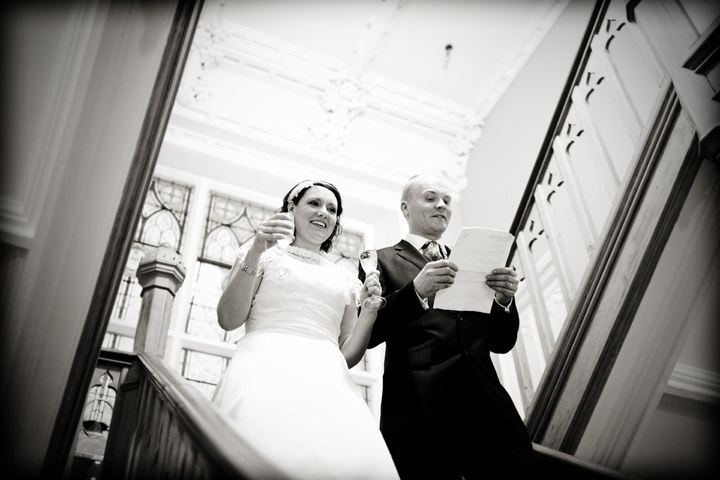 Advice
• Enjoy spending time with your friends and family whilst you plan your day. it's a very special time for everyone and they will be so proud of you!
• Show case your personality – It is really important that you choose things that represent who you are and push the boundaries of tradition. It is nice to be different!
• Be prepared to be emotional – the whole day is an emotional roller coaster but all good!
• Remember to spend some time together to step back and watch your guests enjoy your special day.
• Memory shots – a tip given to me by a work colleague. Imagine you are taking virtual photographs and take a memory shot so you remember some key parts of the day- these will be some of the memories you'll take away from the day. Be warned the time just flies by when you are having fun! Our wedding day, feels like it only lasted 20 minutes in total, we want to go back and do it all over again.
• Don't get stressed and focus on the detail of the day, let your day flow naturally. Every bride and groom wants their wedding day to go to plan, you spend months planning every detail. When the day arrives the main focus should be for you to enjoy the special day and take it all in.
Supplier Shout Outs
All of our suppliers were local and from the Northwest Region of England. This was really important to support local industries.
For more information on Jules's work go to: 
www.julesfortunephotography.com
http://julesfortunephotography.blogspot.co.uk/
http://www.blackbooksessions.co.uk/
[email protected]
FACEBOOK
TWITTER
07786 355408
Jules is a female photographer based in Lancashire. My photographic passions are Weddings, Lifestyle Portraiture, Bump Photography and Vintage Boudoir Photography. I love pretty details, emotion, capturing the moment and timeless classic style. I have been a freelance photographer for over 15 years, shooting boudoir and weddings for 7 years.