Today I'd like to introduce you to Sell My Wedding, which is a fabulous idea for brides and grooms to be as well as newlyweds. Sellmywedding.co.uk is an online marketplace where newlyweds can sell their preloved wedding items to brides-to-be. So if you have recently got married and have no idea what to do with all that left over wedding 'stuff' then this is the place for you. You can sell anything from your dress, to your decorations, cake stand to jewellery. And if you are currently getting married and wanting to snap up some bargains then this is the place to look!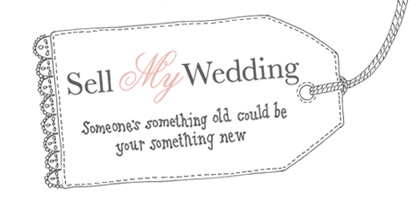 I asked Becca the brains behind Sell My Wedding  to tell us a bit more about the site and how it works…………
As a newlywed myself I was looking for a way to recycle all the items I had bought for my wedding with another bride. Three years on, many of the items from my December 2007 wedding were still in bags and boxes. It seemed such a waste to banish such beautiful items to the loft, never to be used again.
At the time, I couldn't find a UK-based website that specialised in selling second hand wedding items. Although there was Ebay and websites for selling second hand wedding dresses, there was nothing out there where you could literally sell everything to do with your big day.
I thought that such a marketplace would not only be a great way to help make a wedding more affordable but it would also enable brides-to-be to gain inspiration from newlyweds, who had already done the hard work by trawling blogs, magazines and shops to find the perfect items for their wedding.
The website lists everything to do with weddings; from veils to vases.
Buyers can search the website via an extensive category list, by season or by theme. To contact a seller they simply register as a buyer (which is free) and then they are able to access the seller's email address to contact them directly. So in effect the website is a notice board – a wedding marketplace to put buyers in touch with sellers.
It is then up to the buyer and the seller to negotiate the final price and delivery of the item, we always recommend that transactions take place via PayPal to protect both parties.
Becca's Top Five Boho Buys on Sell My Wedding
When did you start?
The website went live in July 2011 and we have been growing steadily over the past two years. We currently have over 740 items listed and last month the site had 117,000 hits and 11,000 visitors.
Where are you based?
I live in Beverley, East Yorkshire and run the website alongside my day job as a NHS Communications Manager.
What sort of geographical area do you cover?
It is a UK-based website with buyers and sellers from across the whole country. We also have registered buyers from as far away as America.
How would you describe your style?
The website has a vintage, DIY feel and we are attracting a lot of creative brides, brides who have made lots or collected items for their wedding and are passionate about sharing it with another bride. As we have made changes to the website we have tried to reflect this in its look and feel.
Whilst the items being advertised are secondhand, or preloved as we like to say, we didn't want the website to look any different to a marketplace selling new items.
What is your biggest achievement so far?
It is continuing to see sold banners go up on items, especially when it's within a few days of the item being posted. It is also great to hear from people who love using the website. One of our sellers told me it was addictive!
We also had one seller who literally sold her entire wedding – bunting, decor, dress – within 24 hours to the same buyer.
What makes you different to your competitors?
We are more than just a classified site. The website gives sellers the chance to tell the story of their wedding so that brides-to-be can gain inspiration as well as a bargain.
The sellers that do really well on Sell My Wedding are those who list a number of items from their wedding and who take the time tell their story of their wedding on their profile page, which is in essence what the site is all about.
A lot of our sellers are listing items which they made for their wedding, homemade photobooth backdrops, card boxes and table numbers, and these are proving really popular. Buyers can then get the DIY look without having to do any of the do it themselves.
What do you enjoy most about your job?
I still get a buzz thinking that I am putting buyers and sellers in touch with each other via my little website and that transactions are taking place across the country.
What sort of couple do you think you attract?
As well as attracting budget conscious brides, I think that we attract creative and DIY brides, those who like recycling and reusing.
There is now much less stigma attached to buying secondhand – people like to get a bargain and when it comes to weddings are willing to sacrifice one thing in exchange for say getting their dream dress or venue.
Can you give me some information on your pricing structure?
How the website works is that sellers simply pay a one off fee of £20 to list an unlimited number of wedding items (although it is currently half price just £10 – so sign up quick). There are no individual listing fees, no sales commission and items don't expire until they have been sold. Sellers can upload their own items, including photos and manage their listings; they also have a profile page so that they can add details about their own wedding and suppliers to help inspire other brides.
There is no cost for buyers to use the website. They just need to register to be able to access a seller's contact details.
What is your ideal way to spend a day off?
I love pottering around Beverley, we have great shops, pubs and restaurants, so I would keep it local. It would involve a dog walk up on the Westwood, a spot of lunch and shopping in town then dinner and drinks with my husband at the Pipe and Glass Inn.
What can you never leave the house without?
I have a 9 week old baby, so I currently can't go very far without him. I also have a four year old son so always carry snacks!
Who would be your 5 dream dinner guests dead or alive?
Ashamedly, my current guilty pleasure is 'Keeping up with the Kardashians' so I would be fascinated to sit down for dinner with five members of that family.
What would you do if you won the lottery?
Buy a beautiful Georgian town house in the North Bar Without area of Beverley and Travel the world with my family.
If you weren't running your business, what would you be doing?
If I didn't have the day job I would love to devote myself to Sell My Wedding full time.
We are just about to introduce an option so that our sellers can choose to either sell their items or hire them to another bride – this was following feedback from one of our seller's who couldn't bear to part with her beautiful Alice Temperley Wedding dress but who wanted to share the joy of the dress with another bride.
Well I LOVE this idea! and as I have a shed full (literally) full of wedding stuff I have collected from all the weddings I have worked on I shall be signing up soon to find it all a new home! What an amazing place for newlyweds,a s well as brides and grooms to be! 
For more information on Sell My Wedding go to
www.sellmywedding.co.uk
www.sellmywedding.co.uk/blog
[email protected]
@sellmywedding
FACEBOOK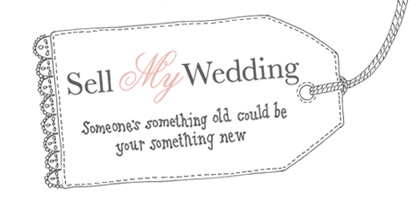 Photo credits:  Images 1,3,5,7 Ally Byrom (www.allybyrom.com)  / Images 2,4,6 Images by Gabrielle (www.imagesbygabrielle.co.uk)