Today on Diary of  a Boho Bride we welcome back Becki to the Blog. Last time Becki told us all about how all about finding Jonny's suit, introduced us to the wedding party, as well as giving us an update on her DIY adventures!  Since then Becki and Jonny have been on their love shoot with Paul and Kelly, from Paul Joseph Photography and today I am sharing with your the results of the shoot.
Becki will also be discussing her thoughts on having an unplugged wedding, and asking you your thoughts and advice on the matter, as she currently can't make up her mind, so please feel free to leave her your thoughts in the comments box below.
I'll pass the Blog over to Becki…………..
Thursday 16th May – it's my birthday and I wake up with a feeling of excitement and nervous butterflies all at the same time because today is the day that we have our pre wedding love shoot in York with our photographers Paul & Kelly of Paul Joseph Photography.
Now I have to assure you at this point that Paul & Kelly are uber cool, friendly people and not at all scary in any way and we've met up with them a few times now so it's not like we were meeting total strangers either, but the thought of having our photos taken all day was making us more nervous than a driving test and a trip to the dentist put together!!
Looking back it was totally stupid of us to be so nervous because after about 10 minutes with them we were so at ease that we were in the Disney shop sticking J's head under a Finding Nemo towel and running away from him, as you do!
Me and J are not hugely traditional types, although we are having the country manor hotel type wedding, but we knew from the very start of planning our wedding that our photographers needed to be quirky cool for what we wanted for our day. Then when thoughts came to the love shoot and what we wanted to do for it, I collected a whole host of themes & ideas on Pinterest that related to us. Some of them were completely off the wall ideas and some of them cute, but when Paul & Kelly put out a certain request to their brides and grooms, we practically snapped their hand off at the chance and we like to think that it reflects us more than anything else we could have done.
So the shoot would be done in two parts, two very different parts!
To start with we headed to the Disney store, not part of the overall plan but it was a great place to start because we are going to Disney World Florida on our honeymoon. I told you we weren't exactly traditional types haha! Then we headed on down, away from all the touristy parts of York, to an antique shop full of weird and wonderful, well junk basically! It was ace, there were old hats, old school chairs, mannequin legs and we managed to squeeze past an old fireplace and a bike to a window at the back where there we some saws hanging from a hook.. nothing says love like moody photo next to a rusty old saw don't you think?
Then the rain came…
And lots of it so we did some cool shots in a car park.
And at this point we thought our plans for the second half of our day had been scuppered by the wet weather, but as we drove away from York we actually drove into sunshine and couldn't believe our jammy luck! For what we were about to do it needed to stay dry.
Ever so slightly winging it…
You know when you have a plan that's sort of loosely put together and then it all works out amazing in the end? That is totally what happened!! We knew what we were gonna do, we knew we needed to find a location on the day and as luck would have it, a disused and abandoned Little Chef at the side of the A64 that Kelly only noticed on the way to meet us was absolute perfection!!
Bride vs Groom – FIGHT!
And the off the wall suggestion was to have a Holi Powder fight – it is originally a Hindu festival tradition to throw coloured powder at each other as a celebration of Holi. Today it is used in TV adverts, music videos and now it is becoming a cool photo shoot for fun brides and grooms.
And who could refuse a powder fight between yourself and your future husband, I know I couldn't wait!!
So a quick change of outfits into our fighting kits and off it went .. in quite an epic way!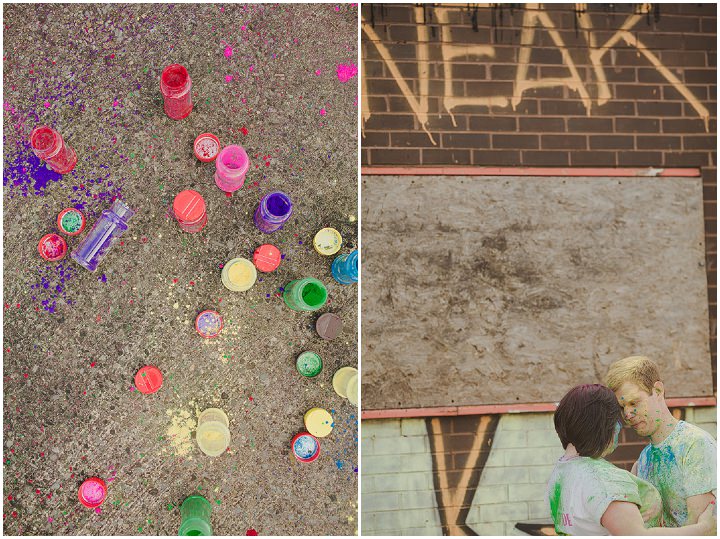 Incredible Hulk and Smurf spring to mind and apart from having powder coming out of our ears for the following week, it was blummin good fun and I'd totally recommend it to anyone who is yet to do their photo shoot and is wanting something a little different!
So Team Bride or Team Groom I'll let you decide who won the fight?!
Unplugged Weddings – Should We or shouldn't We! 
I recently came across something photography related that I'd like to share & hopefully discuss with you all, which is about having an unplugged wedding? Or more specifically for what we are considering, an unplugged ceremony?
Basically this means asking guests not to take photos on mobile phones and cameras throughout the ceremony until the signing of the register.
And the reason I'm intrigued by how widely known or how widely accepted this would be is because, although it may initially sound like a rather diva-esque thing to do, I quite like the sentiment that's behind it in terms of that our guests would be actually experiencing the wedding with us for real instead of through a camera phone or viewfinder.
Also so that our photographers can catch the smiles and emotion on our guests faces enjoying our day instead of them holding their arms up in the air whilst leaning past Auntie Marjorie's head to get a good shot of us on their iphone.
I can't make my mind up about it though as I'm usually the type to take a million photos at gigs, parties and stuff, which I love to look back on, but then sometimes think I should have just relaxed, layed off taking all those photos and enjoyed whatever it was a bit more.
So in this day and age of constantly being attached to our phones, always logged in to facebook and twitter and constantly uploading photos to Instagram and Flickr, is it socially acceptable to ask our guests to put away all the technology for the ceremony part of our wedding day?
Or are you on the complete other side of the fence on this by promoting it and creating a hashtag for your guests wedding photo's? As a professional photographer, how does it affect your role and job on the day?
Any thoughts and ideas on this would be greatly welcome.
Becki xx
First of all I have to say I LOVE the love shoot, the Holi Powder fight shots are fantastic! what a great idea.
Secondly I'd also love to hear your thoughts on unplugged weddings. Do you think they are a good or a bad idea, are you a bride planning on having an unplugged wedding yourself? or have you been a gust at one? All thoughts and points of view are all welcome.