Welcome along to another edition of Boho Pins, where I delve into my pinterest board collection and choose one to share with you. If you're planning a wedding then pinterest is the perfect visual planning tool. Fantastic for putting ideas together and keeping all your ideas organised! You can find me here pinterest.com/bohoweddings and I update my boards on a daily basis!
Today I am looking at beach weddings. The sun has eventually come out and people are talking about summer holidays, which means I have been thinking about beaches, sunshine and getting away from it all. What could be more perfect than taking a break away from the grind of day to day life and choosing to get married on a beach. When we first started to look for weddings venues in Ibiza we were looking for a beach wedding venue, what better than to walk down the aisle with sand between your toes, hearing the sound of the ocean in the background….Bliss! It turned out that most beaches in Ibiza are public and actually illegal to get married on them, so instead we decided on a Villa wedding, which was lovely and private, BUT I still wonder what it would have been like to have said our vows on the sand overlooking the sea! Beach weddings always tend to be laid back, relaxed affairs, perfect for the Boho Bride. Keep things simple with minimal decoration, using the natural elements of drift wood, sea shells, soft fabrics and cushions to create a chilled out location for your perfect beach wedding.  You can see my full Beach Weddings pinterest board HERE.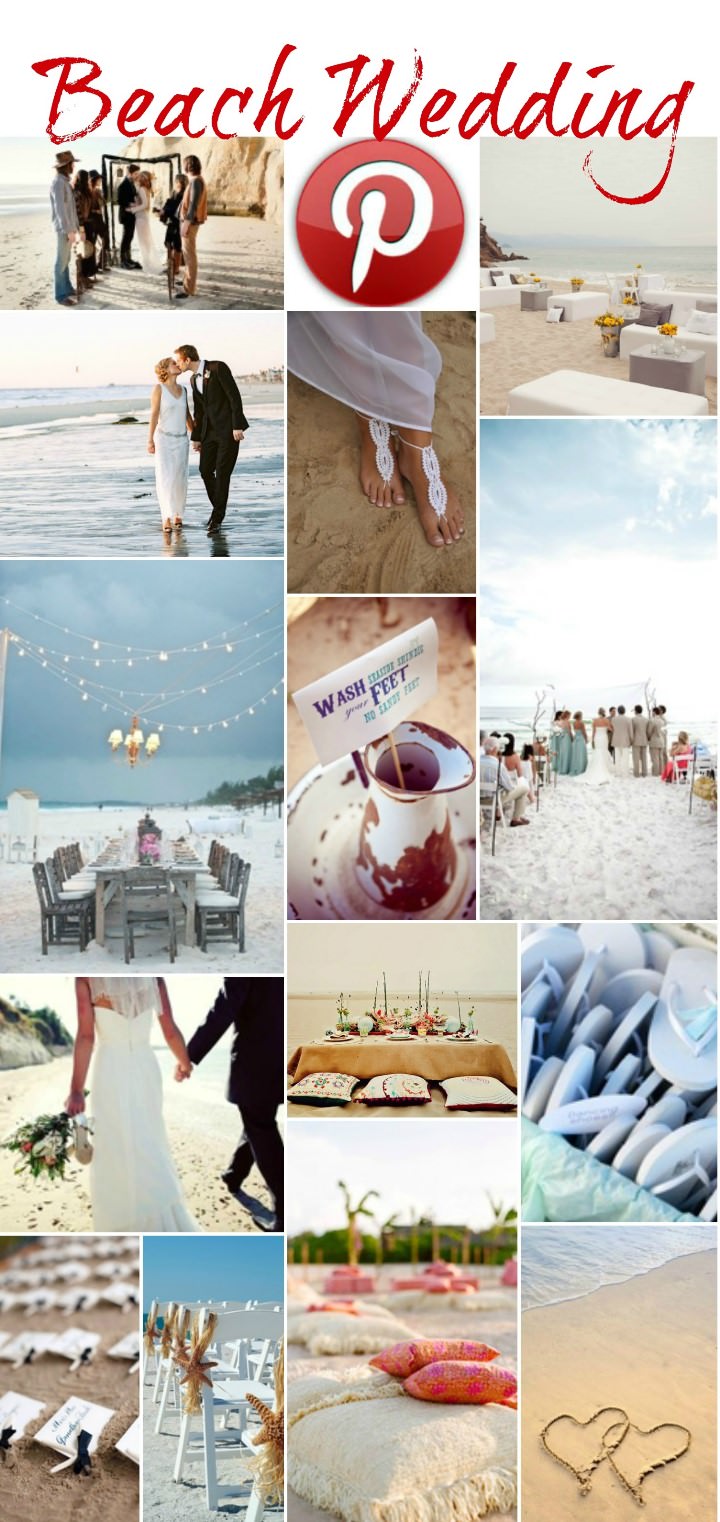 Photo Source: Boho beach wedding, white sofas on the beach, couple walking in the sea, bare foot sandles, table set up, wash feet, beach wedding with blue bridesmaids, couple walking on beach, cushions and table,  flip flops, escort cards,  white chairs with decoration, bright cushions, hearts in the sand.
To keep up with my pinning you can follow me:
[jprel]