Happy Monday everyone and welcome along to another week. I hope you all had a good weekend? I am feeling refreshed and ready to take on a new week, how about you? I have a wonderful farm wedding to start the week off with, it's a wedding full of fun and colour which was sent into me by Nikki Sheffield. I am loving so many things about this wedding, the barn itself is gorgeous, the outdoor ceremony, the amazing band, the mix of colours and the huge amount of fun that everyone seems to be having, perfect for a country wedding.
'Country fete meets low-key music festival. A relaxed, informal, fun day in the sun followed by dancing and revelry late into the night.'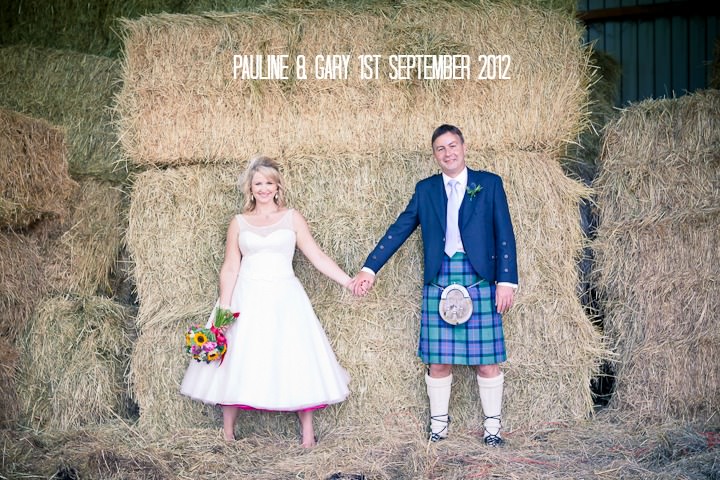 Pauline and Gary were married on 1st September, 2012. 'We had a secret civil elopement with just four close friends at Islington Town Hall on Friday 24 August – that was a great day! On Saturday 1st September, we had what we considered, the wedding proper; a short blessing conducted by my father, a minister in Edinburgh, at Herons Farm, near Pangbourne, Berkshire, followed by a party in the barn.'
'We wanted a fun, relaxed day for friends and immediate family and immediately knew that we didn't want a formal venue and certainly not a hotel given my many years of working in the events industry. Our initial thoughts were around a North London (where we live) pub party but with friends scattered far and wide, we found that hotel accommodation was going to be tricky so it was back to the drawing board. Once I started to read some of the alternative bridal blogs, I fell in love with the whole rustic barn and farm type of set-up. We only looked at one other venue before finding Heron's Farm and as well as the stunning grounds and unmessed around with barn, the convenience of Berkshire and the village of Pangbourne sold it.
We had 84 adults and 5 children. Our friends were delighted to call in babysitting favours and let their hair down. We had a few babies but otherwise just nieces and nephew. It took 8 months to plan.'
How they met
We are an internet dating success story! I'd been on Lovestruck London in a somewhat unfocussed way for a few months and Gary took advantage of a three day free trial…. Having connected online for a couple of days, we met up and had an amazing first date and became a couple very soon after – he moved in after only three months. We've now been together three and a half years.
The proposal
Christmas morning 2011 and we were home alone given that we were flying to Thailand on boxing day. We have a tradition of giving each other 5 gifts for each of five pound, four pound, three pound and so on. Gary had managed to find something which looked like an engagement ring for three pounds. I thought I knew what it might signify but didn't want to assume and so, I waited for him to say "will you marry me". Tears of happiness and big grins throughout Christmas day ensued and I'm delighted to say that I didn't have to wear the £3 ring for long as he got a fabulous ring designed whilst we were in Hong Kong.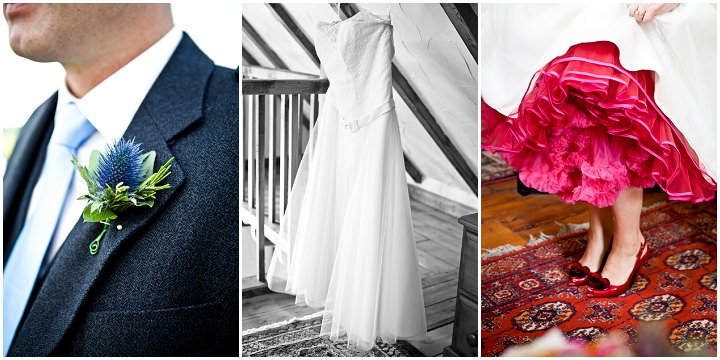 Why did you choose your photographer?
I realised how important it was to have great photos to cherish and had started to look around but either people weren't available or, I didn't get the right vibe when a great friend mentioned that Nikki, who was an old colleague, was doing photography and I should give her a try. I had already noticed her fabulous work via Facebook and immediately got in touch. My husband was extremely reticent about having his photo taken but on our first meeting with Nikki, she immediately put him at ease and I just knew that I'd made a great decision. Nikki came to London for our secret civil and shared in that very wonderful and intimate day, getting some great shots to boot. On 1 September, the lead up to the guest arrival was incredibly rushed and stressful but Nikki was a brilliantly calming and relaxing influence. I only started to relax during the day when Nikki took Gary and I off to an old hay barn where we had a bit of a laugh and Nikki shot some fabulous photos.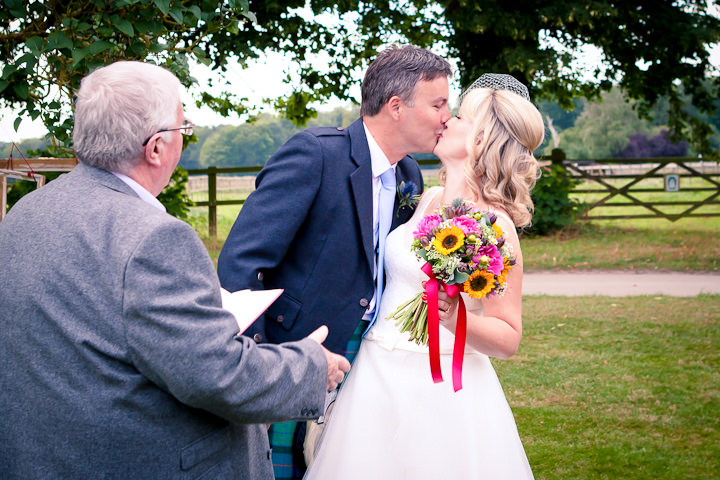 The dress
I started looking for a dress four months before the wedding. Anybody who has tried this will know the panic which bridal shops can strike in any brides heart in terms of having left it too late. Feeling quite discouraged, I was persuaded to give White Leaf in Brighton a try. I knew that I wanted a fifties style tea length dress and didn't think that they had anything like that but Blanka assured me they could do whatever I wanted. I was very lucky to end up with a bespoke dress which fitted me so perfectly for a considerably less than what bespoke would normally cost.
Accessories and shoes
Early on, I had decided upon Vivienne Westwood Melissa shoes with love hearts because they were fun and practical – being rubber – for the farm. With just a couple of weeks to go, I hadn't found a headpiece and so, I was delighted that White Leaf were able to pull together the love heart headpiece for me. Jewellery was a borrowed family heirloom opal necklace and earrings from a boutique in Brighton who's name I can't remember.
The suit and bridesmaids
For our elopement, Gary wore a great Paul Smith suit and I wore Vivien of Holloway but for the wedding celebration, given that we are both Scottish, there was no question about what Gary was going to wear. The kilt was handmade some years ago but he bought a new, informal jacket and waistcoat for the occasion. The bridesmaids were my three nieces and they wore dresses and headpieces from Monsoon.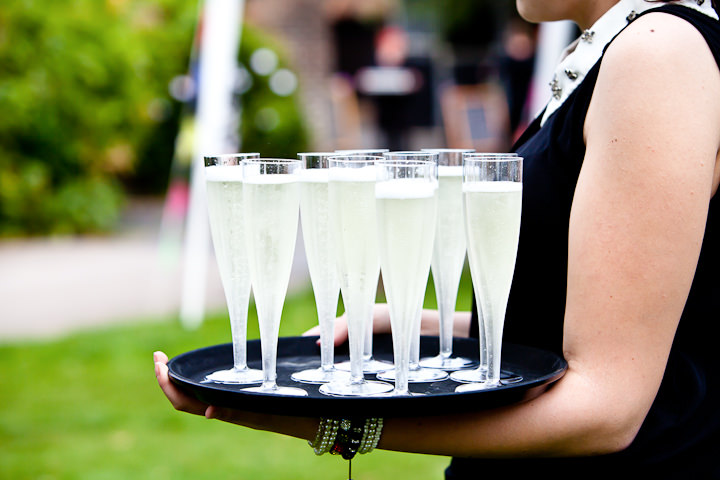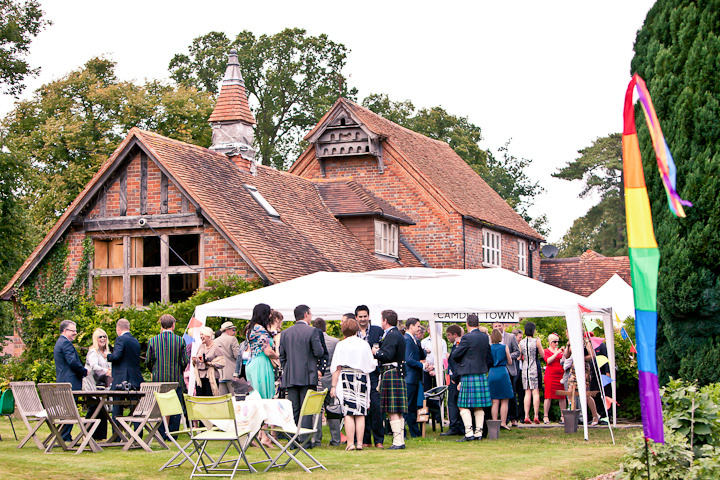 Theme or colour scheme
The nearest thing we had to a theme was records and music. Our invitations were designed to look like records and the table names were music genres and made out of old records. The dress code was glam farm! There was no colour theme as such.
Decoration
We had collected various rustic bits and bobs as well as the records but otherwise, the wonderful barn didn't need a lot of decoration apart from bunting and coloured lights.
Flowers
My bouquet, the button holes and bridesmaids wands came from Green Parlour in Pangbourn. Around the barn and in the grounds we had lots of hydrangea from my garden and a combination of wild and cut flowers in informal jugs and vases.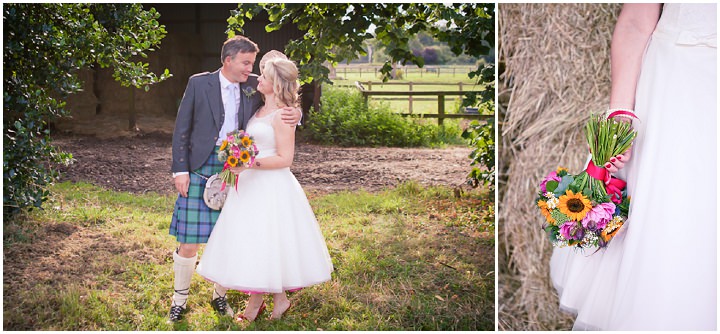 Food
Guests helped themselves to scones and cakes for afternoon tea, this was followed by a BBQ in the grounds which served as a starter for the main meal in the barn which was an absolutely delicious hog roast with lots of different salads. Pudding was summer berries and coffee was served alongside Gary's homemade Scottish tablet – a real labour of love. Later in the evening, we tucked into traditional fruit cake and a cheese tower.
Entertainment
The Cosmic Sausages were probably one of the best decisions we made. They are weird, wonderful, folksy street entertainers who started the afternoon off with lovely French lullaby music whilst we were in the farm grounds. Once the guests sat down, they were presented, at each table, with a menu of song choices so that the Cosmics could entertain them in their own unique and fun style. Dinner finished with a mass singalong to the bride and groom. Our guests are still talking about it now.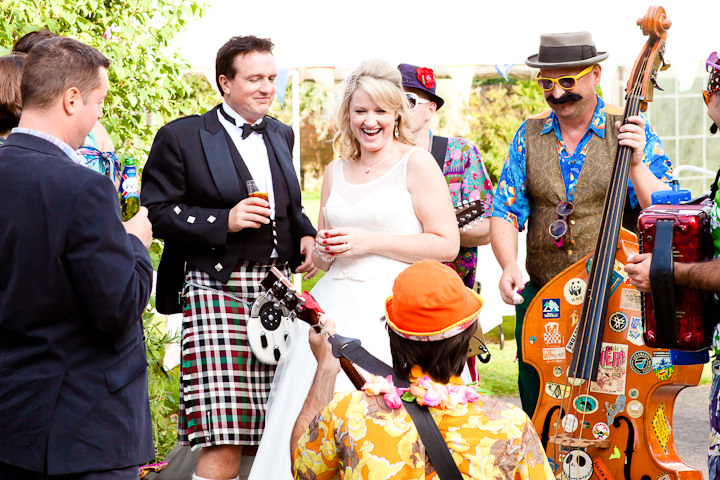 Prsonal / DIY touches
• My husband made Scottish tablet and mars bar cake as well as sourcing and setting up his sweetie table.
• I helped design the invites and escort cards and the record table holders
• We made lots of cute signage with cheap blackboards.
• I had lots of other DIY ideas but started to run out of time and found myself, on the day of the wedding, cutting burlap to size for the table runners!
• I am most proud of the record table holders as they didn't take long to do but looked excellent.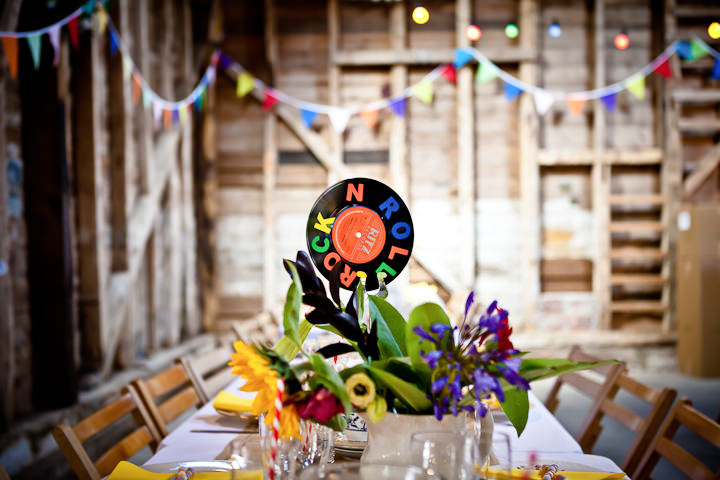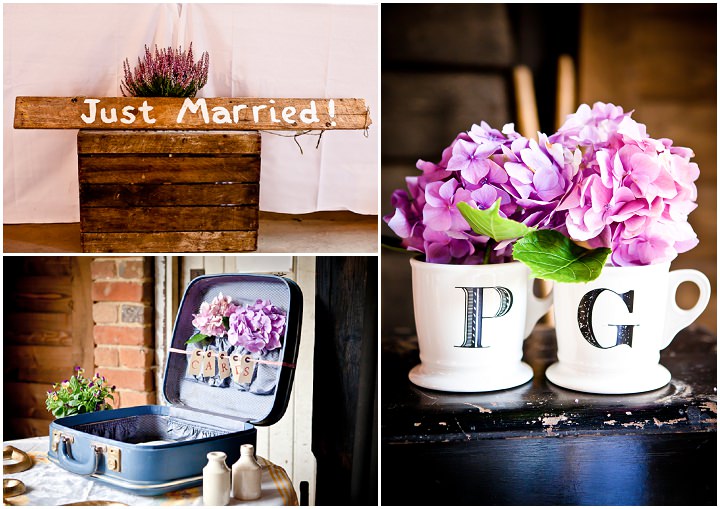 Special moments
My husband claimed to be nervous about his speech. He needn't have been as he stole the show with an ode which he'd written about me and us. It was funny and sweet and touching and hit all the right notes. I was very proud.
Biggest surprise
Probably how quick it all went. After dinner finished, the evening just flew by and I couldn't believe it when the coach arrived to take us back to the village. As it happened, we got our party in the pub as well as we just all piled out of the coach and into a great village pub until 2am.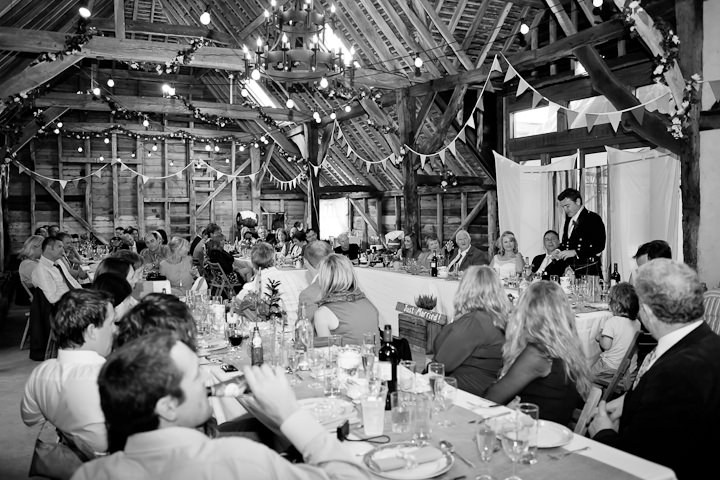 Advice
I love the fact that so many of us are shunning the traditional venues and taking on a dry hire where you can DIY it, not just to save money as I'm not convinced how cost effective an option it is, but rather, so that we can plan something which reflects our own personalities. My advice is a word of caution on this and that is, unless you have lots of friends and family willing to pitch in (and you actually let them!), please choose your suppliers very carefully. Anybody can set up a great looking website and promise the world but if they fail to deliver, there really isn't any comeback at all.
We made some great choices on some suppliers but unfortunately, we were let down by a supplier who had a great looking website and hit all the right notes in terms of food, styling, vintage china and wild flowers. They took our deposit and got us to come to Brighton from North London initial meeting. All was well until a few weeks later, they pulled out on us when something closer to home came up.
I found a hog roast company but they couldn't do all the other aspects and so, with just a few months out, I had a lot of research and planning to put back into place what I had been let down on and suddenly there were several suppliers to co-ordinate where previously it had only been one.
In the end, my sisters stepped in and started directing things. Thankfully, they saved the day.
Within my professional life, I know that things go wrong but I'm sad that I will never get back the two hours prior to the celebration when I should have been relaxing with family and enjoying my hair and make-up by the wonderful Jenna Peddie. There was a whole bunch of other things which should have happened during the day and didn't. Luckily, the guests didn't notice and had a wonderful time.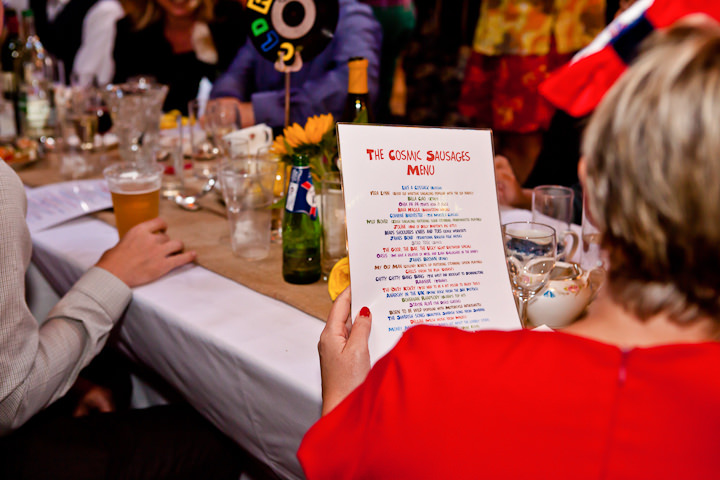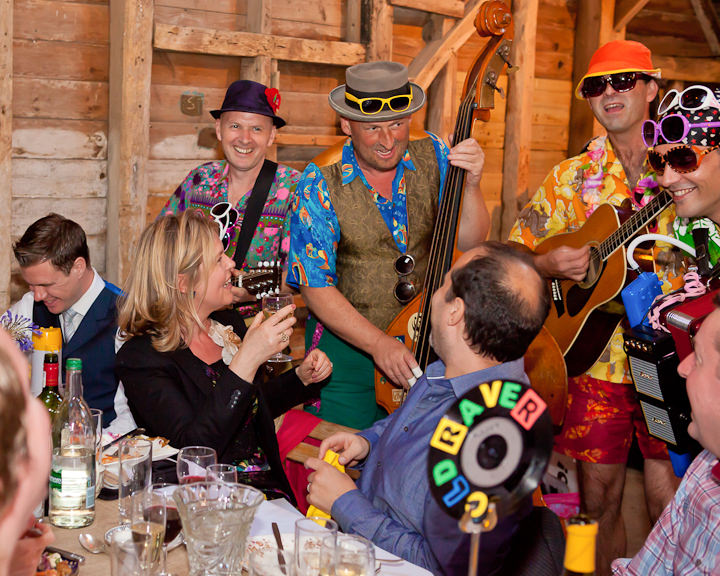 Supplier Shout Outs
For more information on Nikki's work go to:
www.nikkisheffieldphotography.co.uk
[email protected]
FACEBOOK