We are talking honeymoons on the Blog today but this time we are looking at some of the more unconventional ideas, focusing on Honeymoons in the cold. Now I'm no travel expert so I have enlisted the help of Rachel Pollock seasoned travel writer to tell you a bit more about her ideas for honeymooning in the cold.
I'll pass the Blog over to Rachel…………….
As Christina shared some hidden honeymoon spots here a few weeks ago I thought I should share my experiences and fuel your inspiration with another article covering some Scandinavian countries which I have been hooked on since I started my own honeymoon research. I still haven't decided yet where to go, but I cannot wait until it's time to explore the north for my honeymoon.
My fiancee and I have lived on the Mediterranean coast for nearly seven years now. We have enjoyed our fun in the sun and have been lucky enough to partake in agreeable temperatures throughout the entire year. When we recently decided to tie the knot, both of us agreed that a Mediterranean wedding would seem a bit too familiar to us and our close friends. After performing a rather long and extensive online search, we have finally decided to enjoy our wedding and honeymoon by partaking in all of the magic and wonder that the Scandinavian countries have to offer. Although this may seem a bit strange to some, we have actually come across a number of interesting and unique activities that the colder climates have to offer. You may indeed be interested to learn that northern Europe can actually be considered one of the most interesting honeymoon destinations in the world.
The Magnificent Ice Hotel in Sweden
Many couples choose this visually stunning location to enjoy a surprisingly warm and cozy honeymoon retreat. Although the rooms themselves hover somewhere around -5 degrees, guests are provided with thermal sleeping bags and extremely comfortable beds made of reindeer skins. The furniture itself is carved from large blocks of ice utilising the skilled talent of local artisans. There is even an ice bar where couples can enjoy a warming drink or two. Ice hotels are designed and rebuilt every year and therefore offer a unique experience which is unforgettable. What we found to be the most attractive about this location is that honeymoon packages are all-inclusive; flights to and from the airport, food and drink, wedding ceremonies and photographers are all included in one price.
Iceland
While a holiday in Iceland may seem a bit out of the ordinary for some, such a visually extreme landscape is what makes this destination truly unforgettable. The most popular locations are located in the west and southwest of the island; only a stone's throw from the capital of Reykjavik. Thingvellir National Park and Skogafos Waterfall are two of the most sought-after and romantic locations to hold a perfect picnic while absorbing the breathtaking beauty of nature at its most rugged. While it is indeed true that the climate here can vary wildly, you should never assume that the accommodations at these locations are anything but superb. Locations such as Hotel Ranga is a four-star property located within walking distance of the Skogafos waterfall and caters to every single detail of a wedding or a honeymoon. We even found a great provider who gave us advice on a tailored honeymoon trip in Iceland for us.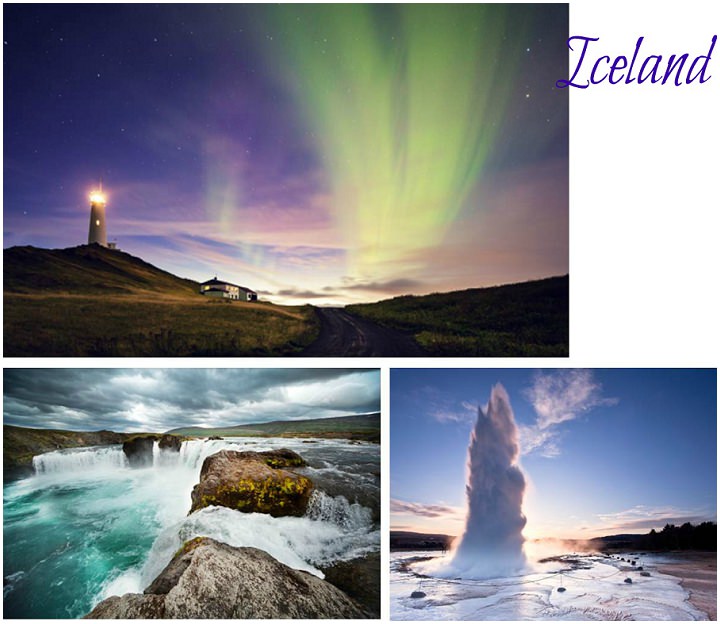 Honeymoon Cruises
I was also thrilled to learn that there are a wide variety of cruises available to the Scandinavian countries. What my husband and I found particularly attractive regarding this option is the fact that they are well within most budgets and can provide some of the most unforgettable views of the rugged northern coastlines. Fjords and icebergs will dot the horizon that can be viewed from the luxurious comfort that these cruises provide. My fiancee considered taking a cruise to the Danish port of Copenhagen. While you may envision this city bordered by ice and snow, during the summer months the Scandinavian countries are actually quite warm. Couples can take a leisurely stroll in Copenhagen's Botanical Gardens or instead enjoy Danish cuisine at Tivoli or one of the many open-air restaurant terraces situated in the heart of the city. And you should not forget that some of the most colourful displays of the northern lights can be seen from most northern European countries.
These are three of our favourite choices for romantic honeymoon destinations in the colder weather that my fiancee and I encountered. Due to the fact that Scandinavia can offer literally hundreds of different options and destinations to choose from, a quick online search can help begin your journey to finding the cold weather honeymoon destination of your dreams. I hope you will find your search for your perfect honeymoon as exciting as we do.
Thanks so much Rachel , I hope you found her suggestions helpful? I'd love to know where you have planned for your honeymoon, are you planning anything out of the ordinary? are you going somewhere cold? Feel free to tell us all about your own honeymoon ideas below.