Wow I can't believe it has got to Friday already! The week really has flown past! how has it been for you? To end the week I have a cute purple filled, English Country Garden Wedding which was held on the groom's parent's family farm. It is full of English charm, and has a really warm feeling to it. The Bride has the biggest smile, which is a joy to see! Big thanks to Sharon Gibson from The Image Garden for the photos.
'Our special day was a beautiful English country garden wedding held on our family farm, in the sunshine and made with love by all of our friends and family'
Vicky and Joe were married on 18th August 2012, The ceremony was held in St Marys Church Everdon and the reception at Joe's Mum and Dad's farm where he grew up and also in Everdon.
'Joe's Mum and Aunt run an outdoor catering company, which caters mainly for marquee weddings. As a result Joe and I have worked at a lot of weddings and have always loved the warm and relaxed atmosphere of a marquee wedding. We also wanted to take all of the good ideas we've seen over the years and put our own stamp on the day which is a lot easier to do in a marquee. We are also very lucky that Joe's parents are farmers and have a beautiful farm in rural Northamptonshire. As soon as we got engaged we knew that the wedding would be on the farm we just had to pick the field.
The village church has also been the location for Joe's parents and grandparent's wedding, it was a five minute walk from the farm and we were lucky enough to be the third generation of Kingston's to be married there. We had 130 guests during the day and about another 60 come in the evening'
How they met
Joe and I were together for nearly 7 years before we got engaged. We met at university where Joe lived in the flat directly below me. We were really good friends until the third year when we finally got together.
The proposal
The proposal was amazing. It started on my birthday. We were sat in bed and Joe gave me four boxes to open. The first was a book all about the Italian mafia, the second an Italian phrase book, the third some Euros and the fourth tickets to Florence to leave that afternoon. I was absolutely ecstatic. Joe had contacted my boss in secret, arranged the time off and booked everything without me knowing. We flew out that day and I was completely unsuspecting about Joe's true motive for the trip. He had booked a beautiful hotel and arranged to spend our time sightseeing, eating and drinking. Late afternoon on the second day we went to the Palazzo Pitti and wandered round the Boboli gardens overlooking the city. Joe waited until we were completely on our own, took my hand and asked me to marry him. It was one of the most amazing moments in my life. My friends and family asked if I knew but I can honestly say hand on heart that I didn't. Joe is a very romantic person and if every time he did something romantic I thought he was going to propose I'd be very disappointed after 7 years together. My birthday did provide the perfect cover though!

The Planning
I can honestly say that we were planning the wedding from the moment we got engaged until the day before the wedding. When you decide to have a marquee wedding you have control over every single aspect of the day, which is absolutely amazing but means you never really switch off. Most of the big decisions were made early – the date (a summer wedding to coincide with Joe's granny and grandpa's diamond wedding anniversary), the location (the village church and the farm), the type of wedding (marquee) and the food (gorgeous Everdon lamb).
How did you choose your photographer?
This was one of Joe's jobs (he's a keen photographer so relished the opportunity!) Joe's sister also has a wedding blog (Aphrodites wedding blog) she recommended a couple of photographers that she'd seen and when we saw Sharron's website we loved her portfolio, arranged a meeting and new she would be perfect!
The dress
My dress was Justin Alexander and amazingly the first dress I tried on. Joe's sister had recommended a wedding dress shop in Guildford (Mamfi bridal) that she had visited with a friend. It was the most wonderful experience. I had made a scrap book filled with cut outs from wedding magazines and Ali listened and went away and brought back a selection of dresses. Whilst I had a good idea of the type of dress I wanted I never dreamt I would find it on the first day let alone the first dress in the first shop. I tried on a few more dresses in Mamfi and rushed off to our second booking but we all knew that none of them were as perfect as the first dress so we drove back to Mamfi later that day and my mum put down the deposit.
The shoes were Jimmy Choo. I'd never expected to be so extravagant with my shoes but it's funny how as a bride you manage to justify these things to yourself!
The accessories were from different places. I found an old antique broach in a shop in Northamptonshire for £2. I wanted quite minimal jewellery because of the lace detail on the dress. I found some really cute drop pearl earrings and on my wedding night mum came into my room and gave me two presents, a gorgeous picture frame including a picture of me in my bridesmaids dress sat on her lap in her wedding dress and a gorgeous pearl and diamond bracelet which looked as if it could have been made for the dress.
The suit and bridesmaids
Joe got his, the best men's and dads' suits from T.M. Lewin.
The bridesmaids dresses were made for me. I picked the style from a bridal website and took it to the dressmaker where we talked through styles and colours.
Theme or colour scheme
I will never forget sitting down with one of my bridesmaids Tash and asking Joe which colour he preferred for the wedding ties and bridesmaids dresses. We told him that it was important to decide early as it would effect the wedding theme to which he responded 'a theme – are you joking? We're not having a themed wedding. Its not a fancy dress party'. Men!
We had however sat and gone through magazine and picked out colours and ideas that we liked for our own which were along the lines of 'country garden wedding' with home made bunting and signs around and in the marquee. In the end we opted for purple and went to B&Q to get a paint chart to find the right type of purple! (I think this was probably a bit over the top but it looked nice in the scrap book!)
Food
Joe's dad is a sheep farmer so there was really only one choice for the main course … we had roast loin of lamb (from the farm) with potatoes and summer veg. Because it was summer we had canapés instead of a starter, we wanted to maximise the time spent out in the sun and not have people stuffed too much because we had a pig roast in the evening as well. Joe's mum is an outside caterer so she prepared the trio of desserts before the day and John from Great Tasting Caterers prepared everything else and did a great job of serving it all up.
Entertainment
One of our best friends is a musician, he plays in a few bands and we asked him if he would be able to sort out the music for us. He put together an amazing band who played two Funk/Motown inspired sets. Having a live band really got everyone up and dancing. Our first dance was Al Greens "lets stay together" which the band and Phill absolutely nailed.
We also hired a DJ for the evening in between sets. We sent him a list of our favourite 'floor fillers' and let him do the rest.
Flowers
A family friend in the village is an amazing florist and we asked her to do our flowers. She is very creative so I gave her an idea of colours and the types of flowers I liked and gave her free reign. The flowers in the church were very classic cream and foliage and tied in with the Groom and wedding parties button holes. The bouquets were a mix of cream roses, pink peonies, purple Veronicas as well as Rosemary. My bouquet also had Joe's other Grans engagement ring in, sadly she passed away a couple of years beforehand.
The flower balls were a mix of purple, pink and cream flowers with lots of greenery and looked absolutely amazing.
Decoration / Personal /DIY Touches
• Along the English country garden theme we had home made bunting in greens, creams, purples and pinks (made by Joe's mum).
• Joe's uncle Graham made wooden white washed signs around the marquee
• His mum and uncle had grown hundreds of plants in planters that we scattered around the outside of the marquee.
• We had lights placed in the trees around the marquee and a cool seating area made out of old tree stumps.
• In the marquee we had made big clip frames with pictures of us both growing up,
• A sweetie table
• Jam jars with tea lights that came out at night.
• Save the dates, invites and orders of service
• The wedding cake was also a very special part of the day. Joe's mum made the cake and my Nan iced and made all of the sugar craft flowers that sat on each tier.Each flower was hand made, painted and then arranged together in a display.
Special moments
I was the third Mrs Kingston to get married in Everdon Church, both Joe's Mum and Dad and his Granny and Grandpa got married in there. It was also Joe's other grandparent's diamond wedding anniversary on the same day, so they got a telegram from the queen and their own cake (a three tier chocolate cake made my mum). It made the whole day really special.
Biggest surprise
I surprised Joe by arranging the wedding car. We absolutely love VW Camper vans and although he knew I had arranged the transport I'd kept it a secret that I'd hired a classic camper van (Dubbling up weddings). We hope to one day buy our own camper and tour around Italy – if it'll get us that far!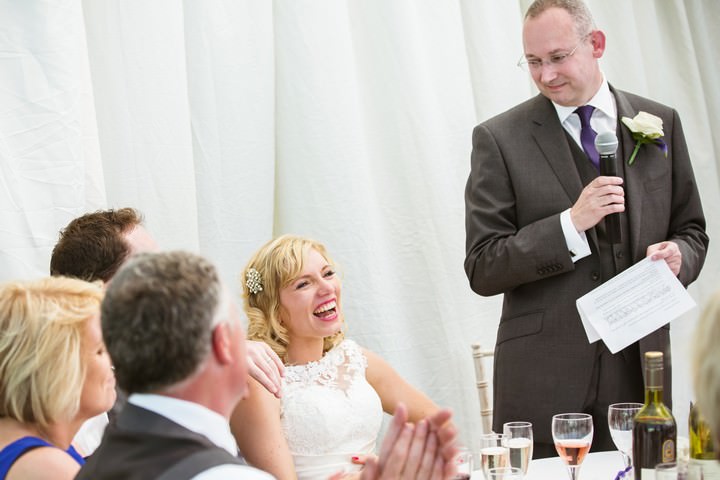 Advice
• What made our wedding day were all the moments that led up to it. Our family and friends were involved in every last detail and we will never be able to thank them enough for making it so special. Let people help you and give them things to do that they'll enjoy and be good at.
• I would also recommend making the most of your time together with everyone. We invited all of our closest friends and family to the wedding and were lucky to have help from them to prep the marquee in the days before the wedding. We also invited a big group of friends and family to dinner and drinks in the local pub the night before the wedding, followed by a lunch with the bridal party and family in the marquee the day after the wedding. I wouldn't have changed this for the world. It's so hard to see everyone on the day but doing it this way we had lots of time to spend with everyone.
• The last piece of advice I would give is take time for yourselves. Joe and I had lots of time together on our own straight after the ceremony whilst having our photos taken in one of the fields and later in the evening. Although we were having our photos taken by Sharon it felt like a very private moment between us and an opportunity to take it all in and to realise that we were actually married!
Supplier Shout Outs
For more information on Sharon's work go to:
www.theimagegarden.co.uk
[email protected]
FACEBOOK
@TheImageGarden