Last week I went to visit Kelly at Museums Sheffield. Sheffield Museum may not be the first place you would think of when looking for a wedding venue, but I was pleasently surprised at the diversity of venues on offer and the level of service to go with it.
Museums Sheffield holds 3 venues, Millennium Gallery and Winter Garden, Weston Park and Bishops' House all completely different, so offering a wide variety of choice for each bride and groom.
With a wedding and civil partnership license from Sheffield City Council, Museums Sheffield can now offer everything from intimate ceremonies for a few family and friends to fully catered celebrations for up to 300 people. You can surround your self with Art, during the wedding ceremony, history or even high glass walls the choice is yours!
As well as Weddings Museums Sheffield is also a fantastic place to hold an event or corporate function, with the choice of many locations.
The first venue I looked at was:
The Millennium Gallery and Winter Garden I LOVE this Venue, and if I were to get married again, or renew my vows I think i would do it here!
The room is light, bright, modern with clean lines and a glass front, with high ceilings, A venue with a real ideal of space. As well as access to this amazing building guests are then invited across to the Winter Gardens for drinks and canapes, what better place to have your wedding photographs than your own giant green house!!
The Millennium Gallery and Winter Garden have won national awards for their elegant, contemporary architecture and exotic plants from around the world. If you are looking for a unique, stylish venue with a difference for your big day then this is the place for you!
Within the elegant Millennium Gallery there is a variety of superb spaces for entertaining. The main one for hire is the Long Gallery which is available to host your wedding breakfast and reception. This room can seat up to 120 for a traditional wedding breakfast and up to 200 for a more informal reception.
As well as this there is always the option of one of the other galleries (depending on exhibitions at the time) The Craft Design Gallery or the Metal Work gallery. The Winter Garden can be booked from 18.00 after it has closed to the public and can be an ideal location for photographs.
Within the next few months there is also the option of having an even larger space for your wedding reception for more information contact [email protected]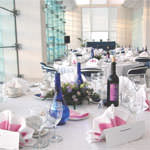 The second Venue is:
Weston Park .This has rapidly become a favourite destination for all the family so it makes it a fabulous option for a wedding. The ceremony usually takes place in the elegant and intimate About Art gallery, which retains many original 19th century features from the historic City museum. This combination of listed building character with modern facilities makes the Museum a very attractive choice for wedding parties.
After the service, let the children explore the many exotic and colourful Museum displays before enjoying an exclusive meal in the dining area and adjoining outdoor terrace. If the weather is fine, the newly restored grounds of Weston Park itself provide a beautiful backdrop for photos and an afternoon stroll.
The third venue is:
Bishops' House and is the best preserved timber framed house in Sheffield. Over 500 years old, it is a living, breathing time capsule. Inside, the house has kept many of its original features and looks just as it would have done in the 17th century, giving a great flavour of life in Tudor and Stuart England.
As a wedding venue, Bishops' House is completely unique and well-suited to a smaller, more intimate celebration. Its smooth floors, wooden panelling, low ceilings and small doorways make the perfect backdrop for your wedding photos. You really will feel like you've turned back the clock.
I was very impressed that everything Kelly at Museums Sheffield had to tell me, I love the flexibility and variety of venues on offer. It is refreshing to know there is an alternative option for couples looking for a less traditional approach to their wedding day, and great to see that Museums Sheffield are thinking outside the box.
From the locally sourced food to the variety of sized venues. Museum Sheffield have got it exactly right!……………..perfect for any of my Boho Brides!
For more information go to:
Museums Sheffield or contact Kelly on
[email protected]
or call 0114 278 2715