It's all a bit International on the Blog this week, yesterday we were in Ibiza, later on in the week we will be in Hawaii and today we are in Italy for this gorgeous wedding sent to me by Sara & Chiara from Infraordinario who are based in Italy. The wedding has a colour scheme of white, Tiffany green and a touch of strawberry red, and when the bride is a graphic designer you know she is going to add lots of amazing touches into her day. That and a marvelous Max Mara Wedding Dress and this wedding is all sorts of awesome!
'Dreamy , romantic and enjoyable'
The adorable couple are Andrea and Letizia who were married on 15th December. 'The ceremony was held at Church Regina Pacis in Reggio Emilia and the reception at La Razzain Canali Reggio. We married in reggio emilia as we come from different parts of italy and in that church was across the road from our house. We had a close lunch with 30 people, mostly relatives, later we partied with about 40 friends, we managed to organise everything in 3 months!'
How they met
We met in a venue where he was playing in a band, his voice and his smile echanted me. And here I am, in love more than ever… after living together for 5 years we were ready to jump on the altar!
The proposal
In that occasion Andrea created a small puppet out of carton box, in which hands was carrying a red package: what a genius! I said "yes" before opening it!
Why did you choose your photographer?
I wanted my photographs to make us daydream as in a fairytale and Infra Ordinario pictures were just perfect. I fell in love straight away with their magic touch and their taste.
The Dress
I wore a Max Mara Bridal wedding dress and angora shawl; my shoes wereTwin Set; the hairbend was handmade by artist-designer Laura Cadelo Bertrand.
Colour scheme or theme
I followed a playful and a fairy-like mood. The chosen colours were: a basic white, tiffany green, which I love, and a touch of strawberry red.
Entertainment
Rockabilly music and dances, photo booth and fun games.
Flowers
White and pink rose blossoms and red berries.
Personal / DIY touches
I took care myself of the invitations, church book, favours and bomboniere.
I am a graphic designer and illustrator. It was real fun working… for myself!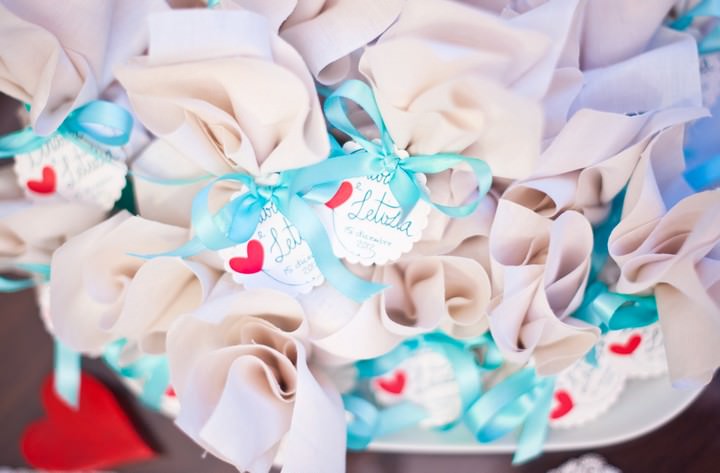 Special moments
The most special moment was approaching the church, but also when I pronounced the wedding promise, I started crying right there and I couldn't stop.
Advice
If you would like a fun and a not-boring wedding, I suggest to break up the day in two: lunch with close friends and relatives and after that a party with every other friends; it's a perfect formula to simplify everything and a have a lot of fun!
Biggest surprise
When Andrea got the microphone and sang "Always on my mind" by Elvis Presley
Supplier Shout Outs
For more information on Sara & Chiara's work go to
Infraordinario – Studio
www.infraordinario.it
blog.infraordinario.it
[email protected]
FACEBOOK
Chiara 346.1631533
Sara 328.9530296

[jprel]