We meet up with Lisa and Alex from 2 people 1 life again today for wedding number 25! which took place on 10th October 2012. Can you believe they are on wedding 25 already! It only seems like yesterday we were waving them off on their travels from wedding number 1 in Didsbury! This time we find them in Colorado at Devils Thumb Ranch for this intimate wedding with the most breathtaking views! Photos by the amazing Catherine Rhodes photography.
I'll pass the Blog over to Lisa………..
We left LA at 4am and landed in Denver, Colorado to meet Brit and Catherine at the airport. We felt like we had been friends for a long time…mainly because we had been in touch so often over the past few months…I had totally stalked both Catherine and Brit regularly just to get excited about getting to Colorado! We jumped into Brits car and set off straight to the dress makers boutique. Maggie had offered to lend me a dress to wear for the day. We had originally hoped to get there in plenty of time in case we needed to make any alterations but it seemed all was meant to be. We got to Marie Margot, tried on 4 dresses and the most perfect one fit like a glove! We chatted for a while as Alex had escaped the huddle to grab some food for the road. He returned with a big box of chocolates for Maggie and a pizza for the four of us on our mini road trip to get to the wedding location. I felt dreadful running in and out on Maggie without spending any real time there. As it happened we had to grab the dress and literally run. We had a 2 hour drive to get to Tabernash. We chatted for around an hour of the journey and ate our pizza but before long I must have fallen asleep as I woke up as we pulled onto a dirt track leading to the Devils Thumb Ranch.
The ranch is STUNNING. Located in the Colorado Rocky Mountains this environmentally friendly, rustically styled ranch and spa had welcomed us to hold our 25th wedding with them. We climbed out of the car, took a big breath of the crisp, clean, fresh air and instantly relaxed. This is our kind of place! We entered the main lodge absorbing the scent of the pine and were greeted by Kevin the events manager. He was as excited as we were to get this wedding on the road. We were introduced to our Pastor, Matt of Rocky Mountain wedding services and Zach from Revert Photo who was going to be filming our special day. Then we were handed a huge coffee and ran to dumped our bags in our AMAZING room! We did a little squeal and dance around at the slipper tub, the fire place and the enormous window looking out over the mountains right by the bed and ran back out to meet everyone for the start of our25th wedding adventure!
We all excitedly huddled over to a yurt just outside of the main ranch, stepped inside to find ourselves surrounded by helmets and harnesses…we were ziplining to the aisle!!! Neither of us had ever done ziplining before and neither of us are keen on heights but we strapped up and listened carefully to our instructions from Igor the activities manager. We looked around to find Matt in his pastors robe harnessing up too! A ziplining pastor! Excellent!!! We giggled as we all piled into the 1972 Pinzgauer bumping helmets and clanking in our harnesses as we were driven up the bumpy mountainside to our impending doom…we are not dramatic at all!
We all arrived and stood gaping into the abyss and at the tiny little platform waiting for us seemingly miles away. We were goodness only knows how high up and were about to be dangling from a wire, zipping through the tree tops at upto 40 miles an hour!!! We had been informed that there would be champagne waiting for us at the other end so we were in, hook, line and sinker! Catherine went first so she could shoot us arriving we all cheered her on as she zipped through the air. Then Zach with his video camera strapped securely to his arm followed by Brit and then Matt in his robes. Then it was my turn, I did really well, kissed Alex and told him to be brave and hopped off the edge of the platform, squealed a little and instantly spun around and around until I was facing absolutely the wrong way! Ziplining is great fun…even backwards! Alex came last and it was bubbly time! He seemed a little shell shocked but after our first flute of champagne we were ready to get our wedding on!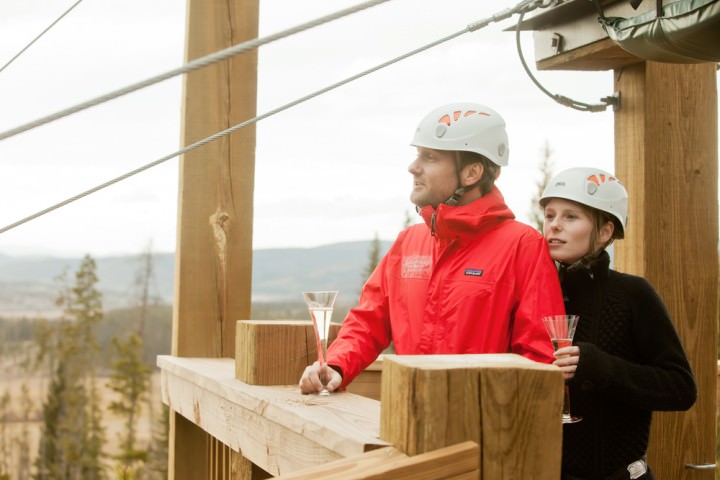 We trundled back down to the ranch and all headed back to our room to change for the ceremony. The outside air was crisp and fresh so as soon as we walked into the room my face was super flushed with both excitement and the heat. We ran around getting dressed as we were beginning to loose the light, the sky had turned a beautiful pale lilac and everywhere had become so still. Within minutes we were ready…apart from my little black boots, I struggled to find my feet under my enormous beautiful dress from Maggies and had Alex help me fasten up the laces. Brit passed me my stunning fall bouquet by Ladybird Poppy complete with Iris and tulips which complemented the surroundings perfectly!
Catherine and Zach had gone to find the perfect spot for the wedding and we went to join them and Pastor Matt in the long grasses surrounded by the stunning colours of the Colorado Rockies in fall. Lilac skies hugged white topped mountain peaks, we were absorbed into the golden grasses and awed by the purple of the heathers nearby. This was the perfect place for our Colorado wedding. We were surrounded by natural beauty and enjoyed feeling like a tiny blip held in the palm of natures hand. Matt began the ceremony and once again we found ourselves tearing up at his words. The service resonated so deeply with our journey, our relationship…our marriage. We exchanged vows through glossy eyes and held each other tight when the moment came to kiss. I know I have said it a thousand (well, 24 times) before but the feeling I get staring into Alex's eyes and telling him from the heart how much I love him and that I want to spend the rest of my life with him can never become old, or dull or boring, because I mean it more every time!
We hugged and thanked our guests and took a few pictures in the amazing dusky light. Catherine has captured the atmosphere and beauty of the location perfectly and I hope you can feel the peace and tranquility when you watch Revert Photo's video too. We were so lucky to have such incredible talent with us in such a stunning place. We chatted for a while with Zach and said our Thanks and farewells to Matt and then headed indoors back to the fire!
Our first stop was John L's wine cellar whose entrance is actually like walking through a barrel!! We had a cake to cut, wine to taste and the wagyu beef to drool over. We said farewel and thanks to Zach here and settled down for the evening with Brit and Catherine who were able to stay over with us. The cellar was like a sweet shop for us and we tasted some divine wines and the beef was INCREDIBLE! It was oh so good and we were all oh so ready for it….as we were ready for bed after we had eaten. We retired to our amazing room, almost dead on our feet but could NOT let the amazing tub pass us by. We filled it to the brim with bubbles and sloshed ourselves down into the steaming water. I think I was asleep almost instantly and Alex had to drag me out of the bath and pretty much direct me to the bed. We slept soundly and woke up with the sun…which is a whole new story…coming up!
We had such an incredible day at Devils Thumb Ranch and cannot recommend them enough. Their hospitality, environmental efforts, food and of course staff are some of the best we have come across in our world travels so far!
Supplier Shout Outs
To follow Lisa and Alex's journey go to
http://2people1life.com/blog/
http://2people1life.com/blog/the-whole-journey
FACEBOOK
@2people1life
If you have missed any of the previous weddings you can catch up HERE,HERE , HERE, HERE, HERE, HERE , HERE  HERE , HERE ,  HERE and HERE